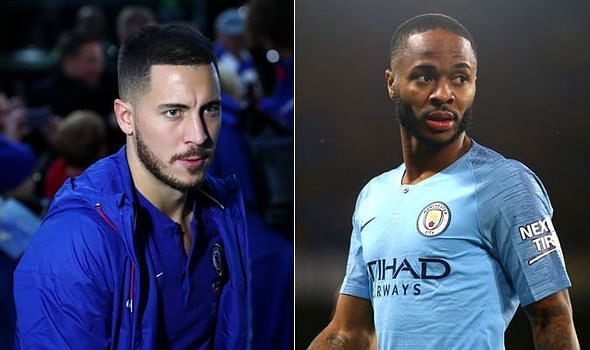 Here we look at the world's best footballers, judging by assists-to-minutes ratio in their respective leagues so far this season…

We're more than halfway through the 2018/19 campaign and as the competition intensifies, it's time to take a look and highlight the world's best players by their overall assist output this season.
This list only includes players currently playing among Europe's top five leagues – the Premier League, Ligue 1, Bundesliga, Serie A and La Liga. As it's a top ten list, there are some notable absences who do not feature. They are tied on eight assists for their respective clubs this season:
Cristiano Ronaldo (Juventus), Kenny Lala (Strasbourg), Memphis Depay (Lyon), Nicolas Pepe (Lille), Pablo Sarabia (Sevilla), Paul Pogba (Manchester United), Sebastian Haller (Frankfurt), Suso (AC Milan).
This list is ordered by total minutes played, so those with less action but the same assists will appear higher in the event of a joint-high tally. All statistics correct to February 22, 2019.
#10 Teji Savanier (Nimes)
Teji Savanier is comfortably the least-known player on this list, but that doesn't make him any less deserving of a place having impressed with Ligue 1 side Nimes after their promotion to the top-flight last season. Teji, 27, hit the headlines back in September after a poor challenge on PSG's Kylian Mbappe provoked the youngster into being sent off for his overzealous reaction.
He has scored three goals and created eight more in 20 Ligue 1 appearances (1,786 total minutes) – this term, which is an impressive tally as part of a Nimes side who sit in mid-table with 36 points after 25 fixtures. They're only four points off fourth-placed Marseille – who currently occupy the league's sole Europa League qualification spot.
A central midfielder who can play deeper or further forward when called upon, his creative output has increased significantly since early November. As a result, his reliable displays and eyecatching statistics have attracted interest from clubs across Europe.
Premier League side Burnley and Turkish giants Galatasaray were linked with a move last month and should he continue to impress, there's no reason why more sides will not be inclined to track his progress.
#9 Angel di Maria (Paris Saint-Germain)
Ángel di Maria's divisive nature makes him a difficult player to warm to – but his ability cannot be questioned. With 11 goals and 12 assists (all comps) this term, the 31-year-old Argentine continues to showcase exactly why Manchester United coveted him so heavily in 2014.
After a tough year in England's top-flight, he found himself in the French capital and hasn't looked back since. Despite the presence of Neymar and Mbappe initially proving a threat to his effectiveness on the flank, they have only helped elevate his game in recent seasons.
It means PSG have another reliable creative option who can perform consistently, and that's without mentioning Edinson Cavani or Julian Draxler. He has scored six and created eight assists in 1,683 minutes of play in Ligue 1 this term, which is why he's at #9 in this list.
#8 Ryan Fraser (AFC Bournemouth)
This season has seen Ryan Fraser's stock increase significantly, after a surge in his attacking production as part of a free-flowing Bournemouth side who create chances aplenty.
In 54 Premier League appearances before this season began, Fraser had only netted eight goals and created 11 assists. So far this term, he has scored five and set-up nine more in 26 appearances! He's started all but two of Bournemouth's league fixtures this campaign and displayed a welcoming capability to do more in the final third than ever before.
Even with that being said, he has only created two assists since mid-December and struggled to match his red-hot early season form, though Bournemouth themselves have been inconsistent. With nine assists created in 2,126 minutes of league play this term, he's #8 on this list.
#7 Raheem Sterling (Manchester City)
Raheem Sterling's attacking productivity has seen a steady increase in recent seasons, despite questions over his finishing and questionable decision-making.
2018/19 has been no different either: he's scored 12 and created eight more goals in 24 Premier League games to date this season – with 22 starts and 1,960 minutes played to his name.
There was a period in December where he struggled for goal contribution, but he soon rectified that with four consecutive games where he scored or assisted between December 30 and January 20.
Unsurprisingly, the English winger played an instrumental role in City's emphatic 6-0 win over Chelsea last time out – two goals and an assist. After turning matchwinner in midweek against Schalke, he'll be hoping for more of the same once Pep Guardiola's side return to top-flight action as they aim to retain last year's Premier League title.
#6 Christian Eriksen (Tottenham)
In a Tottenham side which features Dele Alli, Harry Kane and Heung-Min Son, Christian Eriksen and his brilliance is often overlooked. There's a genuine argument that the Denmark international, 27, is a more integral part of Spurs' creative cohesion than he's given credit for.
After all, he's created 10 or more assists in the last three top-flight seasons (15, 15, 11) and no player has conjured up more big chances for teammates (67) since his arrival from Eredivisie giants Ajax in 2013.
In 1692 minutes of Premier League football so far this term, he has scored five goals and created nine assists. If not for an abdominal injury sustained in late September which saw him sidelined for six matches, he'd almost definitely be featuring higher in this list.
#5 Jadon Sancho (Borussia Dortmund)
Jadon Sancho's rise to prominence in recent months has been a joy to watch, with the 18-year-old Englishman flourishing away from home comforts in dazzling style.
Bundesliga leaders Borussia Dortmund have provided an excellent platform for the former Manchester City winger to shine and he's taken his opportunity with both hands, creating chances and linking up well alongside more experienced teammates – namely Marco Reus and Mario Götze.
With eight goals and 11 assists (all comps) this term, he netted his first Champions League strike during a 4-0 group stage win over Atletico Madrid before Christmas. In Germany's top-flight, he has nine assists to his name in 1448 minutes of play as Lucien Favre's side top the standings with a three-point lead over champions Bayern after 22 matchdays.
#4 Leroy Sane (Manchester City)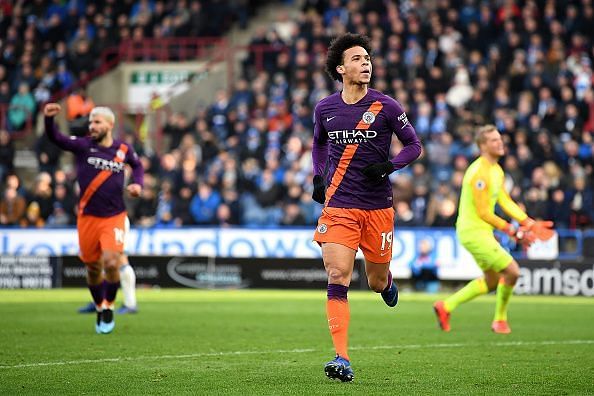 Leroy Sane continues to prove his worth as one of the world's best players on a weekly basis, even if consistency and a shock omission from Germany's World Cup squad were concerns in 2018.
The 23-year-old winger has scored 13 goals and created 13 more (all comps) under Pep Guardiola's guidance this term. Nine of those have come in England's top-flight, with 1,446 minutes under his belt – he edges Sancho out for the #4 spot, having played two less minutes to date.
Having won last year's accolade for the league's Young Player of the Year, he's stepped up a gear since and is regularly doing his utmost to show why he's an indispensable part of City's attack.
He has made 17 league starts and boasts excellent production numbers despite missing their recent wins over London rivals Arsenal and Chelsea. Add to that a sluggish start to the campaign, where he made cameo appearances to start with and struggled at times to make his mark, he'd command a higher place here too if he was a guaranteed starter.
#3 Eden Hazard (Chelsea)
Chelsea's struggles under manager Maurizio Sarri have been temporary but following an encouraging start to life in England, they feel drawn out and an ominous sign for the Italian.
Eden Hazard's success in the final third is a major reason for that, as the Belgian started the campaign in fine form but has seen a dip in goal contribution statistics – albeit not for a want of trying.
The 28-year-old is the Blues' best player and their team is built around him, so much so that when they struggle or he's isolated, there are no reliable secondary options to pick up the creative workload.
With 12 goals and 10 assists created in 2,020 minutes this term, he's only been involved in five goals during the nine league matches since a match-winning display against Brighton on December 16. Only Liverpool's Mohamed Salah (13) and the aforementioned Fraser (17) have created more big chances than him in the league this season.
#2 Joshua Kimmich (Bayern Munich)
Over the past few seasons, Joshua Kimmich has asserted himself as one of the world's best fullbacks at Bayern Munich. Now a regular for both club and country on the international stage with Germany, the 24-year-old has shown a willingness to deliver at both ends of the pitch.
Flying forward from his right-back position, he regularly darts into the final third and creates chances for his teammates to finish – whether that be from crosses, set-piece deliveries or deft passes into feet.
With one goal and ten assists created in 1,980 Bundesliga minutes this term, he's two away from equalling last year's tally, which he eventually reached in early April.
#1 Lionel Messi (Barcelona)
Last but certainly not least, Lionel Messi tops this list! Messi is Barcelona's creative fulcrum and he has stepped up when they've needed him most – 22 goals and 10 assists in La Liga alone this term speaks volumes for his impressive numbers.
With 30 goals and 15 assists in 31 matches (all comps), it's a remarkable tally for someone who hasn't always been at his best either this season. He broke his arm during their 4-2 win over Sevilla in October, missed two league games before returning as they surprisingly lost 4-3 to Real Betis.
Recent thigh and leg injuries have been a cause for concern, with manager Ernesto Valverde publicly revealing he'd lessen the Argentine's workload as important upcoming fixtures have to be efficiently managed.
Messi has shown excellent bursts of his spell-binding best and even still, not always lived up to his own extremely high standards as part of a misfiring frontline with Luis Suarez's struggles and Ousmane Dembele's inconsistency a recurring theme.
Despite his last registered assist coming during Barca's 3-1 win over Leganes on January 20, he claims top spot here with 10 assists in 1,797 minutes of league play. Even with that in mind, he has created 70 chances – a league high – in that time for teammates or himself in Spain's top-flight.
Stats' source: WhoScored and beIN Sports