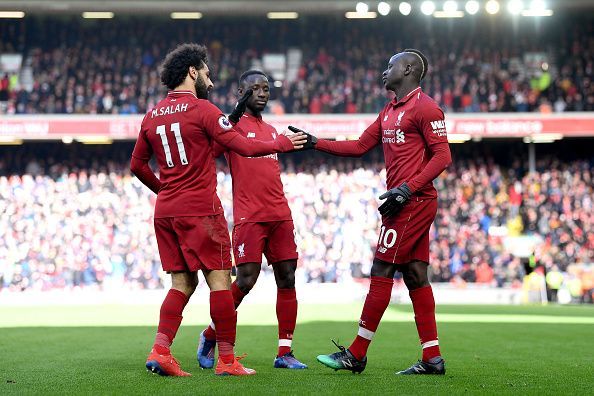 A brace each for Roberto Firmino and Sadio Mane saw Liverpool close the gap back to one point behind Premier League leaders Manchester City, after their 4-2 home win over Burnley on Sunday afternoon. Which players impressed while others struggled at Anfield?
Burnley took an early lead as midfielder Ashley Westwood scored direct from a corner, with goalkeeper Alisson impeded inside the box – but the match officials saw nothing wrong with his tussle for possession and the goal stood.
It shouldn't have, but only served as extra motivation for the Reds to respond quickly. Goals from Firmino and Mane gifted Jurgen Klopp's men a 2-1 lead at the interval and despite a late scare through substitute Johann Gudmundsson, the hosts ultimately came through unscathed. With all of that in mind, here's a look at five hits and flops from Liverpool's latest victory:
#5 Flop: Tom Heaton
The cameras subtly panning to Joe Hart on the substitutes' bench was a welcome reminder – if Tom Heaton ever needed one: his starting berth is not a guarantee.
After all, the 32-year-old has started all of their league fixtures since a 2-0 win against West Ham on December 30. His inclusion saw a surge in results for Burnley, which is no coincidence, but three successive defeats present a worrying sign with must-win fixtures ahead.
It's made especially tough considering he was at fault for one of the four goals conceded and should've done better in the build-up to Firmino's first strike of the afternoon. In different circumstances, they draw that game 2-2 and earn a valuable point.
That's something that Dyche, Heaton and Hart himself will be aware of. The latter enjoyed similar success when called upon early this campaign before a winless run and plethora of goals conceded saw him lose his place. He'll be hungry to earn it back with goalkeeping displays like these sure to give him confidence.
#4 Hit: Roberto Firmino
Having only netted one league goal since their 2-1 defeat by Manchester City on January 3, this was precisely the perfect type of game for Firmino to boost his morale and hone his goalscoring sharpness. Burnley, just like Brighton and others before them, had originally set up to have an overload out of possession to frustrate their hosts, the title challengers.
If not for Mohamed Salah's hesitant nature in the final third and some good fortune – or poor defending depending on how you view it – Firmino wouldn't have scored. However, he did, earning a well-taken brace to his name with two of the easiest strikes you'll see this term.
For the first, his attack positioning meant he was in the perfect place to poke home inside the six-yard box after Salah's ball fizzed across goal ricocheted off Heaton and wasn't cleared to safety by captain James Tarkowski.
As for his second, it was a similar situation but instead, an excellent sliding tackle dispossessed Salah as he shaped to shoot. The ball took a wicked deflection and trickled towards the Brazilian's path, with Heaton already beaten, to stroke into an empty net.
Four aerial duels won, three shots, two on target and two goals. Only Salah (11) was dispossessed more often than Firmino with seven over the 90 minutes, but he worked tirelessly throughout and you could sense those goals providing him with much-needed confidence as tricky fixtures await.
#3 Flop: Jeff Hendrick
It was a largely disappointing display by the midfielder, who picked his moments to get involved but ultimately these were too infrequent to justify his ongoing presence against a dangerous Liverpool side who dominated possession while the visitors were content in letting them keep the ball, so long as it was away from their 18-yard box.
He won two aerial duels, made three clearances and a blocked shot – but again this masked his inefficiencies in a midfield where he needed to make more defensive contributions in truth.
No tackles nor interceptions completed, coupled with a poor 40% pass accuracy justifies the point and although he made an important sliding clearance to thwart Andy Robertson's overlapping run in the box, the 27-year-old simply didn't do this enough.
Unsurprisingly replaced with 12 minutes to play for a fresh Gudmundsson, it was perhaps telling that the Icelandic midfielder scored Burnley's second and looked threatening whenever he got near the ball.
#2 Hit: Charlie Taylor
It's very rare that an opposition defender makes it on the hit performers list when his side concedes four goals, but this is a welcome exception to the rule.
Charlie Taylor, 25, has been a mainstay under Dyche's guidance this term and his dependable form justifies such faith in the fullback's performances. Against Liverpool was no different and truthfully, he was unfortunate to be on the losing side – making two excellently-timed sliding tackles in the build-up to Mane and Firmino strikes.
The first saw him dispossess Salah inside the box as he shaped to shoot, but the ball fell nicely for the Senegalese international who struck goalwards and wheeled away after watching it arrow into the top corner.
As for the second, Heaton's poor goal-kick had given the Egyptian an opportunity to atone for his earlier hesitancy but yet again, Taylor was on hand to deny the Reds' talisman with a fantastic last-ditch sliding tackle. Unlucky for him, none of his teammates were on hand to prevent Firmino from slotting home into an open net.
He, just like Tarkowski, was everywhere defensively. A game-high six tackles, one interception, three clearances, two blocked shots and no fouls committed though sees him edge out the Burnley captain for a spot on this list.
#1 Hit: Sadio Mane
Firmino was fortunate with the manner in which his goals came, but Sadio Mane had so much more to do and did it well too. It's unsurprising, given he's been one of Liverpool's better and more reliable performers this term – but outperforming talisman Salah is easier said than done at times and again, he shone on this occ here.
Three key passes (87.5% pass accuracy), one dribble completed, 53 touches – the least of Liverpool's attacking trident – yet he did the most. His brace was well-taken, the first sweetly struck from range which left Heaton no chance. As for the second, he needed to show composure and did so to round Heaton before slotting home.
If not for some well-defended last-ditch moments from Burnley at the back, he could've added a few assists too. Combining with Firmino and particularly Salah, the Egyptian struggled to find his shooting boots again. It didn't faze Mane though, on their way to an important victory where they keep pace with the league leaders ahead of a tough trip away to Munich in midweek where Bayern await.
Stats' source: WhoScored