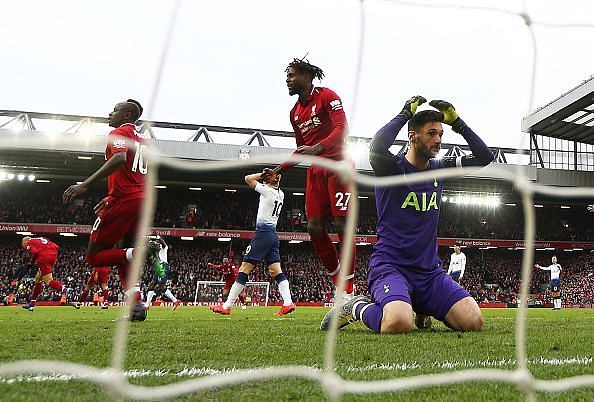 Liverpool left it late but ultimately prevailed with a 2-1 win over Tottenham, but which players struggled while others excelled at Anfield?

Hugo Lloris' late mistake proved pivotal as Liverpool returned to top spot in the Premier League with a smash-and-grab 2-1 victory against Tottenham on Sunday afternoon. Lucas Moura's devastating counter-attacking finish after 70 minutes meant the game was delicately poised, after Roberto Firmino headed home in a dominant first-half showing by the hosts.
However, they were completely overwhelmed after the break and appeared vulnerable – which Spurs were happy to capitalise upon. Christian Eriksen and Dele Alli grew in confidence after being defensively shackled, while Harry Kane got more involved and bright spark Lucas had more space to work with too.
Despite creating chances themselves to snatch all three points, they had the result cruelly snatched away from their grasp after a match-defining blunder by World Cup winner Lloris in the dying minutes. He fumbled, rather than comfortably catching Salah's headed effort and the ball trickled over the line after ricocheting off Toby Alderweireld inches from the goalline.
Without further ado, here's a look at five hits and flops from Liverpool's latest win:
#5 Flop: Harry Kane
Given just how important his presence is for Tottenham going forward, not to mention being their captain and someone you'd expect to lead by example, Harry Kane was fairly anonymous in this encounter. Perhaps that says more about Virgil van Dijk's defensive display than the Englishman, but he didn't have many encouraging moments at Anfield.
Even with that being said, it was his quick thinking which proved pivotal in the build-up to their equaliser: taking a quick free-kick after Jordan Henderson's needless foul saw him swing a diagonal pass towards Trippier in acres of space on the right-hand side.
Moments later, the visitors were celebrating a brilliant counter-attacking goal – but the fact it took 70 minutes for them to create a clear-cut chance like this spoke volumes for Kane and his struggles to get himself into dangerous positions, breaching the hosts' backline.
Whenever he did, he either made the wrong decision or was dispossessed – so how can they expect to get anywhere without the focal point in their attack either making intelligent runs or demanding the ball in an attempt to build from deep?
He, alongside Mohamed Salah, had a joint-low touches (31) – but relinquished possession more often (4) and was more frustrating to watch. In a game of such magnitude, we've come to expect better than mere flashes of his ability.
#4 Hit: Toby Alderweireld
On another day, Alderweireld could've easily topped this list as #1 with no complaints. Two mistakes leading to goals – Liverpool utilising the width for the first and Lloris' blunder near stoppage-time, sees him feature at a modest #4 on this occasion.
He was Tottenham's best defender and well, the match statistics speak for themselves in truth. He completed two aerial duels, two tackles, seven clearances, one blocked shot, no fouls committed and the most long balls completed (8) of any outfield player on the pitch.
It's unfortunate that Liverpool's winning goal will ultimately be recorded as his own goal in the history books, but it comes with the territory when you're often operating so close to your own goal.
Could he have done more to clear his lines in those milliseconds? Perhaps, but he was probably also convinced Lloris would have clawed it away to safety too. It's easy to judge but Alderweireld was always defensively aware of his surroundings and needed to be, up against an out-of-form Salah – which is a more threatening prospect than it seems.
He regularly halted attacks in their tracks whenever Salah combined with Roberto Firmino or an advancing Georginio Wijnaldum near his path. There's a reason why they had such joy down the flanks: he wasn't defending wide areas and Mauricio Pochettino's formation gifted them ample space to penetrate down both sides.
#3 Flop: Hugo Lloris
Football is unpredictable and cruel at the best of times, but Hugo Lloris had a significant part to play in Tottenham's demise on this occasion. You can argue that Pochettino's tactics came back to bite him with the manner in which they conceded the opener, but Lloris must take some responsibility in the build-up too.
Having received a backpass, his resulting kick forward was cut out by Wijnaldum's header near the halfway line and just over ten seconds later, Liverpool players were wheeling away to celebrate. Aware of the situation and possibility that Firmino would latch onto the header, he didn't anticipate quickly enough and actually dived too late to thwart the Brazilian in his tracks. From such close-range, unless the strike itself was closer to him, he stood no chance.
Things would worsen in dramatic circumstances late on. Despite a few near misses, he didn't have many shots to save throughout. Trent Alexander-Arnold's cross-cum-shot was acrobatically tipped over the crossbar but other than that, the Frenchman wasn't being kept busy.
Perhaps that's why he fumbled Salah's tame header and watched as it trickled in off Alderweireld to gift Liverpool a late winner. Every time you watch it being replayed, it looks more damning and questionable from Lloris' perspective.
Salah didn't head the ball with much power and it should have been a routine catch for a world-class goalkeeper with Lloris' pedigree. Instead by fumbling it, he caused indecision and panic at precisely the wrong moment. He'll receive criticism and questions will be asked in the days that follow, but should he be dropped after such a disappointing showing, particularly in a game like this?
#2 Hit: Lucas Moura
Lucas Moura was Tottenham's bright spark in an otherwise frustrating watch and truthfully, their best performer. It speaks volumes that after a tireless individual display, he watched in disbelief from the sidelines as his teammates threw away another promising result.
He played purposefully from minute one, hustling and harrying his way towards the Liverpool backline whenever possible – catching Joel Matip out a few times while exploiting space in midfield to dart forward.
It was similar to his showing against Southampton on March 9, but this time, he didn't exactly get the creative support his work deserved. Liverpool's first-half dominance meant he needed to remain patient and pick his moments to gallop forward, which he did.
His match statistics were quite a mixed bunch too: One key pass and interception, two aerial duels won, two tackles, three dribbles completed and scored Spurs' equaliser. He also committed a cynical, yet necessary foul to haul down Salah as the Egyptian accelerated dangerously towards their box and saw himself booked in the process.
Despite a few memorable displays, inconsistency and injuries have hampered his progress this term. After two encouraging performances in consecutive matchdays, you can tell he's playing to prove why he deserves a starting berth once again – which is never a bad thing for Pochettino to ponder.
#1 Hit: Andrew Robertson
Virgil van Dijk's presence and overall importance to Liverpool has been heralded ever since his arrival last January, but Robertson – who joined six months earlier – continues to prove why acquiring him for just £8m from Hull was one of the most astute pieces of transfer business the Reds have done in quite some time.
Seamlessly slotting in at left-back, the Scotland international quickly asserted himself as a dependable asset both defensively and in attack. It's something that not many fullbacks are capable of saying and the 25-year-old, who has enjoyed a solid season to date, showcased his quality again on this occasion.
He completed one tackle, interception and blocked shot as well as two clearances and committed no fouls – which was important especially against a Tottenham side who grew in confidence and ventured forward regularly in a lopsided second-half.
His defensive intervention to thwart Christian Eriksen was particularly telling, as he was both positionally aware and anticipated the danger in its tracks, something that Liverpool defenders always tend to struggle with.
Crucially, he provided an exquisite assist for Firmino to break the deadlock – the Brazilian simply couldn't miss after receiving an excellent inswinging delivery. He has now created nine Premier League assists this term, the most of any defender across England's top-flight while continuing to mature with each passing game.
Stats' source: WhoScored