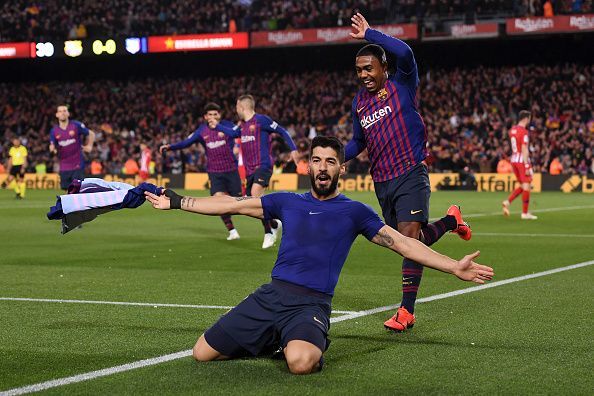 Barcelona extended their La Liga lead to 11 points with a 2-0 win over Atletico Madrid, but which players struggled while others excelled?
A quick-fire double late on courtesy of Luis Suarez and Lionel Messi broke Atletico Madrid hearts, extending Barcelona's La Liga lead to 11 points in dramatic style – essentially sealing the title against their closest rivals by doing so.
Diego Costa's sending off just before the half-hour mark sparked an already feisty affair, in a must-win fixture for Atletico Madrid: if they wanted to keep their faint title hopes intact. His crazy moment saw him sent off after an extreme case of dissent towards referee Jesus Gil Manzano, having reacted angrily to a no-foul call when he felt he'd been upended near the centre circle.
With a numerical disadvantage and increasing pressure on their goal, Atletico needed Jan Oblak at his best. The Slovenian international duly delivered another excellent goalkeeping showing, denying Philippe Coutinho, Messi, Suarez and second-half substitute Malcom as the wave of Barca attacks continued.
Eventually though, the hosts' pressure told. Suarez finally unleashed a curling low effort into the bottom corner after 85 minutes – leaving Oblak with no chance as it cannoned in off the far post. Messi delivered the killer blow less than a minute after the restart, with a subtle finish from close-range after Ivan Rakitic's probing pass set him through on-goal. Without further ado, here's a look at five hits and flops from a key Barcelona win on this occasion:
#5 Flop: Rodrigo Hernandez
It's never an easy challenge against the league's best, but considering Rodri's development over the past 12 months, he endured a disappointing performance on this occasion.
As part of a midfield quartet, he found himself outshone by central midfield partner Thomas Partey – as well as Koke, who operated down the right-hand side. His passing (90.2%) and overall distribution was safe but unspectacular, while he failed to truly stamp his authority on the game.
Barcelona started purposefully in search of an early opener, as Rakitic and Arthur were confident and comfortable with possession. Rodri couldn't get near them enough and when he did, he committed more fouls (3) than completed tackles (2). One interception and blocked shot aside, he wasn't involved in many of Atletico's attacks so should've done more to help Partey in transition. Not good enough.
#4 Hit: Jose Gimenez
I could have gone for goalscorer Suarez, Jordi Alba and more besides. But instead, plaudits must go to Jose Gimenez for an impressive showing as usual – one which led to his side being cruelly punished in a two-minute counter-attacking blitz.
The 24-year-old Uruguayan partnered compatriot Diego Godin and although Godin possesses more experience, he still endured some tricky moments at the Camp Nou. Shaky in possession and overzealous upon occasion when tackling, the responsibility was quietly on Gimenez to set the tone for his teammates out of possession.
He did just that and well, his match statistics speak for themselves: six tackles, five clearances, four interceptions and two blocked shots throughout the 90 minutes – without committing a single foul.
Booked for dissent when arguing with the officials in the aftermath of Costa's sudden dismissal, he needed to remain calm and disciplined when launching into tackles. Barca probed forward regularly and his presence was always a frustrating sight to contend against.
Although he couldn't do much about Suarez's sumptuous strike, he was unfortunate when making a good initial sliding challenge to thwart Messi saw the ball ricochet back to the Argentine in the build-up to his goal a minute later. It typified his night: an excellent individual display, in a game where he didn't deserve to be on the losing side.
#3 Flop: Diego Costa
The worst part about all of this is that Costa was already causing Barca's backline all kinds of problems. His physicality, attacking intelligence and movement – not to mention aerial ability and positioning – were all testing the hosts defensively, which would prove a welcome acid test with Manchester United to come in midweek.
He headed a promising half-chance narrowly over the crossbar, having beaten both centre-backs to the ball in an encouraging first half-hour or so of play. So for his match to be over so abruptly without injury, after 28 minutes, was certainly an unwelcome sight to see.
Considering his troublesome injury struggles and lack of goalscoring form this season, what better way to assert your return with an impressive showing against the title rivals? Instead, the 30-year-old Spaniard, who should really know better, found himself kindly escorted off the pitch by compatriot Gerard Pique after being sent off needlessly for extreme dissent shown towards the referee for a decision that didn't go his way.
His dismissal completely changed the game's complexion, forced Diego Simeone into an attacking change and was another sign of the petulance we've come to expect from a hothead like Costa. It's not good enough and although some may argue it was harsh to send him off for swearing at the referee, it sends a message to other players, deterring them from reacting in such an aggressive manner.
#2 Hit: Jan Oblak
If Gimenez enjoyed a great individual night, Jan Oblak certainly did too. The battle for world's best goalkeeper continues to intensify with ter Stegen and de Gea both regarded as the best in their position.
With displays like his on this occasion, Oblak continues to prove why he deserves more credit and recognition than he's given: as one of the world's best too. He made nine saves in total and although he'd perhaps expect to be busy against the league's best, Barca would have been out of sight long before the 86th minute if not for his timely interventions.
He made a good diving save to deny Philippe Coutinho before the break, after the Brazilian weaved past a pair of challenges into the area. Reacting quickly off his line to avert danger after Godin's mistake in possession almost proved costly, he cleared his lines and showed great anticipation.
In the second-half, Barca created more chances and were beginning to smell blood. Despite making a routine catch to thwart Coutinho's looping header, he made a difficult stop look easy to smother Messi's effort – which took a slight deflection on its way through towards goal.
Relieving pressure on his teammates was important and as always, Oblak was dependable as Atleti's last line of defence. He made an excellent save from close-range to stifle Suarez at the end of a brilliant Messi move, having galloped forward near the halfway line before teeing up his strike partner inside the box.
His movement was key, though Suarez looked in disbelief that he hadn't converted the chance. Messi came close again, this time forcing a fumble from the Slovenian – before he duly delivered an impressive double save to deny Lionel and substitute Malcom.
On another day, he'd have been heralded for keeping a clean sheet and winning his side a valuable point. However, Barca's late pressure ultimately proved enough to snatch a dramatic victory and there was nothing he could've done differently to stop either strike.
#1 Hit: Lionel Messi
Another week, another top spot for Lionel Messi. He has now scored in six successive league games and although his cameo against Villarreal was certainly influential, you could understand Ernesto Valverde wanting to rest him fully for this intense encounter.
Atletico, despite their regression in recent seasons, have always been an overtly physical team and one that pride themselves on defensive organisation – cohesion in numbers, making it increasingly difficult to break down.
Messi was, as usual, unfazed by their approach and persisted to run at them throughout. Constantly looking for the ball in dangerous areas, as well as accelerating towards the box from deep, he had 106 touches – only Ivan Rakitic (141) had more.
His three key passes (82.4%) was a joint game-high, while he completed six dribbles and registered eight shots over the 90 minutes. He should've at least had one assist, if not two – a devilish through ball for Jordi Alba saw the fullback hit the post early on, before Suarez was denied by an excellent Oblak save in the second-half.
Eight shots and only the solitary goal isn't what you'd come to expect from the experienced Argentine, though a few were blocked and either saved well by Oblak or flashed narrowly wide of goal – like his teasing free-kick in the first-half.
His eventual finish was subtle and equally brilliant, a deft effort which glided into the bottom corner and Oblak had no chance in truth given the speed of Barca's counter-attack and Messi's sheer placement. With Ole Gunnar Solskjaer spotted watching on from the stands, the Manchester United manager must be wondering how to keep Lionel quiet come Wednesday evening in their Champions League first leg tie.
Stats' source: WhoScored