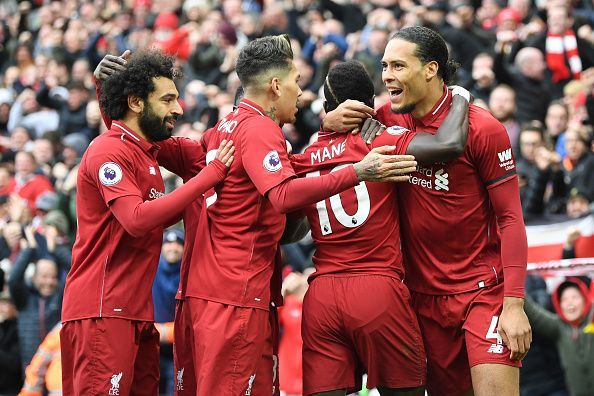 Liverpool returned top of the Premier League with a 2-0 win over Chelsea yesterday, but which players struggled while others excelled at Anfield? 
An inspired second-half showing saw Liverpool beat Chelsea 2-0, with quick-fire strikes from Sadio Mane and Mohamed Salah sending Jurgen Klopp's men back top of the Premier Leaguetable.
A frustrating first-half was almost immediately forgotten after two goals in three minutes saw Maurizio Sarri's men stunned at Anfield – as the Reds continue to intensify pressure on defending champions Manchester City, who beat Crystal Palace in the day's earlier kick-off.
Eden Hazard hit the post and squandered another promising opportunity minutes later, as Champions League-chasing Chelsea looked for an immediate response – but it proved futile. It marked the first time the Blues' talisman has missed two clear-cut goalscoring chances in a league match since December 2017, coming at precisely the time they needed the Belgian forward to step up most.
Instead, Liverpool held firm for their clean sheet of the campaign while returning to the summit with four matches and a league title to play for. Cardiff, relegated Huddersfield, Newcastle and Wolves: win all of their remaining fixtures and there's a good chance they'll be crowned champions as City's strenuous schedule looms large. With all of that in mind, here's a look at five hits and flops from a memorable clash at Anfield.
#5 Flop: Emerson
Emerson, in a similar vein to how Marcos Alonso used to coast through games, showed with his display on this occasion just how match stats can be deceiving.
Alonso's poor form and unreliability on defence means the Italian has been given an extended opportunity to stake a starting berth at left-back, but the Italian didn't do much on this occasion to justify why he's considerably better.
With four tackles and clearances to accompany two interceptions, he committed one foul but you wouldn't see these stats and believe he'd be a flop. He was. Allowing former teammate Salah get the better of him far too often, he should've done his homework and learned from other defenders who have isolated Salah well – Lucas Digne and Toby Alderweireld for instance last month.
Salah knew he could get the better of his former teammate and did so at will, weaving past him and even when he decided to approach the Egyptian, he did so cautiously. That in itself is a double-edged sword: come and pressure, you run the risk of committing fouls in dangerous areas of the pitch. Let him accelerate towards you, there's always a chance he decides to let fly from a distance or create a chance for a teammate in space, which ultimately happened.
For the Reds' first goal, he gets out-muscled after Firmino and Salah combine in the box. No matter which way you look at it, he should be stronger there, stay upright and do his utmost to clear his lines!
As for their quick-fire second, van Dijk's searching pass was an effective one but it reflects poorly on Emerson as he lacked the awareness and positional awareness to adjust accordingly once Salah controlled the ball.
Within two, three touches of the ball, he left the fullback in his wake and he needs to decide what to do quicker – either stick tighter and cut off a potential shot, or commit to a tackle and force him into a more uncomfortable situation, even if the challenge isn't a successful one.
#4 Hit: Cesar Azpilicueta
Azpilicueta, as he usually does, set the tone for how Chelsea wanted to defend. Forcing their hosts back and increasingly into mistakes in possession, he was constantly applying pressure that not a lot of their opponents have been doing in recent months. With that being said, his overzealous nature cost him a needless booking just before half-time after a cynical slip on Mane.
All in all, it was an accomplished display by the defender – who frequently made important tackles and defensive interventions when called upon. It's easy to forget that he's more suited to a right-sided centre-back position than the current right-back role he always starts in, though Sarri's insistence on starting David Luiz means he's being shifted out to the flank.
With a game-high seven tackles and clearances completed, the stats speak for themselves really. He won a few important headers when Liverpool looked to cross into the box although understandably got frustrated given the manner in which they had conceded both goals, which he could do nothing about.
The first one was Mane's header, where he was unable to get across quickly enough to clear off the line after intricate play created the chance at the far post. As for the second, blame has to go on Emerson and one other player for their roles in the build-up.
It was a good display from the club captain and in games like these where Chelsea lose, players not named Hazard are often overlooked when they do perform well. Me not including him in this list would be a disservice to his performance though, as he impressed and his tenacious work didn't deserve to be rewarded with a loss at Anfield.
#3 Flop: Jorginho
For the most part in this match, I forgot Jorginho was playing. If that doesn't emphasise his limited impact, nothing will. A lot is said about the Italian's excellent passing range, how he can combine with teammates to create chances and ultimately turn them into goals – but once you learn how to isolate him off-the-ball and force him into either taking risks or adopting a safer approach, you'll nullify his influence completely.
Liverpool overwhelmed him, as you'd expect, just as they did with Ruben Loftus-Cheek. N'Golo Kante, unsurprisingly, outshone the pair in the quiet but efficient manner with which the World Cup winner tends to do things.
Just like Emerson, his match stats don't seem that glaring from first viewing either. He completed four tackles, two interceptions and one clearance – so surely he delivered from a defensive standpoint? Not exactly.
He was dispossessed on three occasions and similarly played a big role in both of Liverpool's goals. For their first, he was caught ball-watching and didn't do enough to stop Henderson's lofted delivery towards the back post.
As for Salah's sumptuous strike minutes later, again he was too slow to react to the impending danger after Emerson was sidestepped outside the area. Failing to make a challenge and instead ambling towards Salah gave him the confidence to strike goalwards from distance, watching on as the ball arrowed beyond Kepa towards the top corner.
When he's so heavily involved in opposition goals like these, £60m is looking an increasingly inflated price-tag – even in this inflated market.
#2 Hit: Trent Alexander-Arnold
Just like Azpilicueta's impact at Chelsea, Alexander-Arnold's importance to Liverpool is really understated – mirroring the Spaniard's defensive efforts while proving a pest for the Blues to contend with as he burst forward.
Delivering a refreshing display, he continues to improve over time and while Robertson wasn't at his best on the left-hand side, he didn't need to be. Trent's deliveries caused all sorts of panic and indecision in the Chelsea box while it was reassuring to see he has the wherewithal to deal with tricky situations, snuffing out danger when Hazard and substitute Higuain probed.
Four tackles, three clearances and two interceptions as well as a whopping game-high 16 ball recoveries, he had the most touches (114) of any player and roamed into midfield upon occasion to add support, applying pressure on Loftus-Cheek and Kante in possession.
Making important interventions, contributing on both sides of the game and eager to succeed, it's crazy to think that he's still only 20-years-old and has already amassed 50 top-flight games under Klopp.
#1 Hit: Mohamed Salah
Mohamed Salah, matchwinner! In the battle of the two talismen, Salah stepped up to the plate while Hazard let the pressure take its toll on him in-front of goal.
Liverpool's first goal came after intricate play between himself and Firmino teed up Henderson, having outmuscled an out-of-sorts Emerson to the turf. Mane met Henderson's clever chip at the far post, with the winger heading home from close-range to break the deadlock.
Given just how dangerous and eager to score Salah has been for weeks now, it's no surprise that he finally did so – although the manner of his goal was impressive and equally devastating. An excellent strike on the edge of the area, his creative decision-making has largely been disappointing in recent months but he certainly picked the right option when opting to shoot from distance after leaving Emerson in his wake.
It's something we haven't seen for a while from him, though it's been a long time coming and you could tell just how much it meant to him too. He has been continually waiting for a defining moment to prove he's behind his goal drought, though on another day he'd have had more than one goal to show for his efforts.
Having come narrowly close to breaking the deadlock after five minutes, he saw a well-struck volley comfortably smothered by Kepa – although he could've had an assist or two for himself too.
A wasteful Firmino and lack of intelligent forward movement when he was creating those dangerous passes (four key passes completed) near the byline, rather than latching onto them himself, means he only has one goal to show for an influential display against his former side. But in terms of the title race, this couldn't be better timed.
Stats' source: WhoScored