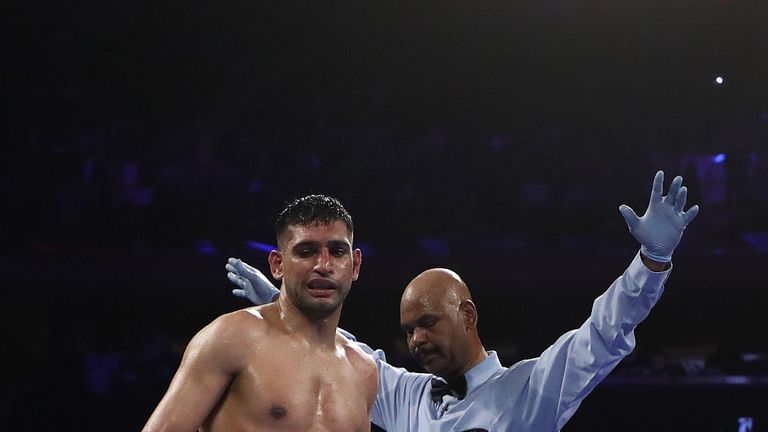 Many critics and boxing fans alike have said Amir Khan, 32, needs to hang up the gloves for good after his comprehensive defeat by Terence Crawford on Saturday night in New York.

However, he has responded defiantly – refusing to give up for good just yet. Former WBA and IBF light-welterweight champion Amir hinted that he will not retire from boxing after his sixth-round defeat to Terence Crawford in New York early on Sunday morning.
READ: Crawford earns sixth-round TKO win over Khan with dramatic finish – fight report
"April 20th at the famous Madison Square Garden in New York. The fight didn't end the way both fighters would of wanted," the Bolton-born boxer tweeted on Monday night, accompanying pictures from the fight.
"I would like to thank Toprank, Team Crawford and ESPN. I move on now, family time then back to work [boxing]. Finally, thanks to all the fans who came 2support."
Khan was outclassed from start-to-finish and arguably only won one of the five rounds – at best – before a controversial TKO finish in the sixth.
Khan denies suggestions he quit, Bunce claims he should retire
In the post-match press conference, Khan defiantly refused suggestions that he quit – admitting he wasn't thinking straight and unaware there were five minutes allotted after Crawford's accidental low blow.
However, he also revealed he was unable to continue and even if he had taken that time in attempts to recover, probably wouldn't have proceeded.
BBC's highly-esteemed pundit Steve Bunce is of the opinion that Khan should retire now.
He was quoted as saying: "We can't keep applauding him for his heart, guts and bravery. He'll be throwing punches until the cows come home."
"We're looking at a kid who should retire now. I'm looking at the end of the fight, being outclassed – even though you're fighting your heart out, how poor his feet were, how desperately he missed sometimes."
Naturally, the domestic clash with Kell Brook remains on the cards and could ultimately be the 32-year-old's final headline bout, having already previously revealed his desire to arrange the fight at a later date.