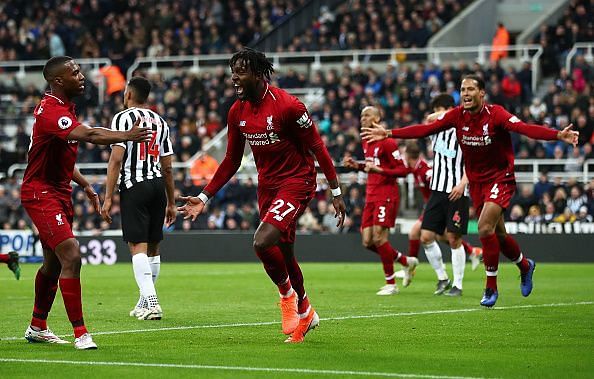 Here's a look at five talking points, as Liverpool came out on top again in a five-goal thriller against a valiant Newcastle display at St. James' Park to return top of the Premier League once more.

Divock Origi's 86th-minute header proved vital as Liverpool snatched a late away victory against a stubborn Newcastle side on Saturday evening.
The win sees Jurgen Klopp's men return top of the Premier League ahead of Manchester City's trip to Brighton on Monday night, with this season's title race set to go down to the wire after a dramatic finish at St. James' Park.
Goals from Virgil van Dijk and Mohamed Salah gave Liverpool a slender advantage at the break, after Christian Atsu's controversial strike levelled the scoring 20 minutes in. Despite an excellent finish by Salomon Rondon to equalise once more ten minutes after the restart, Origi – a second-half substitute for the injured Salah – headed home from fellow sub Xherdan Shaqiri's free-kick, snatching all three points in a five-goal thriller.
With all of that in mind, here's a look at five talking points from the Reds' latest win in contentious fashion:
#5 Trent Alexander-Arnold, that handball and his match-defining reaction
It was an eventful performance and then some from Trent Alexander-Arnold, on his return after being dropped for their 3-0 Champions League defeat by Barcelona. Klopp opted for the more defensive-minded Joe Gomez and although the selection didn't help them avoid a heavy deficit ahead of Tuesday's return leg on Merseyside, Trent responded with a memorable display – for many reasons.
He created two first-half assists, teeing up an unmarked Virgil van Dijk from a corner after 13 minutes before delivering an inviting cross for Salah to restore their slender advantage, though shouldn't have been on the pitch to create his second of the evening.
He deliberately handled the ball on the goalline, blocking Rondon's goalbound effort, only for the ball to fall for an alert Christian Atsu to slot home a close-range rebound. Fortunate to stay on the pitch, the fact Atsu scored moments after his handball was match-defining: if they hadn't equalised from that chance, he would have been rightly sent off for a deliberate handball and given away a penalty in the process – double jeopardy.
With the game moving as quickly as it was, Trent certainly got away with one and thus technically shouldn't have been on the pitch to produce his second assist. The match would have taken a completely different turn, had he been dismissed and Liverpool down to ten men, although in his post-match interview he said there was a foul on him in the build-up near the halfway line.
Instead, he recovered well and showed his class on both ends of the pitch – two assists equals Andy Robertson's 11 for the league season, while delivering six defensive interventions over the 90 minutes and displaying his excellent passing range to boot.
#4 Ayoze Perez, Salomon Rondon continue to impress
Newcastle's two chief attacking forces – one creator, the other a finisher – both were good in stages but ultimately it wasn't enough.
Ayoze, as usual, was tenacious in his attempts to try and bring his side forward despite Liverpool's early insistence to silence a lively Geordie crowd. Although he clearly tried, he unsurprisingly found himself frustrated as the visitors were often double-teaming him and forcing him into mistakes, either poor pass choices or opting for safer options under pressure.
He showed great technique and was unfortunate to only hit the crossbar after unleashing a sweetly-struck volley in the first-half, but faded as Matt Richie and Christian Atsu in particular were pulling the strings down the opposite flank.
Rondon meanwhile, really should have scored their first goal – failing to strike cleanly meant Alexander-Arnold could block it – but ultimately made amends with an emphatic finish which arrowed into the bottom corner with aplomb after the break.. Unsurprisingly, the 29-year-old was a constant handful for Liverpool's backline to deal with, unfazed by van Dijk and Lovren, while the goal itself was on his weaker left foot too!
Both players work tirelessly for their side and although their shortcomings in the final third are magnified in games like these, they have been improving and ultimately need more quality teammates around them.
Perez has made public the possibility that he'll be leaving this summer with offers abroad on the table of a reported £25m. Meanwhile, it's easy to forget about Rondon's situation as he's enjoying his best goalscoring campaign in the Premier League. Parent club West Brom are in the Championship playoffs and there's no guarantee he'll remain in the top-flight next term, despite his undeniable qualities.
#3 Salah scores again, then sadly stretchered off
Salah now has 22 Premier League goals this season and continues to lead the Golden Boot race – not a bad tally for a player who has suffered inconsistencies this term, endured a goalscoring slump and missed out on a Team of the Year place too.
It speaks volumes for his abilities as an attacker and reliable force for Liverpool, that if Roberto Firmino (injured) or Sadio Mane are struggling, he's often the man that places the burden on his shoulders to step up and carry them through difficult moments, even if guilty of doing too much sometimes.
In games like these with fine margins between winning and losing, the subtleties of his brilliance cannot be overlooked. Ultimately it was a shame he suffered a second-half injury after an accidental collision with goalkeeper Martin Dubravka, though it's good to know that he's okay – though a doubt for Tuesday's return leg against Barca given the concussion protocol and whatnot.
Taking his goal well, he was a nuisance as he usually is against a shaky Newcastle backline, regardless of whether he scores or not. Despite this, it proved pivotal with his teammates grabbing a late winner in his absence.
#2 Big few months for Benitez and Newcastle awaits
With fans chanting they want him to stay, banners and constant adoration for his service to the club, Rafa Benitez has a big decision to make. Many were sceptical as to his ulterior motives heading into this clash – his current side against his beloved Liverpool. But ultimately, football is a results-driven business and sentiment, as nice as it is, doesn't always breed success at the highest level.
Newcastle are frankly nowhere near the level he expects them to be. After last season, you couldn't begrudge him wanting to leave if he did. The team, despite some complimentary players, are just not good enough and find themselves on 42 points after 37 games – at least nine to ten points away from competing with the likes of Wolves, Everton and Leicester for the coveted seventh place.
That's even before discussing his lofty European ambitions. So naturally, if you want something so bad, you should prove it. In the club's case, they have to back him financially and grant him an adequate transfer budget: but that's easier said than done given the ownership issues and indecision with regards to their long-term future.
It's a case of what his ambitions are, where could he go from here? There is never going to be a shortage of offers from top clubs across Europe, because he's a world-class manager with impressive pedigree.
Despite clearly loving Tyneside and his adoring fans, that might not prove enough to convince him into staying longer with lucrative offers elsewhere. It says a lot about his relationship with the fans but again, he needs more support. If they can't give him the resources he longs for, what's the point of stagnating at a sinking ship? Time will tell.
#1 Last-gasp drama again as Liverpool win
After another morale-boosting, last-gasp victory, Liverpool return top of the league. Although they will have been disappointed with the goals conceded, there's perhaps no better feeling than a smash-and-grab victory against a resolute opponent eager to break the unbeaten streak.
Klopp's men have scored a league-high 24 goals in the last 15 minutes of matches this season and whether it was deserved or not, doesn't matter. A lot of fortune has gone in their favour this term and it's definitely something that will be analysed in the aftermath of this season, should they prove successful, but you need some luck to get to where they are right now.
It's not all in their hands but they find themselves with a good chance of making history and the sort of title race we've been waiting a few seasons for has finally arrived. All they can do is beat Wolves and hope City slip up, though Brighton don't have the threat of relegation on their hands any longer after Cardiff lost against Crystal Palace.
Salah injured, on another day they're playing with a numerical disadvantage for 70 minutes and who knows what could have happened? Newcastle probably would have won. Fabinho's dive near the touchline engineers the free-kick from which they score a late winner, it all adds up!
The possibilities are endless but ultimately, you have to be happy for Origi. The 24-year-old has once again proven his worth with an inspired cameo, turning matchwinner once more alongside fellow sub Shaqiri, despite not earning many opportunities to start games this season. So much for poor squad depth…