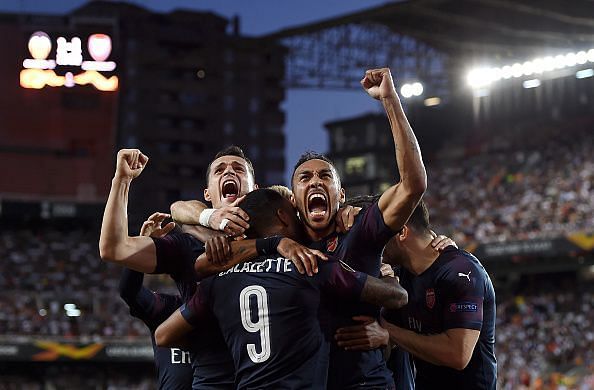 Here's a look at five talking points, as Arsenal made history by securing their first European Final since 2006 with a 4-2 away win (7-3, aggregate) over Valencia at the Mestalla.
Pierre-Emerick Aubameyang's first Arsenal hat-trick, coupled with another for strike partner Alexandre Lacazette, secured their passage into the Gunners' first European Final for 13 years.
A 4-2 away win over La Liga side Valencia, who fought valiantly despite a 7-3 aggregate defeat, means Unai Emery's men have a golden opportunity to finish the 18/19 campaign with their first piece of European silverware.
Fittingly, they will face London rivals Chelsea in Baku on May 29. They emerged after a dramatic penalty shootout win over Bundesliga side Eintracht Frankfurt, with the pair set to contest an intriguing clash with a 2019/20 Champions League qualification berth up for grabs for the winner.
Without further ado, here's a look at five talking points from Arsenal's morale-boosting away win in Valencia:
---
#5 Goncalo Guedes improves yet still not enough
Guedes was poor in the first leg and naturally, I said he needed to improve if Valencia were to have much chance of mounting an unlikely comeback at the Mestalla.
On this occasion, he was much improved at times – particularly early on – but again it wasn't enough to secure the victory against a simply stronger Arsenal side in truth. He faded after a lively start before again being replaced, this time after 70 minutes for teenage forward Ferran Torres.
Guedes completed two key passes, one dribble, interception and was fouled once too, but crucially his output in the final third was inconsistent and ultimately disappointing. He was dispossessed on seven occasions, either by tackles or needless giveaways, while his 83.3% pass accuracy masked him only winning two of the eight duels he contested during the match.
Those stats are damning for a player of his ability and despite early signs that he had the better of Ainsley Maitland-Niles down the right, with an overlapping Jose Gaya in support, once the 21-year-old got settled, their influence waned significantly as he forced Guedes into safer passing options.
#4 Nacho Monreal typifies Arsenal's defensive woes
As for Nacho Monreal, he had a solid defensive display but one thing that stands out above all is his culpability for both Valencia goals here. It's something that often gets swept under the carpet in games like these where Arsenal win or crucially, avoid defeat – but at 33 and clearly regressing, the experienced Spaniard's woes typify a deeper rooted issue within the Gunners' backline.
Rodrigo's low pass across the box is gratefully tucked away by an alert Gameiro to break the deadlock after ten minutes. The experienced Frenchman couldn't believe his luck and that's no surprise – Monreal unknowingly invites him to follow the ball and finds himself caught in no man's land with his body position all wrong when he should be intercepting the pass, clearing his lines in the process.
With five interceptions, three clearances and one tackle completed, it's unfair to solely pin Valencia's goals on him – but lapses in concentration are costly at the highest level. A more potent team would punish them more regularly, which is usually what happens against Premier League opposition, their defensive deficiencies are exposed.
His role in Gameiro's second is questionable too. A defence-splitting pass sees him recovering frantically, yet he should again have been alert enough to intercept the pass in its tracks and clear his lines. The second instance is more intricate given Arsenal's defensive line as a whole, coupled with the fact that Sead Kolasinac is caught ball-watching, but the point remains the same.
He played well over the 90 minutes and yet when it mattered most, he was nowhere to be seen on two separate occasions which led to goals conceded. It's not a harsh assessment either, because this has always been a criticism of Nacho's game.
That it has been allowed to continue for so long reiterates the problems which lie at the heart of Arsenal's defensive woes. Scapegoating individuals doesn't help as their issues clearly run deeper: instead they need world-class reinforcements!
#3 Gameiro with a brace, Wass and Coquelin both solid
After an inspired cameo appearance last week, Kevin Gameiro duly delivered with a well-taken brace on this occasion. He broke the deadlock with a typical striker's finish – anticipation and awareness spotting the gaps within a breached Arsenal backline, while his second wasn't the most pretty but positioning and composure saw him deceive Petr Cech and the visitors' offside line to slot home on the line.
With two key passes, a game-high 93.1% pass accuracy and one dribble completed, it was a shame that his teammates failed to regularly provide him adequate service in the final third, otherwise who knows how many goals he could have netted? It's one of the main reasons why he lost so many duels, only winning one of seven contested, and he'll be left thinking what if he started ahead of Carlos Soler in last week's first leg.
Daniel Wass, who also was a surprise omission from their starting line-up in north London, performed well as he started in right midfield. With three key passes, 88% pass accuracy and a game-high four tackles, he looked to get on the ball where possible and create chances, although Marcelino's insistence on a rigid 4-4-2 formation perhaps wasn't the best in hindsight.
Francis Coquelin, suspended for the first leg, made his long-awaited appearance against his former side and was solid. Doing his ever-growing reputation no harm, he was quietly good in central midfield: tidy in possession, successful with plenty of adventurous passes, he won five of six duels, completed two tackles and one interception too despite an early back scare in the first-half. A solid but unspectacular display.
Valencia performed well and worked hard but with a two-goal deficit to overturn from their first leg travels, not to mention Arsenal's fearsome partnership in attack, it compounded their woes as they went in search of another miraculous European comeback after an eventful week packed with them.
Despite their never-give-up attitude, a few close chances and efforts from distance that either troubled Petr Cech or whistled narrowly wide of his goal, they came unstuck against a better side. Now their focus returns to La Liga, where they can still pip Getafe to fourth place and an all-important Champions League place ahead of their Copa del Rey final against Barcelona on May 25.
#2 Hat-trick hero Aubameyang and Lacazette a deadly combo
Much has been said about Aubameyang and Lacazette's partnership this season. They've had their ups and downs, but their combination play and their attacking influence has powered Arsenal into their first European Final for over a decade. Within their goals and assists, the Gunners would have nothing to look forward to, after what has been a frustrating campaign on all fronts for Unai Emery's men.
Instead, they find themselves up against a tricky test with Chelsea awaiting them in Baku on May 29 and have a lot to thank their two strikers for – even if they're not exactly the most clinical. Lacazette is one of the world's best forwards when it comes to link-up play and somehow that facet of his game continues to be overlooked. Aubameyang, who has missed a multitude of glaring chances this term, is picking his moments to peak this season – the pair combined to devastating effect as Valencia's backline were carved apart.
Lacazette out-jumped Gabriel, a much bigger and taller player, to win a header and flick it goalwards with Aubameyang lying in wait ahead of him. Auba's sweetly-struck volley flew into the bottom corner and just like that, Valencia were dealt a hammer blow.
Minutes earlier, Gameiro had just scored and you could excuse the visitors for feeling restless, having conceded early on away from home against hungry, fearless opposition. That goal quietened nerves and silenced the crowd at precisely the right time, but they needed more.
Lacazette the creator, Aubameyang the finisher. It should be the other way around but as we've seen time and again, the pair interchange regularly and it makes things more unpredictable for defences to pick up on. Lacazette hit the post after a great solo run and pass by Aubameyang, before he made amends with aplomb after 50 minutes. Picking up Lucas Torreira's threaded pass, his brilliant touch and finish into the bottom corner were ruthless.
Maitland-Niles created another assist with a marauding run down the flank, teeing up Aubameyang at the near post to slot home. He couldn't miss from such close-range but to seal his hat-trick, he slammed goalwards at Neto's near post and wheeled away as the net bulged. Neto couldn't have been better placed and yet was helpless to thwart the strike.
Many questions have been asked about the pair since their arrivals in recent seasons, which is only natural given the financial outlay Arsenal were prepared to unleash for their services. Are they top tier strikers? World-class? They are Arsenal's best and there's no disputing that, whether they can finish chances or not.
If they are to have much success against Chelsea in three weeks' time, the Gunners need their attacking duo to be firing on all cylinders. Not least against a Chelsea side who are suspect defensively at times, with David Luiz in particular a weak link to exploit.
#1 All English final awaits with plenty to play for
After Liverpool and Tottenham sealed their Champions League fate with comeback victories in midweek, Arsenal's away win has contributed to making football history. For the first time ever, both European Finals are all-English affairs – which speaks volumes for the quality within England's top-flight, compared with the rest of Europe.
Not many gave Eintracht Frankfurt a chance in the other semi-final clash, though they took Chelsea to the brink and were unfortunate to lose in such a cruel manner that comes with the lottery of penalty shootouts.
It's fitting that Tottenham booked their Champions League final place, while their two London rivals Arsenal and Chelsea will be battling for Europa League glory a few days prior. Perhaps harshly too, it shows how far the pair have fallen in recent years – so this game means more than the average Premier League encounter.
Ultimately, it's a consolation prize and Maurizio Sarri's men will be eager to claim it. After their 2013 triumph over Benfica in Lisbon, they would love to secure another European trophy and not least against Arsenal – who will be playing their first since their 2006 UCL defeat by Barcelona and first UEFA Cup showpiece since the defeat back in 2000.
The winner gets Champions League football for next season and considering Chelsea's current league position, it has huge ramifications for Arsenal. Chelsea would love nothing more than a nice farewell for Gary Cahill and talisman Eden Hazard, who are both set to leave this summer – while the Gunners long for silverware and after a troublesome season, this would be a welcome finish.
Unai Emery has won the competition in three successive seasons with Sevilla and will be aware that success in Baku could have a significant impact on their ability to attract top-quality players this summer.
Arsenal vs Chelsea has always been an intriguing fixture and despite the Blues regularly getting the better of their north London counterparts for a stretch, the tide is gradually turning the other way. Arsenal need this win more than them and with that in mind, it'll be interesting to see how they approach the game as both sides have been horribly inconsistent this term. There's plenty to play for.
Stats' source: WhoScored