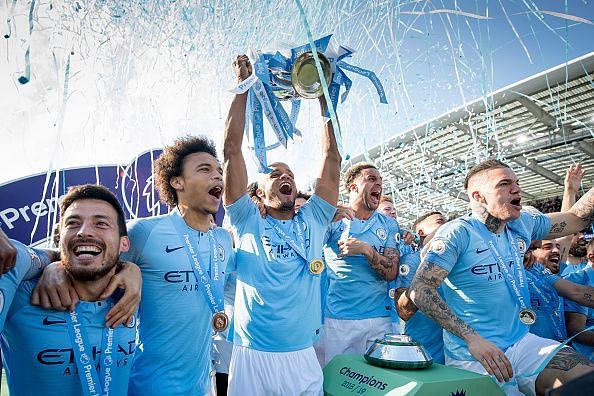 Manchester City retained their Premier League title in style with a 4-1 win over Brighton on a busy afternoon away at the Amex on the final day of the season. What were five talking points from their emphatic win on the south Coast, as the 18/19 campaign draws to a close?
Goals from Sergio Aguero, Aymeric Laporte, Riyad Mahrez and Ilkay Gundogan ensured Manchester City beat Brighton 4-1 away from home on Sunday and retained the Premier League trophy after an eventful title race which went right down to the wire this season.
Jurgen Klopp's Liverpool were 2-0 winners over Wolves in another Sunday afternoon fixture, but needed the Citizens to drop points if they were to win the league for the first time since 1989/90.
Despite Glenn Murray's headed opener after 17 minutes, Pep Guardiola's men responded instantly and had a 2-1 lead going into the break at the Amex. Brighton, who were already mathematically safe from relegation before kick-off, had nothing to lose but were eager for a result in front of their adoring home support.
Aguero equalised a minute after Murray's effort before Laporte scored with a header – angled into the bottom corner after being left unmarked and lurking in the box. An individual effort by Mahrez and an excellent free-kick strike by Gundogan in the second-half proved too much for the Seagulls to handle. Without further ado, here's a look at five talking points from an eventful afternoon on the south Coast:
#5 Murray's opener stuns City into inspired response
City were nervy, hesitant and far from their usual rampant selves in the early exchanges – not exactly what you'd expect the league leaders to look like, but nonetheless what we've seen more often in recent weeks.
With the scores goalless, away from home against a Brighton side with nothing to lose, there's always danger in the midst of success: potentially taking the game too casually, already believing it's been won and making needless mistakes.
To their credit, a minute after Murray headed home from Pascal Gross' corner, they responded perfectly with a goal of their own. The joyous home crowd had been effectively silenced and although Guardiola was animated on the touchline, their situation had drastically changed. The longer their wait for a goal had continued, the pressure would have only continued to mount.
Bernardo Silva came close on a few occasions beforehand, so it wasn't as though they were not creating chances – but in closely-contested games like these, moments at specific times can often set the tone. Aguero's equaliser was their sign.
It showed their determination to win and unsurprisingly so, because they were already aware before kick-off that fate was in their own hands. Win and the title was theirs. Anything less would be catastrophic, regardless of the venue.
Elsewhere in the top-flight, you could sense City's swift response having a damaging impact on Liverpool. Their supporters allowed themselves to believe, if only for a moment that this would be their year after Sadio Mane broke the deadlock at Anfield. Instead news had filtered in and undoubtedly had a disheartening effect on the atmosphere on Merseyside, as they were helpless.
#4 Pep's subtle tactical switch works wonders
After a handful of promising attacks broke down in the first-half, Pep knew he needed to make tactical alterations. He couldn't just sit there and react, it was time to be proactive: initially switching Mahrez and Sterling to opposite wings before reverting to a 4-4-1-1 formation altogether, there was more emphasis on probing distribution from their midfield base.
Gundogan and David Silva were regularly getting on the ball and naturally, it meant Brighton had to shift their defensive focus: pressing their midfield to force mistakes or defend in numbers and cut off the supply to Sterling and Aguero?
Sterling wasn't originally getting the ball in dangerous areas and the formation change gave him that licence to roam forward, making threatening runs and being a nuisance to man-mark while doing so.
Mahrez meanwhile, was the opposite. However his poor decision-making meant they lost possession too often and those subtle changes proved beneficial with an extra outlet from their width as a marauding Oleksandr Zinchenko often threatened down the left.
#3 Aguero and Laporte with important goals at crucial time
Ultimately, there's a reason why Brighton have found themselves in relegation trouble for the majority of this campaign – they have been both inconsistent and poor when it mattered most.
This season, safety aside, has been a forgettable one for Chris Hughton's men but given results around them in the table, they approached this game with quiet confidence they could spoil City's big day, something both Burnley and Leicester came narrowly close to doing recently.
With that in mind, getting off to a good start like they did is always going to help the cause when playing against a top side at home. Murray's goal was far from pretty and essentially a goalkeeping mistake as Ederson attempted to punch, missing completely, but they weren't going to complain.
When you're leading in a game like this, you shouldn't be squandering leads as easily as they did. Aguero's goal was a good finish but poor because their players switched off, something you cannot afford to do for even a second against a team of City's quality.
Laporte's goal meanwhile, was a gift-wrapped present! He's excellent in the air, as we've seen on multiple occasions before. The fact he ran goalwards the way he did, with goalscorer Murray and Lewis Dunk seemingly sleeping on their marking duties, is embarrassing from the hosts' perspective. What's the point of being in the box to begin with, if you're not going to pick up a player and mark them? Or at least cover a space in the area?
Aguero has netted 30 goals and created 10 more across all competitions this term and although he didn't earn a share of the Golden Boot, his presence has been more than just his goal tally.
The same must be said of Laporte too, who earned a Team of the Year berth for his expert defending but has also proven a set-piece threat and menacing in the air. Everyone has stepped up when called upon under Pep though. Club captain Vincent Kompany has been dependable, just like his French counterpart, when called upon.
Those were important goals for City but damning from Brighton's perspective as again they've conceded preventable goals. If they truly have aspirations to improve, progression will not arrive with displays like these – their failure to make the Amex a fortress and conceding sloppy goals mean they remain vulnerable to relegation battles.
It's tough to be critical as it's an end of season fixture, not least against the league's best side. That shouldn't be a good enough excuse though, given how raring to go players looked before kick-off and in the early going. After their encouraging 1-1 result away at Arsenal last weekend, you simply cannot afford to follow it up with a defensive display like this one.
#2 Brighton's fantastic model pro Bruno retiring, aged 38
I remember watching Bruno live at Vicarage Road last season in Brighton's third Premier League game, having been promoted from the Championship that summer. That day, I was in disbelief when checking how experienced the Seagulls' backline was and that the Spanish fullback was 36-years-old at the time. I thought it was an error!
He's been so good for them and at 38, announced he'd be retiring from professional football once this season was complete. That he's managed to come this far in part of a 20-year journey, is awe-inspiring.
The oldest outfield player (38 years, seven months) to feature in England's top-flight this term, it's testament to his character and willpower that despite his age, he hasn't deteriorated like many players – especially defenders – often do when failing to deal with the physical rigours of weekly PL football.
Despite their 4-1 defeat on this occasion, he didn't defend any worse than his teammates and instead was solid as ever before being replaced to a standing ovation and warm applause from everyone inside the Amex. With 75% pass accuracy, one aerial duel won, two tackles, four clearances and 4/4 duels complete, he was the hosts' only defender to complete a successful tackle on a busy afternoon against the champions.
He did alright and as usual, proven a solid, reliable performer under Chris Hughton. It's an incredible achievement but one that will gone under-the-radar, after seven years and 235 appearances on the south Coast with Brighton.
He has said playing for them has "changed his life" and having helped them secure promotion into the division, he won a place in the Championship's Team of the Year in consecutive seasons before their return to top-flight football. Getting a huge reception near the end is nothing less than he deserves, so congratulations to Bruno – I wish you a happy retirement!
#1 City retain their crown, but what about their long-term future?
City win again. Back-to-back champions. Pep Guardiola and his side have broken records in the process, while on a personal level he becomes the first manager ever to win and retain domestic trophies in three of Europe's top five leagues.
However, don't let stats deceive you. Despite their goals and success, Manchester City are hungry for more. Liverpool ran them close and too will be motivated by their shortcomings to return stronger in 19/20, but it's time to focus specifically on a few players.
Mahrez and Gundogan, who scored the visitors' third and fourth goals on their title-clinching afternoon, were disappointing in this one. Frustrating in possession, delayed decision-making and sloppy play at times saw them needlessly invite opposition pressure.
That's not to say they didn't improve as the match wore on, because they did. But don't be fooled by highlights nor the scoresheet. Whether it was being dispossessed in key areas, picking the wrong pass or taking too many touches (Gundogan had 191!), it was frustrating to watch in the first-half.
Mahrez has been a source of constant frustration for City fans this season, drifting in-and-out of games and despite his 12 goals and 12 assists (all comps), he's thus far failed to live up to his £60m transfer fee. However, look at Bernardo Silva: he was struggling for regular minutes last term and has proven an integral piece in Pep's jigsaw twelve months on.
Given the competition for places, you look at Leroy Sane – already better and five years younger than Mahrez – he didn't even come off the substitutes' bench here! It highlights their strength in depth and yet there are burning questions that need answers for their long-term future, if they're to build a proper dynasty rolling under Pep and dominate Europe, not just England, going forward.
Gundogan has been honest about his future and doesn't know what's next, though with twelve months left to run on the German's existing deal, he and the club need to swiftly agree an extension. Otherwise, it's beneficial they let him go this summer while they can still warrant a fee, rather than let him leave on a free transfer next July. He's been in England for three years and despite fitness issues, this campaign has been his best: closer to the levels he promised from his tenure at Borussia Dortmund.
Gundogan and Mahrez are both 28, while Kyle Walker turns 29 in a fortnight, David Silva (33) and Fernandinho (34) will not be around forever. It's imperative the building blocks for the future are set in motion now.
Ultimately, CIty have retained their title on 98 points and done so without their best player in Kevin de Bruyne for large periods this season. Their Champions League defeat, by Tottenham no less, is certainly a bitter pill to swallow but it'll spur them on to do better next term and finally silence those lurking critics for their UCL shortcomings. It'll be interesting to see how it all unfolds but there's no reason why City's dynasty hasn't just begun.
Stats' source: WhoScored