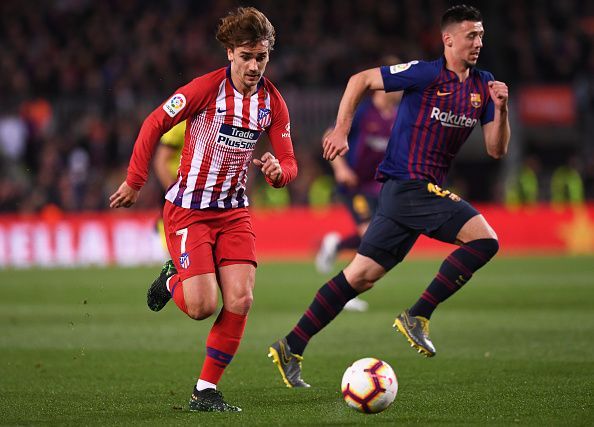 Antoine Griezmann has revealed he'll be leaving Atletico Madrid this summer, so here are three reasons why Barca should avoid signing him..

Earlier in the week, Atletico Madrid forward Antoine Griezmann revealed this season will be his last for the Rojiblancos.
With a €120m (£105m) release clause and tireless speculation that has surrounded the Frenchman's future in recent seasons, this latest announcement was surprising – as in his last summer's documentary – he said he was happy to stay and extended his deal to 2023.
However, recent developments have alerted the attention of various suitors – not least La Liga champions Barcelona, who were reportedly close to signing him twelve months ago.
Despite their undeniable quality, Barca are always hungry to improve: not least after a remarkable Champions League semi-final exit at the hands of Liverpool earlier this month. Without further ado, here are three reasons why the Blaugrana would be wise not to splash the cash on Griezmann this summer:
#3 When it matters the most, he's too inconsistent
Well, the headline says it all really. Griezmann is an excellent forward, one of the world's best, but doesn't showcase his ability on a consistent enough basis to warrant Barca activating the Frenchman's buyout clause.
With 21 goals in 47 appearances across all competitions this term, it's a respectable tally – until you delve deeper into the stats and fully break them down. He has netted eight league goals in 2019, over a five-month span where Atletico have played 19 games.
In total, he has 15 in 36 and truthfully, those numbers suddenly don't look too impressive anymore, do they? He often goes three to five games without goals and when you're the best player on a title-chasing team, that level of production just isn't good enough. Yes, he plays in a variety of different attacking roles. Even still, he doesn't create as many chances as he should for his teammates either – who are far from slouches by the way!
His efficiency and decision-making in the final third hasn't really improved significantly over the years and despite possessing that match-winning quality, this has been his worst campaign in terms of goal output in Spain's top-flight since 2012/13 (10 goals, 34 games) – during Antoine's penultimate season at Real Sociedad.
As for assists created (all comps), they've also seen a slight drop-off – his lowest since the 15/16 season. Barcelona really cannot afford to sign an expensive passenger for the games that matter most.
#2 Harsh but true: he's just not a big-game player
This one is frequently swept under the carpet and filed under criticism of Diego Simeone's side collectively – but being their talisman, Griezmann must take more responsibility.
You can scour the Internet for individual stats or watch the games themselves but when the pressure is on, the bright lights are shining and Atletico need their main man to step up against top opposition? He's often either underwhelming or quiet.
Juventus home and away in the last-16 earlier this year, what did he do? What about crunch league games against Real and Barca themselves this season? With three goals and one assist against the pair in his last twelve league games – spanning three seasons – it's just not good enough.
This has been a common theme and doesn't just relate to this season either. At last summer's World Cup, he was France's joint top goalscorer with four: three penalties and a wicked deflection goal.
He earned more praise than his displays merited when Kylian Mbappe and Paul Pogba were Les Bleus' standout performers. In knockout games or against tough opposition, he often falters and that's not exactly something you expect from a world-class forward is it?
#1 There are better, younger and less expensive alternatives
Ok, this is a bold statement but hear me out. Barcelona are a brilliant but flawed side. Lionel Messi is ageing, Luis Suarez declining and the majority of their core are the wrong side of 30. In recent seasons, they've invested heavily in talented youth. Ousmane Dembele, Jean-Clair Todibo, Malcom, Arthur are all 22 or younger, while the incoming Emerson (20) and Frenkie de Jong (22) are all prime examples of their vision for the future.
Signing Griezmann, especially by activating his buyout clause, would completely contradict all of their promising work. He turned 28 in March and already finds himself in the peak years of his career. There are better and less expensive alternatives that would prove both profitable and reliable attacking outlets long-term.
Who, I hear you ask? RB Leipzig's Timo Werner, Manchester City forward Gabriel Jesus and Inter's Lautaro Martínez to name three. None of them are world-class yet, but there's no reason they cannot flourish in similar circumstances to Griezmann at the Camp Nou over the next 12-18 months.
Werner (23) continues to flourish in the Bundesliga, while Lautaro Martínez (21) has settled well to life in Italy this term. Jesus (22) meanwhile, is somewhat of a forgotten man given his limited chances under Pep Guardiola this term but arguably the best of the trio.
Some have already suggested it's time for him to make a fresh start elsewhere and play regularly. Who's to say he cannot replicate Kylian Mbappe-like productivity numbers with renewed faith in Spain alongside further quality teammates and regular opportunities to shine?
In a side with Messi, you will create countless chances to score every game. I'm not convinced Griezmann is what they need – despite his versatility to play across the frontline. He's not a lethal finisher and the three I've just mentioned are all out-and-out centre forwards.
Dembele, Malcom and Philippe Coutinho all vying for places on the flank, the last thing Barca need right now is another player to clog up Ernesto Valverde's selection headaches every week. Instead, a bonafide acquisition tasked with a clear responsibility that can be trusted – say, Jesus, would make more sense in the long-run. The real question for Griezmann remains: is he ready to step up? Despite his quality, a lot of the signs suggest otherwise.