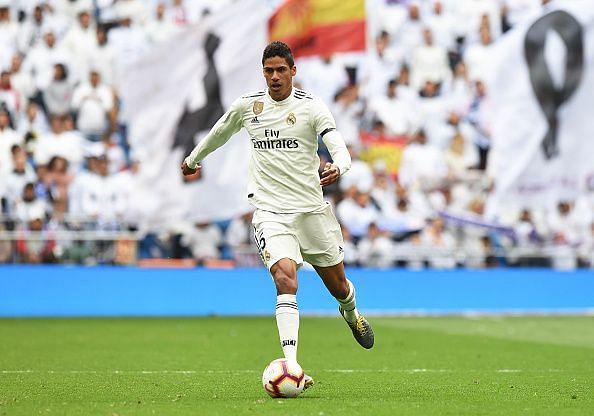 After revealing he'd stay at Real despite speculation on his future, I take a look at three reasons why World Cup winner Raphael Varane is right with his latest decision to remain in Madrid… 

Real Madrid central defender Raphael Varane isn't usually one to talk – but recently clarified his future. Tireless speculation has linked him with a lucrative move away from Madrid over the past few seasons and again ahead of this summer window.
Manchester United and Juventus were among Europe's top clubs said to be monitoring his situation as he previously refused to confirm his plans. However, the Frenchman has now insisted he will remain with Los Blancos for the forthcoming campaign, as they look to recover after a forgettable campaign on all fronts in 2018/19.
He was quoted as saying the following, by Spanish news outlet Marca: "I'm going to continue here next year, I'm sure we're going to relive strong emotions. We have fought, tried hard, we cannot blame anything but it is true we missed that spark in difficult moments. They are cycles, I have not been at my best level but will see the best Varane again."
With that in mind, here we take a look at three reasons why the World Cup winner's decision is the right one on a personal level at this stage of his career:
#3 Comfortable and content, it's low-risk and he remains highly valued
The first point is the most simple of the trio: why wouldn't he want to stay? Yes, it's a safe option but you have to look at things from the player's perspective. His stock hasn't been affected by their poor season, in-fact in some ways it has risen and it makes for a more believable transfer story.
His motivations might change if that was the case and he suddenly found himself lower in Didier Deschamps' estimations for France, but that's not the case. Real want to keep hold of him and despite potential replacements being lined up, the fact he has a €500m release clause emphasises that point.
Unless he says he's unhappy and actively seeks a move elsewhere, their stance will not change. Club captain and Varane's centre-back partner Sergio Ramos, 33, has been at Real for 14 years and has at least a year or two more at the top before he passes the mantelpiece, though it's clear to everyone that the Real hierarchy rate him highly – as they should.
#2 Ability to lead under Zidane and recover after poor season
Real Madrid have severely underachieved this term, sure. But a lot of that stems from their inability to adequately address Cristiano Ronaldo's departure and when you lose a player of his presence without sufficient replacements, you're always going to struggle.
That's something they learned the hard way. Crashing out to Ajax in the Champions League's last-16, out of the La Liga title picture before Christmas, this was a forgettable campaign on all fronts. Seeing former manager Zinedine Zidane make his surprise return to the helm before the season's end is sure to have softened the blow ahead of a big summer window at the Bernabeu.
They've already bought highly-rated defender Eder Militao for €50m (£43m) and Zizou has spoken glowingly about his reluctance to sell Varane, as he knows just how integral he is to their rebuild. Varane has played 108 matches and just under 9,300 minutes under his compatriot's guidance – so staying the course makes sense among familiar surroundings and a philosophy he can trust.
Having experienced the dizzying heights at Real in previous years, it's not unreasonable to suggest he wants that success again in the not-too-distant future – so why not stay and help steady the ship as they aim to return with aplomb next season? After finishing 19 points behind eventual winners Barcelona in third place this term, they'll be eager to compete on all fronts and regain their Champions League crown next season.
Staying during a time of difficulty also speaks volumes for a player's character: do they leave when the going gets tough, or are they motivated to silence their critics and better their team? Given Raphael himself is a low-maintenance player, those signs are pleasing.
#1 Can stay, succeed Ramos as Real's new captain for years to come
With three years left on his existing deal, Varane finds himself on the cusp of his peak career years. It's very idealistic to expect players to remain loyal when lucrative offers from abroad start flooding in, although the Frenchman hasn't yet had his head turned and at 26, there's plenty of scope for a more significant role at Real in future.
As previously mentioned, Ramos is already arguably on the decline and most of their core find themselves the wrong side of 30. Marcelo, Luka Modric, Karim Benzema, Toni Kroos and Gareth Bale (both 29) are all top players who need replacing with a long-term investment at some stage.
Varane turned 26 last month and it's very romantic to suggest he'd be open to committing his future to Madrid for the remainder of his professional career. The volatile market in recent seasons has proven top defenders command a premium price – see Virgil van Dijk – and he'd probably be the first to break a nine-figure transfer fee if available.
However, with performance-related bonuses, assurances and the promise of being made their new captain to succeed Ramos, it makes for an interesting proposition. He already leads by example with his defensive displays and although not in the same way Ramos does, commands respect from peers and opponents alike.
Admittedly, he hasn't always felt as appreciated as his talent deserves but it comes with the territory: you don't know what you have until it's gone. Ultimately, this is a man they signed from Ligue 2 side RC Lens for £9m eight years ago – if they convince him to move to greener pastures at some stage where he's blossoming into his prime, they'd be making a very expensive mistake.