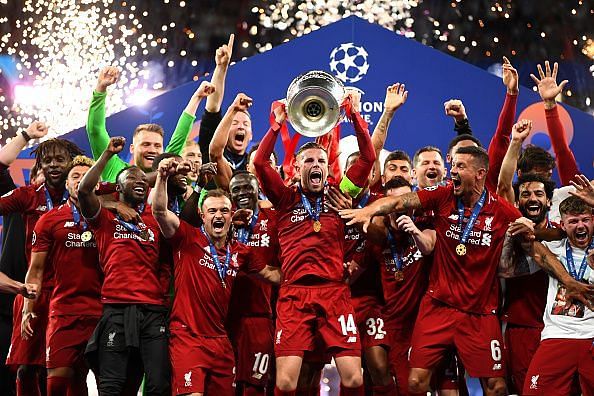 An extended look at five hits and flops from Liverpool's 2-0 Champions League Final win over Premier League rivals Tottenham in Madrid overnight…

Liverpool have sealed their sixth Champions League triumph after a 2-0 win over Premier League rivals Tottenham in Madrid.
Mohamed Salah's early penalty and Divock Origi's well-taken strike late in the second-half proved enough for Jurgen Klopp's men to atone for their heartbreak at this stage twelve months ago – where they lost against Real Madrid.
This win means they have surpassed both La Liga champions Barcelona and Bundesliga giants Bayern Munich for all-time European cup trophies with six, only bettered by AC Milan (seven) and Real (13) themselves. They also became the first team to win with less possession (35.4%) than their opponents, since Jose Mourinho's Inter Milan beat Bayern back in 2010.
Despite their best efforts, Tottenham just were unable to truly get going and neither side played particularly well in what was a drab affair. With all of that in mind, here's a look at five hits and flops from Liverpool's Champions League victory:
#5 Flop: Moussa Sissoko
This was an evening to forget for Moussa Sissoko, who must have been cursing his luck just seconds after kick-off. He gave away the all-important penalty with a handball, from which Salah duly stepped up to convert and after making a mistake of such magnitude, the Frenchman felt increasingly determined to then atone for his error.
Leaving an outstretched arm out, gesticulating to his teammates that danger was present may seem innocuous – but you can do so without an outstretched body part, not least in the penalty box given how contentious handballs have been this season. Poorly executed, it was an unfortunate moment but one that set the tone for his evening.
It only made things worse and his individual display stuck out like a sore thumb – despite winning three of five duels and completing two tackles. His decision-making was typically erratic whenever he approached the ball and it's unsurprising he only had 41 touches in around 75 minutes of action.
#4 Hit: Danny Rose
Despite the result, Danny Rose is one of few Tottenham players that can leave Madrid with his head held high. For starters, he never stopped going.
That is testament to the fact this game was up for grabs, while also balancing his defensive responsibilities with creating a bonafide attacking threat in possession. Two clearances, one tackle and interception, no fouls committed, four dribbles completed, he won all seven of his duels contested.
His three key passes were a game-high and his 87.5% passing accuracy was a joint high, alongside Harry Winks. He continued to threaten down the left-hand side and even in the dying embers, still flew forward and was trying to make things happen. Case in point being James Milner's clumsy but necessary foul on him with five minutes normal time left.
Nothing came of the resulting free-kick, just a few yards shy of the penalty area, but that typified their game: despite dominating possession, they couldn't penetrate until it was too late. Less than two minutes later, Tottenham found themselves further behind.
#3 Flop: Roberto Firmino
Harsh, perhaps. But given their high standards and the magnitude of this game, Roberto Firmino was largely disappointing.
That shouldn't come as much of a surprise either given his recent troublesome injuries, though it says more about Klopp and how he knows Firmino plays such an integral role within their frontline.
Nonetheless, his impact on the game was minimal and Klopp's gamble ultimately didn't pay off. Replaced for Origi near the hour mark, the Belgian doubled their lead late on, netting a perfect third goal from three shots in the competition this term.
He lost all four of his duels contested, was dispossessed once and struggled to get involved in attacks. The 27-year-old's game is not centred on just scoring goals, his overall contribution to the team differs from the norm: but with Origi's recent form, it will become harder for Klopp to ignore, if Firmino continues to struggle in games like these.
#2 Hit: Alisson
The manner of last season's finale was horrifying for Liverpool. Having come so close, only to lose the way they did against Real – with two big mistakes by goalkeeper Loris Karius, Klopp and his men had no choice but to regroup and build from their experience.
Alisson, a £66.8m signing from Roma last summer, has had his critics this season but the value of trust and communication between a goalkeeper and his backline cannot be understated.
When they're struggling, you can sense the tension between them. That's certainly not the case from their perspective: they trust the Brazilian number one to bail them out at tricky moments and although he too has had shaky instances in games this season, he's also proven a pivotal part in the run-up to their Champions League success.
That continued against a Tottenham side who, for all their quality, struggled to get going in the first hour or so. Once they did and were probing, Alisson was unmoved. He made good saves to deny Christian Eriksen, Lucas Moura and Heung-Min Son, while Rose and Dele Alli both came close upon occasion too.
Made to work for it, he became the first goalkeeper to keep a clean sheet in a Champions League final since compatriot Julio Cesar did so against Bayern in the 2009/10 campaign. If nothing else, that deserves acclaim.
#1 Hit: Joel Matip
The impenetrable wall that is Virgil van Dijk gets all the praise and deservedly so. However, this was an important night for Joel Matip and he certainly thrived.
Joe Gomez's fractured foot meant the experienced Cameroonian would have an extended run-in the side, but the general consensus was that things would return to normal once the young Englishman had fully recovered. With defiant displays like these, Matip has proven his worth and shown why he kept his starting berth under Klopp's guidance this term.
His two key passes was a game-high for Liverpool, a worrying stat for their more creative players, though he won three aerial duels and created the assist for Origi's late strike. He didn't make a tackle nor interception but didn't need to: the rest of their backline made six between them over the 90 minutes.
Instead, he made an eyewatering 14 clearances and with his long legs making important challenges, found himself always on hand to complete defensive interventions when called upon – sweeping up danger and pushing Tottenham players back.
Fortunate early on after fouling Kane, it wasn't a sign of things to come. Often he's criticised for being clumsy in challenges and error-prone, but that didn't faze him. Instead, he grew.
Stats' source: WhoScored and Opta