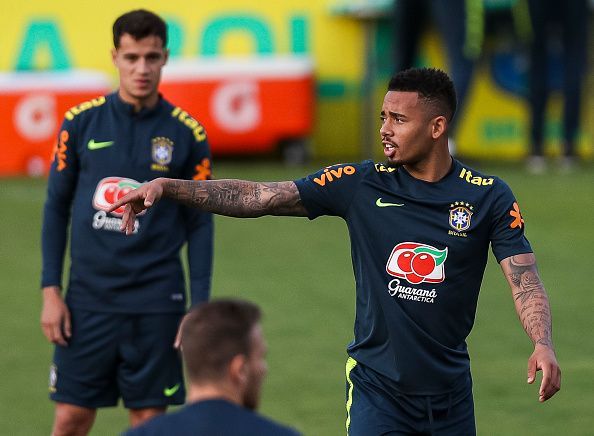 La Liga champions Barcelona endured an underwhelming finish to what was initially a promising 2018/19 campaign, but who should they sign to strengthen their squad this summer?

Given their lofty ambitions, the 2018/19 campaign ultimately was an underwhelming one for Barcelona. Despite a record-breaking campaign in Spain's top-flight, which saw them retain their crown as La Liga champions, they folded when it mattered most on two fronts – the Champions League and Copa del Rey.
A shocking 4-0 semi-final second leg defeat by eventual winners Liverpool saw their hopes of UCL glory ripped to shreds despite holding a 3-0 first-leg lead, while their frustrations were compounded after losing 2-1 against Valencia in their CDR Final on May 25.
With that in mind, it's become increasingly clear they need to strengthen if they are to finally banish their poor late-season form and improve after another disappointing campaign. The big question is though, who should they invest money into?
Speculation linking Atletico's Antoine Griezmann with a move to the Nou Camp has continued to intensify recently, but even with the Frenchman's arrival, their team would need serious work if they want to secure an elusive treble next term. So without further ado, here's a look at three players Barca should sign this summer:
#3 Jérôme Roussillon (VfL Wolfsburg)
It hasn't even been a full twelve months since Roussillon signed for Bundesliga side VfL Wolfsburg, leaving home comforts in France for the first time in his professional career – it has already significantly paid off.
He penned a one-year extension on top of his existing deal last month but in truth, it's a smart way of Wolfsburg drawing their territory: if serious, interested suitors will have to pay over the odds for someone with plenty to run on his contract.
Barcelona are already among those interested and given his performances in Germany's top-flight, that should come as no surprise. Sporting director Eric Abidal is said to have taken note of the fullback's potential while he was at Montpellier.
Given Jordi Alba's dwindling form, it makes sense to introduce competition for the experienced Spaniard, who has been undisputed first-choice at Barca. Despite his creative qualities, Alba's defensive frailties have been exposed in recent seasons.
Averaging 1.5 clearances and tackles, as well as 1.1 interceptions per game in 28 Bundesliga outings this past season, Roussillion didn't shy away from his defensive responsibilities. With three goals, four assists, 1.8 dribbles completed and 1.1 key passes on average per game, he doesn't lack impetus going forward.
However, his 81% tackle completion rate is a significant upgrade on Alba's 60% – albeit in a different league.
Jérôme is in-form and would prove a welcome addition, not least because he's better defensively and a younger alternative at 26.
#2 Gabriel Jesus (Manchester City)
Barca have been looking at a variety of attacking options to replace Luis Suarez long-term, but their approach has been all wrong. Girona's Christian Stuani is 32, while Griezmann and Valencia forward Rodrigo are both 28 and inconsistent.
As for abroad, they have been keeping tabs on Manchester United's Marcus Rashford for over a year now – but been scouting in the wrong part of the city. Rashford and Gabriel Jesus are both 1997-born, yet one has played significantly more than the other.
Jesus is under-utilised in Pep's system, which seeks to get the best out of Sergio Aguero in a lone-forward role – while high hopes were placed on Rashford's shoulders to lead the line and succeed an inconsistent Romelu Lukaku.
A better finisher and all-round player, Jesus is precisely what Barcelona long for. More refined, he already speaks the language and City would reluctantly sell him for the right price. he
Goal contributions compared across all competitions (18/19):
Griezmann: 21 goals, 10 assists in 48 appearances (4,068 minutes)
Rodrigo: 15 goals, 10 assists in 51 (3,775 minutes)
Rashford: 13 goals, nine assists in 47 (3,291 minutes)
Stuani: 20 goals, no assists in 34 (2,872 minutes)
Jesus: 21 goals, six assists in 47 (2,253 minutes)
Speculation has linked him with an Atletico move as part of a possible Rodri sweetener, but the league champions should pursue a deal as he can take over the centre-forward mantelpiece from a declining Suarez and has plenty of potential to fulfil. The best finisher out of all five players mentioned, with the highest potential – he played the least and yet equalled Griezmann for most goals last season. What more is there to say?
#1 Matthijs de Ligt (Ajax)
The way Matthijs de Ligt has begun deliberating over his decision, pondering all possible options and ramifications behind what lies next is frustrating Barcelona: rightly so. They are getting restless and genuinely worried his head, or that of agent Mino Raiola, has been turned towards Ligue 1 champions Paris Saint-Germain or elsewhere, away from Spain.
It speaks volumes for just how good he already is, their defensive situation, and where they have envisioned their future with him and Frenkie de Jong as an integral part of those future plans. A generational player, he's comfortably the best defender in his age group across the world and it's imperative they do all they can to ensure he joins them over PSG and the rest of their European rivals.
He's still only 19 and yet the future is remarkably bright, though Barca's existing defensive options could be seen as a stumbling block: World Cup winner Samuel Umtiti has endured a frustrating campaign after a troublesome knee injury, compatriot Clement Lenglet has stepped up in his absence despite not being the finished article either, while an invaluable Gerard Pique (32) continues to prove his worth despite being on the decline.
They have already invested in young defensive prospects but this is an exception to the rule: de Ligt is something special and one they cannot afford to miss out on this summer.