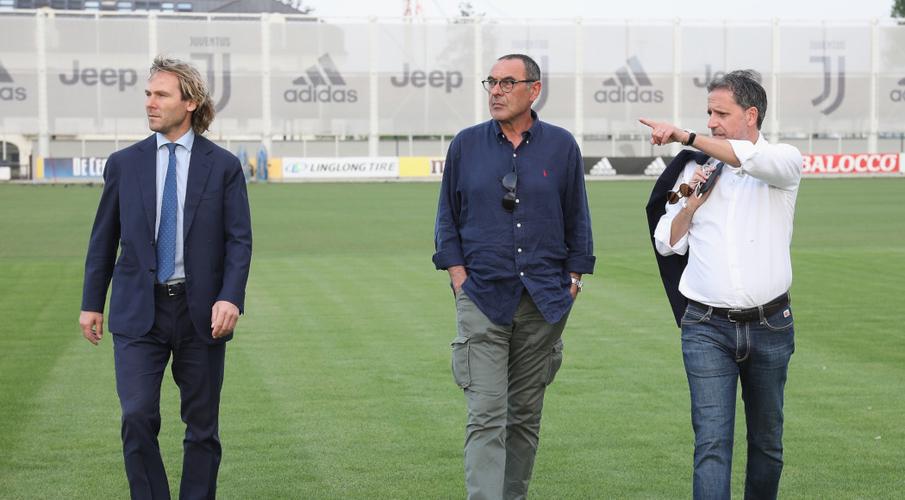 New Juventus manager Maurizio Sarri has said joining them this summer is a "step forward" in his managerial career after a year at Chelsea, while revealing he understands the scepticism and pressure that comes with being appointed too. 
Sarri, whose long-term future at Chelsea appeared bleak after a string of inconsistent results and surprising defeats, was officially presented as Juventus' new manager on Thursday – having penned a three-year deal to succeed Massimiliano Allegri. 
Juve have won Serie A in each of the last eight seasons and Sarri, who managed rivals Napoli between 2015 and 2018, pipped them the closest during their existing run. He won the first piece of silverware in his career to date when Chelsea thrashed London rivals Arsenal in last month's UEFA Europa League Final, but never seemed a long-term fit for the job in west London. 
Describing the Juve job as "the crowning achievement of a long and difficult career", it was certainly time to reflect for the 60-year-old at his press conference. 
"I've taken a long road to get here: from Serie C2 to B, A, Premier League and now Juventus. It's special to be here, the best squad in Italy. I'm coming from Chelsea, which has an inferior history to that of Juventus – it's another step forward for me." 
"Coaching Ronaldo is also an escalation. I coached great players at Chelsea but with him it's the best in the world. He already holds all of the records you can have in world football but I would like help him break some more records."
Sarri prepared for tricky start with Juve 
Unsurprisingly though, Sarri's appointment has been greeted with mixed responses among Bianconeri supporters. Football is a fickle sport after all, but it wasn't long ago he was managing their arch-rivals and it will take time before they all warm to his ideals – especially being the rigid character he is.
"I am used to scepticism. When I arrived in Serie C, everybody was sceptical and it was the same at Empoli, Napoli and when I got to Chelsea too. They were all sceptical. Now here at Juventus, I think there could be a bit less but that comes from my history. I only know one way of taking scepticism away and that is by winning and convincing."
Sarri stressed his belief that in terms of club organisation and tactically, Italy still reigns supreme over England – but has plenty to sort out early in his Turin tenure, not least when deciding Gonzalo Higuain's future. 
The Argentine forward's best season was under Sarri in Naples (15/16) and despite underwhelming on-loan at Chelsea, his future currently remains undecided. 
"I have not spoken to Gonzalo since the Europa League victory, I needed to get an idea of what Juve and my new surroundings are about. When he returns, we will talk – he's capable of playing with anybody and I can't see any problems with him. I really like Higuain but it's only right I listen to management on the players they already have in the squad, I'm obliged to trust them and when we have a clearer idea of our main playing system, we can talk." 
Sarri is expected to summon his players for the start of pre-season training in early July at their Continassa training centre. The squad will fly to Asia, where they face Tottenham (July 21) and Antonio Conte's Inter Milan (July 24) before returning to Europe with a game against Atletico in Stockholm, as part of the International Champions Cup. 
The Serie A season is set to begin for the weekend of August 24 and 25, with the fixtures to be announced in late-July. 
Quotes' source: ESPN