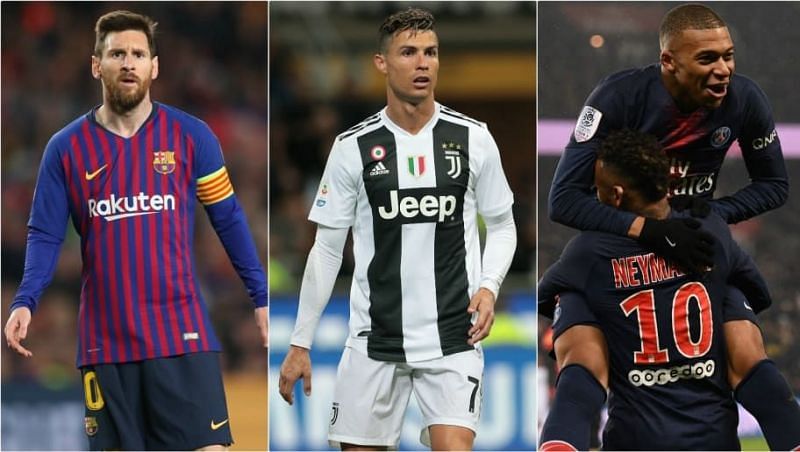 Here's a breakdown of the top ten European clubs with the highest wage bills and what it means for their respective transfer situations….
Every year, UEFA releases their benchmarking report as they analyse financial and off-the-pitch developments across European football while monitoring growth or alternatively, decline of teams in the continent.
It documents the ever-changing world of finances among Europe's elite clubs and during the 2017 report, released earlier this year, Spanish giants Real Madrid became the first team to spend more than €400m (£354m) on player wages in a calendar year.
So without further ado, here's an extended look at those ten teams coupled with their current highest-earner and how their wage bill compares to their percentage of total yearly revenue.
Disclaimer: The following figures are for the 2017 financial year and naturally, those clubs' respective figures will not be accurate as of now as 2019 is yet to finish. However, team information and player wages are correct at the time of writing.
---
#10 Arsenal: €234million (£206.75m) – 53% of £393.7m total revenue
Highest earner: Mesut Özil, £350kpw
Arsenal start the top ten and have been gradually dropping in recent seasons. Their insistence on allowing player contracts to run down is costing them big transfer fees – while relinquishing power on those same players where contract negotiations are involved.
The Gunners are struggling to earn value for money. Given their dwindling form and failure to qualify for the Champions League in successive seasons, their ability to sign world-class players is reduced by a lower transfer and wage budget, which in turn is forcing their hand to sell.
#9 Liverpool: €244m (£215.58m) – 46% of £460.5m total revenue
Highest earner: Mohamed Salah, £200kpw
Jürgen Klopp's men are on the up, in more ways than one. Their consistent results and Champions League success makes them more of an attractive destination for prospective acquisitions, while they are retaining their key stars by offering modest extensions at opportune times.
It keeps them from becoming unsettled or publicly making their unhappiness known, which used to be the norm at Anfield. Their ability to buy low, sell high has paid off too as they continue earning excellent returns on departures, so have ample money to sign players when required.
#8 Chelsea: €256m (£226.19m) – 49% of £453.3m total revenue
Highest earner: N'Golo Kante, £300kpw
The third successive EPL side in this list, Europa League champions Chelsea are currently observing a two-window transfer ban after breaching FIFA rules on signing foreign U18 players but persist in offering competitive wages of their players.
Recent transfer business has been questionable, although they continue earning value for money from player sales and are increasingly looking toward the future with a young core emerging. Although their flourishing youth system continues to sparkle, they continue to earn good fees for youngsters who venture elsewhere on permanent deals.
#7 Juventus: €264m (£233.25m) – 74% of £313.7m total revenue
Highest earner: Cristiano Ronaldo, £538kpw
Serie A champions Juventus feature high on this list and given their lofty European ambitions, it's no real surprise. Despite reaching the 2014/15 and 16/17 finals, failure to win the Champions League has increased their onus on spending big in the market to improve their chances – case in point being Ronaldo's arrival last summer.
They continue to earn great value for money with big-money departures and have sufficient funds to spend when required, although are also keen on completing shrewd business like midfield trio Blaise Matuidi, Emre Can and Aaron Ramsey in recent seasons.
#6 Paris Saint-Germain: €272m (£240.32m) – 49% of £485.6m total revenue
Highest earner: Neymar, £537kpw
Perennial Ligue 1 champions PSG also harbour dreams of Champions League success and given limited competition in France, spending big to close the gap on European rivals has been their plan.
Their transfer business has been adventurous and expensive but naive at times – though Financial Fair Play rules mean they continue to balance the books by selling those on the fringes when needed, although there is a clear divide between their highest earners and regular first-team players. Value for money has been unsuccessful, especially with the Neymar gamble. While it's not crippling their ability to sign, their strategy needs rethinking.
#5 Bayern Munich: €276m (£243.86m) – 43% of £564.1m total revenue
Highest earner: Robert Lewandowski, £300kpw
The Bundesliga champions continue to increase their wage bill too, despite a previous inability to compete with Europe's top sides in terms of offering players lucrative deals. They are increasingly prepared to spend more on quality players at a younger age and find themselves shifting to a more youth-centric transfer strategy, which in turn is good value for money.
Signing Benjamin Pavard and Lucas Hernandez this summer is a prime example, a pair of 23-year-old defenders with plenty of potential to fulfil. Balancing the books by selling relatively high when challenged means they have healthy finances but don't need to spend as often as other giants.
#4 Manchester United: €306m (£270.36m) – 45% of £597.1m total revenue
Highest earner: Alexis Sanchez, £500kpw
Manchester United always teeter near the top of lists like these, even with declining performances in recent seasons. Underachieving with a stacked squad saw Jose Mourinho lose his job last December, but the club's issues run deeper than that.
They have ample finances to spend on new players, in addition to a handful of pricey wantaway players who would balance the books should they depart. Their transfer dealings have largely been poor recently, with Paul Pogba and Romelu Lukaku (a combined £165m) reportedly ready to leave just a few years after joining, while wage constraints were broken by signing Alexis Sanchez last January – further upsetting squad morale.
#3 Manchester City: €334m (£295.10m) – 57% of £509.4m total revenue
Highest earner: Kevin de Bruyne, £280kpw
EPL champions Manchester City have money, but huge spending and low player sales recently has caught FFP's attention. Pep Guardiola's side is fairly stacked but given the Spaniard's desire for Champions League success, he'll be eager for them to keep improving.
They still can by gradually replacing their old guard for long-term alternatives but must be aware of the aforementioned constraints. Selling fringe players would go some way to addressing that, given most of their dealings represent good value for money.
Crucially though, they have avoided disrupting squad harmony by pulling out of proposed deals for Alexis and Frenkie de Jong over breaking their wage cap, which is fairly modest given their quality.
#2 Barcelona: €378m (£333.98m) – 53% of £618.7m total revenue
Highest earner: Lionel Messi, £500kpw
Given their standing as one of the world's best, it's surprising to know they currently lack the funds needed to bolster a much-needed revamp. Questionable incomings haven't helped in recent seasons with Ousmane Dembele and Philippe Coutinho (combined £142.5m) both struggling for consistency.
Messi and Luis Suarez aside, the remainder of their first-team are mostly on modest wages. They still can sign players but definitely need to sell and have already begun targeting younger, cheaper alternatives to star-studded players that have previously burned their finances without reward.
#1 Real Madrid: €406m (£358.72m) – 53% of £672.5m total revenue
Highest earner: Gareth Bale, £600kpw
In the post-Ronaldo era, they are gradually beginning to get value for money. There is plenty of quality within the squad that can still be sold as surplus to requirements, which allows them more freedom to spend.
Ultimately, they are aiming for a quick turnaround after recent disappointment and don't need to sell to sign – as evidenced by their £270m transfer dealings this summer already on players including Eden Hazard and Ferland Mendy. However, with Bale being frozen out of the squad and the club's highest-paid player facing an uncertain future, it reiterates that they still have expensive mistakes of the past to resolve.