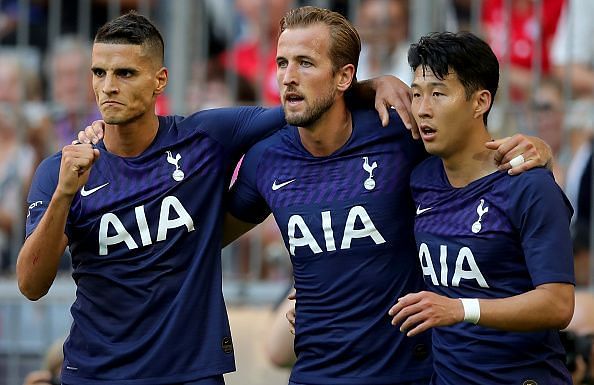 Here's a look at five talking points, as Tottenham were deserved 1-0 winners over Real Madrid to book their place in tomorrow's Audi Cup Final…
Harry Kane's deft chip midway through the first-half proved enough for Mauricio Pochettino's Tottenham side to squeeze past a frustrating Real Madrid display, booking their place in tomorrow's Audi Cup Final.
The victory is Spurs' second of three pre-season fixtures in recent weeks, while they have confined Zinedine Zidane's men to their second successive offseason defeat in a matter of days after a stunning 7-3 loss against Atletico Madrid in the early hours on Saturday. Without further ado then, here's a look at five talking points from a telling friendly in Munich:
#5 Tanguy Ndombele bright again in 45-minute feature
Pochettino made sure to rotate his team by making nine changes at half-time, but £63m man Ndombele – along with the returning Danny Rose – regularly caught the eye in a first-half where Spurs broke the deadlock and deservedly so, having worked hard for their efforts.
Ndombele flickered in-and-out of Spurs' moves going forward but didn't shy away from contesting midfield duels, winning most of them. Just like his impressive cameo against Juventus last week, he was intelligent and picked moments to create chances or remain tidy in possession against an increasingly-frustrated Madrid midfield.
Still clearly getting used to his new teammates, he doesn't want to be ball-dominant and upset the balance which is understandable. Nonetheless, he's capable of picking out excellent passes over short and longer distances which cannot be shied away from going forward – perfect for Dele Alli and Heung-Min Son as the pair love to time attacking runs and cause havoc in the area.
He should have had an assist after teeing up Jan Vertonghen with an inswinging through ball from a cute angle, before forcing Keylor Navas into an acrobatic stop over the crossbar after powering goalwards from distance. Encouraging showing once again.
#4 Eden Hazard – Karim Benzema combination needs work
Unless you've not had Internet access in recent days, you'll know all about Eden Hazard and how the €100m (£88.5m, plus add-ons) signing has returned from his holidays both overweight and out of shape, opposite to what you'd expect of a player who just sealed his dream move after all.
Given his build and 5ft 9in frame, Hazard has never been particularly slim but it'll be interesting to see how the club and media respond to his arrival in the coming months. For context, Real's La Liga season starts on August 17 against Celta Vigo, so these weight issues are not as dramatic as they seem.
However, integrating a new Galatico does take time and after this performance, it's clear he has yet to strike the right balance in his combination play alongside Karim Benzema. Benzema quietly enjoyed an impressive campaign last term, finally free of the Cristiano Ronaldo shackles and has a quality addition in Hazard who will create chances aplenty in the final third.
Where exactly his best position in Zidane's system though, remains to be seen. Deployed through the middle in a 4-2-3-1 formation here, Hazard's best work is usually on the wings but as a number ten, he's more likely to see the ball more frequently to create those opportunities facing goal. Trying too hard to go it alone and his weight of pass was disappointing, among other teething problems at play.
Vinícius Júnior and fellow new acquisition Rodrygo are both left-sided wingers, so it's hard to envisage Hazard regularly playing there – namely given Vinícius' progression in 18/19, despite only being 19-years-old. Both Brazilians are right-footed and play on the left, but given the financial outlay spent to sign Hazard, Real need to build their team around him.
Doing that immediately doesn't seem likely given injuries elsewhere in the squad and a settling-in period, though Benzema has shown he's capable of link-up play in the same way Hazard benefited alongside Olivier Giroud at Chelsea.
#3 2019/20 must be Erik Lamela's year
Replaced for Alli at the break, Lamela enjoyed an outstanding first-half and was constantly involved in Spurs attacks: something that hasn't always been the case with the Argentine.
He persisted to pick out teammates with clever lofted passes and teasing balls forward, whether it was the overlapping Rose down the left or Christian Eriksen in space to his left while also unfortunate not to earn an assist after Navas thwarted Kane.
His progression in north London has been hampered by persistent, serious injuries since his £30m arrival six years ago but Pochettino has kept faith in the winger. At 27-years-old, he has repaid the manager's belief with encouraging flashes over the past two seasons but not enough to justify a regular starting berth as part of an ever-improving side.
2019/20 is the campaign he must do so. He scored six and created three assists in 33 matches (all comps) last term, despite only 14 starts from those games. With three years left on Lamela's existing deal at Spurs, he must develop more consistency and stay injury-free if he's to emulate the success of Lucas and Son in recent seasons. Both are marginally younger than him while competition for places will only intensify as younger alternatives emerge.
#2 Marcelo typifies Madrid's sloppy defensive struggles
In today's game it's easy to find and scapegoat a player, as a means to justify a club's shortcomings. Real Madrid's player to blame has frequently been Thibaut Courtois over the past twelve months, following his £35m move from Chelsea.
One of the world's best goalkeepers, he is constantly ridiculed for conceding goals aplenty and struggling as part of an underwhelming Real side. The problem is much deeper than simply blaming their star goalkeeper though and this showing speaks volumes.
Raphaël Varane hasn't looked the same after his World Cup triumph with France last summer, though injuries and inconsistent form have played their part. Sergio Ramos (33) continues to show signs of his gradual decline, while the Spaniard's mistakes – previously defensible or easily hidden – have intensified in frequency.
Nacho Fernandez simply isn't as good as the pair while €50m (£45.8m) signing Éder Militão is an exciting prospect but the jury remains out on the 21-year-old.
Marcelo, who turned 31 in May, continues to get progressively worse while those aforementioned mistakes are becoming more pronounced across the backline. It's no wonder they appear so nervy and keen to play safe when under opposition pressure.
The Brazilian was at fault for Kane's goal, after successfully keeping a heavy pass in play before inadvertently teeing the Englishman up through on-goal. With Ramos next to him, the pass evaded his captain and despite their best efforts, they couldn't recover in time to complete a miraculous challenge, leaving Navas helpless in the process.
Ferland Mendy (hamstring) is expected to miss their first few games of the league campaign but this collective defensive showing proves you cannot just throw money at a problem and expect a quick fix.
#1 Tottenham look ready for new season to start
After their frustrating end to an eventful 2018/19 campaign, Tottenham have shown early signs of a side playing like one ready to right their wrongs this upcoming season.
Harry Kane is vowing to leave those injury woes behind him and will look to lead by example with his goalscoring exploits, while Dele Alli appears more sharp and motivated than he did after a bittersweet World Cup campaign with England last summer.
Son and Lucas will look to build on their recent success while Lamela quietly has a point to prove. The club have undoubtedly been boosted by Ndombele's arrival, with the prospect of much more transfer business to come before the August 8 deadline.
Real Betis' Giovani Lo Celso remains a target to bolster their midfield ranks, while Eriksen – whose future remains unclear – might be persuaded to stay after all. Toby Alderweireld's £25m release clause expired last week but many European sides are said to be exploring the prospect of striking a deal, while Juan Foyth is poised to challenge for a starting berth in central defence.
Their fullback conundrum remains unsolved following Kieran Trippier's Atletico move earlier this month, though supporters are optimistic Pochettino is working on a plan and there are promising signs this could be a big year for them.