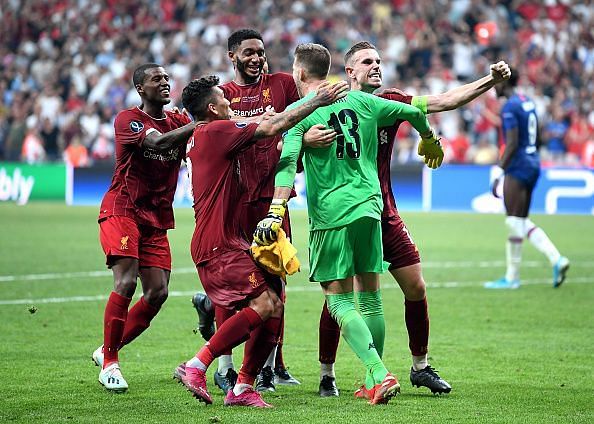 Adrian was an unlikely hero on his first Liverpool start, producing the all-important penalty save in the shootout to deny Tammy Abraham and secure the UEFA Super Cup trophy for Jurgen Klopp's men on a humid evening in Istanbul overnight.
In an end-to-end affair, Olivier Giroud broke the deadlock with a clever finish after 35 minutes, during a first-half where Chelsea were clearly the better side playing with an intensity we didn't see during their 4-0 opening weekend defeat by Manchester United on Sunday.
But immediately after the break, the Reds responded accordingly. Roberto Firmino replaced Alex Oxlade-Chamberlain and within minutes, helped create their equaliser – tucked home by Sadio Mane after scrappy moments in the box. Kepa Arrizabalaga made an excellent double save at 1-1, sending the game to extra-time but Spain's number one could do nothing to deny Mane's thunderous effort five minutes after the restart.
Chelsea found a lifeline in the form of Jorginho's composed finish from a dubious penalty decision, after Adrian was adjudged to have upended substitute Tammy Abraham. Replays showed that contact was minimal, if at all, but VAR didn't overrule Stephanie Frappart's decision.
Ultimately though, it proved poetic justice as Tammy saw his effort saved and Adrian quickly mobbed after a tense shootout finished with the Reds lifting more European silverware. With all of that in mind, here's a look at five hits and flops from an intriguing encounter:
#5 Flop: Andreas Christensen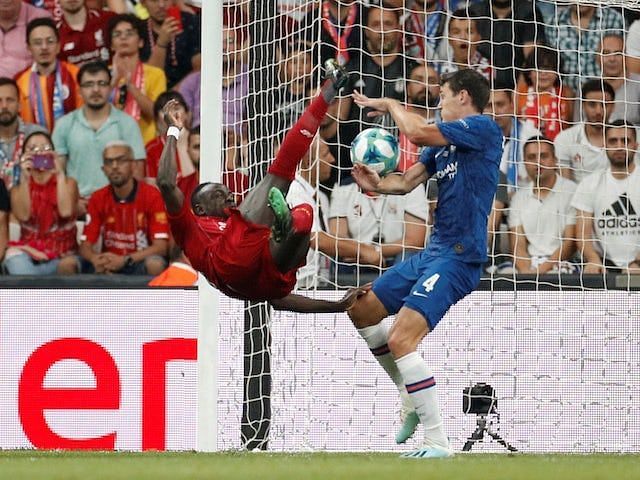 This one was harder than it may seem to choose. Truthfully, there were not many players who outright performed poorly – or played long enough – to warrant a place on the flop section in this case. Alex Oxlade-Chamberlain formed part of my thoughts, though just 45 minutes on his first start for 16 months in an interchanging role in Liverpool's attacking trident, empathy was needed there.
So instead I went with Christensen, who started purposefully but just like many teammates, weaned as the match wore on and the Reds got themselves back into it. He made three clearances, won possession twice, one block and completed tackle while only Pedro (96.4%) had better pass success rate than the 23-year-old.
However, questions over his physicality and positioning were again a theme in this match. Beaten too easily whenever Liverpool had a set-piece, you could tell Virgil van Dijk relished their matchup in the box and he didn't do enough to disrupt the Dutchman's rhythm either.
Firmino's introduction to begin the second-half caused a frenzy as the Christensen-Zouma defensive pairing were being shifted all over the pitch. The Brazilian twisted and turned his way goalwards, whilst Salah and goalscorer Mane were relishing the spaces in-behind to exploit.
Replaced with five minutes of normal time to play, perhaps it was Lampard making a conservative decision as they host Leicester in the league on Sunday. Nonetheless, he didn't play poorly but this was far from a faultless defensive display.
#4 Hit: Kepa Arrizabalaga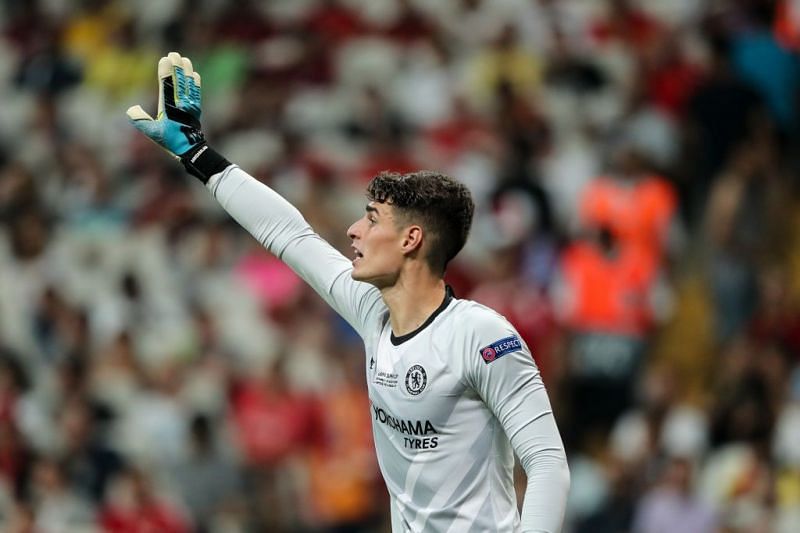 If not for Kepa's heroics, Chelsea wouldn't have even made it to extra-time – let alone penalties. Although the 24-year-old conceded twice, there wasn't much he could have done to thwart Mane's blistering second while the first was a consequence of sloppy defending.
He made nine saves over the 120 minutes, including a fantastic double save from Mohamed Salah and Virgil van Dijk – while this outing proved much more successful than his venture in Manchester on Sunday, where he conceded four and only registered one save during a frustrating afternoon for all concerned.
Admittedly though, there were still a few nervy moments from Spain's new number one. He didn't always look assured in possession (52.4%) and could have been punished after misjudging the flight of a corner, though van Dijk let him off the hook by heading over the crossbar.
Nonetheless, this was an impressive display from Chelsea's £72m man, who acted as a reliable last line of defence and unfortunate not to claw away two of Liverpool's five converted penalties in the decisive shootout too.
#3 Flop: Fabinho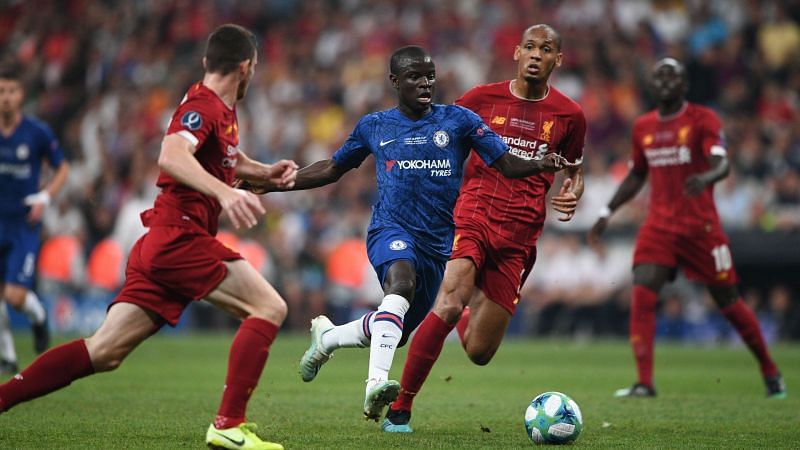 Disappointing and sloppy in the first-half, Fabinho's role in Giroud breaking the deadlock cannot be excused. During the build-up, N'Golo Kanté marauded forward unchallenged and Fabinho let the World Cup winner glide past him as if he wasn't even there.
By the time he reacted, he was attempting (and failing!) to recover behind Christian Pulisic's heels before the American's deft pass into Giroud went rewarded after 36 minutes with a well-placed finish. That was probably his most significant mistake, but it was the most telling one during an exhausting evening for both sides – particularly in midfield.
Fabinho lost possession on 12 occasions, won seven of 15 duels contested and was dribbled past five times over the 120 minutes. Unsurprisingly, he also went down with cramp in the latter stages of extra-time – such was the humidity and intensity of a match that had lasted too long.
However, considering the fact he's trusted to be the midfield anchor and protector of his backline, those statistics are not good enough against a Chelsea midfield containing both Jorginho and Mateo Kovacic, who tend to orchestrate from deep for the Blues. Add to that a returning Kanté who should have been doubled up on in possession and well, there really are no excuses.
#2 Hit: Pedro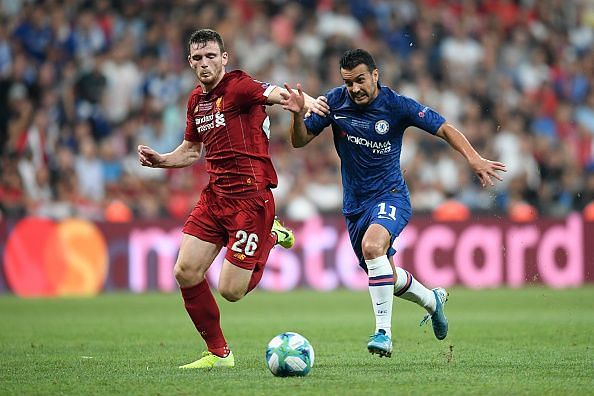 If only he could play like this on a more consistent basis… Pedro delivered arguably his best performance of 2019 and ultimately came up short against a Liverpool side who punished Chelsea's profligacy in the final third. That's not a blemish on the Spaniard's display: he completed five key passes, created two big chances and hit the woodwork during a frustrating evening where luck simply didn't go his way.
He linked up well with Olivier Giroud, while watching on as Pulisic and a more expressive Kovaciclooked to create chances, though neither were able to do it frequently enough. Taking matters into his own hands, he took five shots over the 120 minutes and just inches away from scoring a sweetly-struck winner deep into extra time.
His 96.4% pass completion rate was a game high for both sides, while refusing to shy away from the defensive side of his responsibilities either. He won nine of 12 duels contested, completed three tackles and won possession back for his teammates 13 times!
Only Kanté (15) won it back more often than the 32-year-old, who will be expected to build from such a purposeful display where he oozed experience in a match where Chelsea should have taken advantage of their early dominance.
#1 Hit: Sadio Mane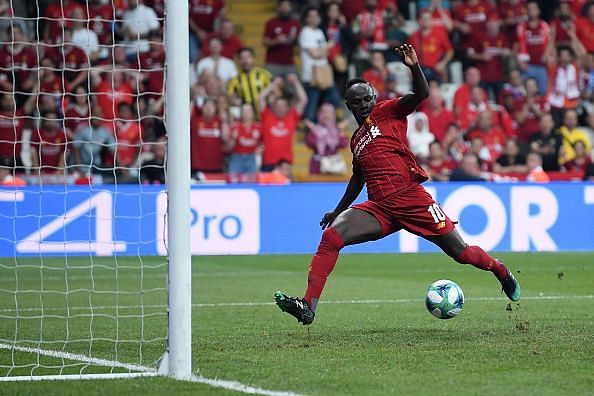 Although he started slowly, having to interchange with Salah and Oxlade-Chamberlain, Sadio Maneburst into life in a telling display after half-time – one where his goalscoring class and attacking intelligence was on show for all to behold. Firmino's introduction to start the second-half saw the pair link up well almost immediately, as Liverpool's attacking trident were energised by his presence and Chelsea's backline rightly overwhelmed.
He caught Christensen sleeping and punished a sloppy scramble inside the box to benefit after Firmino's touch, equalising just two minutes after the restart. That set the tone, but he wasn't finished there – a quick one-two on the break between himself and Firmino teed him up nicely before unleashing a powerful effort goalwards. Kepa had no chance of saving it, a superb finish which cannoned into the roof of the net with aplomb.
Two key passes, 83.3% pass completion rate, six of eight duels won and a well-taken brace to boot. This was far from Mane's best display and given his African Cup of Nations exertions last month, that shouldn't come as a surprise. Importantly though, it was an inspired performance from a player who continues improving his efficiency in the final third while proving he's arguably Liverpool's best attacker too.
Stats' source: WhoScored and SofaScore