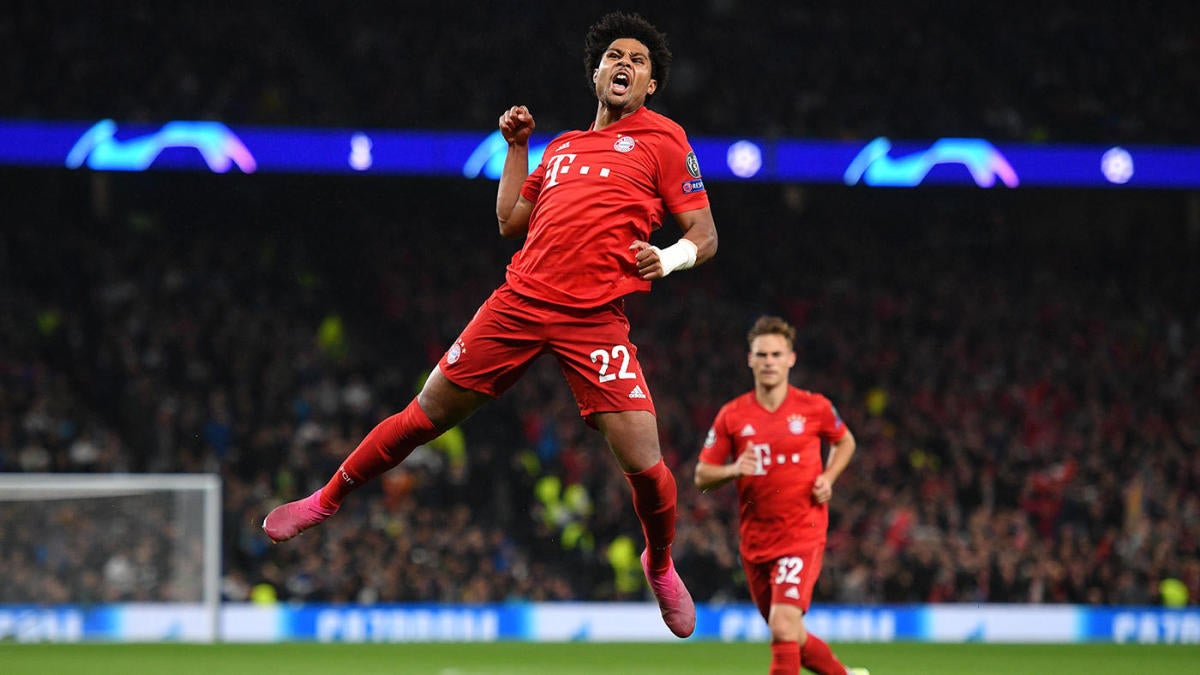 Serge Gnabry stole the show with a fabulous four-goal haul as Bayern Munich's attacking ruthlessness was on display for all to marvel at, during their 7-2 thrashing of Tottenham in north London. The result adds further pressure on Mauricio Pochettino and his players, having struggled in recent months with critics suggesting this current crop has reached its peak.
Bayern strengthen their hold on Group B in this season's UEFA Champions League, with maximum points and ten goals scored from two matchdays – as they look for a significant improvement in results against top opposition after a handful of frustrating seasons among Europe's elite.
The 7-2 defeat is the biggest ever margin by an English team at home in any European competition and Spurs' worst loss since an 8-0 thumping by FC Koln in the UEFA Intertoto Cup back in 1995. The manner of such a comprehensive thrashing is compounded by the fact they scored first after 12 minutes and could've had three or four goals themselves before half-time.
Manuel Neuer's fingertips were not enough to stop Heung-Min Son opening the scoring with a low effort fizzed across goal, before Bayern stunned their hosts into silence just three minutes later as Joshua Kimmich let fly from distance after a poor attempted clearance teed him up outside the area. A special effort by the 24-year-old, the Bavarians' confidence was growing during a frenetic affair showcasing attacking quality and equally leaky defending in abundance.
Robert Lewandowski continued his envious goalscoring record, having now netted in his last ten successive Bayern appearances, with a razor-sharp finish inside the area to sucker-punch Tottenham's dishevelled backline just before half-time, before proceedings exploded in an action-packed second-half.
Gnabry left Serge Aurier for dead, jinked past Toby Alderweireld and fired ferociously into the bottom corner to finish his marauding run with aplomb. Two minutes later, he completed his brace with a first-time effort which cannoned in off the far post again leaving Hugo Lloris helpless after Harry Winks was effortlessly dispossessed in midfield.
You could excuse Tottenham for having renewed belief after Harry Kane converted from the penalty spot on the hour mark. Kingsley Coman lost a 50/50 challenge with Danny Rose and clipped the fullback, with French referee Clement Turpin pointing to the spot. That was the hosts' only moment to celebrate in an otherwise forgettable last half-hour.
Spurs went for broke with three attack-minded substitutions but a five-minute blitz late on proved catastrophic, as Bayern continued their ruthless nature in the final third. Lewandowski and Gnabry were the key beneficiaries, with the former Arsenal man grabbing a memorable fourth just before stoppage-time to add yet more gloss to Bayern's demolition job. Here's a look at five talking points from a truly extraordinary night of Champions League football:
#5 Son's wastefulness typifies Spurs' finishing issues, duly punished
Although he scored and wasn't the only one involved, Heung-Min Son was the chief culprit of Tottenham's wastefulness in match-defining moments on this occasion. Bayern's backline looked vulnerable when through balls were being played goalwards and as they took time to adjust, were there for the taking.
That was particularly obvious during the early exchanges, Tottenham's best spell of the match, during the first half-hour. David Alaba was forced into a goalline clearance to deny Kane after Neuer misjudged the striker's route towards goal, while Tanguy Ndombele's sweeping effort was thwarted from close-range. Neuer was harried into potentially precarious situations more than a few times, though his ice-cool composure ensured the hosts' impending danger was not a theme throughout.
He also struck wide of the Germany number one's near post, which rather typified their collective profligacy in the final third. That was further emphasised when Lewandowski capitalised on a poor defensive clearance to unleash a thunderbolt home at the other end, giving the visitors a slender advantage before the break.
Despite clear improvement since joining from Bayer Leverkusen four years ago, Son has gradually earned a reputation as someone whose success infront of goal is largely when he's enjoying a purple-patch form-wise. Since scoring a Champions League brace on that fateful night against Manchester City in mid-April, he's only netted three goals in 14 appearances.
Considering he was partnered by an increasingly frustrated Kane in Pochettino's 4-3-1-2 formation, displays like these suggest that perhaps decision-making and his composure in crucial moments aren't as refined as they should be against top opposition.
#4 Lewandowski's impressive goal tally continues, another good display
Lewandowski took both goals well on an evening where Bayern were rampant in attack and essentially blew their hosts away, but could have easily found themselves with a significant deficit to overturn in the second-half.
Leading the line as usual in Niko Kovac's 4-2-3-1 formation, the Poland international was duly rewarded for a patient and persistent showing, where he occupied both Tottenham centre-backs well and was a nuisance. Working hard alongside his teammates, you could see Lewandowski's eagerness to create chances for his attacking contemporaries, who were licking their licks against a sluggish Spurs defend.
This was rather similar to how Karim Benzema often features for Real Madrid, where his overall contribution isn't really given much credit unless he "shows up" with a match-winning goal or defining moment. Displaying that unselfish side proved pivotal because while Spurs were occupied trying to isolate Lewandowski, it allowed free roam for Gnabry, Coutinho and Coman – who all attacked with varying degrees of success.
However, the most important and heavily scrutinised facet of Lewandowski's game is his finishing. Having been questioned for unconvincing displays against some of the world's best opposition in recent seasons, this was a refreshing watch from a world-class forward with plenty to gain – ruthless infront of goal when called upon, while leaving Spurs' heavily-praised centre-back pairing helpless at times to devastating effect.
#3 A mixed evening for Dele Alli, Philippe Coutinho
Dele Alli and Philippe Coutinho. Two top-class playmakers who, for different reasons, haven't really been at their best in recent seasons. Glimpses of individual brilliance, short spells which justify such hype and expectation is all supporters have had to cling on to.
With that in mind, this presented a perfect opportunity for the pair to flourish in their respective colours. Alli, who has been plagued with niggling injuries, was seen doing post-match sprints after Spurs' 2-1 win over Southampton on Saturday.
An unused substitute during that nervy win, Pochettino presumably made the decision to save him for this crunch clash, where he'd been preferred to Christian Eriksen and Lucas Moura as their bonafide playmaker orchestrating behind the Kane-Son combination.
He started sluggishly and was essentially still going through the motions, but as time wore on, began grabbing the game by its neck with Spurs in the ascendancy. As evidenced by the heavy scoreline, that didn't last long. Losing the ball sloppily (62.5% accuracy), not making ample supporting runs to provide an additional option, Dele wasn't at his best.
Yet, he was still one of Tottenham's best performers on a forgettable evening. He completed two key passes, won all three of his duels and looked threatening whenever shuffling his way in-and-around the Bayern box. If not for some timely defensive interceptions under pressure and better finishing from his teammates, Alli would've had a hat-trick of assists. He offers a different outlet and although eventually replaced by Lucas with twenty minutes to play, Pochettino probably should've sacrificed Harry Winks earlier instead of his compatriot.
Coutinho better, but not perfect either
As for Coutinho, 2019 hasn't been kind to him either. Having enjoyed his best two performances of the calendar year in successive weeks against Koln and Paderborn for loan club Bayern, it made sense he'd be trusted with a similar creator-in-chief role against a Tottenham side he knows all about from his five years at Liverpool.
This was a busy but eventually useful display by the Brazilian, highlighting both strengths and weaknesses to his game in subtle ways. He prefers the freedom that comes with operating in the number ten role, but as that position is an increasingly unorthodox one in today's game, players can get lost and isolated when out of possession.
With 103 touches, 84% pass accuracy, five of eight duels won, four successful dribbles and three key passes to accompany his late deft assist for Lewandowski, this was by no mean's a poor performance.
That he relinquished possession too easily – losing the ball 23 times – regularly a first-half bystander and increasingly frustrated by Tottenham doing their homework on his tendencies to drift infield and cut onto his stronger right foot was a problem. One that he'll need to work on going forward, if he's to cement his credentials as the missing link Bayern have longed for.
#2 The perfect advert for Champions League football
In recent seasons, the UEFA Champions League has received significant criticism from supporters and critics worldwide for the mundane, predictable, procession-type football we have become accustomed to watching before Christmas every year.
The top two teams almost always ease through into the knockouts, there are rarely any significant surprises and the "dark horse" teams? Either they've progressed unscathed from a crop of poor group stage or have a world-class gem flourishing in their respective sides!
So you can excuse the hyperbole when I say games like Tottenham vs Bayern on this occasion are precisely what the worldwide audience wants to see. Two top sides, seemingly unafraid of the consequences, relishing a battle which pits them against another good team packed with quality players to test their true ability.
This was fast-paced, frenetic, unpredictable and more besides. There are plenty more adjectives you could use to describe this spectacle, one where despite all the attacking quality on show, their defensive qualities were rather… sloppy and questionable at times.
It's the type of game we expect to see in the later knockout rounds, perhaps a quarter or semi-final, but it was equally a match where anything could happen. With better defending and clinical finishing, Tottenham could have found themselves 3-0 up at half-time. Instead, they were stunned into silence and ultimately succumbed to a record-breaking home defeat.
Exactly the game which makes you wish for more than just 90 minutes, every so often. After all, there's genuinely no guarantee we'll be treated to many more matches like this before Christmas. Matches where we can enjoy Bayern, Tottenham and others being tested by Europe's elite players regularly, rather than the familiar sight of Paderborn and Southampton every other weekend. With ongoing talks over changes to the UCL format, it makes you wonder whether the European Super League concept is so far-fetched after all.
#1 Serge Gnabry's triumphant return to north London
This was simply the Serge Gnabry masterclass. If you've watched him play since his teenage years, through that infamous loan spell and after having the courage to fly the nest from north London comforts at Arsenal, you'd know this type of performance was always brewing.
After all, he was named Bayern's Player of the Season last term. It was his first full campaign with the Bavarians, after successful year-long spells at Werder Bremen and on-loan at Hoffenheim. But for everything to come together the way it did on this occasion? Serge couldn't have asked for a better evening's work against an old rival.
Booked midway through the first-half for a cynical sliding challenge on Harry Winks, ironic jeers reverberated around Tottenham's new stadium as they reacted to a familiar foe being penalised for over-exuberance in possession. He ended up having the last laugh.
Working hard defensively, he protected David Alaba down the left-hand side, unfazed by the early booking. It was almost as though he was playing a wing-back role at times, such was the 24-year-old's eagerness to contribute defensively and intercept Tottenham danger in its tracks. That made sense, given Spurs' purposeful start.
He could have let that get to him but instead, continued his work and once he had an opportunity to express himself near the final third? Well, the scoreline tells the full story. Given the erratic fullback's poor form, he unsurprisingly relished one-on-one duels with Serge Aurier and quickly got to exposing his flaws to devastating effect on numerous occasions.
Here, he netted his first senior hat-trick and still had time for a late fourth to cap an extraordinary evening against a vulnerable Tottenham backline could struggled to get near him all night long. Four goals, three successful dribbles, two key passes (82.9% pass accuracy), one assist, 11 of 19 duels won, four tackles completed.
He's enjoyed many memorable moments as a professional, but this was arguably his best night: powering Bayern to victory with precisely the type of decision-making, poise and deadly finishing which justifies the decision he made to leave Arsenal in the first place.
It's been three years since leaving the Emirates for a measly £4.5m. His worth has risen to a ridiculous scale since, while he continues establishing himself as a world-class commodity in a Bayern side struggling to accommodate players of his capabilities in recent seasons.
Stats' source: SofaScore, WhoScored