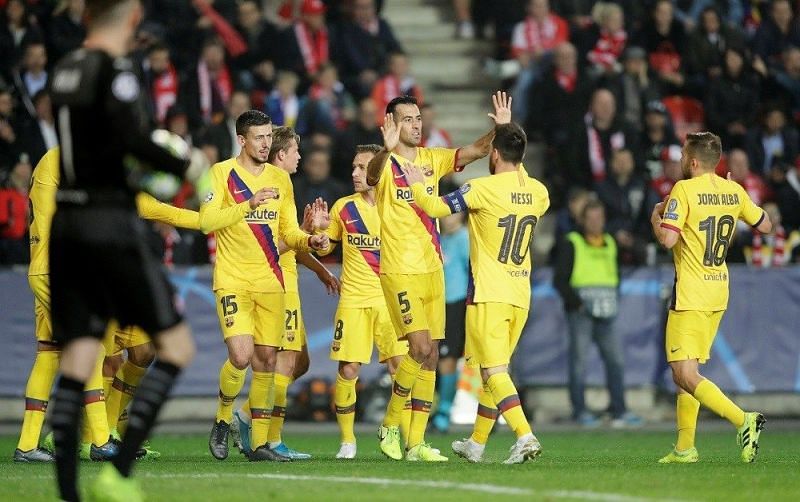 ​Barcelona maintained their unbeaten record to start this season's Champions League, with a narrow 2-1 away win over Slavia Prague ensuring they top Group F halfway through the group stages.

Lionel Messi broke the deadlock after three minutes, intercepting Tomas Soucek's pass in his own half before making no mistake from close-range following Arthur Melo's perfectly-placed through ball. Marc-Andre ter Stegen made a string of excellent saves to keep his clean sheet intact before half-time, as the hosts established themselves as a persistent counter-attacking threat.
However, he could do nothing to thwart Jan Boril's equaliser five minutes after the restart. Lukas Masopust held the ball up well during the build-up before teeing up the overlapping defender, who burst into the box and guided his effort into the bottom corner under pressure.
A goal had certainly been coming for Jindřich Trpišovský's men, but the scores didn't remain level for long. Seven minutes later, Barca retook the lead with Prague forward Peter Olayinka inadvertedly flicking Luis Suarez's effort goalwards from a poorly-defended free-kick.
Goalkeeper Ondrej Kolar was helpless at his near post and despite fashioning a handful of promising chances – particularly one in stoppage-time – they were unable to secure what would have been a hard-earned point against the La Liga champions. Without further ado, here's a look at five talking points from Barca's victory:
#5 Final ball underwhelming as Barca lack cutting edge
The Griezmann-Messi-Suarez trident has shown promise at times but equally frustrating inconsistencies with moments suggesting the trio cannot mesh together well enough in their current setting.
Despite popping up with goals and important contributions at times, Suarez continues to look a shadow of his former self at centre-forward. Sluggish and not nearly as effective with link-up play (64.5% pass accuracy, lost possession 14 times over 90 minutes), the Uruguayan's decline in that regard has been alarming.
Griezmann had just 32 touches before being replaced after 70 minutes here, as he continues to look shoehorned into a role he's no longer comfortable playing out on the wing – while Messi continues to drop deeper, looking to find pockets of space and exploit opposition with penetrative passes and galloping dribbles forward.
That has proven a double-edged sword because while capable of success, this approach unnecessarily invites pressure higher up the pitch as opposing players are presented with an opportunity to either foul or pressure him into relinquishing possession. It's part of the reason why despite completing a game-high 10 dribbles and four key passes, Lionel lost the ball 19 times and regularly just a passenger off-the-ball to boot.​
#4 Messi again stands a cut above the rest
​​
Messi scored one, set up another and probably should've had a hat-trick. However, Barca's captain did what he does best: leading by example while balancing his creative responsibilities – fashioning opportunities for others and equally himself.
He was comfortably the visitors' best player again and despite missing some promising opportunities, looked their only bonafide threat throughout. Griezmann flickered in-and-out of the game as usual from the wing while Suarez struggled for large periods.
Effortlessly dancing past Prague defenders at times, he forced Ondrej Kolar into a string of saves to keep the scores finely poised in the second-half as Barca went on the hunt for the killer goal. Nonetheless, he should have done better to convert from close-range after Jordi Alba's defence-splitting pass in the area was skewed wide with the far post gaping.
Messi operated on the right-hand side but was frequently seen drifting forward from deep midfield positions, orchestrating chances for others while dragging opposition players towards his path where possible.
Winning 11 of 15 duels contested, he completed a game-high 10 dribbles, created four key passes (83.3% total accuracy, 40 successful passes) and made two interceptions too.
#3 ter Stegen again proves clutch during nervy watch
It feels like deja vu but after another impressive display, ter Stegen's importance cannot be understated: other than Messi, the German is Barcelona's best and most consistent performer which feels only right, acting as the last line of defence after all.
When his defensive teammates were being split open on the counter-attack or looked vulnerable in transition, he crucially stood tall and made a succession of key saves – especially an acrobatic one over the crossbar – keeping the hosts at bay in the first-half.
Their pressure finally told, though there wasn't much he could have done to deny Boril's well-placed strike from arrowing into the bottom corner early after the restart. He made eight saves over the 90 minutes, completed 76% of his passing and surprisingly, was kept more busy in comparison to his opposite number Kolar in the Prague goal.
That rather speaks volumes for how Barca were creatively stifled at times, though they had ter Stegen to thank post-match. Without his saves, they would have easily lost this game.​
#2 Slavia's subtle tactics almost work in spirited showing
From the early exchanges, you could tell the pitch at Sinobo Stadium had been heavily watered for obvious reasons: Slavia wanted to stop their opponents from playing their normal game, so did all they could to unsettle them from kick-off.
All that build-up essentially went out the window after three minutes, though the hosts' response was also important: do they continue fearlessly or just down tools and adopt damage limitation after conceding such an early goal?
They chose the former and in truth, it shook Barcelona into a sense of urgency – aware of the need for further goals to win this match comfortably. Prague created counter-attacking chances with worrying speed and apparent ease to while matching their visitors for possession, passing and being unafraid to stifle the game's tempo with timely cynical fouls.
Despite being a goal behind, you could tell players enjoyed themselves and relished the challenge of overcoming an early deficit with their passionate home supporters in full voice. On another night, who knows what might have happened? Had ter Stegen not made a double save before half-time, or Jaroslav Zeleny's close-range effort was steered into the corner, it's an entirely different game. They needed to be more clinical with their chances though and finished second-best against a Barca side there for the taking.
With almost double (24 shots to Barca's 13) their amount of shots over the 90 minutes, they recovered from an early blip and acquitted themselves well. However in a stacked Group F alongside Inter Milan and Borussia Dortmund, the Czechs now find themselves bottom with one point from three fixtures. If they continue to be so profligate infront of goal, they won't spring a surprise to earn a Europa League berth post-Christmas either.​
#1 Barca win ugly away from home
This was far from an attractive, vintage win by Valverde's men but nonetheless was an important test they needed to pass. A smash-and-grab victory of sorts, they somehow emerged unscathed with their unbeaten record intact and that's all you could ask for, considering the quality of the collective display here.
Disappointing results on their away travels have been well-documented in recent seasons, both in the knockout stages and against tricky group stage opposition too.
One thing which has remained constant is that Barca do struggle away from the home comforts Nou Camp provides, so recording gritty victories like these is a welcome reminder that they're capable of winning ugly, something many critics suggest just isn't the case against top opposition with this current Barca crop.
A side packed with those box-office players you'd pay money to see, Barca were under the kosh on multiple occasions but through some last-ditch blocks – largely through Lenglet-Pique, dilligent interceptions and ter Stegen's excellence in-between the posts, survived what could have turned into a memorable evening for all the wrong reasons.​