The new NBA season is firmly underway and after an exciting first week packed with surprises and excellent play, it's time to review the week's action – as new recruit Kawhi Leonard starred for Finals favourites Clippers while Trae Young and more were particularly impressive.
On opening night, the defending champion Toronto Raptors and exciting LA Clippers recorded home wins with varying degrees of difficulty.
During an offseason packed with significant movement and eyewatering deals, Raptors forward Pascal Siakam earned a four-year, $130m max extension last week. He recorded 34 points, 18 rebounds and five assists before fouling out late during their 130-122 overtime victory over the New Orleans Pelicans in a memorable opener.
That already seems like money well spent for a franchise who don't appear to be in championship contention again but will need players like Siakam to continue developing into cornerstone players to lead them long-term.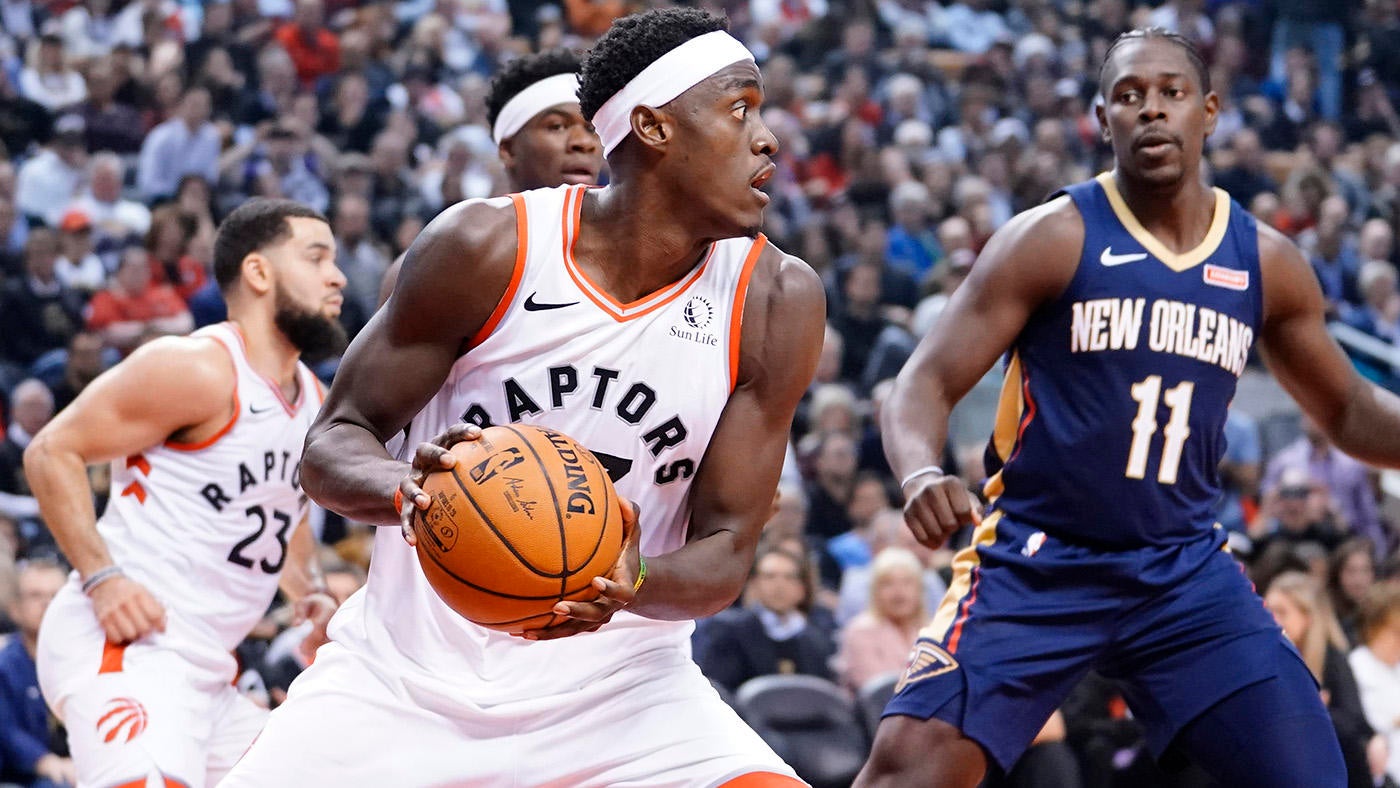 The Pelicans fought hard, had their moments but an electrifying factor was missing at the Scotiabank Arena: number one draft pick Zion Williamson. The teenage star underwent knee surgery to repair a torn meniscus last week and isn't expected to return until around Christmas time.
Kawhi and co justifying early hype in commanding fashion
Meanwhile later that evening, Finals MVP Kawhi continued where he left off in June – leading a new-look Clippers side to victory over crosstown rival Lakers with a 30-point effort at Staples Center.
Despite flashes of the dynamic pairing many tipped to go all the way this year, LeBron James and Anthony Davis didn't enjoy a productive night between them – shooting a combined 15/40, including 1/7 from distance. They combined for 43 points, though needed sharpshooter Danny Green's huge efforts (10/14, made seven threes) to stay competitive until the final minutes.
Kawhi, who scored 21, 27 and 30 in the three games since, has done more facilitating and enjoyed a good balancing act on both ends of the floor – particularly benefiting from an effective bench unit, that features Montrezl Harrell and Lou Williams among others.
Through four games, these are their averages:
KAWHI: 27 points, 6.5 rebounds, 7.5 assists per game on 51.9% FG
HARRELL: 20.5 ppg, 6.8 rebs, 2.8 ast, 76.2% FG
WILLIAMS: 22.3 ppg, 3.5 rebs, 5.3 ast, 45.8% FG
There is still 78 regular season games to play, with peaks and troughs to come for sure but that trio combining for points and defence galore on-court is a scary thought, especially with All-Star forward Paul George (shoulder) still to return.
Trae Young leading the bullish Hawks
He may have finished runner-up in the Rookie of the Year voting to Dallas' Luka Doncic last year, but 21-year-old guard Trae Young is relishing extra responsibility as Atlanta's main scoring option and has started efficiently – a complete contrast to his rookie year.
He scored 38, had nine assists and seven rebounds during their 117-100 season-opening win over the Pistons – before following up with 39/9/7 two days later against the Orlando Magic.
Having already developed a partnership with John Collins, the duo – coupled with new recruit Jabari Parker – are key to the Hawks' chances of proving this season's surprise package by cracking into the playoffs.
It's still very much early days but having succumb to a 105-103 loss by the Philadelphia 76ers on Monday, it'll give Trae and his teammates added motivation they're on the right track. The sooner they mesh together while racking up wins along the way the better.
Rookie watch as record-breaker PJ Washington steals the show
PJ Washington, remember the name. Cliché perhaps but the 12th overall pick certainly made his mark with a memorable league debut as the Hornets were 126-125 winners against the Chicago Bulls.
The rookie coming out of Kentucky drained seven three-pointers: the most in the NBA's 3-point era since 1979-80, according to ESPN Stats & Information research.
As quoted by ESPN, PJ was unaware of his achievement: "I didn't know until after the game! I did a radio interview and they told me. I didn't even know. I was just trying to make shots and just get back and play defense, so I'm just excited."
His 27-point outing was a franchise record for points by a rookie in a season-opener too, while the 21-year-old's development as an outside shooting threat is clear for all to see.
"The college game is way different from the NBA, it's kind of built on 3s and layups now and in college it's just grinding it out, so definitely you get a lot more attempts and basically nobody shoots mid-ranges anymore. It's either a 3 or a layup and you've got to make them."
Despite being measured with his scoring contributions and helping more defensively, he's averaging 14 points, 6.8 rebs, 1.3 steals and 50% from three-point range after four games this past week – including back-to-back matchups against the Lakers and Clippers.
Elsewhere on rookie watch
Zion may be injured, but…
Surprise surprise, number two pick Ja Morant is embracing life in Memphis and after an okay start, burst into life during their overtime victory over Brooklyn on Sunday: 30 points, nine assists, four rebounds and a clutch block on Kyrie Irving in crunch time.
RJ Barrett (#3 pick) is leading the Knicks in scoring through four games, with 20.5 points, 7.5 rebounds and 3.3 assists per game – alongside two steals. He's one of few positives from their perspective, it has to be said.
De'Andre Hunter (#4) is quietly settling into a bullish Hawks side powered by an in-form Trae Young, while Darius Garland (#5) has shown promise despite inconsistent shooting averages right now.
Coby White (#7) and his scoring touch has slowed down after an impressive showing against the Hornets and Grizzlies, though he's definitely asserting himself early for the Bulls. Jaxson Hayes (#8) was impressive during his first game of the campaign, despite the Pelicans' 134-123 defeat by the Warriors earlier this week.
Rui Hachimura (#9) and his steady shooting averages sees him second to only 2-time All-Star Bradley Beal for a rebuilding Washington Wizards – never a bad thing after such surprise the Japanese emerged as a top-ten pick.
Cam Reddish (#10) has undeniable ability and potential, though the former Duke forward has been struggling with his shooting – just like he was last year in college. Still early days, though he'll want to replicate similar success to the Miami Heat guard Tyler Herro, who continues to look a real steal after being drafted #13.
Early reunion but a hard-fought win for Russ against Thunder
You didn't need to watch the game to know it'd be a weird experience for Russell Westbrook, three-and-a-half months after a blockbuster trade sent him to Houston – and a reunion with close friend James Harden – departing Oklahoma after eleven years there.
As quoted by ESPN, Russell said: "This is how it goes: when I hoop, I have no friends. On the court, they know not to talk to me. Steven [Adams] is a real close friend of mine but inside those lines, there's no friends.

Spalding and my teammates, but that's it. Before the game, after the game, I'll talk to my guys. That doesn't mean I don't have friends but during the game, I don't. If you try talking to me, I ain't going to say s— to you."
It was precisely the type of unapologetic response we're used to seeing from the 8-time All-Star, who has enjoyed an encouraging start to life at the Rockets.
He's averaging 24.3 points and 9.7 assists through three games, with some eye-catching statistics to accompany his play too:
Despite a 117-111 defeat by the Bucks in their season-opener, Russell joined Hakeem Olajuwon as the only Rockets players in franchise history to put up at least 20 points, 15 rebounds and 5 assists in a season opener
He surpassed Magic Johnson and earned second spot all-time in career triple-doubles, after recording 28/13/10 in their next game against the Pelicans
OKC were up by ten at half-time and despite a slow start, Westbrook played a pivotal role in the Rockets' second-half recovery – while James Harden's three-point struggles (3/14 from distance) continued despite recording 40 points against his former team too.
There was time for pleasantries prior and post-match, though it's clear Westbrook's absence – locker room and the court – will be sorely missed especially after a behind-the-scenes view shared by The Athletic in the aftermath.
FEATURED GAMES not to miss this week (all UK tip-off times)
Wednesday, 30 October
Boston Celtics vs Milwaukee Bucks (11:30pm)
Thursday, 31 October
Utah Jazz vs Los Angeles Clippers (2am)
Friday, 1 November
Dallas Mavericks vs Los Angeles Lakers (1.30am)
Sacramento Kings vs Utah Jazz (2am)
Saturday, 2 November
Bucks vs Toronto Raptors (12, midnight)
Portland Trail Blazers vs Philadelphia 76ers (2am)
Sunday, 3 November
Indiana Pacers vs Chicago Bulls (10pm)
San Antonio Spurs vs Lakers (12, midnight)
Announcement: The 2019/20 season has officially begun! As promised over the summer, I will be adding NBA coverage to my existing pieces – in depth with regular match previews, news, reports, analysis and the like. Be sure to stay tuned for more and check this page for my basketball-centric articles in descending order from the sport!