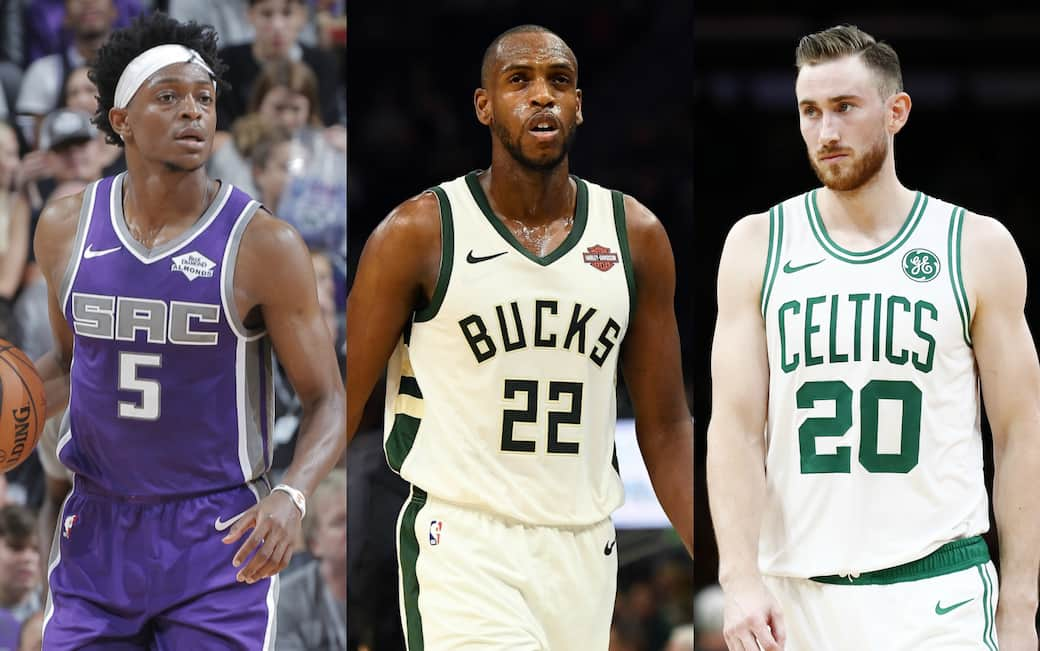 We're roughly ten games into the NBA 2019-20 season and already there are some lengthy injuries that will impact a number of playoff-chasing teams between now and Christmas: with some threatening to be sidelined for longer periods still. 
A lot has happened since my most recent basketball round-up, so let's get straight into the injury front…
Kings' star Fox sidelined after freak practice injury
Sacramento Kings point-guard De'Aaron Fox is expected to miss at least three-to-four weeks of action, having sustained an ankle sprain when a teammate stepped on him at practice Monday.
After MRI scans returned, the 21-year-old was diagnosed with a left ankle sprain. Averaging 18.2 points, seven assists and four rebounds per game in nine starts for Sacramento this season, the guard has been heavily tipped to enjoy another breakout campaign in his final year on a rookie-scale contract.
He'll be hoping for a swift and thorough recovery, as the Kings (3-6) have struggled to earn many wins this campaign while their rising star center Marvin Bagley III (thumb) is still sidelined for at least another fortnight.
Hayward's injury issues cruelly return again
Meanwhile in the Eastern Conference, Boston Celtics forward Gordon Hayward will be sidelined for at least six weeks – having had successful surgery on Monday to repair a broken metacarpal bone in his left hand.
Hayward sustained the injury during their 135-115 win over the San Antonio Spurs, colliding with LaMarcus Aldridge as he attempted to set a screen that Gordon didn't see coming. He's averaging 18.9 points, 7.1 rebounds and 4.1 assists in eight games this term while shooting 55.5% overall and 43.3% from three-point range.
After enduring a tough spell at times last year, where he looked tentative and equally vulnerable, the 29-year-old has benefited from a full offseason where he was able to work on his body, game and gain confidence in his ability again after an abrupt season-ending injury just five minutes into the 2017-18 season.
Bucks pushed into deep waters with All-Star Middleton injured
Elsewhere in the East, Milwaukee Bucks All-Star forward Khris Middleton is expected to miss the next month or so with a left thigh contusion after taking a knee to it, the team announced.
Middleton suffered the injury during Sunday's win over the Oklahoma City Thunder, where he finished with 10 points, five assists and four rebounds. The 28-year-old underwent an MRI and further examination Monday, though his presence will be missed: he's averaging 18.5 points, 5.7 rebounds and 2.9 assists per games.
Milwaukee have won four of their last five matches and he's their second-leading scorer behind Giannis Antetokounmpo. Without his scoring influence, players such as Wesley Matthews, George Hill and Kyle Korver will have to contribute more offensively.
Rockets' Eric Gordon to undergo knee surgery
Head coach Mike D'Antoni confirmed on Tuesday that Houston Rockets shooting guard Eric Gordon will have knee surgery and isn't expected to return for six weeks.
Gordon underwent an MRI on Tuesday morning which showed "significant" debris and after consultation, he opted for the procedure – which will take place at some stage on Wednesday. D'Antoni was quoted as saying the following, according to ESPN:
"It's been bothering him, actually, from the middle of last year. I think he's probably relieved that he can clean it up, get it going, so he can come back as strong as ever."
Despite the Rockets' 7-3 record in an increasingly-competitive Western Conference, Gordon has personally endured a frustrating start to 19-20.
He's averaging 10.9 points in nine games this term, though his current 28.4% percentage from three-point range is the second-lowest of his NBA career, narrowly better than the 25% he averaged in the same amount of games for the New Orleans Hornets (now Pelicans) in 11-12.
Other quick-fire headlines
Stephen Curry (hand) isn't expected back until February-March
All-Star Paul George is poised to make his LA Clippers debut this week
Victor Oladipo (knee) has been assigned to the G-League as he steps up recovery
Legendary PG Tony Parker had his No. 9 jersey officially retired by the Spurs
Pistons' All-Star Blake Griffin (knee, hamstring) made a successful recovery from injury
Tonight's games, are as follows (UK tipoff times only):   
Midnight: Indiana vs Oklahoma City Thunder
Midnight: Philadelphia 76ers vs Cleveland Cavaliers
12:30am: Miami Heat vs Detroit Pistons
1am: Chicago Bulls vs New York Knicks
2am: Denver Nuggets vs Atlanta Hawks
2am: Utah Jazz vs Brooklyn Nets
2am: Phoenix Suns vs Los Angeles Lakers
3am: Sacramento Kings vs Portland Trail Blazers