Lionel Messi pipped Liverpool defender Virgil van Dijk to win a record sixth Ballon d'Or title on Monday night, with the Barcelona superstar's achievements celebrated on an evening packed with awards and surprise top 30 placings too. 
Messi earned a record-breaking sixth Ballon d'Or trophy in Paris overnight, with Virgil van Dijk narrowly behind in second – with arch-rival Cristiano Ronaldo finishing third and Virgil's club teammate Sadio Mane in fourth to round off the top spots.
This means the 32-year-old is now the award's outright record holder, having won one more than Ronaldo – the Portuguese himself has been victorious on five occasions.
Ballon d'Or wins by individual player  
3 – Marco van Basten (1988, 1989, 1992)
3 – Johan Cruyff (1971, 1973, 1974)
3 – Michel Platini (1983, 1984, 1985)
5 – Cristiano Ronaldo (2008, 2013, 2014, 2016, 2017)
6 – Lionel MESSI (2009, 2010, 2011, 2012, 2015, 2019)
Messi's triumph comes 24 hours after he netted the match-winner for Barcelona against title rivals Atletico Madrid on Sunday, which also means the trophy has gone to a La Liga player for eleven consecutive years.
During his acceptance speech, Messi thanked "the journalists [who choose the award winner] and my teammates, with whom I win and lose."
He was in reflective mood, while hinting retirement isn't too far away with the Argentine not getting any younger and sustaining more injuries now:
"I remember my first Golden Ball in Paris, when I arrived with my brothers, now I pick up the sixth, this was absolutely unthinkable. I have never stopped dreaming and enjoying football like when I was a child.

I hope I have more years to enjoy, although I am aware of how old I am. Everything happens very quickly and I know the time to retire is approaching."
de Ligt wins Kopa Trophy
Juventus defender Matthijs de Ligt won the second edition of the Kopa Trophy, a prestigious award handed to the world's most outstanding player under the age of 21.
The 20-year-old has made 21 appearances with nine clean sheets for club and country this term, scoring his first Serie A goal with a 70th-minute winner during their 1-0 win over Torino on November 2.
PSG's Kylian Mbappe won the accolade last term and was thus ineligible, though the Dutchman – who led Ajax during their memorable Champions League adventure last term – beat fellow favourites Joao Felix (Atletico Madrid) and Jadon Sancho (Borussia Dortmund) to the prize.
Afterwards, he answered humbly when interviewed by Eurosport:
"It means a lot, I'm really happy and it's a big honour to win this prize in a stage with a lot of big players, so I am really happy with that. I think it was close – there were a lot of good talents who could also win it.

I don't know why they chose me, of course I had a great season, but like I said, there were a lot of talents that could have won over me."
Despite a tough start at Juve following a £60m move (£75m after add-ons), he had this to say on his progression: "I hope to improve everyday, to show what I am worth and I think it's going well right now."
Alisson wins inaugural goalkeeper title
Liverpool's Alisson Becker lifted the inaugural Yachine Trophy for the world's best goalkeeper – completing a treble of personal accolades for the Brazilian number one, having already claimed UEFA's Goalkeeper of the Year and FIFA's The Best awards.
He was the highest goalkeeper in the Ballon d'Or standings, ultimately finishing seventh with 67 points – some 22 behind Mbappe in sixth. Having won the Champions League, Copa America and earning recognition after flourishing at Anfield, 2019 has been the best year of the 27-year-old's career to date.
Rapinoe wins Women's Ballon d'Or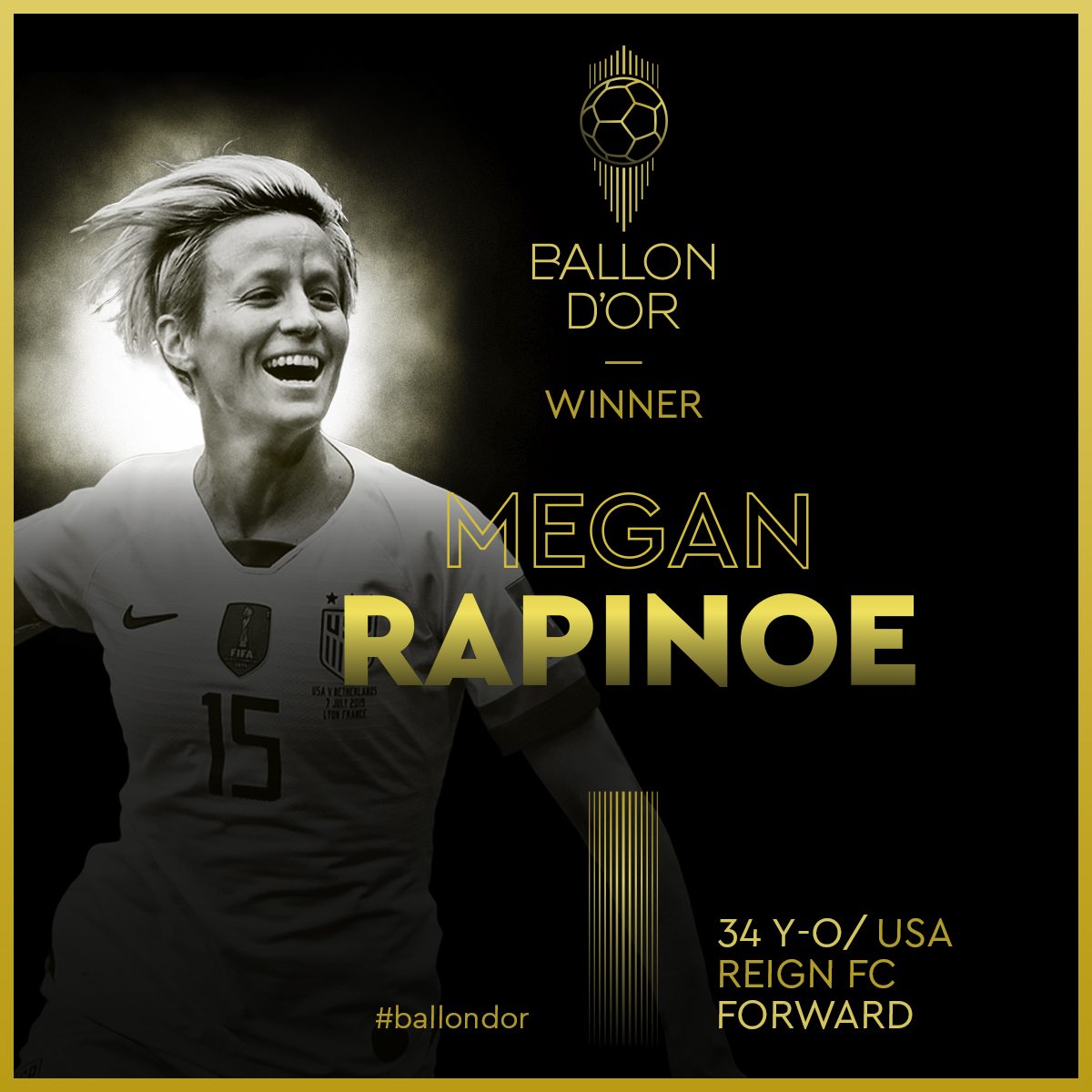 Although she wasn't there in person to accept the award, World Cup winner Megan Rapinoe was named the Women's Ballon d'Or winner – with England fullback Lucy Bronze and Megan's USWNT teammate Alex Morgan coming in second and third respectively.
She had this to say, via video link: "I want to say congratulations to all of the other nominees, I can't believe I'm actually the one winning it in this field.

It's been such an incredible year and women's football is lucky to have every single one of these amazing players every year."
There was widespread outrage on social media after the decision was announced, as the 34-year-old hasn't featured regularly at all in 2019 on the club scene. Many suggested it had a lot to do with US' World Cup triumph over the summer months, though her winning the accolade was more politics-driven than actual on-pitch performances.
Lastly… the bizarre and shocking
Today, France Football revealed the precise number of votes earned by each nominee for this year's Ballon d'Or – with Messi ultimately winning by just seven points.
Journalists from 176 countries voted, with an official breakdown available online. In the most bizarre selection, Sri Lanka's Hafiz Marikar had Liverpool fullback Trent Alexander-Arnold winning the award, with Pierre-Emerick Aubameyang, Antoine Griezmann, Robert Lewandowski and Marc-Andre ter Stegen rounding off his top five.
So, here's the official breakdown of the top 30 players from 2019 – with their points and individual standings included…
1st – Lionel Messi (Barcelona) – 686 points
2nd – Virgil van Dijk (Liverpool) – 679
3rd – Cristiano Ronaldo (Juventus) – 476
4th – Sadio Mané (L'pool) – 347
5th – Mohamed Salah (L'pool) – 176
6th – Kylian Mbappé (PSG) – 89
7th – Alisson (L'pool) – 67
8th – Robert Lewandowski (Bayern Munich) – 44
9th – Bernardo Silva (Manchester City) – 41
10th – Riyad Mahrez (M. City) – 33
11th – Frenkie de Jong (Barca) – 31
12th – Raheem Sterling (M. City) – 30
13th – Eden Hazard (Real Madrid) – 25
14th – Kevin de Bruyne (M. City) – 14
15th – Matthijs de Ligt (Juve) – 13
16th – Sergio Agüero (M. City) – 12
17th – Roberto Firmino (L'pool) – 11
18th – Antoine Griezmann (Barca) – 9
19th – Trent Alexander-Arnold (L'pool) – 8
Joint 20th – Pierre-Emerick Aubameyang (Arsenal), Dusan Tadic (Ajax) – 5
22nd – Son Heung-min (Tottenham) – 4
23rd – Hugo Lloris (Tottenham) – 3
Joint 24th – Kalidou Koulibaly (Napoli) , Marc-André ter Stegen (Barcelona) – 2
Joint 26th – Karim Benzema (Real), Georginio Wijnaldum (Liverpool) – 1
Joint 28th – João Felix (Atletico Madrid), Marquinhos (PSG), Donny van de Beek (Ajax) – 0 points