Barcelona booked their place in the Copa del Rey quarter-finals after a 5-0 home thrashing against Leganes on Thursday evening. Lionel Messi netted a brace, while there were goals for Antoine Griezmann, Clement Lenglet and Arthur Melo off the substitutes' bench as Quique Setien's men cruised to victory without truly breaking sweat at times.
The rout was both thorough and began shortly after kick-off, with Griezmann applying the finishing touch to Nelson Semedo's low cross to break the deadlock four minutes in.
Griezmann had his second correctly ruled out for offside shortly afterwards, before compatriot Lenglet doubled Barca's lead just before the half-hour mark. He reacted quickest, glancing a swerving header over goalkeeper Iván Cuéllar's head from Messi's corner delivery to make it 2-0.
Messi turned goalscorer on 59 minutes, punishing the visitors for some poor defending on a counter-attack which consequently wrongfooted Cuéllar before trickling in at his near post after taking a wicked deflection off Rodrigo Tarin.
The messy goals continued, this time with substitute Arthur getting on the scoresheet after Ansu Fati had his one-on-one chance thwarted, before Messi's follow-up was cleared by an alert Chidozie Awaziem. Unfortunately for the Nigerian defender though, his defensive block fell perfectly for Arthur to slam home.
Messi completed his brace with aplomb after 88 minutes, latching onto Ivan Rakitic's defence-splitting pass before ignoring an oncoming Cuéllar and slamming into the roof of the net to add yet more gloss to Barca's dominance on the evening.
Without further ado, here's a look at five hits and flops as Barcelona returned to winning ways following their 2-0 away defeat by Valencia last weekend:
---
#5 Flop: Rodrigo Tarín
On another day, perhaps I would have opted for Fati here – such was the significance of him starting here. Given the circumstances, the 17-year-old forward did okay and well, Barca won 5-0. There are more pressing issues to discuss than a wasteful wonderkid who will get further opportunities to emphasise why he deserves that creative faith in future.
Instead, I chose Leganes centre-back Rodrigo Tarín and there were a few others I could have justifiably selected for the #5 spot also: his goalkeeper Ivan Cuéllar didn't exactly cover himself in glory, while the visitors' wingbacks were disappointing too.
While Awaziem defended bravely – albeit not to much success – Tarín had the worst distribution of all three Leganes centre-backs, lost possession on nine occasions and earned himself a needless booking late on too for his troubles.
Despite making two interceptions and clearances, as well as a blocked shot over the 90 minutes, his pass completion (66.7%) was poor and an all-round nervy display only served to fan the flames as Barca probed in search for more goals.
He was unlucky to get the final touch on Messi's first strike, but more disciplined positioning in the build-up would have seen him intercept Barca's fourth goal in its tracks 20 minutes later.
Messi's attempted pass for de Jong was cut out and unintentionally played forward by a teammate's slide, though Tarín was all over-the-place defensively which allowed Fati an opportunity to breach their backline. Despite a good initial stop and Awaziem's off-the-line clearance, the damage was irreplaceable.
#4 Hit: Óscar Rodriguez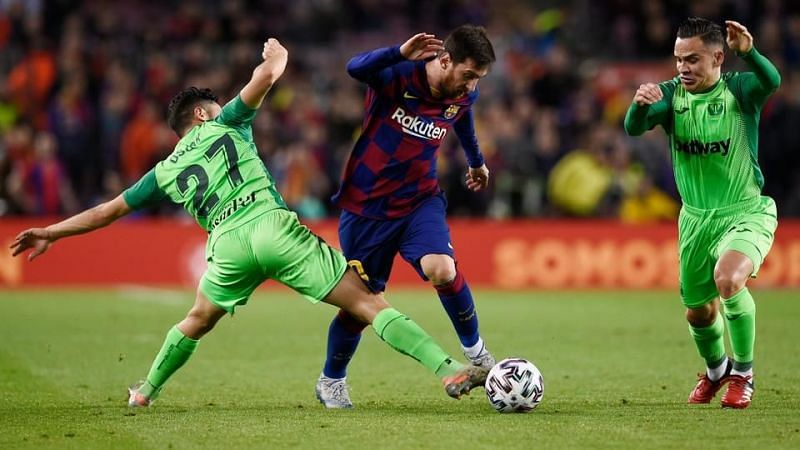 It was an evening to forget, but Óscar Rodriguez was comfortably Leganes' best performer as they crashed out of the Copa del Rey in embarrassing fashion on this occasion.
The 21-year-old midfielder, on-loan from La Liga leaders Real Madrid, managed to deliver an encouraging individual displa – even though his teammates went out with a whimper.
He completed two of his four attempted dribbles, only Messi (6) created more than his three key passes over the 90 minutes, while he won seven of 12 duels contested and was fouled on four separate occasions as his on-ball bravery and intelligence was too much for Barca, who were intent on stifling him at every turn.
The Spanish playmaker didn't shy away from his responsibilities off-the-ball either, where possible, making two interceptions, one tackle and clearance over the 90 minutes – which was moore of a defensive contribution than most of his attack-minded teammates can say.
#3 Flop: Dimitrios Siovas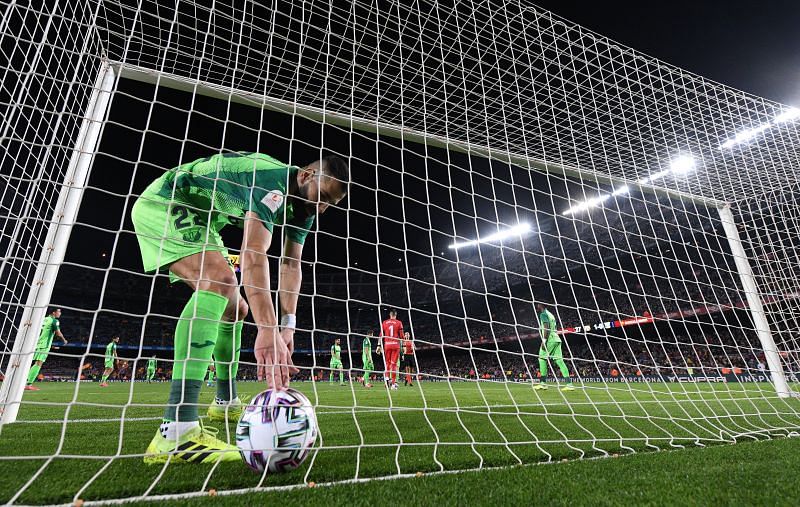 There were poor defensive performances, but Siovas' display was particularly dreadful. Operating on the left-hand side of Leganes' three-man backline (3-4-2-1), the experienced Greece international struggled under pressure and looked lost as Barca were rampant.
Seconds before Griezmann's opener, you can see him step out of his defensive position and half-heartedly press Messi in possession. That movement proves key, as Messi embraces the pressure before unleashing a brilliant pass that splits three Leganes players and releases Semedo inside the box.
They – Siovas included – are left ball-watching as Griezmann takes a touch to set himself before firing through the helpless legs of Awaziem into the bottom corner. Lenglet's rather sheepish-looking celebration rather speaks volumes for how easy it was to double Barca's lead. Siovas was aware of his run across the six-yard box, didn't man-mark him tightly enough nor jump to try and challenge for possession as Messi's cross was drilled towards the near post. Instead he watches Lenglet head goalwards and looks bemused.
That's a theme for their next two goals: he's initially out of position as Frenkie de Jong feeds Messi, who gleefully drives into the box and shrugs off two half-hearted challenges before firing goalwards. It takes a big deflection off Tarin on the way through, sure, but if not for 's poor positioning, Messi doesn't have that opportunity to begin with.
For Arthur's goal, he's again caught ball-watching in the box as the attack continues down the opposite side to him. He reacts too slowly to stop the rebound, before his sliding block attempt proves futile as Messi effortlessly rounded Cuellar before slamming home for their fifth and final strike of a memorable evening.
#2 Hit: Clement Lenglet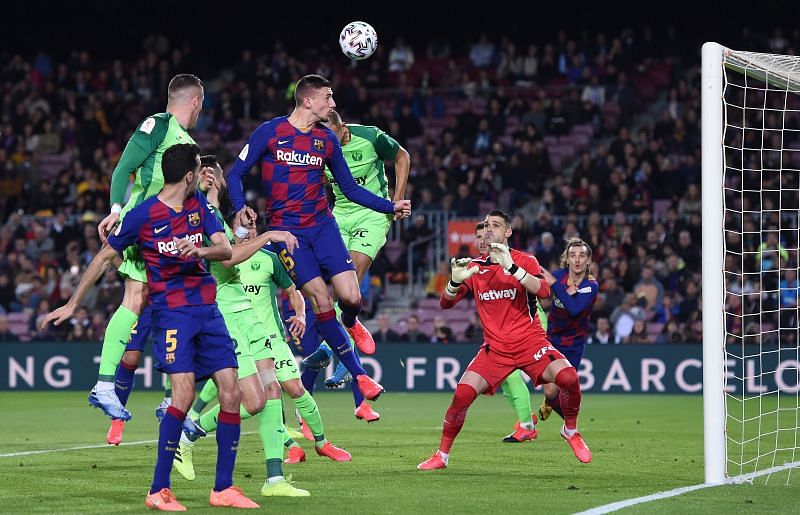 For all their creative riches, Barcelona have regularly been criticised for an over-reliance on goalkeeper Marc-Andre ter Stegen to bail them out of precarious situations in recent seasons.
While that is true, you'd be naive to ignore the consistency of Gerard Pique and Clement Lenglet – which is heightened in matches like these, where they avoid cup upsets and surprise defeats against plucky opposition who ultimately have nothing to lose.
Lenglet was an unused substitute during Barca's 2-0 defeat by Valencia last weekend, but returned to the side with his best display of 2020 to date – one he'll be hoping he can use as a springboard for more success this season and beyond, after an unpredictable campaign up to this point.
He took his goal well, leaving Siovas in his wake before flicking past Cuéllar, and while he didn't have much to do defensively, remained alert when called upon – testing his distribution and comfortability on the ball where possible. 132 touches was second to Pique's 134 over the 90 minutes, though he enjoyed a whopping 97.6% completion rate (122 passes made), won all four of his duels contested and made six of eight attempted long balls too.
#1 Hit: Lionel Messi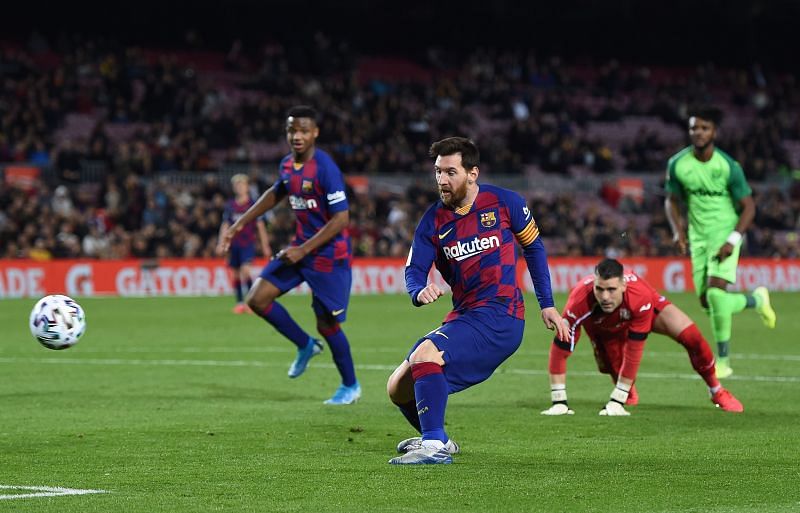 Perhaps the most frightening thing about Messi's individual display was the subtlety with which he played: he didn't seem to be at his electrifying best but didn't need to be, scoring two, creating another while playing a significant role in Barca's other two goals.
That's why, after all, he's their saviour. His first finish was scrappy, second was ruthlessly dispatched on an evening where Leganes simply couldn't live with him nor his creative teammates and were instead left chasing shadows for large periods as they probed their way in-and-around the final third with worrying frequency.
He completed all five of his attempted dribbles, created a game-high six key passes and had 84.3% completion rate to accompany 10/14 duels won and the unenvious statistic of being fouled five times, joint-high with Leganes captain Ruben Perez.
It was his brilliant forward pass for Semedo which set up Griezmann's opener, while Lenglet netted his second Barca goal of 2019-20 directly from Messi's well-worked delivery towards the near post just before the half-hour mark – there was plenty more where that came from. After a busy but frustrating showing against Valencia last time out, business resumed as normal for Messi on this occasion.
Stats' source: SofaScore