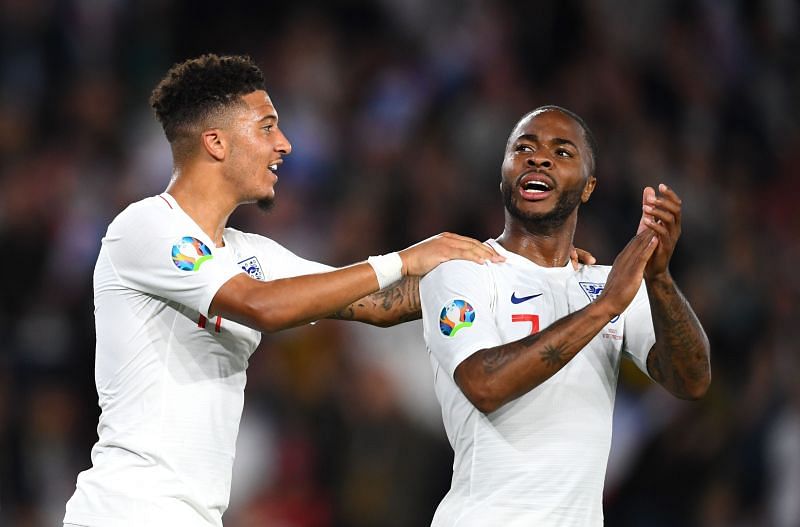 It wasn't supposed to be like this. After Tuesday's news broke about Ousmane Dembele's fitness, Barcelona's quest to conquer Europe again just got a whole lot more difficult.
Barcelona, propelled by their talisman Lionel Messi and armed with a €120m (£101.7m) summer acquisition in Antoine Griezmann, intended to exact revenge after a forgettable finish to 2018-19 and finally win the Champions League – their first since 2015.
Luis Suarez's knee operation last month means he's sidelined for the rest of the campaign and now Dembele – out since November – will not feature again either.
Now, he'll miss a proposed reunion against former side Borussia Dortmund in the last-16, while his participation in this summer's European Championships is now a serious doubt too.
Without further ado, here's a look at three potential Dembele replacements Barca might look to sign – either this coming summer or at some stage in the not-too-distant future:
#3 Raheem Sterling (Manchester City)
Starting with the oldest and most successful player on this list, Manchester City's Raheem Sterling is someone who has long attracted interest from suitors across Europe – though nothing has materialised yet. He turned 25 in December, is a two-time Premier League champion and developed significantly under Pep Guardiola's guidance in Manchester since making the brave move from Merseyside five years ago.
Raheem has 20 goals and a further six assists in 35 appearances this term, but the Citizens' limp title defence hasn't helped his cause either: he's currently out-of-form and has yet to create any goal contributions in 2020 – six games across all competitions.
Bayern Munich and more recently Real Madrid, have been linked with the Englishman but there's no reason why a change of scenery and opportunity to play alongside Messi at Barcelona wouldn't intrigue him. After all, he's won all there is to win in England and departing for the La Liga champions would also provide a better chance of Champions League success – considering City's well-documented shortcomings in Europe.
City will hate to let him leave, though their efforts to get him into committing his long-term future have proven futile in recent months. He reportedly wants assurances Guardiola will do the same, which is understandable but unlikely given how this campaign has developed.
His existing deal expires in the summer of 2023, though if talks reach an impasse or he makes clear a desire to venture abroad for a new challenge ala Christian Eriksen, Barca could be tempted into completing an expensive move like the Philippe Coutinho transfer.
#2 Serge Gnabry (Bayern Munich)
It's been a whirlwind few years for Serge Gnabry: dismissed by West Brom on loan in the west Midlands, flourishing in the Bundesliga with a chip on his shoulder at Werder Bremen before Bayern rather unsurprisingly came calling.
Since his €8m move – a real steal, by the way – the 24-year-old forward has since won their Player of the Year award while asserting his credentials as an indispensable player in a side keen to rebuild a more youthful core after the departures of Arjen Robben and Franck Ribery.
Gnabry has 12 goals and eight assists across all competitions (25 matches) this term, but his numbers could been even more impressive if not sidelined in recent weeks with a niggling Achilles injury that has since him play just 50 minutes in their last three league games.
He scored off the bench in their 5-0 thrashing of Schalke on January 25 and is gradually returning to full match sharpness, at a crucial juncture in their campaign with the Champions League knockouts set to begin in a few weeks' time.
His versatility, directness and improved decision-making in the final third has made him a reliable creative outlet to lessen the goalscoring load off Robert Lewandowski. After his four-goal haul in Bayern's 7-2 UCL win over Tottenham earlier this season, Gnabry reflected on a surprise but necessary departure of his own four years ago:
"I was still confident I could've got in the team but I didn't want to wait. I didn't want to be fourth or fifth choice any longer. It was the hardest decision I had to make in football, leaving a club like Arsenal – the fans, the players – but to keep playing, I had to take a step back and it was the right decision."
Just like Sterling though, the former Arsenal man will not come cheap. He put pen-to-paper on a four-year extension 11 months ago and Bayern value him highly – even with their public pursuit of Leroy Sane an ongoing theme in a frustrating few windows for the Bavarians.
An integral part of Germany's Euro 2020 hopes, he has come a long way and there's still an overriding feeling there is more still to do – he cannot afford to rest on his laurels, though should his progression continue at such a rapid rate, there's no reason why Barca wouldn't be inclined to gauge interest over a possible move to Spain.
#1 Jadon Sancho (Borussia Dortmund)
Last but not least, the youngest and player with most potential to fufill. Just like the aforementioned pair, Jadon Sancho was once a Premier League player – but one who wasn't granted an opportunity to showcase his ability as Manchester City's wealth of creative depth kept him humble among the U23s when it was abundantly clear he was ready to feature in some capacity.
Despite being brave enough to venture abroad and join Borussia Dortmund as a 17-year-old hungry for regular first-team football, it's also why a return to his homeland feels inevitable at some stage in his career.
But after his performance at the Camp Nou in late November, that unfinished business in England could and probably should wait. Despite internal issues over disclipine and his adjudged commitment to BVB, Lucien Favre called upon him as a second-half substitute with Dortmund already 2-0 down.
Although he was a surprise omission from the visitors' starting eleven, he nonetheless was comfortably their best player, scored a brilliant consolation finish and would've had a brace, but for Marc-Andre ter Stegen tipping his goalbound effort onto the crossbar.
He doesn't turn 20 until March 25 and by that time, we will have seen how him, Marco Reus, Erling Braut Haaland and co fare against Ligue 1 giants PSG in the Champions League last-16.
For someone said to be out-of-form and unmotivated, to the point where a January move wasn't out of the equation, Jadon has 15 goals and 16 assists (all comps) this term. Just imagine how he could flourish, lessening the creative load off an ageing Messi…