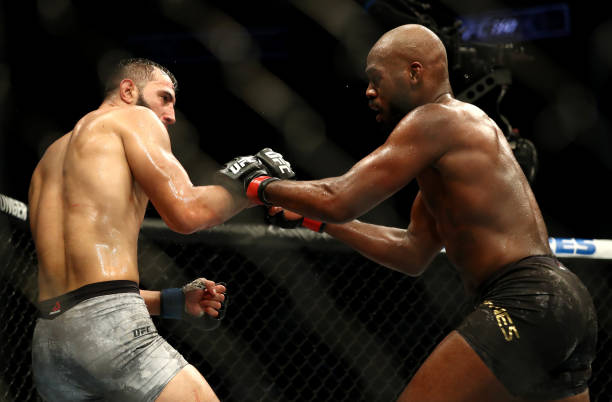 Jon Jones made history in Houston, surpassing future Hall of Fame and welterweight king Georges St-Pierre for most title fight victories in UFC history with 14: beating Dominick Reyes by unanimous decision (48-47, 48-47, 49-46) during a draining but compelling five-round affair.
Jones relished the challenge and on a record-breaking night, duly delivered during decisive championship rounds against a gamely challenger in Reyes – who was unbeaten.
This victory means he's now tied with former featherweight champ Demetrious Johnson for most title defences (11), while extending his 18-fight unbeaten streak: no-one else comes close.
The 18,300-strong crowd at the Toyota Center largely descended into a chorus of boos as this result was announced, reiterating how close Reyes (12-1) was to securing victory.
He outstruck Jones 116-104 over five rounds, becoming the first man to do so in his 22 UFC bouts. This is the same fighter who expected to hear his name in the 2013 NFL Draft, went undrafted before licking his wounds and making the quick MMA transition.
The 30-year-old, nicknamed The Devastator, started brightly and knew he needed to against a champion of Jones' calibre. Despite a 7.5″ reach disadvantage, the California was refreshingly unfazed and instead began landing some nice kicks to capitalise on a lethargic Jones start.
Reyes starts quickly, his striking proves a nuisance
Referee Dan Miragliotta warned Jones of his outstretched fingers twice in quick succession, as Reyes got to work and looked to pick him apart in R1. As Jones shaped to strike, he connected with a body shot which saw the champ temporarily floored.
It put him on the defensive and if not clear already, Jones was beginning to respect Reyes' striking power in their exchanges. He displayed good variation and made Jon uncomfortable, though expending all that energy early on was going to prove draining in the latter rounds.
Nonetheless, he set the tone and comfortably won that round. R2 was more of the same, though Jones' head movement and striking defence came to the fore as Reyes landed a number of good kicks, advancing forward with a flurry of punches.
Jones connected with some nice jabs to force Reyes into retreating ever so slightly, though again this was another round in favour of the challenger.
Reyes led the statistics in terms of significant strikes landed (48-33) at the end of R2 which spoke volumes: Jones needed a response, otherwise we were minutes away from hearing and new… 
Reyes comfortably ahead, leading into round three
By this point, he had already landed more SS than Thiago Santos did over five rounds. Many felt the Brazilian was robbed, making Jones look beatable at UFC 239 last July.
As R3 began, both exchanged leg kicks and you could sense Reyes' urgency starting to wane ever so slightly. Despite landing a few big shots, Jones absorbed them and conserved his energy well with methodical movement, controlling centre ring.
It was increasingly risky for either man to engage, such was the ferocity and precision of strikes being landed – but Jones kept coming forward, forcing Reyes into action.
After landing a succession of kicks himself, the 32-year-old ate a brilliant uppercut and could only sprawl across the floor as he watched the challenger's great clinch defence push him away. With that being said, the cracks were there. Jones had cause for motivation.
Championship rounds – Jones' time to shine
Into the championship rounds they went, familiar territory for Jones.
Six of his last eight fights had gone the distance before this one, so even after Reyes landed a brilliant punch combination and displayed yet more defiant takedown defence (6/7 stuffed, 86% defence in middle of R4), Jones simply persisted.
Having landed some good body shots and a beautiful elbow to stagger Reyes back, his wrestling tactics had given him an edge – even though they were largely unsuccessful – because it was an effective option which physically wore down his challenger too.
Jones landed a high kick and stinging left hook before R4 finished, so heading into the fifth, there was a sense that R5 could prove the decider. The champ's corner confirmed the same.
Despite more impressive takedown defence by Reyes, Jones continued to push the pace and landed two body kicks which clearly hurt him. Absorbing another bruising elbow as he retreated towards the cage, Dominick was tiring. Jones meanwhile? Looked fresh.
He continued to land further body kicks while checking Reyes' own and methodically chopping away at him. That energy conservation had proved important.
They exchanged a few more times but Jones was in control at this stage, a sentiment shared by all three judges on their scorecards as they confirmed he retained his title after a gruelling battle.
Here's the round-by-round breakdown of the significant strike numbers:
R1: 21-12 Reyes — R2: 27-21 Reyes — R3: 23-19 Reyes — R4: 19-14 Jones — R5: 25-18 Jones
The 49-46 scorecard led to a passionate ringside discussion by analysts Dominick Cruz, Joe Rogan and Jon Anik – who suggested open scoring and a clear one-for-all rule system should be implemented, with better judges to ensure less controversial decisions in future. 
---
Post-fight comments
Jones was full of praise for Dominick post-fight, revealing that he was better than expected and admitting it was a close bout too.
"Dominic did a tremendous job, you have earned my respect. This was a great fight but the difference was takedowns. I took him down three rounds, it was close in the kickboxing but my takedowns got me the edge.

I knew it was close and turned it on in R5, I completely dominated that final round, which won me that fight.

He was tall, big, strong, well coached and a lot better than I thought he was. A worthy opponent but I'm grateful to be part of history tonight." 
On whether he'll move up to heavyweight now or consider a rematch, he said the typical line – celebrate his win, discuss plans with his coaches before figuring out what they want to do next.
As for Reyes, he truly believed he did enough to secure a championship victory:
"I thought I won rounds 1-3, he was on me in 4 and 5. Got those takedowns but I popped right back up and didn't think they would be a factor [in the judges' scorecards]…

It is what it is, I'll get back better and this just proves I'm the real deal. I thought we were close, I outstruck him 1-3 and the takedowns shouldn't have [counted] that much – if anything, he's burning more energy. That's the game we play, I took an L.
---
Shevchenko dominant again, retains her championship
In the night's co-main event, Valentina Shevchenko (19-3) retained her flyweight championship belt with a dominant showing against Kaitlyn Chookagian (13-3) – justifying why she was the overwhelming pre-fight favourite.
Despite a four-inch height disadvantage, the 31-year-old was unfazed and instead intent on stalking her prey from the opening bell. A beautiful spinning backfist was the highlight of R1, as the Kyrgyzstan native had ring control against a tentative-starting American.
She didn't land much and her attempt at ground control backfired massively at the end of that round, as Shevchenko landed a devastating elbow and Kaitlyn was raining blood.
That purposeful start and strategic movement continued as she made the challenger miss and countered well too, taking advantage of Chookagian's severely damaged left leg.
A striking clinic from the champion was on display, as she landed a beautiful wheel kick and another at distance shortly afterwards. Having absorbed 48 strikes to that point, the cutman did well for Kaitlyn between rounds but this never seemed like going the full five rounds.
She started brightly before being tripped and that was the beginning of the end – ground and pound followed, as Valentina was onto her in a flash, leaving referee Jacob Montalvo no choice but to stop the fight.
Statistic: Shevchenko's victory here is only the eighth KO/TKO from a crucifix position in UFC history – she also has the longest active win streak in the flyweight division (5). Only Amanda Nunes (5) has more successful title defences than her now.
"If I train hard, the fight is easy. There are a lot of good girls in the 125 division, I'm open for anything and any fight that comes in the future.

Houston was my home for two-and-a-half years, I started my US fighter career [here] so I'm happy to come back, it's the best feeling right now: happiness!
---
Other results
Hometown favourite Derrick Lewis (#6 ranked HW) was victorious via UD against Ilir Latifi (29-28, 29-28, 29-28) in his return to Houston – this being the 35-year-old's first fight there since 2015.
Although unable to make history with a 11th UFC heavyweight KO, Lewis impressed and got the crowd off their feet with a number of beautiful high kicks, bruising punches and could have secured the finish late in the final round too.
Ultimately, he was slow to crank up the pressure against a durable opponent in Latifi, who kept his eye on the clock when in trouble but was down on all three scorecards despite slamming The Beast down with three takedowns and landing 80.5% of his attempted strikes (62/77).
Dan Ige (13-2) is now five unbeaten – only three fighters have better active streaks at featherweight – after a tale of three different rounds in a hard-fought scrap with Mirsad Bektic.
Ige was brilliant in the first, his stand-up excellent and stunned Bektic who struggled to find his range and was being struck all over the place with little resistance.
The second round was the opposite, with Bektic enjoying almost four minutes of ground control. Ige could have tapped out at any point and there would have been no complaints, such was his submission pressure at times.
The final round was more cagey, with Bektic persisting in his efforts on the ground – although Ige excelled in their stand-up exchanges and landed 16 significant strikes over the five minutes, compared to just 4 from the Bosnian. That proved key, winning via split: 29-28, 28-29, 29-28.
Highly-rated heavyweight Justin Tafa (4-1) made an emphatic splash with a first-round TKO with his first UFC win, stunning Houston-born Juan Adams (5-3) with some truly deadly strikes.
The fight was stopped after 1:59 as the referee pushed the New Zealander off – landing a brutal right hook and uppercut in quick succession before unloading with punches.
Prelim, early prelim results
Middleweight: Trevin Giles def. James Krause via split decision (28-29, 29-28, 29-28)
Women's Flyweight: Lauren Murphy def. Andrea Lee via split (28-29, 29-28, 30-27)
Welterweight: Khaos Williams def. Alex Morono via R1 KO (punches)
Bantamweight: Mario Bautista def. Miles Johns via R2 TKO (flying knee, punches)
Bantamweight: Journey Newson vs. Domingo Pilarte changed to a no contest, originally Newson awarded R1 TKO (punches) win but changed after testing positive for marijuana
Bantamweight: Andre Ewell def. Jonathan Martinez via split (28-29, 29-28, 30-27)
Featherweight: Youssef Zalal def. Austin Lingo via UD (30-27 x 3).