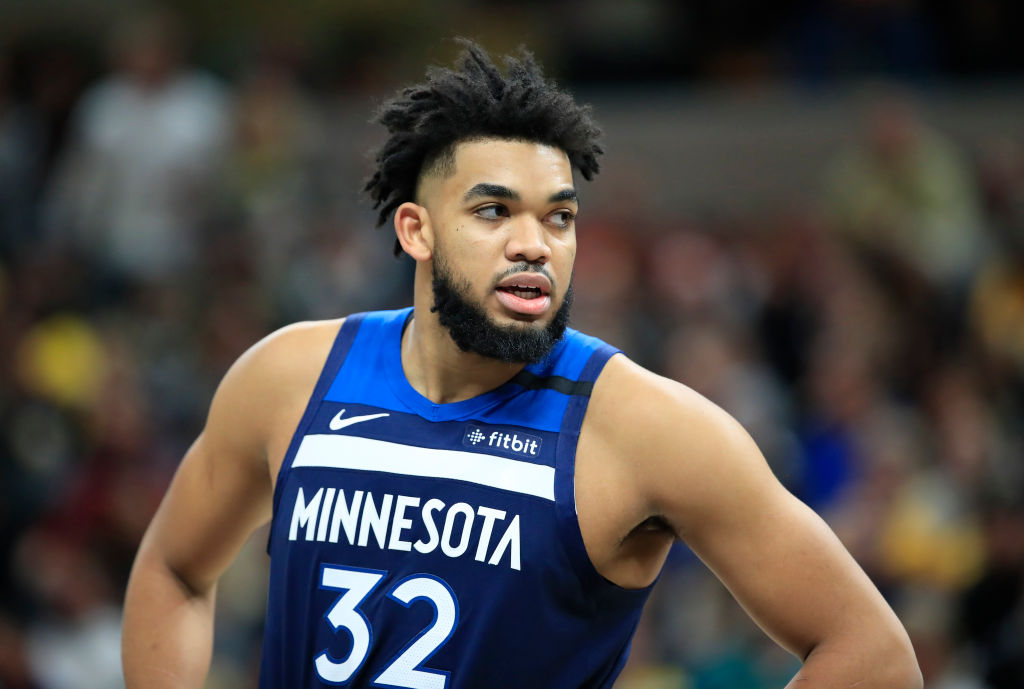 Some bad news ahead of the All-Star break, as the Minnesota Timberwolves' franchise player Karl-Anthony Towns is expected to miss some time after failing to shake a troublesome wrist injury he'd played through in recent weeks.
In 35 games this season, Towns is averaging career-highs in both points (26.5) and assists (4.4) per game to accompany 1.2 blocks and 10.8 rebounds per game.
The two-time All-Star would have been feeling weird last week after some interesting trades in the final days of this year's trade deadline. As I reported, the T-Wolves were part of a four-team trade which saw sharpshooting wing Robert Covington – one of Towns' best friends on the roster – dealt to the Houston Rockets.
Yet last Thursday, he was reunited with All-Star guard D'Angelo Russell – a close friend from high school – in a shock trade sending Andrew Wiggins to Golden State, two hours until the deadline.
As quoted by Star Tribune, the 24-year-old had this to say:
"It's surreal to really think that instead of us just talking on the phone or playing video games with each other and talking about how our teams are doing and everything, but now we're getting to do this every day with each other.

He's never just been a friend of mine – he's a brother. Our families are so intertwined and connected. It's going to be real fun to be able to be out there with someone I call not only my brother but is more like blood to me."
There is belief within the Timberwolves front office that a Towns – D'Lo combination can prove pivotal as they aim to solidify their standing in the Western Conference as a genuine postseason threat in the years to come. That will not appear overnight.
However with a dismal 16-37 record, they sit second bottom of the West this term.  Towns takes pride of his excellent on-court availability, having missed no games in his first three NBA seasons. Now in his fifth year, he's now missed 23 and counting (18 this season) while the influential center's supporting cast are inconsistent, to say the least.
He didn't feature in their 115-108 defeat by the Charlotte Hornets on Wednesday night and as The Athletic's Jon Krawczynski reported earlier today, he could miss extended time after this break.
"Exactly how long Towns will be out with a left wrist injury remains unknown, but it is expected that he will miss multiple games when the Wolves resume playing after the break next week.

Towns had been dealing with wrist pain for the last few weeks, but with no discernible improvement, went in for further testing. League sources told The Athletic Towns will likely need more than the nine-day break to return to action."
What's next?
Minnesota's next game is against Boston Celtics on Friday, February 21. With that in mind, the break has arrived at the right time for KAT and co.
He wasn't selected to the All-Star Game, despite being seventh in the Western Conference in scoring average among players with at least 35 games played.
He told Star Tribune's Chris Hine: "I'm worried about our team, getting W's. I'm desensitized to being disrespected in this league, I've been disrespected since I came in.
Towns will likely use this snub as further motivation in the second half of the campaign, not least being extra motivated by Russell's arrival in Minnesota.