With just over six weeks left of the regular season, I got the thoughts of LA Clippers expert Jack Brown to assess how the 2019-20 NBA campaign has developed since we last spoke – he had plenty to say about a range of topics as the playoffs edge closer.
The last time Jack featured here, was just before Christmas on December 23. A lot has happened since then, with intriguing trades, exciting player returns, speculation and surprises aplenty. As they did from the early weeks, both the Lakers (46-13) and Bucks (52-8) lead their respective conferences after 60-odd games this term.
We've entered the business months of the campaign, with many teams either focused on preparing for playoff basketball or battling among rivals for a postseason berth themselves. After all, there are only 15 left after Milwaukee made history on February 23 – the earliest team to achieve such a feat in over 15 years.
So, I spoke with LA Clippers expert Jack Brown to get his revised thoughts three months on, as the season continues packed full of storylines, intrigue and excitement with the playoffs fast approaching.
---
Initials – MO (Mosope), JB (Jack)
Kobe Bryant tribute
Mosope: Ok, so first question I have to ask relates to Kobe Bryant: It's been over a month now since his shock death and that of eight others, including daughter Gianna. How did you react to the news and how do you think the league has responded since?
Jack: After the news, me and my brother were shocked. Our moods were down for a few days after the events. We eventually started to accept reality and start to live by his code of Mamba Mentality and apply it to different everyday life.
Thea league went above and beyond to honour his name, rightly so. You can see how much he meant, not only to the world of basketball but the sport world. To me, Kobe was sometimes misconstrued as a selfish ball-hog but in reality as his teammates would tell you, he's the best teammate you could ask for.
He made everyone around him work harder and he put everything itno winning. He was many people's Michael Jordan and that's a legacy Kobe would have been proud of. He left behind a legacy of being ultra competitive and not letting anything hinder his chances – it's bigger than basketball, now sustained as one of the greatest athletes the sporting world has ever seen and a model husband too.
MO: Yeah, I think the initial feeling was just one of disbelief – you could tell by the outpouring worldwide just how much of a true great he really was, both on and off-the-court.
I only really got into basketball as he was retiring but that Mamba Mentality is something I don't think we see enough of in modern day society, specifically sports, so he continues to inspire people like you say and his legacy will certainly be remembered forever.
Eyecatching trades, a few that got away…
MO: It's been nearly three weeks' since the February trade deadline, are there any moves that were shocking or particularly caught the eye for you?
JB: Well, Marcus Morris to the Clippers for me solidified their standing as the team to beat in the West. From the East, I'd say Andre Iguodala – since his arrival, Miami has really struggled so I wonder just how good the fit is.
MO: Fair enough. It's still early days and I haven't watched enough of Miami recently, but Iguodala was seen as an invaluable piece to pick up, especially having signed that two-year, $30m extension when he arrived too.
What about D'Lo in Minnesota with Towns, do you think that could work long-term? Or would they need to reunite their heavily-publicised friendship trio alongside Devin Booker to have much success in the West?
JB: With how bad defensively that duo is, they definitely need Booker to even out the defensive side of the ball. But next year they can push for playoffs, I just can't see them competing with just those two.
MO: Yeah, it's definitely a stretch.. Do they even have the assets to get Booker? He signed that big extension in Phoenix too, no?
JB: Yeah, Booker is on a big contract – $130m over four years after this season. I think it's possible and they should throw the whole thing at the Suns because having that trio gets you 40 wins minimum and Minnesota are in a dire state.
MO: Hm, fair enough. I'm already thinking about the role players around them too, potentially a big ask with their contract situations! What about players who didn't get traded that courted attention: Jrue Holiday, Kevin Love, Danilo Gallinari?
JB: I think Thunder keeping Gallo makes them as good as anyone in the West not named Clippers or Lakers! I think Clippers keeping Shamet to get Morris is overlooked too.
MO: I agree, still can't believe Philly gave him up! So no love for Jrue or Kevin then?
JB: Nah, Jrue doesn't fit this Pelicans team. Free up Lonzo and Zion, I say.
MO: I agree, but how so and where would he go then? He's in his prime years.
JB: Thing is, he's way too ball-dominant and iso based. The ball moves better without him on-court. Honestly, a good place for Jrue would be someone like the Suns or Miami.
MO: How about Kevin Love?
JB: No-one wants him! He plays no defence, is injury-prone, on a silly contract and is old too.
MO: Ouch. Poor guy is stuck in 2016.
JB: If that. The Cavs would have won another Championship, if they had someone better than him.
Zion watch, Oladipo returns and questions over Curry, the Warriors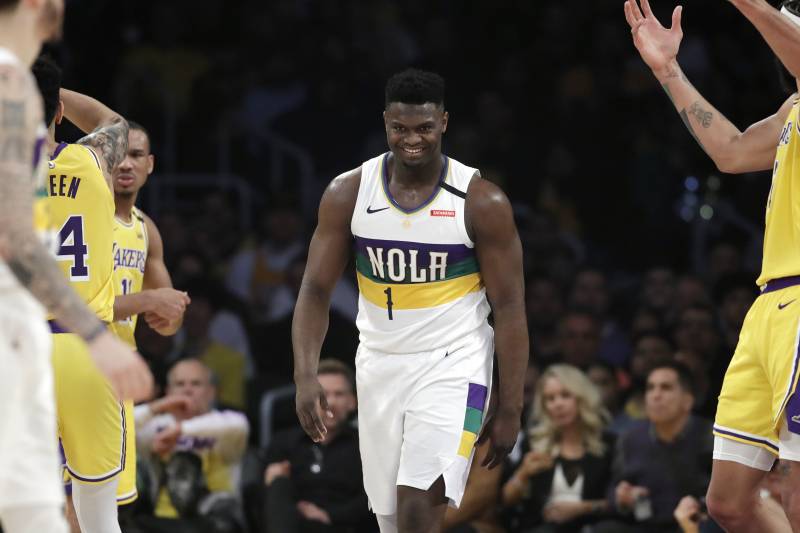 MO: Speaking of Zion and injuries as a whole, the last time we spoke like this, he and Victor Oladipo hadn't made their season debuts! Curry is set to return later this week, so talk to me about the trio.
JB: Zion is incredible. The fact he's 19 and doing this! He's going to be the league's best player, if he stays healthy.
Victor has really struggled along with the Pacers. They recently lost six straight and Oladipo has been cold to say the least. Saying that, he's shown a few flashes of his old self and just needs time to get back to what he was – playing at an All-Star level. Knee injuries are one of, if not the hardest injury to fully recover from, so it'll be interesting to see.
As for Curry, why is he going to play? Could you imagine if he gets injured playing for a 12-win team in March, it's an absolute disgrace.
MO: Unfazed, justifying the hype and considering where the Pels were just a few months ago… it's crazy to think they're looking at that eighth seed in the West now.
I have no doubts about Oladipo, always think it's harder to get into the groove mid-season, especially for a team where they've been eagerly anticipating his return for a while – even if they say otherwise. But wow, you really think that about Steph?
JB: Yeah, why would he play? I don't get it.
MO: I mean I understand why he wants to play, if healthy he's not the type of person to want to sit out. Saying that, from a health standpoint there are some concerns. I read a report recently saying that just a few weeks ago, he was still suffering nerve damage – so wouldn't be fully 100%, like how many have described Zion's extended knee timeline and that brace he wears now.
I'm not sure. On the one hand, the league gets one of its best players back, even if it's just for six weeks. Alternatively, I wouldn't begrudge him staying out of the firing line, not least given the way they have performed without their All-Stars this term.
JB: If they are going to play him, he should have a mega minutes restriction and should he show any sign of hand pain, get him straight out of there.
MO: Fair enough. Talk to me about Draymond, did you see him get ejected last Wednesday? What's wrong with him…?
JB: On purpose? Yeah. He's getting exposed. Without his superstars, he's an average player now isn't he?
MO: His assists (6.2), blocks (0.8) & rebounds (6.2) are the lowest they've been since 2013-14… is he going to return to his influential form next year when his buddies are back, or will the Warriors regret that $100m extension they rewarded him with last summer?
JB: I think he'll be fine once everyone comes back. He's perfect for that team, like our Patrick Beverley.
MO: That's reassuring to hear.
Embiid-Simmons, Philly's future and East contenders
MO: Let's go to the East for a little bit, it's been a topsy-turvy few weeks for the villainous Joel Embiid – booed by his own fans after flirting on Instagram, writing some cryptic messages – delivering a career-high in points – then getting injured (again!): can he and Ben truly co-exist in the postseason? Or does one of them need a big trade elsewhere?
JB: They can, but they need a new coach. Brett Brown is clueless, I'm afraid.
MO: How so?
JB: He runs a stiff offense, uses Joel too often in the post and it's clear they are better when Ben is the lead guy. Don't forget his late game-management, that's shocking.
MO: Hmm, got that feeling a lot last season. So it hasn't changed?
JB: Nope, especially on the road. Their record away from Philly is awful.
MO: So is Ben the number one option then, even if he still can't shoot?
JB: He should be the lead ball-handler for sure. For me, Ben is 1A and Joel is 1B.
MO: Hmmm… is it now or never for this crop though? All of them are signed to big contracts, I read a report suggesting they are prepared to deal Horford this summer too!
JB: I wouldn't say now or never, but that's the case for the coach because if it goes badly, he should be fired instantly. Brett will take the fall for this year's shortcomings, should it happen as expected. Horford has got to go, he's both a bad fit and overrated.
MO: Yeah, I've heard some murmurs around Brett's future and it's not looking good – but I can't see them doing much better than last year, especially without Butler who I felt stepped up in the postseason. Still can't quite believe they signed Horford to that deal $109m over four years, $97m guaranteed!
JB: Ben is a better player and they have great defense (at home!) without him.
MO: After all, remember this is supposed to be the Giannis-stopping team – Ben/Embiid/Horford et al. Hindsight is a wonderful thing.
JB: I mean it [Philly beating the Bucks] could happem, but they have to play on the road so it's not going to.
MO: Yeah, that's tough. I touched on them briefly, but do you think the Heat are as good as they seem? Ignoring the last two-week stretch…
JB: No. They have a fluke home record which is carrying them, while Butler isn't all that when it comes down to it. Plus, they have too many inexperienced players for me – Tyler Herro, Kendrick Nunn, Bam Adebayo, Duncan Robinson.
MO: Ouch, no faith for Bam and the youngsters! What about the Celtics and Jayson Tatum, he's exploded recently after that first All-Star selection!
JB: Yeah, Tatum is better than Paul George! His defence is crazily underrated, his form interestingly enough has increased since around the time Kobe passed – I think it gave him the extra boost needed to be the best he possibly can. His three-point shot is consistent now, while he makes moves with more purpose and conviction.
MO: Yeah, you've literally taken the words from my mouth with that one. I remember they were close, Kobe rated him very highly and had been challenging him to score more or at least be more purposeful. So when it wasn't falling last year, they deemed it the Kobe effect, taking more shots and being less efficient in *that* team with Kyrie.
JB: I can't stress enough the fact that his defence is great too! It was growing pains before, but now he's a legitimate problem for opponents to defend against in this league.
MO: Yeah, defence usually goes under the radar unless you're a liability.
Returning West, disappointments, award races and surprises
MO: Okay, back to the West.. what about Nikola Jokic and the Nuggets? He's lost 25lbs and is finally looking like the player we expected him to be from October…
JB: The Nuggets don't scare me. Soft and inexperienced, they have no other stars other than Jokic!
MO: Booo! Jamal Murray to explode in the postseason and prove me wrong?
JB: Meh. We'll see.
MO: Ok, so disappointing players/teams thus far this season for you?
JB: Spurs. They have been the most mediocre team ever. Portland too, but that's understandable as they are pretty unhealthy. De'Aaron Fox in Sacramento has been a bit stagnant too.
MO: Hmmm… fair enough, the Kings haven't kicked on under Luke Walton as the suggestions hinted at in pre-season.
JB: If I was being harsh, I'd say that Brooklyn have been disappointing.
MO: I mean I didn't expect much from them with Kyrie by himself, even though he's also been injured.
JB: I get that but they seem so… lifeless.
MO: Yeah, definitely a redshirt year from them. What about the situation in Washington? Wall going crazy with his scoring after that All-Star snub and a lot of teams wishing they'd pushed harder for him while Wall watches on.
JB: Thing is, he's too loyal. He said he was going to stay, which made them relax and not go to get better players around him.
MO: So do you think he regrets signing the two-year extension then? Could have pushed harder to leave and be on a playoff contender now.. it's not a guarantee the Wizards can challenge in the East when Wall returns next season.
JB: Well, if next year is rubbish too then yes a definite regret.
MO: In my notes last week, I said next season they have: Beal/Wall/Hachimura/Bertans to rebuild around, potentially a good draft pick with the lottery odds too.
JB: He's wasting his prime. Is Wall going to be good after an injury, especially with a player predicated on pace?
MO: Hmmm… that's a genuine question mark too. How do you feel about Beal as a player? Is he good enough to be a second/third option on a championship team? Obviously his scoring and stats would drop among better players but his productivity?
JB: Definitely! He's as good as Klay Thompson. He can catch-and-shoot, make plays off-the-dribble and is a clutch player. He's almost underrated and better than Wall!
MO: Alright so, update on award races now. In December, you said:
MVP – Giannis Antetokounmpo, easily (Milwaukee Bucks)
ROTY – Ja Morant (Memphis Grizzlies)
COTY – Eric Spoelstra (Miami Heat)
MIP – Devonte Graham (Charlotte Hornets)
6MOTY – Lou Williams (LA Clippers) or Dennis Schroder (Oklahoma City Thunder)
Want to change any?
JB: Giannis and Ja remain untouched for now, but some changes to the other three.
COTY – Billy Donovan (Oklahoma City Thunder)
MIP – Bam Adebayo (Miami Heat)
6MOTY – Dennis Schroder (OKC)
MO: Interesting! I think Bam deserves MIP too. Schroder has always been a bit too streaky for my liking but definitely stepped up this year.
JB: Never thought I'd say Billy but he lost two All-Stars and has them playing better than last year. Bam is averaging five assists and already a big part of Miami being a decent team – not to mention a first-time All-Star this year, which was much deserved!
MO: Yeah, that selection was certainly deserved! Excuse me for being cynical after last year but I'm still waiting for the season to crumble away from OKC and it hasn't happened at all, so yeah, it's refreshing to see.
JB: The biggest thing with Dennis is consistency this year, his jumper is way better too.
MO: Your 1-8 standings in both conferences come mid-April?
JB: West – Lakers, Clippers, Nuggets, Rockets, Thunder, Utah, Mavs, Pelicans.
East – Bucks, Raptors, Boston, Philly, Heat, Pacers, Orlando, Brooklyn.
MO: Interesting! Anything to say about just how good the Thunder have been, all things considered? Plus, long-overdue appreciation for Russ' game evolving in Houston.
JB: It helps that Russ is actually healthy! He has some spacing and consistent shooting around him now, which helps.
MO: I echo the same, it's not surprising he is playing well without some niggling injury bothering him – whether it's hand or knee for example.
JB: Chris Paul has been amazing, leading the team both on-and-off the court. He's closing out games and making Shai Gilgeous-Alexander into a better player. Dennis has been superb, Steven Adams has been All-Star worthy but Lugentz Dort has been a revelation! He's a great defender and adds hustle to the team.
MO: CP3 leading by example, can't say I'm surprised – but he's silenced those same critics who suggested he was finished or not committed to playing in Oklahoma over the summer months once the Westbrook trade was announced. I love Shai, will always defend Adams and am glad to see Schroder adding more consistency to his game. It seems as though Lugentz Dort is definitely a player to keep an eye on for sure…
---
A big thanks again to Jack (@Logic2712) for his time with this piece! If you've got this far down, I'll be looking to do more Q&A-type NBA articles like this one with other experts too. If you liked this and want to contribute in future, don't hesitate to contact me.
Jack has featured in my work before and we'll discuss topics again once the postseason arrives in mid-April. Be sure to stay tuned for more!