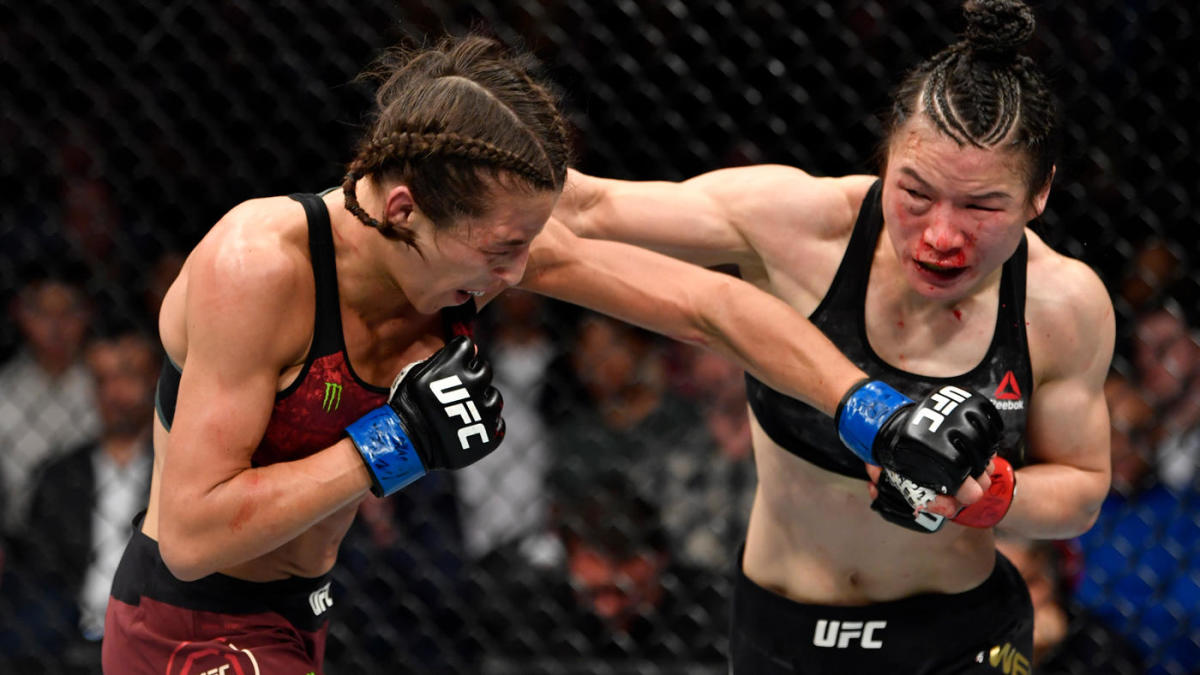 Israel Adesanya retained his middleweight belt after a bizarre 25-minute showing against Yoel Romero in the UFC 248 main event, though it was the card's other championship bout which stole the show: Weili Zhang's first title defence was one for the history books against former strawweight champion Joanna Jedrzejczyk.
48-47, 48-47, 49-46: adesanya wins in an anti-climactic display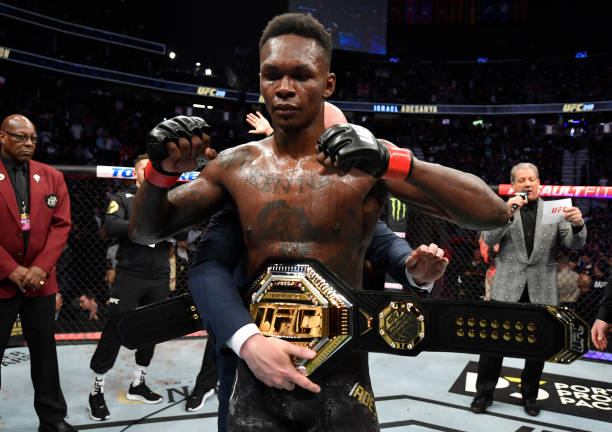 No-one wants to fight Yoel Romero. He might be 43 next month and supposedly past his prime, but the Cuban's legendary status and ridiculous knockout power are two things that stop him from finding many suitable opponents.
#3 ranked in the division, the Soldier of God (13-4) is a physical specimen who looks like he was built in the lab, Romero's tag as a perennial title contender is one that has lingered for years.
Adesanya stressed his desire to definitively dismiss that notion and finally be the man to change the narrative.
Stat: Romero holds the tied-3rd most KOs in middleweight history (10), alongside Adesanya.
Israel, at 6'4, held significant advantages in height (four inches) and range (6.5′) against his challenger, who looked beefy and presumably heavier than the 185 weight when he stepped into the Octagon.
The first round was a chess match: no strikes landed in the opening two minutes, Romero slowed down the pace perfectly and threw Israel off his game completely.
The one time Adesanya got in striking range, Yoel stung him beautifully as the champ immediately recoiled to recalibrate.
After that underwhelming five minutes with limited action, Romero connected with a similarly big shot to start the second round – a near replica of his R1 stinging strike.
He was quick to complete a smart leg trip and flurry of punches, though Adesanya started to load up on leg kicks as the pair matched each other with plenty of feints and disguised strikes.
Round three was where things started to shift drastically in Israel's favour. He was clearly improving and becoming accustomed to Romero's subtle movements, while trying to limit his mobility with an understandably cautious approach.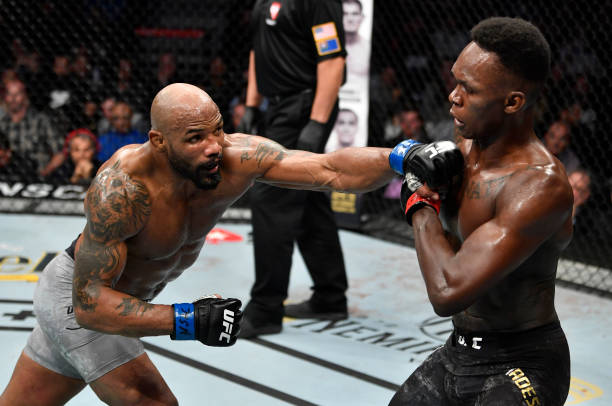 After all, he had been caught a few times already by simply closing the striking distance. The pace quickened while Adesanya landed more kicks across the body, frustrating his challenger despite his best efforts not to show those flustered emotions.
The crowd continued to get restless as the action on display was in complete contrast to the co-main event, such is the spoiled nature of fight fans.
It got to a point where referee Dan MMiragliotta urged the pair to 'give the judges something to score' before R4 began, which seemed bizarre considering this wasn't the best stylistic match-up.
Nonetheless, Romero wasn't doing enough to win the championship and as the minutes continued to tick by, the Cuban was absorbing leg kicks at an increasing rate.
The fight was temporarily stopped after Adesanya caught him with an accidental eye poke, but after the doctor's brief assessment, proceedings continued as normal.
Crucially though, Adesanya displayed excellent defence and needed to as the round wore on, as Romero was feinting to push the pace and seemed energised by the brief stoppage.
Despite a few promising flurries, there wasn't enough concrete action from Yoel to justify him being ahead on the judges' scorecards.
So as the championship rounds continued into the fifth and final one, Romero's lack of urgency was baffling.
Regardless of whether he likes lulling opponents into a false sense of security or not, his mobility was severely impaired by Adesanya's kicking persistance and this ground to a frustrating halt.
Fights like these just increase the belief you need to have a good dance partner, as this was a weird fight to watch and Romero's gameplan didn't change as time wore on.
Ultimately he can only have himself to blame: this was his best chance to win middleweight gold but you wouldn't have known it, judging by his confusing display.
Post-fight fallout
Next in-line at Adesanya's middleweight title, durable Brazilian Paulo Costa (13-0) was among those in attendance and was caught on camera with a disapproving look ringside.
Post-fight, Israel reflected on a weird encounter, though told Joe Rogan he did enough to come through unscathed:
"It was a hard fight, it's cliche but I did what I had to. Look at his leg, he touched me in the first round and that was the hardest shot he could land on me. I did what I had to do to win.

He plays the game and lulls, my coaches said you need 25 minutes of sharpness and focus. I'm fresh, I can go another five rounds!

I was hoping to touch him a little more but unfortunately, it's hard to engage with someone who doesn't want to dance."
Underwhelming or not, Adesanya's latest win means he's only behind Chris Weidman (9) and Anderson Silva (13) for longest win streaks in middleweight history.
---
Weili edges brilliant battle of two champions
In easily the best women's title fight in UFC history, Weili endured a closely-fought battle over five gruelling rounds up against a defiant former champion to earn her first successful title defence.
A split decision victory (48-47, 47-48, 48-47) went in the Chinese international's favour, extending her winning streak to 21 after an enthralling stand-up exchange.
Weili was relentless and had more striking volume – 413 total strikes with 41% success – compared with a more efficient Joanna (53% on 370 total). I personally scored it 3-2 in Joanna's favour, but can't begrudge the judges' scorecards all things considered.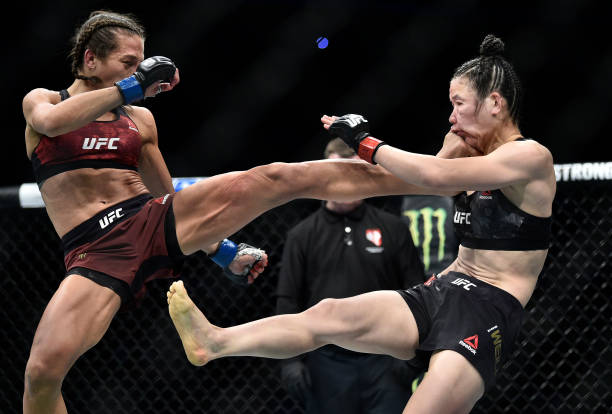 It was a pleasure to watch and precisely the type of quality you'd want from two athletes at the top of their game, irrespective of gender.
But nonetheless this was a fight that will be endlessly replayed in the months and years to come, as the new standard fans and analysts will hope to expect more of in future.
Given the back-and-forth nature of this fight, it's likely a rematch is in the offing at some stage in future though not immediately.
Both sustained painful injuries, especially Joanna – she went to hospital after suffering a bad hematoma intensifying across her head as the fight wore on and she absorbed more punches.
Statistical breakdown (ZW vs JJ):
Head strikes: 104-75
Body: 19-50
Leg kicks: 46-62
Post-fight comments
With the help of an excitable translator, Weili thanked her fans for their support, talked about the coronavirus and its effects in her homeland, how there was no need for trash-talking in a fight like this, especially for two champions who want to be role models for the next gen of fighters.
Joanna meanwhile, had family watching ringside. Unsurprisingly, she was gracious in defeat while delivering an injury update and how intensely she prepared for this fight:
"She did great, there was something missing but I felt all the punches. The swelling was bothering me, my head was going on and off, but it's all good.

I'm very happy we gave a good fight, I was ready for any and everything – we both put a hell of a performance.

I'm proud of myself and my team, we've been working so hard. 2-3 times a day, 13 times a week for 9 weeks at American Top Team.

It doesn't matter [the loss]. I carry myself as a champ, with or without the belt. I'm very proud of her, so congratulations to Weili."
Other main card results
In the lightweight division, Beniel Dariush beat Drakkar Klose with a second-round KO.
There were two welterweight bouts on the main card too, both going the distance: Neil Magny was victorious over Li Jingliang as all three judges scored it a 30-27 win.
Meanwhile, Alex Oliveira edged a split decision victory (28-29, 29-28, 29-28) against Max Griffin.