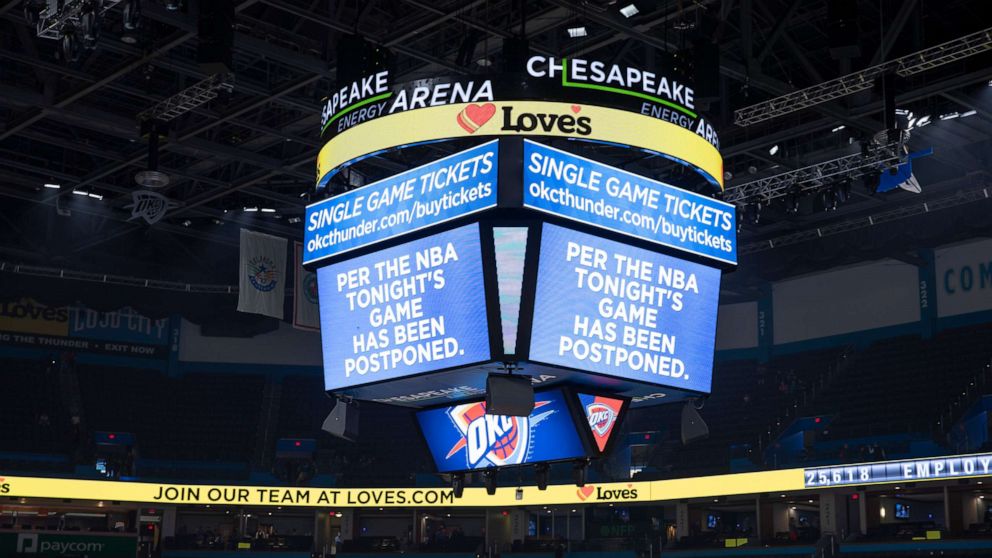 The NBA have suspended the 2019-20 season until further notice, after Utah Jazz's All-Star center Rudy Gobert today tested positive for coronavirus. The decision came after OKC-Jazz was postponed, just moments before tip-off at the Chesapeake Energy Arena.
Mere hours after I delivered this coronavirus update, the situation worldwide has continued to accelerate and worsened with the NBA being directly affected.
Gobert was ruled out of their proposed game against OKC through illness, alongside teammate Emmanuel Mudiay. Despite pre-game confusion, the Frenchman was prepared to play – had his test come back negative.
It didn't, and chaos ensued in Oklahoma City as starting line-ups were announced and players were moments from tip-off before the matchup was suddenly called off. During a public address inside the arena, "unforeseen circumstances" were cited, after a Thunder medic ran onto the court before sparking a discussion with officials.
The two teams were told to return to their locker rooms with a delay of game being called. Minutes later, reports emerged that Gobert had tested positive and the league's season was suspended immediately afterwards – as both teams were quarantined in their locker rooms, forced to wait patiently for the next cause of action:
ESPN analyst Doris Burke, who was commentating on the Dallas Mavericks – Denver Nuggets game in real-time as the announcement was made, said:
"I had reached out to a couple of players, I know some of their thoughts – they were contemplating playing in empty arenas even though not exactly comfortable with the idea. 

Nonetheless, they were unified in the sentiment that they didn't want the season to be suspended. Perspective will change, as one of their own has tested positive." 
Update as Gobert's All-Star teammate Donovan Mitchell tests positive
As reported by The Athletic's Shams Charania and ESPN's Adrian Wojnarowski, Gobert's All-Star teammate Donovan Mitchell has also since tested positive for the virus.
He underwent testing in Oklahoma after the game was suspended and his was the only positive result, from 58 Jazz players and personnel. Mitchell said this on Instagram:
Player, coach reaction to the dramatic news as it unfolded
Dallas Mavericks owner Mark Cuban confirmed the league has told teams they can continue to practice, though players have been told not to have out-of-town visitors.
The 61-year-old said NBA games could be played as late as August this year, despite many owners and personnel league-wide encouraging commissioner Adam Silver to re-evaluate the situation in 30 days' time. During the post-match presser, he outlined his plans to pay hourly workers through to the end of March, amid existing conditions.
Nuggets head coach Mike Malone described it as 'something out of a movie', while Mavs HC Rick Carlisle described their 113-97 win as one that 'mattered a lot' given the circumstances – but insisted the league were 'doing a deep dive' into the situation.
Vince Carter, 43, is resigned to the fact his illustrious NBA career might be over, 15 games before it should. The eight-time All-Star became the first player in league history to play in 22 NBA seasons, after beginning his second season with the Hawks last October.
Carter said: "If it ended today and you know this day, this end of the season, these last 16 games, will be talked about for a very long time. That's something I'll always remember, at least I scored my last basket and there'll be a weird but cool memory.

It's a weird way to say I'm calling a career – you don't have any more games left. I still technically have eligibility. I have 15 games left – but if not, I'm [at] one with it."
A number of NBA players reacted to the news across social media, with Portland Trail Blazers' guard CJ McCollum's response an intriguing one on Twitter as players prepare for a life without basketball, at least temporarily:
Elsewhere, Shams reported that Cavaliers power forward Kevin Love has donated $100,000 to their arena and support staff affected by the season suspension.
What are the next steps for the league?
34 players across three teams – Celtics, Pistons and Raptors – are said to have come into contact with Gobert in recent days. Six NBA teams have been told to self-quarantine, having recently played Utah: Cavaliers, Knicks, 76ers and the aforementioned trio.
That's not all. Recent opponents of the Jazz have also played other teams – while more than a dozen referees who have worked Utah's games in recent days, have officiated elsewhere. It's why the Pelicans-Kings game was postponed overnight – although there were minutes from tip-off and the NBA had given the okay to play, that supposed to be the final game before this existing league-wide postponement.
There have been more than 1,300 cases of coronavirus and 38 deaths in the US. Globally, more than 126,000 people have contracted COVID-19 with more than 4,700 having died.
Time will tell, but patience is advised with health and safety paramount.
Updates in other sports – this weekend's F1, football and more
Although there hasn't been official word from F1 or governing body FIA, this weekend's scheduled Australian GP has been postponed. This comes after news a McLaren team member tested positive for the virus overnight. The decision throws into doubt the remainder of this upcoming season, especially with races scattered across the world.
World champion Lewis Hamilton said on Thursday at the official F1 news conference he was "very, very surprised" the sport was pressing on with plans to continue while the virus' outbreak worsened and other sports either suspended or cancelled events.
A six-week suspension was implemented by the ATP Tour, after the World Health Organisation declared the spread of COVID-19 constituted a pandemic and 30-day travel restrictions imposed by the US.
ATP chairman Andrea Gaudenzi said: "This is not a decision that was taken lightly and it represents a great loss for our tournaments, players and fans worldwide.
However, we believe this is the responsible action needed at this time in order to protect our players, staff, the wider tennis community and general public health in the face of this global pandemic."
The WTA Tour is yet to follow suit, though the Miami Open has been removed from its schedule after a state of emergency was declared in Miami-Dade County.
As for football, next week's Champions League last-16 ties have both been postponed.
Juventus-Lyon would have taken place in Turin, while Manchester City-Real Madrid has been put on hold. La Liga have suspended its next two matchdays, while Real have established a self-imposed quarantine as one of their basketball players tested positive.
Leicester City manager Brendan Rodgers revealed three of his players have shown symptoms and been consequently isolated from their teammates. Stats Perform understands all players put into isolation have only displayed mild symptoms, so have not met the threshold to be tested.
ESPN are reporting that Manchester City fullback Benjamin Mendy is self-isolating after being tested, as a relative of the 25-year-old is believed to have respiratory problems and was taken to hospital today.
Despite cancellations and suspensions across Europe, this weekend's Premier League fixtures are still set to take place as normal.
Be sure to check back soon, as I will deliver more updates as this developing story continues to unfold across all sports.