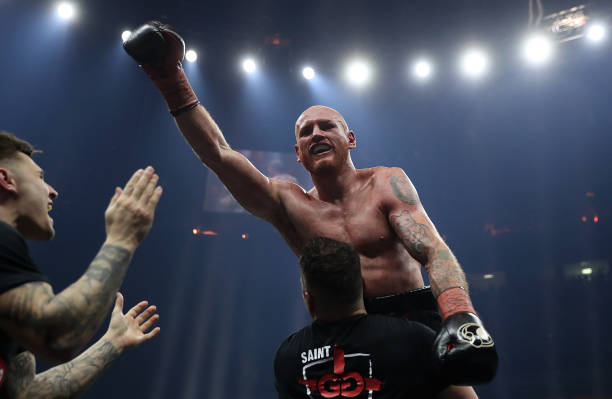 It's been 15 months since George Groves retired aged 30 and while boxers aplenty worldwide wait patiently for sport to return in an unprecedented time of suspension, they would learn something from watching a memorable encounter I return to during his career: a 2018 WBSS semi-final bout vs. Chris Eubank Jr. 
The result and two memorable moments for Groves
After twelve gruelling rounds during a tense encounter, Groves was victorious with a unanimous points decision victory at a sold-out Manchester Arena in-front of 21,000.
Crucially though, he survived two precarious moments over the twelve rounds: one in round three and another in the final minute of the last round.
Despite Eubank's slow start to proceedings, he landed a few big shots in R3 before sustaining a deep cut above his right eye. There was one good combination in particular, where he buzzed Groves with a hook to the body and right to the jaw.
George was caught unaware by the flurry, as it forced him back into the ropes and he needed to take evasive action to avoid a shock early stoppage. Reacting with two shots of his own while ducking and weaving his way out of danger proved key, as this served as a reminder of the only way Eubank would be successful – through close exchanges.
The thrilling finish was compelling for two reasons: Eubank subconsciously knew he needed a knockout to secure victory, as he was comfortably behind on all the judges' scorecards. It was the final round and his urgency to land more big shots quickened.
As for Groves, this was a win-win situation. Go for a knockout late, adding gloss to an impressive performance. Or, showcase more defensive skills by embarrassing Eubank's wild swings with good footwork and head movement – much to the crowd's enjoyment.
He was forced into the latter, after visibly dislocating his shoulder after the first minute of R12. The decibels inside Manchester Arena increased with each passing second as Eubank swung wildly and was made to miss again. As time wore on, Groves' injury was clear to see as he could barely lift his left shoulder, let alone throw a punch with it.
Groves was evading, regularly looking for clinch opportunities and wearing down his physically smaller opponent. Eubank was exhausted, even if he didn't always show it.
Nonetheless, he became the aggressor. A sustained flurry of punches arrived Groves' way, who somehow managed to fight his way out of a corner under pressure and landing an uppercut of his own. He absorbed stinging shots aplenty and gave it straight back.
If he didn't, Eubank would have left it late to salvage a stunning victory.
"He was getting more wild as the match went on because he was having no success, fundamentals of boxing. The better man won on the night. Credit to Jr for getting through twelve rounds, didn't think he would but dug it out."
The aftermath, pre-match trash talk
He progressed into the World Boxing Super Series Final slated for July vs. Callum Smith (who was 24-0, 17 KOs), but an injury saw their bout rescheduled for late September.
Despite leading on two of the four judges' scorecards after six rounds, Groves lost via a seventh-round KO – losing his WBA super-middleweight title. He said that he wouldn't retire but four months later, the Hammersmith-born fighter had changed his tune:
"Some of you might think it odd that I'm choosing this time to retire. I'm still young, fit and healthy and there are still some big fights out there for me.
It's for these reasons that I am choosing to retire now. I have a young family at home; it's time to spend some of my better days with them. I don't want there to be a time where I'm 'too old' to box on, or where an injury retires me in or out of the ring."
Eubank's bold words beforehand ultimately didn't bear fruit and it was particularly telling that despite his bravado, he had just one gameplan come fight night.
On the day of their public workouts, he said: "I don't care what he's doing in there, he is what he is. I've sparred him so many times, watched the tapes, know what he is as a fighter and what I'll do to him: I believe I'll knock him out."
Groves meanwhile, said this during their press conference: "It's not an expression I particularly like but it comes down to levels. I am levels above [Eubank] Jr, so…"
THROWBACK READ: Groves – Eubank Jr will pay for too much pre-fight talking
The WBSS posted a 25-minute YouTube documentary titled The Day After, which featured plenty of behind-the-scenes footage pre and post-fight. One quote stood out above all.
Following the result, Groves' trainer Shane McGuigan said: "We knew they didn't respect us. They thought he was going to tire George out, rush him and throw a load of punches but when you have someone that's going to shut you down, whatever you do well, they are able to negate it, that's when you come unstuck and he did big time."
Background story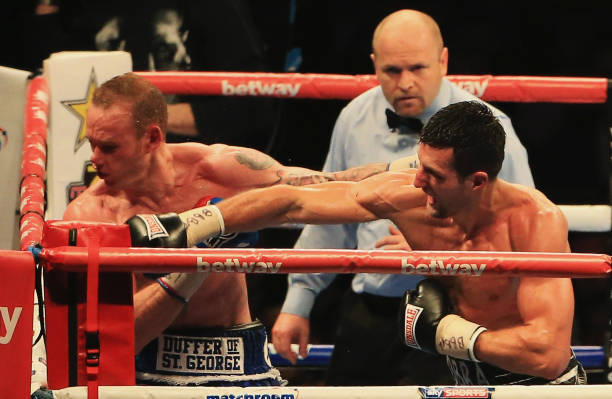 This was always going to be an intriguing clash and in fairness, the pre-match build-up certainly lived up to the billing.
Groves was heralded as the seasoned campaigner, who has done so much to get back top of the mountain having suffering successive defeats against Carl Froch. So how would he perform against another powerful puncher, albeit one with a one-dimensional style?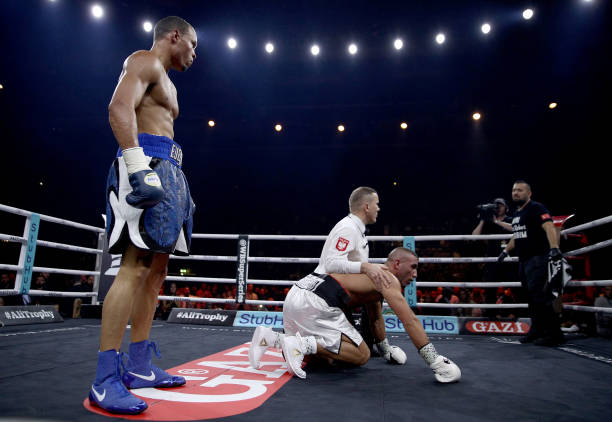 Meanwhile in the other corner, was Eubank Jr going to prove the hype surrounding him was actually justified – or as Groves eluded to – was this one step too far?
The question wasn't whether he would perform, but whether history would repeat itself: would he wilt under pressure, in a match described as the most important of his career?
After all, Eubank suffered his first career loss after a split decision loss against Billy Joe Saunders in November 2014, a bout where three middleweight titles were on the line.
What did Eubank Jr do wrong? Why was he unsuccessful again?
During the post-fight interviews, Gabriel Clarke described it as a courageous performance and all things considered, that's a fair assessment. Eubank Jr was outboxed and left frustrated by a technically better fighter in Groves, who landed more punches without taking many risks while absorbing his best shots on the evening.
Those two things were key to success: keeping Eubank at distance while comfortable fighting at his own pace throughout the early rounds. When the match went into the later rounds, Groves had earned ample credit on the scorecards to ensure a gung-ho approach wasn't needed. By the time Jr's urgency and intensity increased, it was futile.
His footwork was awkward and untidy as he regularly backed off in the early rounds, keeping his distance. George was able to establish an upper hand with good consistent jabs, while landing nice counter-punch combinations too.
R3 was probably the only round in the first six that Eubank won outright, the rest were either too cagey or comfortable enough for Groves to fight in flurries. He telegraphed many of his shots, making them too easy to avoid. Groves was good defensively but failure to make him uncomfortable enough, early enough in the fight, proved pivotal.
When engaging in close, they exchanged shots and both were hurt. The difference? Eubank didn't smell blood quickly enough and allowed Groves to recover, utilising both ringcraft and evasive action to defiantly fight back.
Attempts to roughen him up were futile in the clinch, while expending far too much energy trying to land haymakers. R8 was a good example of that, while he began purposefully in R9 – which is what he should have started the fight doing. Launching forward, connecting with good shots and importantly, forcing pressure on Groves.
At the start of R10, he delivered a beautiful left hook but didn't go forward and close the distance. It rather typified his night. R11 was again another energetic burst which soon faded, as Groves used clever tactics to lean on him and nullify any possible danger by stopping his momentum.
He won the last round but his persistence ultimately didn't pay off. If he fought the first seven rounds as he did the final four, I could have a completely different story to tell.
"I thought it was close, I thought I did more than enough in the later rounds to win it but all credit to George.

He cut me, I couldn't see out of my eye for most of the fight but you have to deal with it, keep going. Did I underestimate him a little bit? Maybe." 
Judges' scorecards: 117-112, 116-112, 115-113, Groves won by unanimous decision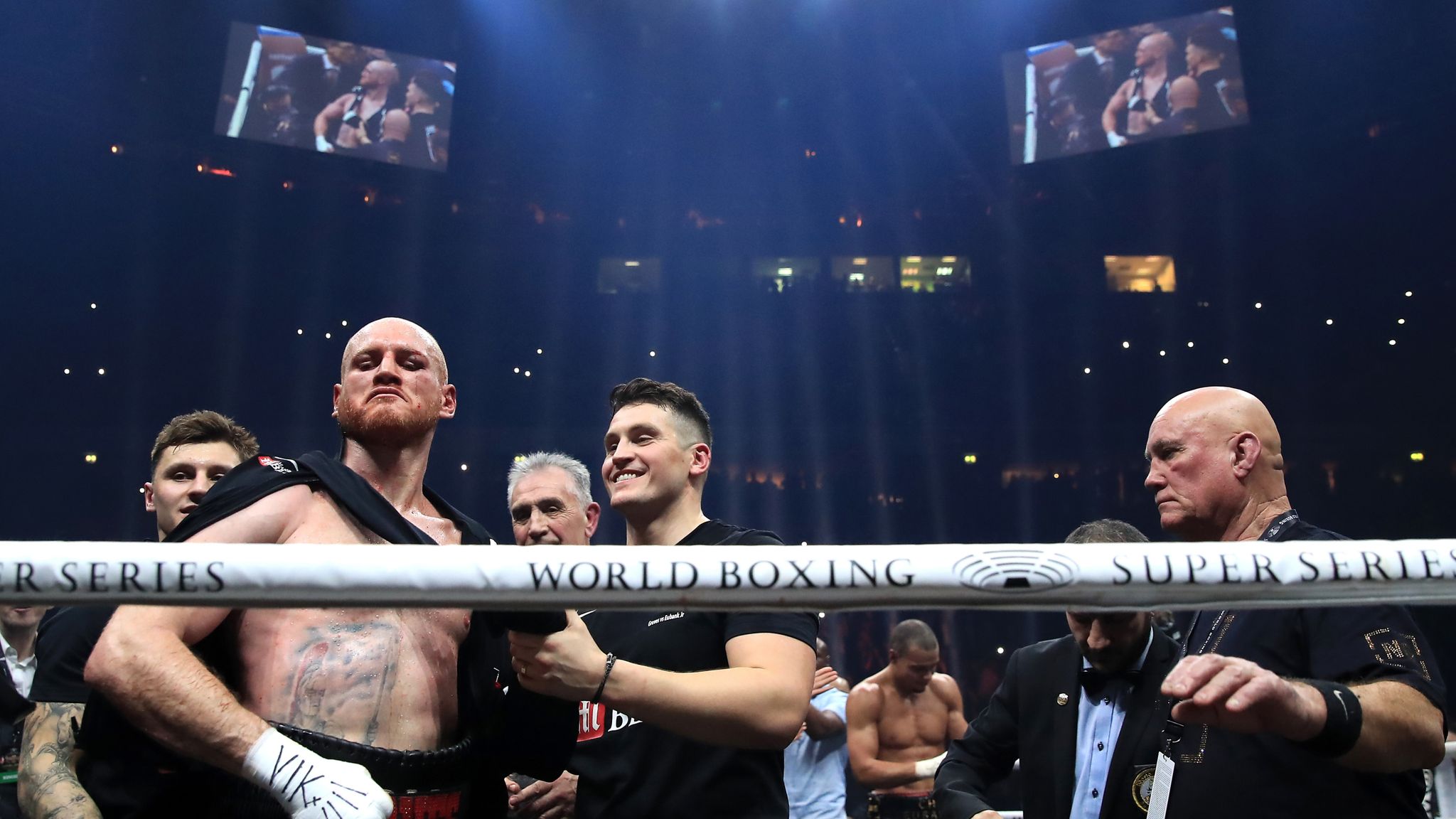 Fight statistics
George Groves — Chris Eubank Jr
Jabs thrown: 175 — 68
Jabs landed: 33 — 17
Power thrown: 223 — 353
Power landed: 84 — 75
Punches thrown: 398 — 421
Punches landed: 117 — 92
Body power and jabs landed: 14 — 11
What's happened since?
Groves has ventured into an analyst role since retiring and despite their stinging comments before fight night, there's no bad blood between the pair.
That sentiment was echoed when George was seen congratulating Eubank Jr after his points victory over James DeGale last February sent their compatriot into retirement.
READ: Eubank Jr impressive during commanding points win over James DeGale
Eight years after beating DeGale via majority decision, retaining his commonwealth super-middleweight title while winning DeGale's British title in the process, he thanked Chris for ending their adversary's career:
Groves also named two opponents Eubank Jr should fight next, to quickly prove himself at world level again and win a championship – Martin Murray and Anthony Dirrell.
At the time, Eubank said there are other world titles and other fighters he can challenge, while believing his performance proved he's "more than capable" of fighting at world level. He has won three straight since losing to Groves, the last finished in controversial circumstances: winning the vacant WBA interim middleweight title on December 7 against Matt Koborov, who was unable to continue with a shoulder injury in R2.
Although this pandemic has suspended sports for the time being, it hasn't stopped him from targeting a super fight against legendary Gennady Golovkin (40-1-1, 35 KOs).
Despite now being trained by Roy Jones Jr, the 30-year-old has a target on his back and will once again be under pressure to perform against tougher future opposition, if he harbours serious ambitions of beating world-class fighters while continuing to improve.