Manchester City playmaker Kevin de Bruyne has admitted he could leave the club, should their proposed two-year ban from European competition come into effect once next season starts. The Citizens are appealing against UEFA's punishment.
Amid the current COVID-19 pandemic, City have a situation on their hands ahead of the 2020-21 season – once they decide upon resuming play.
Having been hit with a two-year ban from European competition for "serious breaches" of UEFA's financial fair play regulations, they have appealed against the punishment to the Court of Arbitration for Sport (CAS).
Naturally, there has been speculation surrounding multiple key players at the club, considering the ramifications of a lengthy ban away from Champions League football.
City's key players on the move?
David Silva and Fernandinho (both 34) are expected to depart at some stage in 2020, while the club's all-time goalscorer Sergio Aguero is among many linked with a move.
Leroy Sane has been tirelessly linked with a Bundesliga return as champions Bayern continue to monitor the winger's situation, while Real Madrid have often flirted with Raheem Sterling in recent seasons. When you consider all of those players' futures and more, the possibility of a City rebuild is high if their ban is indeed upheld.
de Bruyne, who turns 29 next month, is widely considered as one of the world's best players and his ambition to star among Europe's elite cannot be questioned.
Nonetheless, the Belgium international said he trusted the club who insist there's no wrongdoing and are determined to get their ban overturned.
In an interview with Belgian newspaper Het Laaste Nieuws, he was quoted as saying: "I'm just waiting. The club told us they are going to appeal and are almost 100% sure they are right. That's why I'm waiting to see what will happen. I trust my team.
"Once the decision is made, I will review everything. Two years would be long, but in the case of one year I might see."
Premier League rivals Liverpool are among the top teams who have been linked with taking advantage of City's situation, should their two-year ban go through.
However, he also said that if there's no ban going forward, there's no reason for him to leave Manchester – even with interest from many European giants: "I play for one of the world's best teams, play in England – for my competitive view the best competition – and I like that. It remains a challenge to be the best and I need that too."
Pep's next career decision will not affect him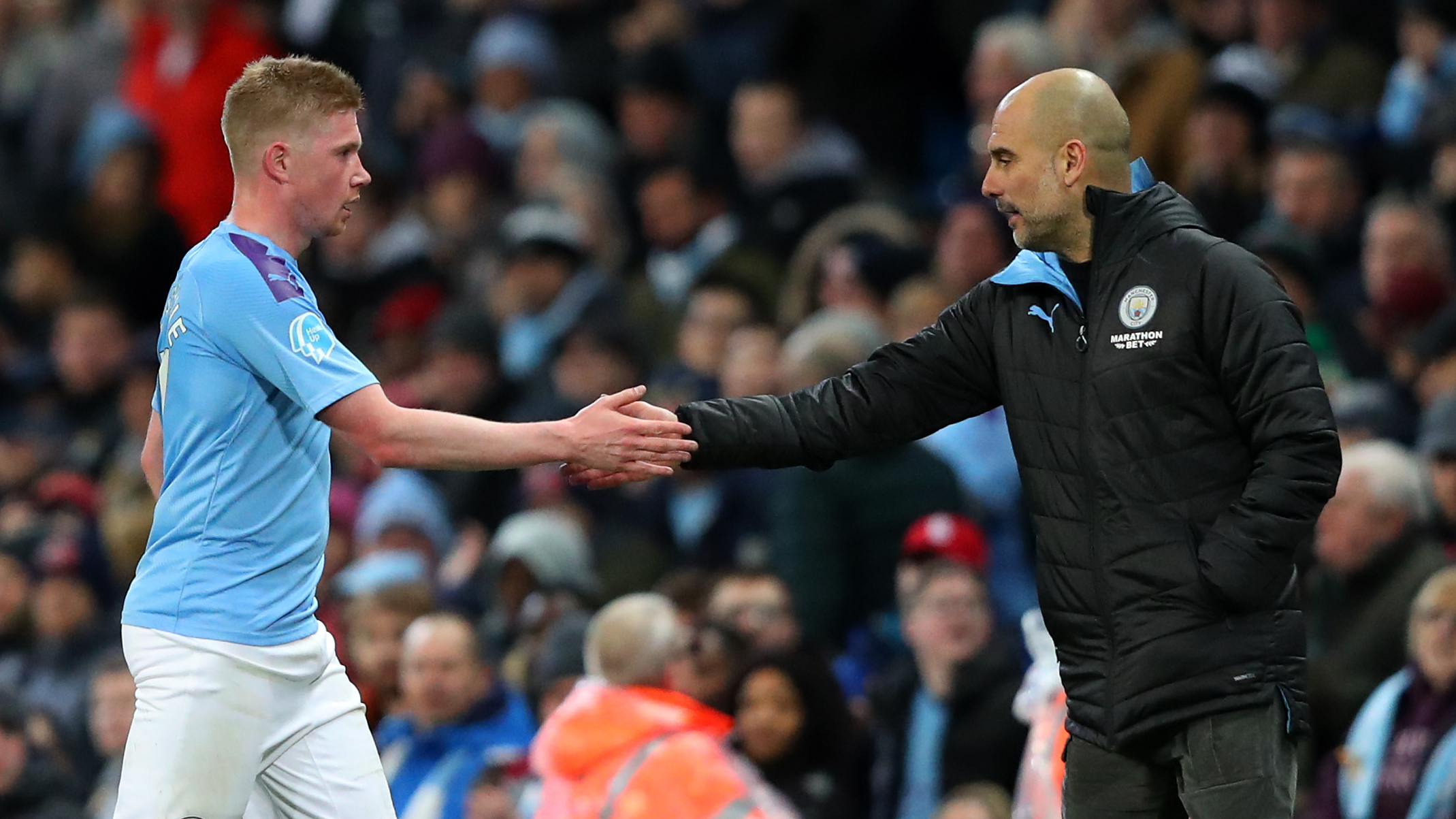 de Bruyne has three years left on his existing City deal but manager Pep Guardiola will enter the final year of his contract next season. However, he's clear that his own future does not depend on the Spaniard's decision – whether he extends or leaves Eastlands.
"I think Pep said he will take his year anyway no matter what. Then his contract ends, but I'm not going to let my decision depend on what Pep is doing.
Of course I have already worked with other trainers and when Pep leaves, I have to continue working with someone else. But I haven't really paid much attention to that for the time being – there are more important things at the moment."
He also believes the 19-20 season will be finished
The 2019-20 Premier League season has been suspended for seven weeks due to the coronavirus pandemic, but de Bruyne is sure that this campaign will be completed behind closed doors – not cancelled or ended with current league standings.
READ: Sergio Aguero reveals players are scared, despite proposed PL restart
He said: "My feeling is that we may be able to train again within two weeks. The government wants to restart football as soon as possible to give people something – everything without fans, I think.
That is not really interesting for anyone, but this season will be finished. The financial aspect is far too important in the Premier League: if the season is not finished, it will cause serious problems."
He discussed teammate Aguero's comments, saying: "I don't think people are really afraid for themselves, but for their family. That is mainly the problem for many people."