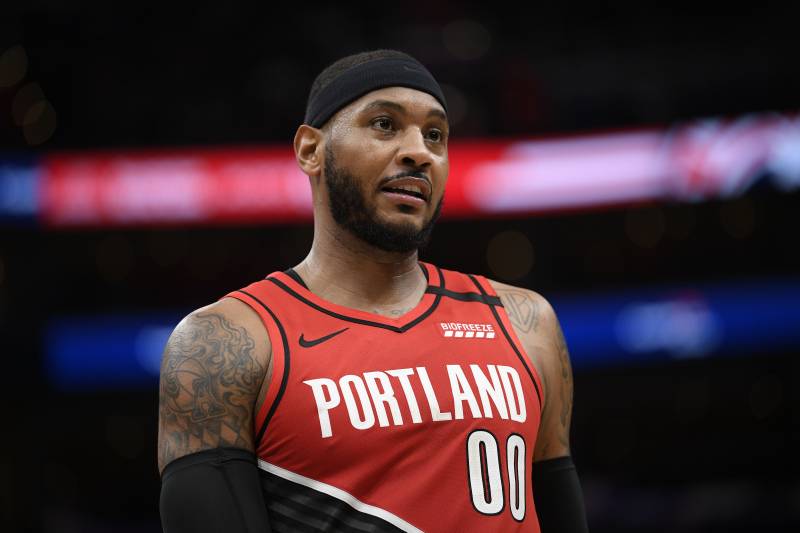 Last week, Carmelo Anthony said he 'hit rock bottom' before signing with the Portland Trail Blazers in November 2019. Considering the politics and controversy that has constantly followed him over the past few years, that admission isn't surprising. However, what's next for his NBA career post-pandemic?
At the time of writing, Carmelo is a few weeks shy of his 36th birthday. That's significant as there are only six active NBA players older than him, and only two are currently averaging more than 15 minutes per game.
36 years, 8 days: Thabo Sefolosha (Houston Rockets), 10.6 minutes
36y, 103d: Andre Iguodala (Miami Heat), 18.6 mins
37y, 221d: Tyson Chandler (Rockets), 8.4 mins
39y, 54d: Kyle Korver (Milwaukee Bucks), 16.7 mins
39y, 336d: Udonis Haslem (Heat), 7 mins
43y, 105d: Vince Carter (Atlanta Hawks), 14.6 mins
That's where Melo comes into the equation. Many believe his year out of the league was centred around an inability to accept a bench role, considering he's a multiple-time All-Star who was once heralded as a star in both Denver and New York. 
Iguodala and Korver both play respectable minutes because they're important figures on playoff teams in the Eastern Conference. Carmelo averaged 32.5 MPG in Portland before the league's suspension but as he continues to age and his scoring productivity wanes, it's inevitable they will seek other options to supplement their offense.
What did he say?
During a conversation on The Uninterrupted's WRTS: After Party chat with Sue Bird, Maverick Carter and Paul Rivera last week, Anthony said:
"I hit rock bottom emotionally, and had to build myself back up – basically by myself – to get here where I'm at today to be able to tell this story. So, this season will always be one of the highlight chapters of any story [that I tell].
"I go from New York, making the All-Star Game, averaging 22, 23 [points] in the Eastern Conference, dealing with everything that I was off the court, organisational structure. Getting traded the day before media day to OKC. Going, actually really liking it, didn't work out for whatever reason, going to Houston the following year to play nine games.
"The first I've ever come off the bench in 15 years, ever. So that was an adjustment for me, leading to having a year off. I don't think nobody will understand what I went through emotionally to get through and to be where I'm at today. I'm talking about doubting myself, about mentally wanting to give up."
With all of those quotes in mind, it's easy to forget he still has that scoring touch:
It's perhaps why he doubted himself and felt like giving up, considering his abilities. The issue wasn't an inability to earn a roster spot, but the notion that Melo's omission technically meant that 450-odd players were better than him leaguewide. That one team out of 30, across both conferences, were unwilling to take a chance on him.
Questions rightly asked after a poor season at OKC
Although he's started 50 games this season, I feel like the writing was on the wall for him following comments during his exit interview in Oklahoma. He'd just endured his least efficient scoring season while recording some of the worst stats of his career too.
A humbling postseason defeat by Utah followed, in the first round of a forgettable playoff series. So much for OKC's Big Three then. 
Regular season: 40.4% total from the field, 76.7% from three-throw range, assists (1.3) and more besides.
Postseason (six-game series): 37.5% FG, 21.4% from three, 11.8 points per game – Thunder were 29.4 points per 100 possessions better vs. Jazz when Carmelo sat, compared with when he was on court. 
When you deep dive into the stats and see such a drastic dropoff from the previous season, it wasn't an unreasonable question to ask. Why not utilise Melo off the bench?
After all, his defensive skills were rightly called into question and he didn't look entirely comfortable alongside Russell Westbrook and Paul George – both high usage players.
As for his short stint in Houston? He wasn't any better suited to the Rockets' style of play and although they were collectively struggling as a team, Melo's deficiencies made him a convenient scapegoat given their 4-6 record.
Going 1-of-11 from the field in just 20 minutes (season-low) against the same OKC team who were happy to trade him to Atlanta months earlier, proved his final game.
Once sports resume and the NBA returns post-pandemic, Carmelo has decisions to make.
His one-year deal was made guaranteed after an impressive start in Portland, but the league will be affected by COVID-19 – reduced salary caps from 2020-21 onwards.
10 players are already guaranteed money ahead of 20-21, including their backcourt star duo of Damian Lillard and CJ McCollum.
As per basketballreference.com, the Blazers owe $109.9m in salary for the forthcoming season. It's why many are predicting a new home for Melo, who wants to continue.
Considering he agreed a one-year $2.1m deal last year, I doubt he'd extend terms on similar money. He wants more than the vet minimum, so does a new destination await?
---
Four big questions – past, present, future – answered by fans
I wanted perspective, so asked four NBA fans for their opinions on Melo's career, how things have unfolded in recent years and what's next for him. As expected, they had differing views. Their names, supporting teams and social media handles are as follows:
Dallas Mavericks: Bruno (@AuziioBF)
LA Lakers: Francis (@francmcfc)
LA Clippers: Cletus (@cletus_65836) and Jack (@Logic2712)
Was criticism and his year away from the game justified?
Bruno: No, it wasn't. He was put in a situation that was inevitably going to fail – it's not his style of play but he didn't change his game to suit their needs. Houston shouldn't have picked him up to begin with, another team could have picked him up.
The experience allowed him to have perspective and evaluate: he's not the star anymore, but can still be a useful third or fourth option. His role's changed in the league now.
Cletus: Yes, I believe so. After his time in Houston, he didn't look the same – the game has moved on from iso-ball, the biggest question was whether he can play in this era. I think he needed the year out to watch tape, analyse how he could better himself and utilise the bench role offered to him as a useful veteran figure.
Francis: Some criticism was justified, but the year out wasn't. I believe he was blackballed. The areas were more to do with his unhappiness at being benched as well as his suspect defence. During that OKC stint, he was out of shape – which didn't help. 
ESPN analyst Stephen A Smith echoed Francis' sentiment, revealing last year that Melo's name was being 'smeared' in NBA circles:
Jack: Yes. That's because you're not absent from a roster by chance. With zero defence and being out of shape for the last few years, it was bound to make teams sceptical about signing him in addition to his refusal to sacrifice or take a bench role.
If he signs an extension in Portland, how much does he improve them?
Bruno: As a third option, he's one of the league's better players. Deadly from the baseline and Portland need a third scorer – they're too reliant on Lillard-CJ, sometimes one (or both!) can be cold, so more scoring support is important. He's settled, learning their style and is comfortable as part of their team. They value him more and the stats show that.
Cletus: I don't think he makes them a championship team, I do believe he improves them offensively but as far as defense is concerned, Melo is a liability.
Francis: I don't think much has (or will) change, albeit through no fault of his own. The roster isn't great and they've struggled with injuries.
Jack: Perhaps given his experience and ability to guide the younger guys on the roster. Honestly though, not much else besides the odd good game.
Assume they don't re-sign him, where would you like to see him play?
Bruno: I want him to go somewhere where he'll succeed. I think Portland are his best option right now but if not, the Timberwolves would be good. They have a good team but not really a PF, admittedly they need more defence but lack a Melo-type player, he'd get minutes and do well alongside Karl-Anthony Towns and D'Angelo Russell.
Cletus: I think he should just retire. Failing that, go somewhere like Cleveland for a last payday. If Gregg Popovich is still there, he can go to the Spurs – Pop likes older players who are capable scorers: just look at LaMarcus Aldridge (34) and Rudy Gay (33).
Francis: Denver, but I don't think a contending team will go near him now. At this point, I think he knows he won't get anything higher than a minimum. His best bet would be the Knicks wanting to run it back for a farewell tour, though I doubt he wants to retire anytime soon.
Jack: I don't really want to see him play anymore, haha! But if I had to pick, probably a contending team with a small role. Perhaps the Lakers or something, bandwagon himself that elusive ring before retirement. Also think Miami could potentially work.
How long does Carmelo have left in the NBA?
Bruno: Going forward, I think it depends on how productive he is from the bench. I'd say 2-3 years – there's no reason to doubt his ability but age does creep up on you.
Cletus: Two years, maximum. No-one wants to keep paying an ageing player that is only contributing 10, a few assists and rebounds. That's the hard truth. 
Francis: I think he has the ability to play two more seasons, whether he'll get the chance to is the question. In terms of his legacy, he's a Hall of Famer and a top ten SF of all-time for me – regardless of whether he wins a championship or not.
Jack: Maybe two years? In my opinion, Portland will be his last team. Maybe he signs another one-year deal next season or something.
A big thanks again to everyone for their time and intriguing answers as part of this piece!
If you've got this far down, I'll be looking to do more Q&A-type NBA articles and special features like these with other experts and opinionated fans too. If you enjoyed this and want to contribute in future, don't hesitate to contact me.
As the coronavirus pandemic continues, I wanted to do something different away from the tedium of news pieces. Be sure to stay tuned and follow me for more!