In tonight's main event, #8 ranked light-heavyweight Glover Teixeira earned a big TKO victory against Anthony Smith, while making record-breaking history to end a compelling midweek card – which will propel him higher in next week's rankings.
Despite a slow start, Teixeira stuns Smith with brilliant display
Teixeira extended his winning streak to four and this latest win means he's passed Jon Jones, Chuck Liddell and Ovince Saint-Preux for most finishes in UFC lightweight history.
Judging by the first round's action though, Smith was rightly the favourite and expected to come through unscathed after controlling R1 with his jab and keeping Glover at range.
Teixeira accidentally landed a bad low blow during that round too, but it didn't seem to faze Smith – who immediately connected with a big right hand after the restart.
As for his Brazilian opponent, he was doing a lot of bobbing, weaving and faints but struggled to land much in the early exchanges. That soon changed, quite drastically.
In R2, Glover did well to begin closing the distance and although he was visibly in pain as Smith continued to land shots with fingers in the eye, he also mixed up his strikes – throwing in a spinning back kick and some punches to back Smith up against the cage.
Smith landed a brilliant combination which immediately shut Glover's left eye. It was as though a fire was ignited in him, as he exchanged combos of his own as Smith began visibly slowing down.
Almost right on cue, Teixeira delivered a relentless onslaught in R3 and R4, during an excruciating ten-minute spell where it looked like he was moments away from winning via knockout.
The problem was two-fold: having landed an upper cut and sweet left hook to knock Smith down, his ground-and-pound was not deemed effective enough by referee Jason Herzog to stop the fight.
Smith, although in a precarious situation, was defending himself and struggled to get on his feet – so Glover was caught in two minds whether to go for a submission, continue taking Anthony down or wait for him to recover and blitz him standing up.
Somehow to the Lionheart's credit, he withstood sustained pressure but Herzog's patience was futile especially after what was said in-between rounds.
Smith's posture was off, he wasn't even defending himself at times, eyes were shot and he looked helpless. Then the 31-year-old told his corner that his teeth were 'falling out' before the final round. Why didn't they pull him out and avoid further damage?
There's nothing brave about allowing your fighter to suffer more punishment than is necessary and considering Teixeira landed a combined 75 significant strikes in R3-R4, that should have been enough for Smith's vocal corner to throw in the towel.
After two 10-8 rounds in the Brazilian's favour, he finally earned a TKO victory through punches early during R5 – but this verdict occured two rounds too late and it's a shame Teixeira's excellent display will be glossed over as Smith's corner deserve criticism.
He thanked his various coaches and sparring partners post-fight, so when Daniel Cormier asked what's the limit for the 40-year-old going forward, he didn't hesitate.
"I love a challenge, you [DC] motivate me, you and Yoel Romero. I had to make some changes, go to UFC's PI (Performance Institute), you have to open your mind and look for help when things start to go wrong."
Statistic: This latest win means Teixeira is tied for the longest active light-heavyweight streak, alongside Magomed Ankalaev, Ryan Spann and current champ Jones.
Rothwell with split decision win over Saint-Preux in 50th pro fight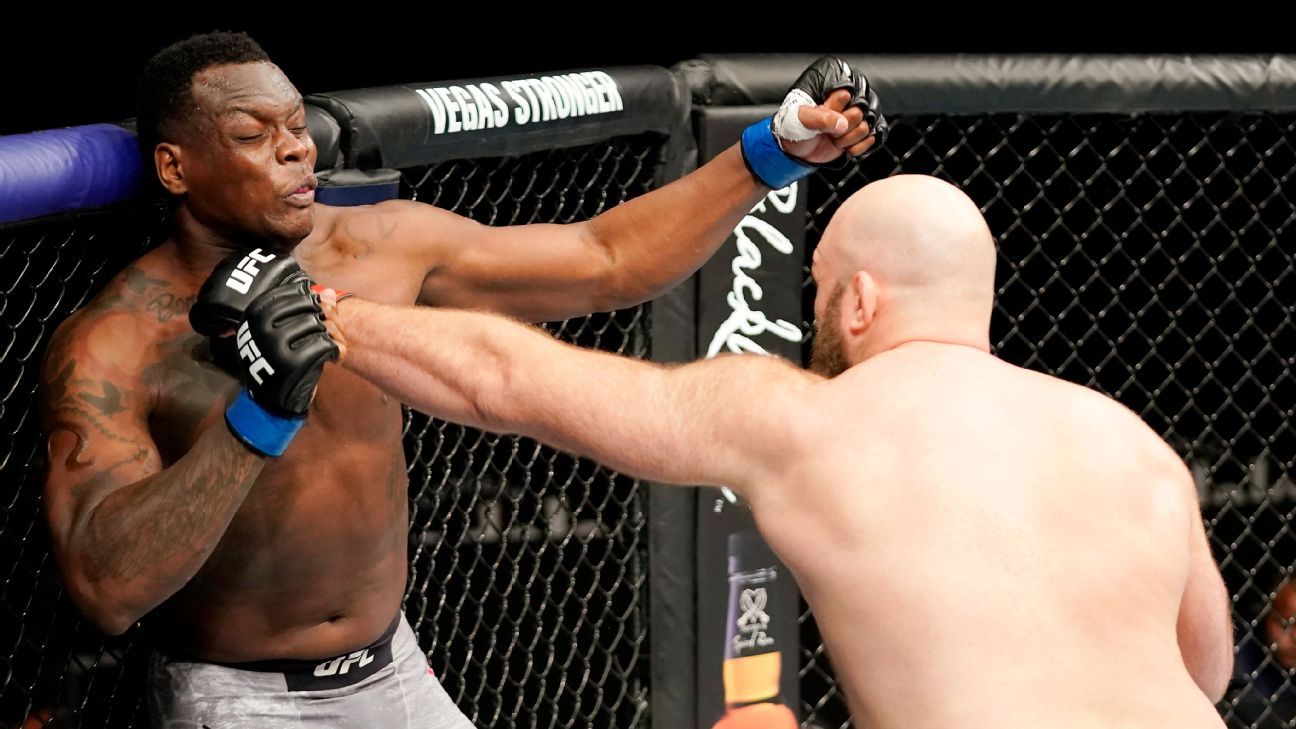 Ovince Saint-Preux made his heavyweight debut against a seasoned veteran in Ben Rothwell – this being the American's 50th MMA fight. Ben needed to win, and although he was hurt doing so, recorded back-to-back wins for the first time since January 2016.
Although OSP landed a few kicks and promising strikes in R1, it was largely a round where the 37-year-old had to be evasive and constantly manoevure around the Octagon.
OSP responded well after a choke hold, but the size and strength advantage was undoubtedly with Rothwell in this fight as R2 began and flew by.
Ovince was breathing heavy and striking just one at a time before landing a beautiful counter left hook which landed flush and scored a late knockdown to end R2 in style.
They exchanged shots to begin R3, though Rothwell was firmly in the ascendancy and consciously pushing a high pace while cutting the Octagon off, trying to secure a KO.
OSP landed a few nice strikes after they grappled against the side of the cage, with his kicks and left hooks visibly rocking Rothwell as the significant strike count flashed across the screen: 47 each with less than a minute to go in their final round.
They again exchanged ferocious blows until the final second, where Saint-Preux landed more punches and even floored Rothwell again, albeit after the bell had sounded.
Despite a plucky effort, OSP could not complain about losing via split decision (28-29, 29-28, 29-28 Rothwell). On how nervous he was after hearing 'by split decision', Ben said:
"You know it, nerveracking, you have no idea. I landed some really good knees in the clinch, gave him some hard shots, he's a heavyweight so it is what it is – I had a lot to lose, against the smaller guy. Mr [Aleksei] Oleinik, they call me Big Ben, so let's do it."
Other main card fights
Thiago Moises (14-4) opened the main card with a stunning second-round submission victory over Michael Johnson (19-16), marking the biggest victory of his career to date.
Having absorbed damage galore in R1, an important intervention from his coaches in the corner saw him shift gears – immediately targeting Johnson's legs during the restart.
Johnson did well to defend two takedown attempts in R1 during a purposeful start but was helpless to stop the Brazilian's speed and technical brilliance once more, as he fell to the mat and frantically tried to scramble his way out of a precarious situation.
This was futile though, as he tapped out in agony 25 seconds into R2 after Moises applied extended pressure with his heel hook. Just like that, the fight was over.
Having watched his unanimous decision win vs. Donald Cerrone at UFC 249 on Saturday, Moises made sure to call out Anthony Pettis post-fight, saying:
"I think my and Pettis' games match up really well for me – I think I'm stronger than him, I know my grappling is better than his and have all the tools to beat him."
Next, Andrei Arlovski was making his 50th MMA fight against a familiar face: Philipe Lins, who trains at his gym and was making his UFC debut here aged 34.
The Belarus international was impressive enroute to another victory via unanimous decision (30-27, 30-27, 29-28), against an opponent in Lins whose striking repertoire was stifled after Herb Dean's stern warning following a high kick which prompted a timeout.
Statistic: Although he suffered a five-fight losing streak from Jan. 2016 to Nov. 2017, nine of Arlovski's last ten fights have gone the distance and this result marks a return to winning ways after a 29-second knockout defeat by Jairzinho Rozenstruik at UFC 244.
Post-fight, Arlovski told Cormier: "I'm happy [about the win], it probably sounds f—ed up but the pandemic preparation camp worked very well for me."
On how he's evolving his game with age and experience, he continued: "I'm sick of losing, either by knockout or decision. I feel like it's a new page, I've worked with some great people and it's time to prove [it]. When fighters stop growing, you start to fall down. I don't want that, I want to keep growing and that's my plan."
As for the bantamweight division, Ricky Simon (16-3) earned a significant scalp with a split decision victory (28-29, 29-28, 29-28) over one-time title challenger Ray Borg.
Simon was physically the bigger man and imposed his power from R1, as Borg struggled to effectively answer his multiple takedown attempts – while absorbing punishment in various areas. After successive defeats against Urijah Faber and Rob Font to end 2019, this result marked Simon's ninth win in his last 11 fights, returning to winning ways.
Borg appeared to leave his best action into the final stages of each round, which made for frustrating viewing and the judges' scorecards reiterated his relative inactivity.
On whether he was worried after hearing the first scorecard go against him:
Simon said: "Hell yeah, I need that win and that paycheck! I'm not here for easy fights, I feel great, we put on a great camp – short notice fight, made the weight and got the win."
Elsewhere, Drew Dober (23-9, 1 NC) won via TKO against #15-ranked lightweight Alexander Hernandez (11-3), propelling himself into next week's top 15 rankings.
After back-to-back first-round knockout wins, he had to be patient against a slippery operator in Hernandez: whose footwork and dangerous kicks were problematic early on.
Both were hurt by accidental eye-pokes and although Hernandez won R1 in my opinion, Dober was landing the more impactful strikes – which ultimately proved pivotal.
Despite last-ditch attempts by Hernandez to take him down after being stunned by a handful of beautiful combinations, the writing was on the wall. Herb Dean waited long enough before stepping in to stop any further damage, a memorable TKO win for Dober.
Dober, who trains alongside UFC's new interim lightweight champ Justin Gaethje, revealed he's excited for what's next in the division, while calling out the likes of #6-ranked Paul Felder (17-5), who was on commentary for the evening.
Felder immediately responded, saying: "I don't kknow what's going to happen, he should be looking for guys [like me] in the division. After that performance, you can't blame him. He's a nice guy and I love watching him fight."
Prelims
Chase Sherman improved to a 15-6 record with his fourth consecutive victory, after a second-round TKO victory against Isaac Villanueva in the heavyweight division.
Featherweight Brian Kelleher (21-10) earned his second UFC knockout victory, with a second-round TKO against Hunter Azure. This display won Fight of the Night honours.
In the lightweight division, Omar Morales (10-0) inflicted Gabriel Benítez's second consecutive defeat after winning via unanimous decision (30-27, 29-28, 29-28).
Meanwhile bantamweight Sijara Eubanks (5-4) returned to winning ways after back-to-back defeats in 2019 with a UD win over Sarah Moras (30-27, 30-27, 30-26).