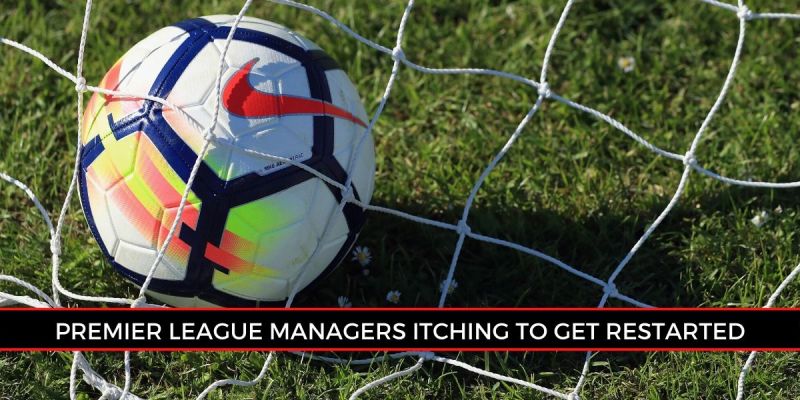 In a week where small-sided group training sessions have been approved and are getting underway across England's top-flight, managers and players alike are having their say as Project Restart makes a leap forward towards resuming play. 
Burnley manager Sean Dyche has become the latest Premier League manager to voice his opinion on an ever-changing situation as his first-team players returned to training.
The UK's Project Restart took a step forward with the introduction of small-sided group training sessions for the first time since March's suspension of play earlier this week.
Although contact training is not permitted until May 26 at the earliest, the latest developments are an improvement on previous regulations.
They stated players could only train individually but now social distancing rules apply to group sessions instead, meaning small numbers scattered across separate pitches.
Dyche pleased as Premier League players return to modified training
Dyche, whose Burnley side sit 10th in the Premier League, is happy with the condition his players have returned in after an enforced two-month break.
Having returned at the Barnfield Training Centre for their first session on Tuesday afternoon, their spirits are high despite these uncertain times.
As quoted by the club's official website, he said:
"The players are good. They are clear-minded at the moment. We've offered them the chance, as we go, that if there are any doubts or question marks then speak freely, but they are really clear-minded. They have come back fit and well, they look sharp and like they want to get back to it – very positive about being out there."
Burnley, six points behind fifth-placed Manchester United with nine games to go, could still push for a UEFA Europa League qualifying berth once the 2019-20 season resumes.
It's perhaps why Dyche stressed the players' professionalism as there is still work to be done:
"If they say the kick-off date is three weeks, we work for three weeks. They're strange times so I don't expect it to all be perfect and it's everything we want.
"It's part of being a professional – there are lots of different challenges come your way and this is just another one of them."
Klopp likens return to first day at school, Mourinho itching for restart
Elsewhere in the division, Liverpool boss Jurgen Klopp likened the Reds' returning to training with the "first day at school," revealing he was happy to see some of his players.
"It felt like the first day at school; for me, it was 46 years ago, but it must have been similar. I dressed myself in my uniform again – and for the right reason, for going to training.
"I drove to Melwood and was really happy to see all the boys. I didn't see all [of the players] yet, only 10 of them and the coaches, which is a good start, I would say. They all look in good spirits."
Last week, Tottenham head coach Jose Mourinho cited the Bundesliga's return as another reason why England's top-flight should follow suit when it's safe to do so.
READ: Bundesliga returns – Dortmund, Hertha and Gladbach record big wins
"I want to train and am desperate for the Premier League to return as soon as it's safe to do so, particularly now as we are seeing other leagues preparing to return to action.
"I am extremely proud of the way my players have maintained their fitness – they have shown great professionalism, passion and dedication."
Tottenham sit eighth in the Premier League on 41 points. However, they could find themselves battling for positions with the surrounding teams – Burnley included – when the 19-20 season is deemed safe to resume. Suggestions claim this will occur in mid-June.
Okay, but what about Manchester City?
As per a report in the Telegraph, the league's defending champions Manchester City will be one of the league's last clubs to return under the new training protocols tomorrow.
Pep Guardiola's first-team players will resume small-sided group training sessions on Friday, for the first time since March's suspension.
As mentioned, this comes at the end of a working week which saw many rivals posting pictures and interviews, as everyone is grateful to resume some form of normality.
Although among the last teams to begin group training, Manchester City will be eager to finish the 2019-20 season across all competitions.
They may be a whopping 25 points off leaders Liverpool, but already claimed the campaign's first piece of silverware with a 2-1 EFL Cup win vs. Aston Villa on March 1.
City were leading La Liga giants Real Madrid 2-1 in their Champions League last-16 tie after a first-leg comeback victory at the Bernabeu on February 26, while an all-EPL clash with Newcastle awaited them in the FA Cup quarter-finals.
The enforced break has also allowed players to recover from long-term injuries.
German winger Leroy Sane was poised to return after playing for their under-23s in late February, while centre-backs Aymeric Laporte and John Stones have struggled with injuries this term.