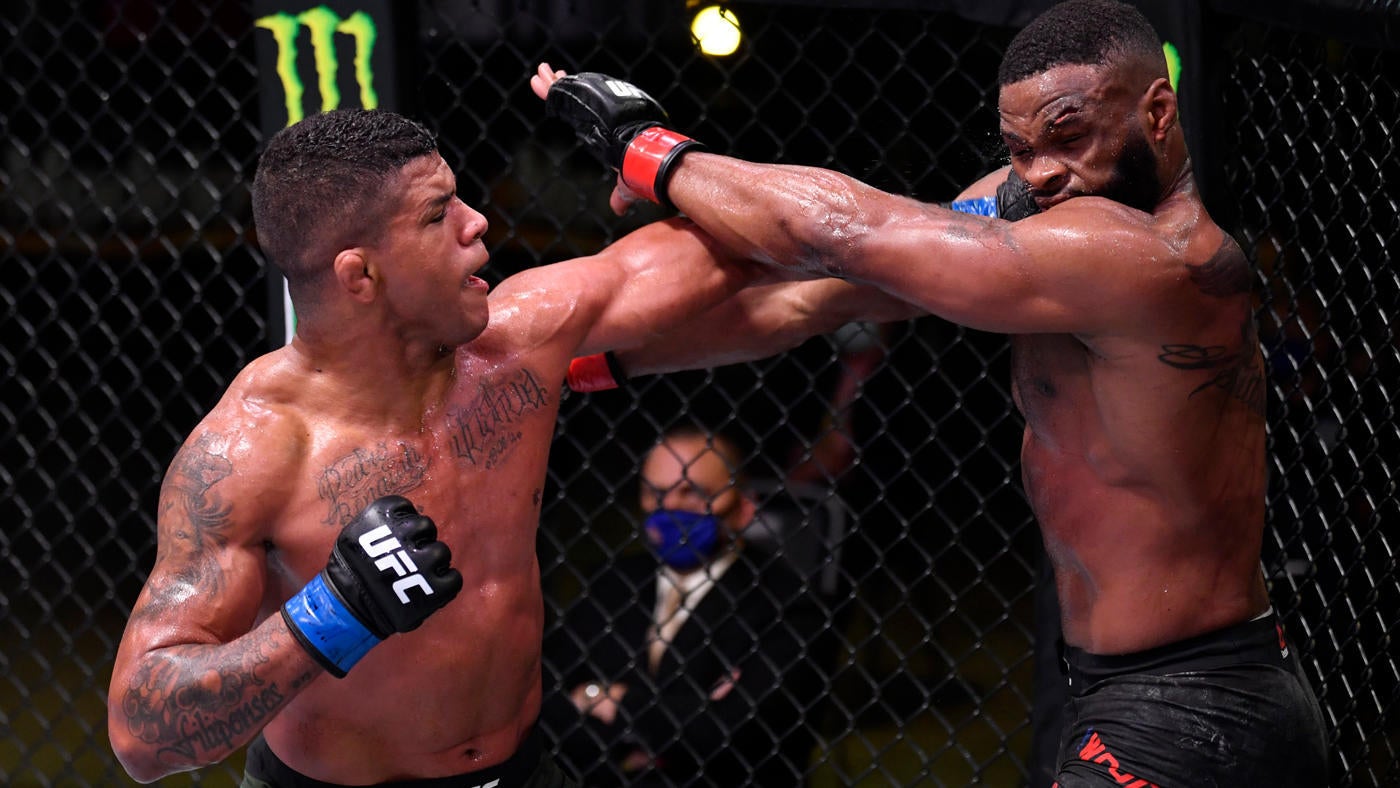 Gilbert Burns was dominant from start to finish in a unanimous decision win over former welterweight champion Tyron Woodley, proving his championship pedigree – before calling out his training teammate and current title holder Kamaru Usman.
Burns steals the show with commanding win on Woodley's return
With two previously cancelled bouts, #1 ranked contender Tyron Woodley had been out of the Octagon for 15 months before his showdown with Gilbert Burns.
Riding high on a five-fight winning streak, the bullish Brazilian was honest pre-fight about how things would transpire against a motivated former champ.
Within 60 seconds, the card's main event could have been all over. Woodley was stunned into survival mode after a series of nasty uppercuts and knees saw him flattened.
Burns raced onto him like a flash, with ground and pound strikes aplenty, but Tyron refused to give up easily and displayed his physical attributes by powering himself out of a predicament that was dangerously close to seeing the fight stopped.
Nonetheless, this was firmly a 10-8 Burns round and Woodley knew as much.
To begin the second, he connected with a brilliant punch combination – but where was this urgency and activity five minutes ago?
Woodley's passive approach ultimately proves costly
His tentative approach, backing towards the cage and regular feints only served as encouragement for Burns to embrace the role of aggressor.
Midway through R2, Burns completed a timely takedown to halt Woodley's momentum. Suddenly, the 38-year-old found himself in another precarious situation on the ground.
It was easy to forget that Woodley had a 94% takedown defence percentage pre-fight, while Durinho's ground control meant this round was another in Burns' favour too.
As for R3, Burns continued to push the pace. Woodley was both cautious and frustrating, because he was clearly down on the scorecards yet didn't attack often enough.
Instead, he was being rocked with well-timed punches, before Burns mixed it up by landing calf kicks which forced him to be more defensive-minded as a result.
The reason I mention Woodley's age is, at 38, his prime years are behind him. Whether he wants to tell you otehrwise, Burns' brilliance exposed him as being a step slow defensively, while he didn't strike or advance forward often enough.
It seemed like he was trying to psyche himself up after absorbing damage, whether it was a painful leg kick or straight punch connecting, which is also a worrying sign – especially during a fight of this magnitude.
What was also interesting, was Tyron appeared to be listening to his coaches' feedback in the corner between rounds but not really applying it once the bell sounded.
Again, that was largely in part due to Burns' career-best performance, but it wasn't a faultless display either. He was more active and immediately earned Woodley's respect by his heavy-handed flurry but almost invited the former champ to come forward.
R4 saw good takedown defence from Woodley, though he spent too long in the clinch without much activity. Referee Herb Dean had to break them up, before Burns dropped him again with a great punch midway through the round. Durinho almost locked in a guillotine choke too, as Woodley's hopes of a winning return evaporated by the second.
There was more of the same in R5, as Burns took charge in the clinch before Dean intervened. Inevitability was etched across Woodley's face as time wore on, yet he didn't try particularly hard to throw caution to the wind and go for a knockout punch.
Burns landed more significant strikes (76) than Woodley had thrown (66), which rather spoke volumes over the 25 minutes.
Unsurprisingly, the judges' scorecards confimed his dominance: 50-45, 50-44, 50-44.
Burns spoke to Daniel Cormier during the post-fight interview and had some interesting words to say:
"I told you so DC, I'm very happy! Thankful to all my team, I trained so hard for this fight. I knew I could do it, a dominant performance against a former champion so I'm feel so good right now. I know I hit hard, the guys who make the rankings, don't play around.

On Tuesday, I want to see my name at #1. I love the champ – Kamaru Usman – I have a lot of respect and love for you, but I want to fight for the title. I have no scratches or nothing, if you want it in July, I can go."
Burns was brilliant and deserves all the plaudits, especially having already visualised what a win here would do for future title opportunities.
In contrast, serious questions will be asked of what's next for Woodley after such a comprehensive defeat on his Octagon return here.
Coming into this fight, he was the #1 ranked contender. In a stacked weight-class with plenty of quality opponents, does he assess the fight tape and try to return stronger or consider retiring while his legacy as one of the division's best of all-time remains intact?
Sakai's sneaky cage grab unpunished, split decision win vs. Ivanov
The card's co-main event was closely contested and in truth, could have gone either way.
Augusto Sakai's reach advantage didn't help him find a reliable striking range early on. Although the height difference between them was obvious, Blagoy Ivanov was undeterred and pushed the pace against a Brazilian whose stinging leg kicks and overall punching power certainly made him think twice before making regular advances.
With that being said, the first round was close as both exchanged good shots – though Ivanov slightly edged it statistically with two more significant strikes.
R2 was more of the same: Ivanov began with two bruising left-hand strikes but Sakai continued to load up on kicks and Blagoy was clearly hurt by those persistent shots landing, both to his legs and lower body. An inability to counter them made it difficult for him to manoevure around a smaller Octagon than usual, as the fight wore on.
Sakai's attempted knee was well caught by Ivanov, who ended the round with a takedown – but minimal damage on the ground – but it was clear Sakai found his range.
This was the determining factor in R3 as Sakai was more active in the early exchanges. Ivanov landed a few good punch combo before some dirty boxing was on display.
Sakai stopped a takedown attempt by illegally holding the cage, which surprisingly went unpunished, much to Cormier's dismay on commentary.
That could have shifted R3 in Ivanov's favour, but instead Sakai was energised by his aforementioned near-miss and won via split decision (30-27 Ivanov, 29-28, 29-28).
The victory means he joins Francis Ngannou for the tied-longest active win streak in the UFC's heavyweight division, while the 29-year-old will continue moving up the rankings.
Other main card fights
In a catchweight (150 lbs) bout, Billy Quarantillo came out on top with a unanimous decision win against a fast-paced Spike Carlyle.
Spike sprinted at him with a flying knee once the bell sounded, almost trying to finish him like Conor McGregor did against Donald Cerrone earlier this year.
Quarantillo did well to defend himself despite Carlyle's ground control and bursts of explosiveness, though R1 certainly went in favour of Spike.
To start R2, Quarantillo initially struggled to get on top in the clinch as Spike continued forcing the issue on the ground. He perhaps pushed too hard though, with Billy doing well to pull off a reversal and record two triangle-choke submission attempts.
Spike's corner reassured their fighter that he was leading 2-0 on the judges' scorecards, though Billy's resurgence midway through R2 proved pivotal in a close-to-score round.
Spike was clearly fatiguing, yet showed enough explosive bursts of energy to defend against dangerous situations as Quarantillo went to work and eyed a late knockout.
He landed 21 significant strikes to just one from Billy in the first three minutes, but his inability to finish the fight wasn't costly – all three judges scored it 29-28 Quarantillo.
In the lightweight division, Roosevelt Roberts enjoyed a memorable second-round submission victory over Brok Weaver courtesy of an inevitable rear-naked choke.
Inevitable in the sense that Roberts, who held a two-inch height advantage and began purposefully with beautiful strikes, was going to look for a submission finish.
Weaver stood and traded with him as though they were in a fully-fledged boxing match at times, though was clearly rocked a few times and outstruck 3 to 1 in R1.
Roberts' trash-talking and brazen style meant he relished the task and having teased a finish on the ground in the final seconds of round one, he got it done shortly afterwards.
This latest win means he has five submission victories and a 10-1 record that he wants to improve upon before 2020 is over.
Afterwards, he said any bad blood between himself and Weaver centred around the 28-year-old missing weight before calling out Matt Frevola (8-1-1) as an opponent he wants to face next. Frevola is slated to fight Frank Camacho on June 20 at UFC Fight Night 177.
To start the main card, Mackenzie Dern improved her MMA record to 8-1 with a R1 submission victory via kneebar against the plucky Hannah Cifers (10-5).
Despite absorbing some damage early on in the clinch, she quickly turned the tables on a defiant Cifers and recorded the first leg submission in women's MMA history by doing so.
"Feels so good, I'm so happy. She [Cifers] is such a strong girl, I wanted to get her to the ground. I went to the jiu-jitsu and it saved me. Those locks have been my specialty.
I've been saying to Dana, Shawn and my manager… let me get in, fight, I'm ready!"
Earlier this week, Dern was quoted as saying she eyed three more fights between now and the end of 2020. After a swift victory here, it's likely she'll feature again before long.
Prelims
In the night's featured prelim, #2 ranked flyweight Katlyn Chookagian (13-3) faced Antonina Shevchenko (8-1).
What made this a compelling watch was the fact this encounter was less than four months after Katlyn lost a title fight vs. Antonina's younger sister Valentina at UFC 247.
Interestingly an underdog for this matchup too, she could have easily earned a stunning first-round submission victory after closing the distance immediately on Antonina early.
Somehow, Antonina survived the onslaught – complete with nasty ground and pound – but after a 10-8 round, R2 saw more of the same from the experienced American.
R3 was more stand-up based, with Shevchenko's durability praised. With two 10-8 rounds going against her, the only way she would snatch a shock victory at this point was with a knockout – one which didn't come as Chookagian was far too comfortable.
Afterwards, she spoke to DC and said:
"I haven't been able to show my full potential and today, I did it. It feels really good, I've never doubted my jiu-jitsu, thanks to my husband and [coaches], we really worked and it's good to get my first UFC takedowns. I have both fight fever and baby fever so whoever wants it can get it."
In the welterweight division, Daniel Rodriguez won via unanimous decision (30-27, 30-27, 30-27) in his high-intensity, action-packed match against promotional newcomer Gabriel Green – after Kevin Holland pulled out earlier this week with an injury.
On the late replacement and his eagerness to keep fighting:
"I always stay ready all year around so no matter the opponent, I'm always ready. They gave me four days off, I'm going to take two and get right back to it. For the rest of the year, hopefully I can finish out my contract, I got two more fights left, win those, re-sign and just keep fighting. That's what I do, that's what I live for."
Light-heavyweight prospect Jamahal Hill remains undefeated (8-0), after an impressive R1 TKO finish with knees to the body – followed by punches against Klidson Abreu.
Chris Gutiérrez improved to 15-4-1 with a second-round TKO win over Vince Morales in the bantamweight division after an unforgiving onslaught on leg kicks to finish.
Elsewhere, there were a pair of submission victories for flyweight Brandon Royval via R2 arm-triangle choke and bantamweight Casey Kenney with a R1 guillotine against Tim Elliott and Louis Smolka respectively.
Pictures' source: MMAFighting, CBS Sports