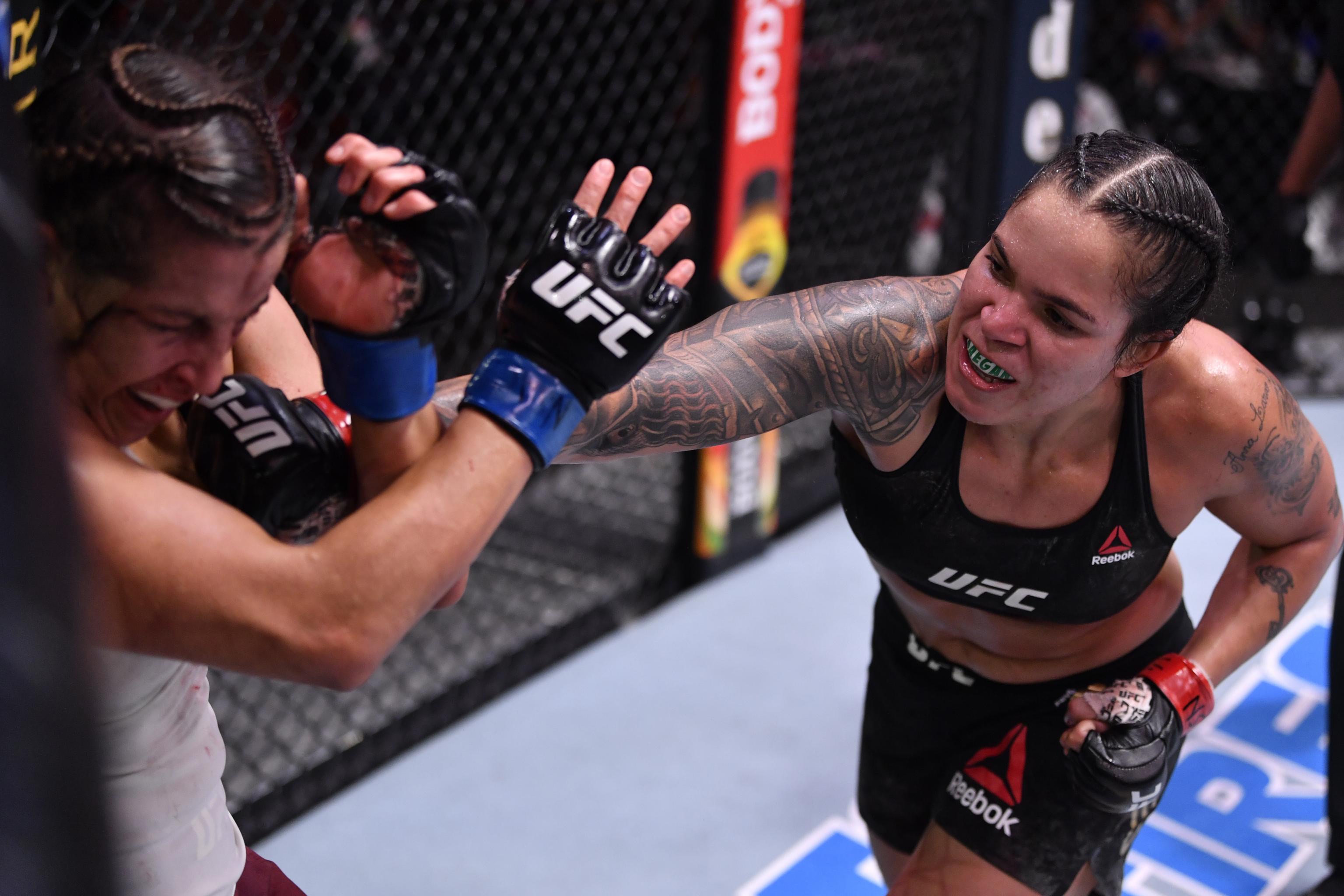 Amanda Nunes was again outstanding in victory, making history as the UFC's first double champion to defend both belts simultaneously against Felicia Spencer, who was ultimately no match for her. There were also big wins for Cody Garbrandt on his return and Aljamain Sterling, justifing his bantamweight title credentials.
Nunes excels again to retain featherweight title, Spencer outclassed
50-44, 50-44, 50-45. Perhaps the most telling moment from these five rounds was Nunes' apologetic look of remorse after landing a spinning backfist just before the R3 bell.
She knew, as well as anyone watching did, that by varying her strikes and stalking her prey inside a smaller Octagon, she was delaying the inevitable.
The haematoma bulging across Spencer's face at the end of the subsequent round spoke volumes too, as her corner urged her to do something – their words were simply futile.
From the first round, Nunes asserted her dominance and landed a few stinging strikes, showing just how sharp she was standing up while manoevuring confidently.
Spencer, to her credit, was a gamely opponent and caught one of the Brazilian's kicks before charging forward for a takedown attempt. Seconds later though, that effort was stuffed rather quickly before she found herself being wrestled to the ground instead.
Nunes had top control for nearly three minutes, with a handful of good elbows and ground and pound strikes as R1 ended. This wasn't going to end well for Spencer.
After five minutes, Nunes had landed 20 significant strikes. Felicia, who was durable and never gave up, only connected with one. It told a familiar story of Amanda's dominance.
In R2, Spencer unsurprisingly tried to score a takedown after being almost cornered around the cage. Too tentative with her striking and being picked apart at range with surgical precision by the champ, it made sense – but again, she was dropped and stifled.
R3 felt like a sparring session for the most part, as Nunes knocked out Spencer's mouthpiece with one of those vicious jabs. Herb Dean called a pause to the action, halting her momentum, yet she was undeterred.
She threw the Canadian to the ground almost effortlessly and relished fighting at her own pace, as Spencer was aware by this stage that any efforts to rush Nunes would only cause more trouble than it was worth from her perspective.
You could hear Felicia's coaches trying to pump her up, but as the commentators remarked, she was looking increasingly gun-shy as the rounds wore on.
Amanda continued targeting her legs and mixing up her striking as Spencer struggled to manoevure effectively, while failing to check those kicks proved problematic too.
You could see her trying not to wince as she absorbed yet more devastating strikes, a spinning back kick to the body and another takedown.
Nunes could smell blood and her intensity levels changed ever so slightly, loading up with a series of brilliant punch combinations to end R4 strongly.
After four rounds, Spencer had absorbed: 76 head strikes, 12 to the body and a further 20 to her legs. Her durability and toughness were admirable qualities, not least against the greatest female fighter of all-time, but you couldn't help wonder whether it was going to be stopped, not least after the doctor was called in to inspect any injury deep into R5.
Nunes landed 120 significant strikes with six takedowns completed, Spencer had 36 by contrast after 25 minutes. They embraced post-fight and as a sign of her respect, Amanda insisted Felicia hold the belt too as they hugged, showing the sort of warm compassion you love to see from an athlete that continues to improve with each passing fight.
What's next for her? In the post-fight interview with analyst Joe Rogan, she admitted she doesn't know – neither do the UFC, given just how dominant she's been across both divisions.
Nunes also said she was very proud of herself and her team, who help her to grow everyday, before revealing an eagerness to complete all five championship rounds.
"After she hit me the first time, I knew she wasn't going to knock me out. I wanted to go five rounds, I'm tired of hearing 'she can't go five', now everyone can see. I went five with the most tough girl in the division and I'm not tired."
It'll be intriguing to see who's next for her in the Octagon, but her and fiancee Nina are expecting a daughter in September, so she'll take some maternity leave after that.
Garbrandt returns with buzzer-beating R2 KO vs. Raphael Assuncao
Despite coming off a three-fight losing streak, Cody Garbrandt made his Octagon return after 15 months away and prevailed in style against Raphael Assuncao, with a display which will shake next week's bantamweight rankings.
The slight betting favourite, the 28-year-old landed a few promising leg strikes in the early exchanges. He looked sharp and continued to connect with good strikes against Assuncao, who was biding his time patiently but looked a step slow at times.
Granted, you could see him trying to figure out effective ways to slow down the American without absorbing unnecessary damage. Easier said than done, against someone of Garbrandt's quickness and sheer punch speed.
Mixing up his strikes well without landing a standout shot in R1, Cody edged the first round and Assuncao begun R2 with more purpose.
Growing accustomed to the speed now while remaining defensively aware, all of his hard work to win the second round was undone in the final seconds with aplomb.
With his back against the cage, Cody dodged a punch and landed a beautiful haymaker flush on Assuncao, sending him to sleep just as the R2 bell sounded.
There was no emotion in his celebration, trudging off with his hand raised as referee Keith Peterson waved the fight off. This past week, Cody reaffirmed his desire to recapture gold and after this excellent display, it's a significant step in the right direction.
Aljamain Sterling finishes Cory Sandhagen quickly, inline for title shot
If Garbrandt's return to action was impressive in the card's co-main event, Aljamain Sterling's display was even sweeter against Cory Sandhagen – who came into this bout with a 12-1 record and beat Assuncao via unanimous decision at UFC 241 on Aug. 17.
Sterling started purposefully, cutting the smaller ring off and immediately got to work. He got Cory's back near the cage, hung on tight and locked in a body triangle to control back mount before sinking in a rear-naked choke.
He becomes the first man to finish Sandhagen, while racing to call for Dana White to grant him a subsequent title shot, after scoring the biggest win of his career to date.
Only no.1 ranked Petr Yan (6) has a longer active win streak across the division than Sterling, who now has 10 UFC bantamweight victories – all-time, only three fighters have more than the 30-year-old. He made sure to call out Yan post-fight, too.
In the welterweight division, Neil Magny improved to 23-7 with a unanimous decision (30-27, 30-27, 29-28) win over Anthony Rocco Martin, who felt hard done by on the judges' scorecards and made his frustration known immediately post-fight.
This was a tough fight to score in truth, as Martin could have been up two rounds heading into the final five minutes, but crucially laboured too much at a crucial juncture while Magny turned up the pressure after a sluggish start to proceedings with limited activity. He said as much in the post-fight interview, though did enough to prevail.
In the night's first main card matchup, the highly-rated Sean O'Malley was victorious in style against seasoned veteran Eddie Wineland.
Within two minutes, this encounter was all over: O'Malley landing a beautiful walk off knockout punch which sent Wineland into unconsciousness. A truly brilliant finish, he proved that he's more than worth the hype.
Nonchalant, unsurprised and during his interview afterwards, he said he too wants to renegotiate his current deal.
After a stunning KO like that, the promise he's shown is certainly exciting in a bantamweight division that looks stacked despite now-former champion Henry Cejudo's retirement last month.
Featured prelims
In the featherweight division, Alex Caceres ended highly-rated Chase Hooper's undefeated streak, with a fairly comfortable UD win (30-27 x 3).
Hooper's movement was awkward and fairly laboured, while he absorbed some big shots as Caceres seemed to be toying with him somewhat at times.
The only time he seemed in trouble was when the fight moved to the ground, which was a threat virtually eliminated after R1 as his persistence and stand-up proved too much.
Meanwhile in the middleweight division, Ian Heinisch landed a beautiful striking flurry on his way to defeating Gerald Meerschaert early in R1 with a devastating TKO finish.
Other prelims
Featherweight Cody Stamann beat Brian Kelleher via unanimus decision (30-27 x 3) before dedicating his win to younger brother Jacob, who died suddenly last week.
In the middleweight division, Maki Pitolo defeated Charles Byrd with a R2 TKO (punches).
As for the early prelims, flyweight Alex Perez was victorious against Jussier Formiga in a first-round TKO (leg kicks).
Light-heavyweight Devin Clark improved to 12-4, earning his second successive UD win (30-27, 29-28, 29-28) against Alonzo Menifeld.
Meanwhile to open the show, Herbert Burns – younger brother of #1 welterweight contender Gilbert – won his catchweight (150lbs) bout against Evan Dunham with a rear-naked choke submission, just 80 seconds into the first round.
Pictures' source: Getty Images, Bleacher Report