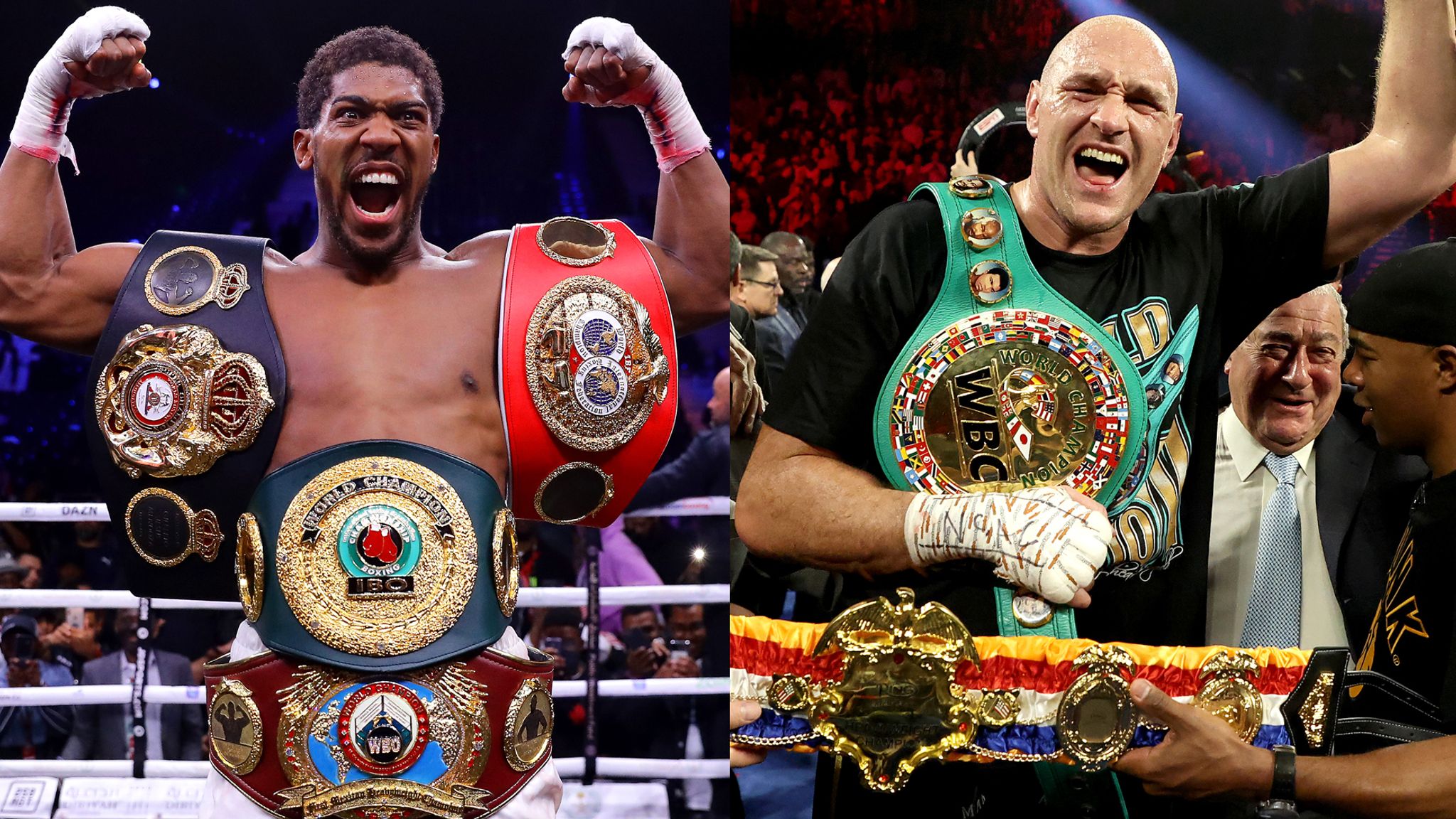 Talk about timing. Less than a day after US boxing returned with a dominant display by WBO featherweight champion Shakur Stevenson in Las Vegas, it has emerged two fights have been agreed in principle between the two world champion heavyweights Anthony Joshua and Tyson Fury – optimistic for the summer of 2021.
According to Joshua's promoter Eddie Hearn, the pair have agreed a deal to fight a unification title bout and subsequent rematch with a 60/40 financial split for the winner of their first encounter.
Hearn was quoted as saying:
"We have agreed to the basics of the deal, a two-fight deal. The hardest part is to agree the financial element – we have with Tyson [Fury] and the team, and can now move forward with finalising the smaller parts.

The good news for fight fans is that we have agreed to do the two fights and can now go and dot the I's and cross the T's." 
They have not signed a contract yet, with the first fight expected to happen next summer – with venues and dates still to be agreed, as well as a much more pressing issue for both.
Both still have fights to win beforehand
Each fighter still has to come through unscathed in their respective scheduled fights, which were delayed by the coronavirus pandemic halting sport worldwide in March.
READ: David Haye – Joshua is only boxer in HW division able to beat Tyson Fury
Joshua, nursing a minor knee injury, is set to face Bulgarian Kubrat Pulev, three years after their initial matchup was scrapped as the 39-year-old sustained an injury.
His replacement, Carlos Takam, gave a good account of himself but lost via R10 TKO at the Principality Stadium in Wales on October 28, 2017.
Fury meanwhile, faces a contractual trilogy bout against former WBC champion Deontay Wilder, having comfortably beaten him during their rematch in February this year.
Top Rank's Bob Arum has stated Fury-Wilder 3 will happen in the latter months of 2020, though questions remain over a possible location – not least with the COVID-19 pandemic still an ongoing worry across the world.
Arum provided a progress report on Fury-Wilder 3, saying:
"It's set, but we're looking for the site. Will we be able to do it for the spectators, even partially, in the United States? If not, can we do it with spectators in Macao or Australia? That's what we're exploring now."
Per official stats, Macao recorded 45 cases and are one of 30 countries across the world with no coronavirus deaths at the time of writing, while Australia have 7,276 total cases and 102 COVID-19 related deaths since the pandemic's outbreak in March.
In comparison, the UK have recorded 41,128 total coronavirus-related deaths with 115,118 across the United States.
What about Dillian Whyte's mandatory title shot?
Fury is also due to face another compatriot in Dillian Whyte, his mandatory challenger, early in 2021.
Whyte has been the WBC mandatory for more than two years without a title shot, and now that Wilder's unbeaten streak was ended earlier this year, is itching to receive what's rightfully his – a chance at gold.
This is something that Hearn himself addressed, as Matchroom Sport represents both Joshua and Whyte, who fought in December 2015.
"Who knows what's going to happen with Deontay Wilder, but we [Matchroom[ want Whyte to fight for the world title, and he is supposed to fight Tyson Fury, the WBC champion, by February 2021. There are obstacles to overcome, but the good news is that we are moving forward."
Potential to stage Britain's biggest fight of all-time
Should Joshua and Fury manage to retain their titles, they would clash to decide a unified heavyweight champion for the first time in over 20 years.
Saudi Arabia, which hosted Joshua-Ruiz 2, is a heavy favourite to host that event, while other countries on the Arabian Peninsula have also been linked.
Hearn said there's an appetite for the encounter worldwide given its importance, though given it's also an all-British affair, it also makes sense to host it somewhere at home too.
"Certainly, they're going to [be] making a big play [for the Middle East], but they're two British guys, so in a dream scenario – especially for British fight fans – that fight would take place in Britain.
"But obviously there's going to be significant offers, there already has been to stage this fight, the biggest fight in boxing, one of the biggest of all-time and for the undisputed heavyweight championship. We'll be looking at different options, speaking to the Fury team and making sure fighters are in agreement where the fight should take place."
Fury's co-promoter Frank Warren meanwhile, speculated that the pair could earn whopping career-high financial earnings from potential unification bouts.
"I hope the Joshua fight happens, and I would like it this year if we can. These guys could get between $60-70m (£47-55m) each from one fight against each other, double that if there's a rematch, in one year."