Cynthia Calvillo enjoyed a memorable flyweight debut, beating #1 title contender Jessica Eye with an impressive UD win in the night's main event, after Marvin Vettori settled his score with Karl Roberson – before revealing that type of display will help set up a future rematch with middleweight champion Israel Adesanya.
Calvillo overcomes tentative start to win main event in style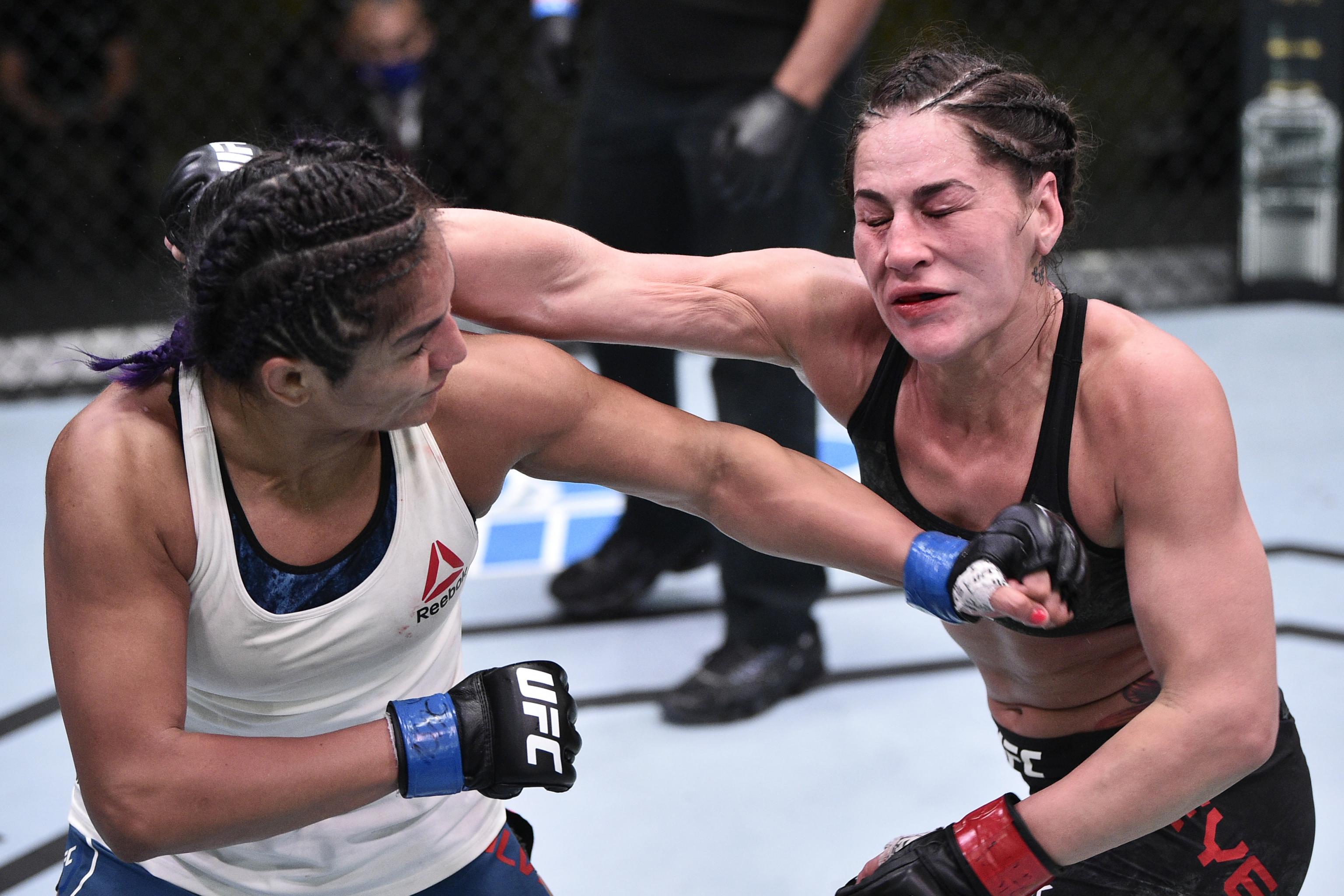 49-46, 49-46, 48-47: Calvillo wins by unanimous decision
In the flyweight main event, Jessica Eye took on Cynthia Calvillo in what promised to be an intriguing watch between two determined fighters with a point to prove.
Officially listed as a catchweight (126.25lbs) bout, the pair were understandably tentative and sussed one another out in the early exchanges with plenty of feints and movement.
After a frank admission to her corner after R1 though, Calvillo picked up the pace and enjoyed almost eight minutes of control time enroute to her most impressive UFC win.
Eye had a two-inch height and reach advantage, while missing weight by a quarter of a pound leading into this encounter.
Her #1 title contender status was on the line against Calvillo, making the step-up in weight on short notice. Naturally, the 33-year-old didn't want to lose it against a physically inferior fighter on her debut at that weight class.
Calvillo was the aggressor at range early on, as Eye looked to counter her strikes and hit hard whenever Cynthia closed the distance. She landed two high kicks, both of which Eye absorbed before trying to catch it, but to no avail.
R1 was tough to score as Eye was controlling centre ring but there wasn't much in that, even with both tentative to take risks early on.
Calvillo's determination, timing key as takedowns prove pivotal
From R2 onwards, things got interesting. Eye connected with a few good shots, but Calvillo's persistence paid off. Her first takedown was stuffed, but a deft leg trip allowed her the opportunity to gain control on the ground – where she's more comfortable.
Eye defended well initially, Cnythia made adjustments and lulled her into a false sense of security by momentarily moving away from the cage before securing top position.
From here, she pushed for a rear-naked choke and locked in a body triangle to finish a much more commanding round from her perspective.
R3 was more of the same. Both exchanged good strikes, Eye was countering Calvillo every time she dipped her head down and tried to fight in the pocket. You could audibly hear coaches asking Cynthia for more variance with her strikes, as those aforementioned leg kicks were too infrequent and allowed Eye to regain confidence.
Then, Eye missed with a big swinging punch attempt and paid for her inaccuracy. Calvillo stepped it up a gear, completing another takedown to finish R3 on top again.
After 15 minutes, the significant strikes were almost even: Calvillo with two more (66 of 164) completed, which just emphasised how important her ground control was proving.
Eye's corner were aware of that, too. Her head trainer told her to wake up between rounds, stressing the fact Calvillo was "scoring at the end [of rounds]." He wasn't wrong.
Calvillo continued her takedown assault, this time doing so much earlier to begin R4 and despite Eye showing good survival skills in a precarious situation, she failed to take advantage after the 32-year-old's visible adrenaline dump. Cynthia was coasting for a minute or so but importantly, got back to her striking after Eye started landing shots.
All or nothing for Jessica
R5 was a critical round for Eye: aim for a knockout, or prepare to lose one way or another. Both continued landing bruising punches and Calvillo manoevured well, biding her time more patiently – subconsciously knowing she was ahead on the scorecards.
Eye's corner shouted gas pedal as the minutes ticked by, but their cries were futile. Whenever Calvillo felt in danger, she'd either land a combo or shoot for a takedown.
Eye landed a big right hand and right on cue, takedown number four for Cynthia.
Jessica's defence understandably waned as the fight wore on, but Calvillo delivered a determined display and proved too much for her to handle over 25 minutes.
She was capable of exchanging strikes but it wasn't enough, against a fighter with a better skillset on this occasion.
Post-fight stats and what's next for Calvillo in a new division?
Statistic: Among female UFC fighters, Calvillo is now tied with four athletes (Amanda Nunes, Valentina Shevchenko, Kaitlyn Chookaigan and Angela Hill) for the most wins since 2017 (6).
Calvillo landed 137 strikes to Eye's 97, recorded a personal-high four tackles and enjoyed ample control time to nullify her opponent with frustrating frequency.
Speaking to Paul Felder in the post-fight interview, she said:
"I feel great, especially putting on a performance like that with a short amount of training. I knew it was my first time preparing for a five-round fight, knew it would take a bit to get it going, the first round was a warm-up to get my feet going.
I trained super hard, I try to win practice so outwork everyone. It's my first time doing that, I'm proud of myself and know I can get more energetic as the rounds come.
https://twitter.com/blondefighter/status/1272017417368150021?ref_src=twsrc%5Egoogle%7Ctwcamp%5Eserp%7Ctwgr%5Etweet
As shown above, she's already been called out but responded in typically defiant style:
"Whoever, whatever, my last two years have been really slow – I'm down, just keep me busy, I want to take Dana on his word, I want four fights this year."
Vettori earns bonus after impressive R1 submission win
In the night's co-main event, another catchweight bout (190.5lbs), Marvin Vettori settled his bad blood with Karl Roberson and raced to an impressive R1 submission victory.
Roberson came in overweight, in a bout that was twice rescheduled. Roberson landed two hard leg kicks and almost got the Italian's back, though a timely reversal saw Vettori escape danger before gaining top position himself.
Vettori's guillotine attempt was scrambled, before he then showed ringcraft to set up a rear-naked choke, having alternated between ground-and-pound strikes and chokeholds.
The win is his ninth (of 15 total) via submission, having landed 22 significant strikes, two takedowns and two submission attempts in just over four minutes.
He didn't mince worse either, post-fight:
"Six months of hard f—ing work, I just train so hard and this is my reward. I was so hyped up before the fight, almost wanted to cry because this is what I love to do. I'm just ready all the time, when he said his grappling is better than mine, I knew he was scared.
"I want top 15 next, everybody has been dodging me now. I want names, [to] climb back to the top and rematch [current middleweight champion Israel] Adesanya. I'm not even ranked and he keeps saying my name." 
If you didn't know: Back in April 2018, Vettori lost via split decision against Adesanya on the Poirer-Gaethje card. It was Israel's second UFC fight, five months after signing. 
Other main card fights
In the lightweight division, Charles Rosa returned to winning ways with a split decision (28-29, 29-28, 29-28) win over Kevin Aguilar. Rosa was slow to settle as Aguilar landed fierce punches and immediately made the 33-year-old chef respect his power.
He connected with a sweet overhand right, while defending Rosa's attempted takedown with hammer fists – initially seeming a step faster when both were fighting in close.
However, that all changed in R2. The pair were landing good combinations in a tightly-contested round, the Angel of Death Aguilar was clearly connecting with more frequent significant strikes until the final minute. Rosa wobbled him twice with brilliant strikes of his own and as the bell sounded, it was suddenly one round apiece.
Words from Aguilar's corner say it all: "How much do you want this? You let him steal that round at the end, you need to pick the pace up, get in there and do some work." 
Into the final round, both were again exchanging good shots but Aguilar was no longer as aggressive. Rosa dictated the round's intensity with stinging leg kicks, while Kevin struggled to close the distance and allowed his opponent to pick strikes more methodically at range, manoevuring well with slips and feints.
The roles had reversed: suddenly, Rosa had the sting in his hands, showcased good takedown defence and was energised. Aguilar was flagging and it ultimately showed, on all three judges' scorecards.
Andre Fili victorious in featherweight scrap vs. Charles Jourdain
As for featherweights, there was a strike-heavy battle on display but Andre Fili came out on top against Charles Jourdain via another split decision (28-29, 29-28, 29-28) victory.
The pair both began with powerful exchanges, Jourdain throwing big punches while Fili landed a nice head kick as the fight began at a frenetic pace.
Neither were afraid to let their hands or feet go, while connecting with good reversals whenever either one was stung by a shot.
Jourdain landed a brilliant overhand left to score a knockdown and despite Fili responding well by quickly recovering, the Canada international continued to earn success with his kicking.
As pointed out by co-commentator Felder, Fili appeared to be nursing an injury to his right arm and did his utmost to mask it – switching to a southpaw stance, consciously not throwing any shots with it before finishing the round strong with a slam before the bell.
They were going tit-for-tat, landing good combinations while trying to gradually break one another down over time.
Jourdain loaded up on kicks, but Fili had more punch power and you could see simply by the way Charles was visibly backing up when absorbing shots to the face or body.
Fili completed a late takedown too, meaning it was all square and up for grabs going into the final round.
Knowing that the judges might not be on his side, Fili immediately went to work on the ground after pushing Jourdain towards the cage. He delivered successive takedowns and smothered Jourdain, whose intensity levels were clearly dropping as time wore on.
Both guys raised their level back up towards the end of R3, with Jourdain finally showing some good takedown defence – albeit futile by this stage – as he'd already been taken down on multiple occasions.
Despite being knocked down clean in round one, the split decision irked Fili.
"Dude, I was begging God, let me buy a f—ing house this year. I don't understand, I really feel like I didn't perform as well as I could have but I'm my hardest critic… if you watch that [fight] and saw a split, I don't know what you were watching."
On his right arm issue and what fights are next in future:
"My arms don't hurt, I'm fine, he kicked pretty hard in the beginning, threw a few hard kicks so it was a good gameplan. I want a big name next, I'm tired of people looking at me like a regular UFC fighter… I'm not, I'm a f—ing elite calibre fighter, one of the best [at] 145 in the world. I'm turning 30 in a week or two but I'm just getting started."
Jordan Espinosa prevails in UD win over Mark De La Rosa
In the bantamweight division, Jordan Espinosa eased to a comfortable unanimous decision (30-27, 30-27, 30-26) win over Mark De La Rosa. Espinosa landed a few good shots to start, connecting with some well-timed kicks. Although de la Rosa was keen to control centre ring, he didn't close the distance well enough and found himself losing R1.
To try and shift the momentum in his favour, he attempted an audacious single-leg takedown but was nullified by Espinosa's excellent defence near the cage, which helped him land even more punishment before the bell.
De La Rosa's corner stressed the importance of winning R2, aware of how much danger their fighter was in towards the latter stages – being outstruck a whopping 103-10.
Mark started letting his hands go a bit more, but was still losing. Failure to effectively mix combinations and takedowns allowed Espinosa to dictate the fight's pace at range, which was emphasised by a brutally honest assessment by his corner at the end of R2.
"Knockout or you lose, simple as. Forget about takedowns."
So to begin R3, it was actually Espinosa who attempted and was successful in taking De La Rosa down after an exchange. He quickly got top position and landed beautiful ground-and-pound strikes before his submission attempt was blocked.
His continued movement, persistent kicks and ability to switch stances seamlessly all frustrated De La Rosa – who was durable but didn't land enough strikes – and couldn't complain as he ultimately lost comfortably via decision after 15 minutes of fighting.
Espinosa admitted he's never left the US, was slated to fight in Kazakhstan but that was scrapped due to travel restrictions and COVID-19 concerns. He also said he wants to be on the July 25 card at Fight Island, calling out Tyson Nam – who won on the prelims.
Mariya Agapova shows plenty of promise on UFC debut
In the evening's first main card bout, highly-rated Mariya Agapova had a UFC debut to remember against Hannah Cifers – who lost in R1 a fortnight ago against Mackenzie Dern on the Woodley-Burns card.
A heavy pre-fight favourite, Agapova is said to be the flyweight future and is only 23-years-old. Possessing a significant height and reach advantage against Cifers, the first round was packed with boxing and Agapova was quickly assertive.
She landed a brilliant head kick, transitioned into a body triangle and rear-naked choke – Cifers had no choice but to tap out after the chokehold sunk into her neck.
Post-fight, she reflected on a memorable debut – having responded defiantly after her only career defeat to date against Tracy Cortez, in S3 of Dana White's Contender Series.
"I feel amazing, it was cool! I'm very happy, dreams of my life [have] come true – I stay in America, work hard and am in the UFC now. I just feel and smell blood. Shana Dobson, stop running away from me. I'm waiting for you here." 
Prelim results
The prelims were over fairly fast and took many by surprise after three consecutive sub-minute finishes – thus making UFC history by tying the record for a single event.
In the welterweight division, Christian Aguilera defeated Anthony Ivy via TKO after just 59 seconds. Then in a catchweight bout (138.5lbs), Tyson Nam beat Zarrukh Adashev, 32 seconds into their match.
As for the women's bantamweight division, Julia Avila improved to an impressive 8-1 record with a TKO just 22 seconds into her fight against Gina Mazany.
A semblance of normality was restored before the main card began though, as Merab Dvalishvilli cruised to a UD (30-26, 30-26, 30-25) win over Gustavo Lopez in the evening's final prelim bout.
Pictures' source: MMAFighting, Yahoo Sport Australia, Zuffa