Mike Plania earned a big upset win over the WBO's number one bantamweight title contender Josh Greer Jr. in Las Vegas overnight, as the 23-year-old landed two knockdowns on the way to his biggest career victory in boxing's third Top Rank card since the sport resumed in the United States last week.
Plania's patience and power stings no.1 contender in shock win
94-94, 96-92, 97-91: Plania def. Greer by majority decision
In the night's main event, Josh Greer Jr. ultimately came up short against a gamely opponent in 23-year-old Michael Plania – who stunned critics and defied the rankings to earn a career-best win with a memorable showing at the MGM Grand Conference Center.
Greer won 19 consecutive fights before this one and instead expected to be facing WBO champion John Riel Casimero (29-4) this week, was humbled by an impressive showing.
Plania, who usually competes at the junior featherweight limit of 122 pounds, agreed to box at a contracted catchweight of 120 pounds.
Given his marginal height and reach advantages, it was the Filipino native who started purposefully, landing a beautiful knockdown with a left hook midway through R1.
Greer was trying to be patient and ease himself back into proceedings in R2, but Plania continued landing good combinations over the next few rounds.
Josh's movement was good, though his punch output wasn't enough to justify winning many rounds on the scorecards as they exchanged punches in R3 and R4.
R5 was more of the same, Greer struggling to land ample combinations and instead adopting an evasive style rather than disrupting Plania's flow. Not doing enough.
Plania landed two knockdowns as Greer struggled at range
In round six, he paid for that hesitancy. Plania was visibly ushering Greer towards him, challenging him to be more open and take risks – they both knew who was winning.
Then, Greer did exactly that and was caught clean on the chin with a whipping left hook, similar to the R1 knockdown, which put him flat on the canvas again.
Plania was exuding confidence by this stage, with two knockdowns and a busy striking display, Greer needed a response and fast.
R7, he began landing varied shots to the body and finally had more urgency in his punches. For every two he threw, Plania reacted with three or four of his own.
R8 was where the fight shifted in Greer's favour. He moved forward and earned success fighting in the pocket, inflicting damage on Plania who seemed to have expended most of his energy by this point and was trying to recover.
As the stats showed, Greer landed a slightly higher percentage of power punches (160, 37% landed), though he'd also connected with less in total.
R9 was another round in Greer's favour, as he finally made the necessary adjustments to better adapt to Plania's strengths. He smothered the 23-year-old's power by moving in close and no longer allowed the fight to be dictated at range.
He was getting increasingly desperate in his attempts for a knockout punch or even a knockdown of his own, almost stalking his prey towards each corner as the clock ticked down – needing something significant to swing the fight in his favour.
However, his spirited fightback arrived too late. Magic Mike showed good ringcraft by engaging in a lot of clinching and frustrated Greer in R10, surviving to earn a shock win.
With the help of a translator, Plania spoke post-fight:
"First of all, I want to thank all my managers and my team, this [win] is going to change my life.

I've been dreaming for this since I was a kid, and now God gave me a chance. I thought he wouldn't stand up anymore, but was still focused and kept relaxed because you never know – anything can happen in boxing." 

On whether he'd be prepared to fight for a title in his next bout: "I'm always ready [for a title shot], but it depends on what my team say." 
Who are the current bantamweight champions?
WBA: Naoya Inoue (19-0), who also holds IBF title
Guillermo Rigondeaux (20-1, 1 NC) (regular)
WBC: Nordine Oubaali (17-0)
WBO: John Riel Casimero (29-4) 
IBO: Michell Banquez (19-1)
Bobirzhan Mominov earns gritty win over Cameron Krael
At super welterweight, Bobirzhan Mominov beat Cameron Krael by UD (58-55, 58-55, 57-56) in a matchup that was closer and more competitive than the previous two.
Mominov, a previous sparring partner for four-division world champion Canelo Alvarez, had not fought since March last year – this being his second fight with Top Rank.
Eager to impress and take his opportunity on a televised card, the Kazakhstani fighter immediately closed the distance and began loading up shots with combinations to the head and body.
Krael, who was rocked on one or two occasions in the first three rounds, seemed content to trade with Mominov and ate a lot of bruising punches for his troubles.
Krael found success of his own, as Mominov wanted to end the fight in the later rounds. This left his body and head open to punishment, making for a compelling finish.
Mominov's case was not helped either, after referee Robert Hoyle deducted a point in R6 for an illegal rabbit punch in the clinch.
However, he built up more than enough credit with his activity during the earlier rounds to justify a hard-earned victory on this occasion, improving his record to 11-0 (8 KOs).
Sloppy affair between two heavyweights, but Perez prevails
Elsewhere, a sloppy and quite frustrating display was on show between two heavyweights on this card. Hector Perez, moving up from cruiserweight, ultimately eased to an uninspiring unanimous decision win (60-54, 60-54, 59-55) over Juan Torres.
Torres, who made his professional boxing debut just two years ago, landed a few good hook shots which buzzed Perez. Considering their 29-pound weight difference though, his poor conditioning and technical inexperience was evident for all to see.
He couldn't move effectively and found himself comfortably out-boxed by Perez, who embraced his power before landing a few sweet combinations of his own.
At times when under pressure, it seemed like Torres was a punch or two away from being knocked out, such was his poor balance and an inability to make Perez uneasy.
The win improves Perez's record to 6-3, though their incredibly slow fight pacing made this tough to watch at times, not least in the middle of a five-fight card.
Nikoloz Sekhniashvili's heavy hands too much for Isiah Jones
In the middleweight division, Nikoloz Sekhniashvili was comfortable enroute to a unanimous decision win over Isiah Jones.
After six rounds where the Georgia international landed hard punches and was regularly aggressive against Jones, his American opponent looked visibly stunned at the power he was being forced to absorb.
It wasn't a flawless display, given his eagerness to try and finish the fight, but Jones did well to survive his heavy-handed onslaught. The 26-year-old improves to 6-0, after two judges scored the bout 60-54, while one had a round in favour of Jones (59-55).
Giovani Santillan earns contentious decision win vs. Antonio DeMarco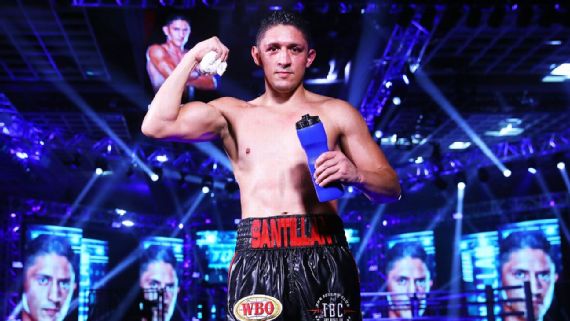 In the evening's opening bout, welterweight Giovani Santillan improved to 26-0 with a somewhat surprising majority decision win over veteran Antonio DeMarco.
Dave Moretti scored it even (95-95), but Tim Cheatham and Steve Weisfeld both scored the fight 96-94 in Santillan's favour.
Santillan was a heavy pre-fight favourite, but his Mexican opponent proved more than a tricky customer and controlled the middle rounds.
His persistent body shots were important, while the CompuBox statistics credited him for more punches (159, nine more) and power punches (129 of 307) over the ten rounds.
However, Santillan finished the later rounds strong which presumably gave him the edge on the judges' scorecards. Afterwards, he admitted he'll grow from the experience.
"He definitely showed his experience. He's been in there with some of the toughest fighters, a lot of top contenders. This is huge for me, to learn about myself and what I need to work on, my defense. When I'm on the inside, I've gotta stay a little bit more active and move my head a little bit more."
Quotes' source: ESPN / BoxingScene — pictures: Mikey Williams / Top Rank