Curtis Blaydes broke the record for most takedowns in a single fight in UFC heavyweight history, enroute to a UD win over Alexander Volkov – proving he remains among the best in his division. Josh Emmett beat Shane Burgos in the Fight of the Night, before claiming he's ready for a title eliminator at featherweight.
Blaydes' persistent wrestling tactic proves too much for Volkov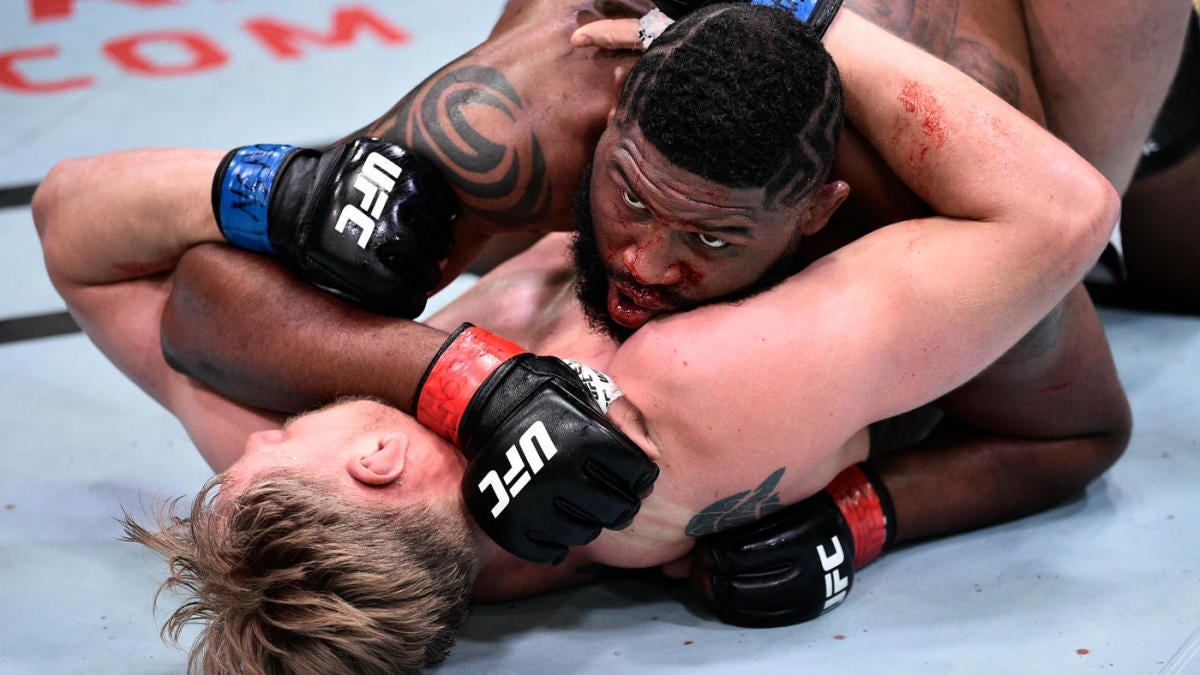 Blaydes wins via unanimous decision (49-46, 48-47, 48-46)
They say a picture is worth a thousand words and though UFC president Dana White was unimpressed post-fight, Curtis Blaydes ultimately prevailed against Alexander Volkov.
Volkov's 82.8% takedown defence – highest in UFC heavyweight history – was rendered ineffective by the division's TD king. Blaydes, entering this bout as the #3 ranked heavyweight, had only ever lost to one man: Francis Ngannou.
Although a pathway to a title shot doesn't seem clear yet for the 29-year-old, his display in a second successive main event matchup was always going to be interesting.
Within ten seconds, he threw Volkov in the air and to the ground. That control continued throughout, despite the Russian getting up multiple times, only to be put down again.
Big knees, ground-and-pound strikes, hand control and seeming dominance, Blaydes was in cruise control with his wrestling: 32 total strikes, compared with Volkov's three.
Despite some big punches early in R2, both that and R3 was more of the same from Blaydes: wrestling and dominant on the ground, albeit without any submission attempts.
It was frustrating: Blaydes' bruising right hand strikes casually swatting Volkov away from a potential stand-up battle, though he seemingly no intention to finish the fight.
That's why in R4, when Volkov started to show some resistance with his takedown defence, Blaydes' attempts were being stuffed more frequently.
Referee Herb Dean could see limited action on the ground by Curtis in top position, and urged him to do something, otherwise he would stand them up.
He did precisely that and with 40 seconds left, Volkov landed a number of nasty knees before turning the tables on Blaydes – a takedown of his own just before the bell.
Blaydes was physically exhausted and as his cornermen urged him to hang in there, they warned him about the possibility of having the fight stolen if he wasn't active enough.
Volkov landed more knees and kicks, although the stats spoke for themselves as Blaydes smartly went back to the weapon working in his favour throughout: more takedowns.
Total strikes (R1 through R5):
Blaydes: 40, 25, 23, 17, 10
Volkov: 3, 18, 10, 29, 31
Although far from an attractive win, those takedowns proved pivotal in helping him to prevail. It also means the American ties Augusto Sakai and the aforementioned Ngannou for the tied-longest active win streak (4) across the UFC's heavyweight division.
Emmett defeats Burgos in frenetic Fight of the Night scrap
Emmett wins via unanimous decision (29-28, 29-28, 29-27)
#8 ranked Josh Emmett had a tricky test on his hands against #10 ranked Shane Burgos, not least with a 5.5′ reach disadvantage against a younger opponent.
His case wasn't helped by visibly injuring his left knee in the first 30 seconds of R1. Unfazed, the pair exchanged hard hits throughout the first round.
Burgos moved forward and applied pressure, landing kicks aplenty as he looked to cut the Octagon down even further and close in on his more experienced opponent.
Calf kicks made Emmett unstable and despite failing to check those strikes, he too embraced their stand-up battle by fighting in the pocket and not backing down.
Burgos' shot selection and variation, even while the pair were trading stinging blows, had him winning R1 – but only just. Emmett wasn't going to back down easily.
R2 saw a shift from Emmett, who was clearly managing his injured left knee and trying to mask the pain.
After success with some well-timed jabs, he landed a handful of nice combos. Although the statistics didn't exactly correlate, the last two minutes of R2 saw him turn up the heat.
At the start of R3, he landed a brilliant knockdown with a swinging jab. To Burgos' credit, he recovered quickly enough to stand-up shortly afterwards, before landing an accidental inside leg kick to Emmett's groin, which caused a momentary pause.
Straight after the reprieve, Emmett continued his aggressive assault by landing another knockdown – this time with an overhand left catching Burgos square in the face.
The significant strike stats spoke volumes too: 41-18 in Emmett's favour, cranking up the pressure during a final round he firmly made his by this point, despite Burgos' defiance.
On what initially appears to be a torn ACL, the 35-year-old said:
"I hyperextended it, had no stability, it gave out and I've never experienced anything like this. All you guys – well not you guys [the commentators] – the journalists who are counting me out, I see all you guys' stuff.. you have no idea what I'm capable of.
"I blew my ACL in the first 15 seconds, another injury, I'm going to stop doing interviews with all you guys [journalists]. Power versus precision, I guess power won tonight."
On Burgos' toughness and resilience during a memorable 15 minutes, he said:
"He's a solid dude, he's going to do super well and I wish him nothing but the best. Future champion, contender, he hits hard and is tough as hell, look at how fast he could recompose. All credit to him and his team."
Statistic: After tonight's display, Emmett now has the second-most knockdowns in UFC featherweight history (10).
Finally, he highlighted what a big win like this would do for his future fight prospects.
"I knew what it would do, I'm tired of being a gate keeper… I'm not fighting anyone else behind me [in the rankings] anymore, I want to fight forward and have a shot at the title eventually."
There were some interested viewers too, including current champion Alexander Volkanovski – who faces Max Holloway in a rematch next month.
Other main card results
Women's bantamweight: Raquel Pennington def. Marion Reneau via UD (30-27, 29-28, 29-28)
In the welterweight division, Belal Muhammad earned a unanimous decision (29-28, 29-28, 29-28) win over Lyman Good in an emotional bout for Lyman, fighting for the first time since his father sadly passed away a few weeks ago.
In a catchweight bout (160lbs), Jim Miller was victorious against Roosevelt Roberts, who had a quick turnaround from his most recent fight with Brok Weaver on May 30 – but couldn't compete against the veteran's ground game.
After two minutes and 25 seconds, he verbally tapped after an armbar. The win earned Miller a $50,000 PotN bonus while Roberts (10-2) suffered the second defeat of his career.
Prelims with coach-fighter controversy in opening bout
Controversy opened the card in the lightweight division, as Austin Hubbard defeated Max Rohskopf via TKO (retirement) after R2 finished.
The latter, making his UFC debut on five days' notice, had a perfect 5-0 record but told his corner and chief cornerman Robert Drysdale repeatedly that he wanted to stop.
Nine times, in fact. Drysdale and the others didn't listen, instead urging him to fight on for the final five minutes and try his best before Nevada State Athletic Commission (NSAC) inspector Charvez Foger ultimately called it off after a brief exchange.
The video says all you really need to know:
NSAC executive director Bob Bennett said they will review the footage and decide next steps accordingly, as far as disciplining Rohskopf's corner is concerned.
"That's something we will take a look at, we might want to take disciplinary action on them. That doesn't sound like they are looking out for a fighter. Obviously, he didn't want to come out [and fight]."
Interestingly though, Drysdale said he stands by what he did in the heat of the moment.
"I expect excellence from the people I train because I love them. He wasn't seriously hurt, and I felt he needed a mental push. I would expect the same from my coach."
Elsewhere on the fight prelims, the results were as follows:
Lightweight: Bobby Green def. Clay Guida via UD (29-28, 29-28, 30-27)
Women's strawweight: Tecia Torres def. Brianna Van Buren (30-27, 30-27, 30-27)
Middleweight: Marc-Andre Barriault def. Oskar Piechota via R2 TKO (punches), with just ten seconds left in the round.
Woman's flyweight: Gillian Robertson def. Cortney Casey via R3 submission with a rear-naked choke.
In a catchweight (158lbs) bout, Justin Jaynes def. Frank Camacho through a stunning R1 TKO (punches), just 41 seconds after the first bell. Jaynes also won a $50k PotN bonus.
Women's flyweight: Lauren Murphy def. Roxanne Modafferi via UD (30-27, 30-27, 29-28)
Pictures' source: CBS Sports, MMAFighting.com, MMAjunkie