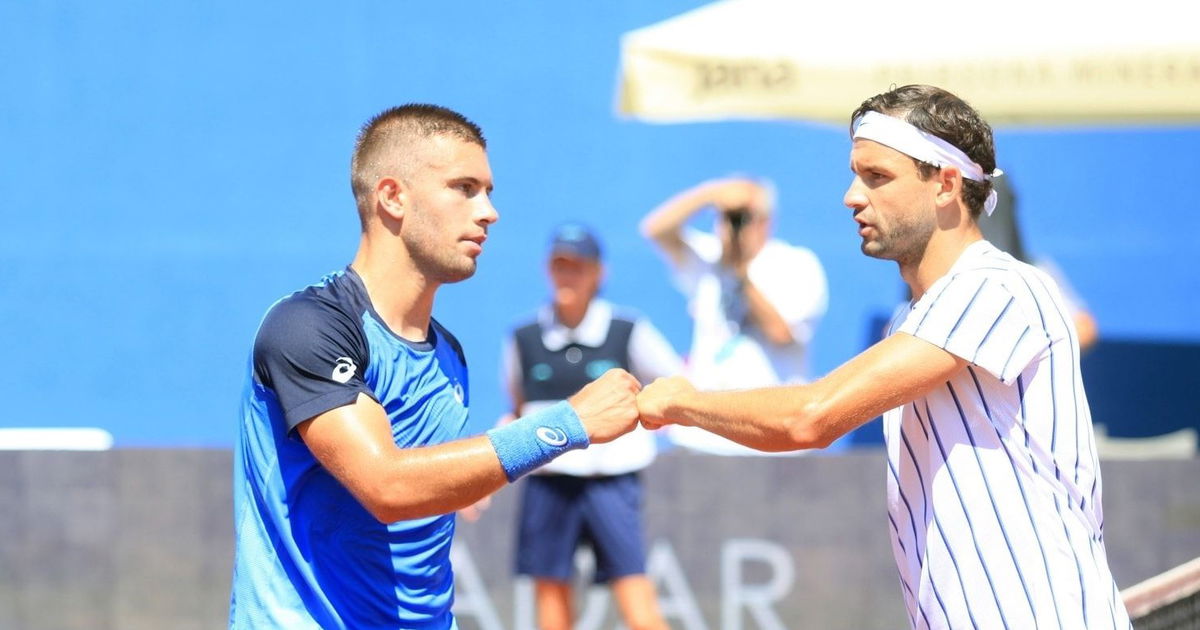 The pair, who featured in the Adria Tour, revealed they have tested positive for coronavirus. They travelled to Croatia and Serbia for Novak Djokovic's charity-themed tournament, which was criticised after evidence of no social distancing.
ATP play has been suspended since March because of the coronavirus pandemic, but an exhibition tournament called the Adria Tour began last week in Serbia and Croatia.
A competition run by world no.1 Novak Djokovic, Dimitrov lost 4-1, 4-1 to Borna Coric on Saturday before withdrawing ahead of a scheduled match against Novak yesterday.
The final in the Croatian coastal resort of Zadar was subsequently cancelled as a result.
A charity event to be contested over four legs across the former Yugoslavia, Djokovic's fitness coach Mancho Panichi has also tested positive, according to reports from Serbian daily Sportski Zurnal, quoting Croatia's health institute.
Dimitrov, 29, is ranked 19th in the world and is now resting and recovering at home. Widely considered one of the best active men's players to have not yet won a Grand Slam singles title, this issue emerging is the last thing the Bulgarian needs right now.
READ: USTA moving ahead with plans to start US Open on Aug 31, despite concerns
The tournament witnessed packed stands during the opening leg in Belgrade, while players hugged at the net, were posing for pictures together and danced at clubs.
As both Serbia and Croatia eased their lockdown measures weeks beforehand, players were not obliged to observe social distancing rules in either country.
They were still expected to. Across the two nations, there were new 109 new COVID-19 related cases over the last 24 hours and their lax rules have impacted other sports too.
Coric also tests positive, the news justifiably met with frustration
23-year-old Coric, currently ranked no.33 in the world, took to Twitter to announce he also tested positive but is asymptomatic.
"I want to make sure anyone who has been in contact with me during the last few days get tested. I am really sorry for any harm I might have caused – I'm feeling well and don't have any symptoms." 
In a statement by the event organisers, they said: "It is recommended that anyone who has been in close contact for more than 10 minutes with the tennis player be advised to self-isolate for 14 days and to contact their doctor."
READ: Britain no.1 Dan Evans eyes US Open return, feels tennis is falling behind
Alexander Zverev, world no.7, also spoke while confirming his test returned negative.
Croatia's Marin Cilic and Russian Andrey Rublev – both of which also played the Adria Tour – said they tested negative for the virus but will follow self-isolation guidelines.
Nick Kyrgios was unhappy the event took place at all, saying this on social media:
Elsewhere, American legend Chris Evert had previously criticised the organisers for a lack of social-distancing, saying (H/T: Guardian): "Total physical contact, no face masks, even the fans were without masks I don't get it."
It'll be interesting to see how these developments affect the ATP's proposed resumption of play, as a small-sized event like this having such a negative impact will be monitored.
Information source: Guardian and Reuters