There were contrasting title defences for Kamaru Usman and Alexander Volkanovski, while Petr Yan became Russia's second-ever UFC champion with an impressive TKO victory during a stacked card – kicking off the first of four Fight Island events in Abu Dhabi this month.
Usman overwhelms Masvidal to earn second welterweight title defence
50-45, 50-45, 49-46: Kamaru Usman beats Jorge Masvidal via unanimous decision
There was no baptism as promised by Masvidal, who begun quickly with energy and power but was lulled into a false sense of security against Usman over 25 long minutes.
Taking this fight on six days' notice after Gilbert Burns tested positive for coronavirus last weekend, the charismatic underdog had nothing to lose and plenty to gain here.
In his 49th MMA fight, the 35-year-old relished an opportunity he's waited long enough for, a main event welterweight title shot.
Bad blood between himself and Usman hasn't been kept secret over the past year either, though Kamaru's wrestling skills simply were too much for the challenger here.
In his second title defence, Usman was forced to think quickly and pounced to land an early takedown after Jorge loaded with quick leg kicks.
Once they eventually returned to their feet, Masvidal again persisted with those fast-paced strikes – showcasing his superior stand-up abilities.
In the first three minutes, Jorge had a 27-8 advantage in total strikes landed enroute to an encouraging opening round. Unfortunately though, that was as good as it got.
Trevor Wittman, trainer for Justin Gaethje and Namajunas among a select few, was in Usman's corner here and urged the champion to "rip to the body" whenever possible.
Despite Masvidal's excellent takedown defence (69%, stuffed 11 of 16), they traded knees and Kamaru went to work smartly slowing the fight's pacing right down.
Jorge's explosive bursts weren't going to last, Wittman warned, and the 46-year-old was proven right soon enough.
Usman pushed him up against the cage and landed multiple shoulder strikes while keeping him at range, though two accidental head clashes in the clinch left Masvidal with some troubling cuts that needed treatment in-between rounds.
R1, Jorge outstruck the champ by 34-25. R2? 94-21 in Usman's favour.
Usman had already earned almost six minutes of control time and immediately went to work trying to earn another takedown.
As he landed strikes in the clinch, referee Marc Goddard temporarily paused the action as Masvidal shouted foul for a low-blow – which was debatable.
After a breather and some stern words for both from the official, proceedings continued in the same manner as before, Usman landing another takedown and taking his time before eventually landing elbow strikes from top position.
This was a methodical breakdown, round-by-round, from Usman. A nasty leg kick which reveberated around the cage, some body shots and back to his big weapon: wrestling.
Despite Masvidal's commendable takedown defence, he found himself under constant pressure and couldn't engage Usman in a stand-up battle for too long.
Instead, he grinned madly after absorbing a handful of big shots – both in the clinch and immediately follow – perhaps he subconsciously knew he was edging closer to defeat.
After a spirited flurry late on in R5, the bell sounded to confirm Usman's wrestling dominance. They exchanged words and embraced before the decision was announced, a comprehensive victory and expertly-executed gameplan by the champion.
"I'll get a couple wins, [then] we'll run it back," Masvidal said just before Bruce Buffer read out the judges' scorecards.
Usman-Masvidal: total strikes landed
263 of 341 (77%) vs 88 of 157 (56%)
significant strikes: 94 of 151 (62%) vs 66 of 125 (53%)
"Gamebred is the biggest, baddest dude and I had to switch gears and prepare for him on six days' notice. All these guys are preparing for me, I trained for Gilbert but no excuses. He's Gamebred for a reason but I'm a different level.

I have more tools in the toolbox – when I need them, I can pull them out. I'm at the top of the mountain, there's never a shortage of contenders. I've been training since February, this was supposed to happen in April, then May, June." 
Perfect timing for this tweet to surface immediately afterwards then:
He also credited Wittman and his grappling coach Jorge Santiago among others, who were key in helping keep him alert to Masvidal's strengths.
Their corner work in-between rounds was important, managing him throughout a fight that left many casual fans disappointed but allowed him to execute his tactics perfectly.
Statistic: Usman (17-1) has now tied 2020 Hall of Famer Georges St-Pierre for the longest active win streak (12) in UFC welterweight history.
Volkanovski sneaks title defence against an improved, slick Holloway
47-48, 48-47, 48-47: Alexander Volkanovski (c) beats Max Holloway by split decision 
Holloway's disciplined display and noticeable improvements came as a welcome surprise after their initial fight ended with a UD defeat at UFC 245 in December.
25 minutes later though, there was an unwanted surprise on the judges' scorecards as Volkanovski somehow managed to steal a result on two of the three cards.
It means the Australian's first title defence was successful, though none of the media in tonight's post-fight press conference seemed to believe so when Dana White asked them.
This also leaves Holloway in an uncertain crossroads at an important point in his MMA career, after suffering back-to-back defeats for the second time since turning pro in 2010.
You certainly wouldn't have predicted the outcome after seeing Holloway start so well in the first three rounds.
R1 saw slick movement from the 28-year-old, who was consciously adopting a more narrow stance than their previous fight.
Calm, composed and unsettingly relaxed from Volkanovski's perspective, the champion went to work by landing the same leg kicks which proved key in last year's victory.
To his credit though, Max was connecting with good strikes whenever Volkanovski edged forward and tried to close the distance. He also landed a beautiful kick with three seconds left in the round, scoring a flash knockdown.
That aggressive striking was hurting Alex with frequency, while you could tell Holloway wasn't over-exerting himself while doing so. He looked sharp and importantly landed leg kicks of his own, dishing out some punishment while mixing up his strikes.
It was frustrating from Volkanovski's perspective, as Holloway was the clear aggressor and largely kept him at range where he was able to control the fight's pacing.
Another knockdown arrived for Holloway, this time landing an uppercut which brought the champion to his knees once again. Things didn't look good for the Australian.
R3 is where things started to shift. Volkanovski's lack of urgency was frustrating at times, while his takedown attempts were met with good defence by the challenger.
Just as his corner told him, this round was better from the champ. It was closely fought in terms of striking exchanges, though Holloway did well to absorb damage while being evasive and showing good head movement when he needed to.
Into the championship rounds, Volkanovski was finally beginning to show more urgency.
Max's thighs were bright red though the champion wasn't exactly untouched either – both landed shots – while Holloway connected with a good combination and continued earning success by mixing up his striking to avoid predictability.
Perhaps crucially as far as point scoring was concerned, Volkanovski completed a takedown. He attempted another after Holloway's quick recovery from the ground, though Max unleashed some perfectly-timed punches to defend against it in the clinch.
R5 saw both fighters – particularly Volkanovski – looking for the finish. His intensity levels had increased, knowing full well that he was potentially losing and needed a big final round.
Having absorbed a nasty leg kick, he landed a strike of his own before they traded head kicks and strikes aplenty. Holloway's one-two combination was greeted with a timely takedown, though again he was unable to do much with the fight on the ground.
Holloway got up and displayed his impressive takedown defence (stuffed 6 of 9 attempts), as the champion's increasing activity felt too little, too late in truth.
Then came a dubious split decision victory in his favour, one he's more than glad to take considering the circumstances. Now 2-0 against Holloway, he insisted the job was done.
"It was a tough fight – he stood there, didn't take a backward step, made it tough for me in the early rounds. I dug deep and had to win the last round. I'm a well-rounded fighter, wasn't using the kicks as much but again, got the job done.

We had ten rounds, I was able to dominate but he still won some [of those rounds] so credit to him, he's durable and I maybe thought I could take him out but he did well." 
He's eager to "get another one [fight] in," before the end of 2020, saying that he's chasing all of the division's contenders and eyeing their progress as they look to challenge him.
Stat: Only champions Khabib Nurmagomedov, Kamaru Usman (both 12) and Amanda Nunes (11) boast longer win streaks than Volkanovski (9) across the UFC.
Petr Yan relentless in TKO victory over Jose Aldo, becomes new champ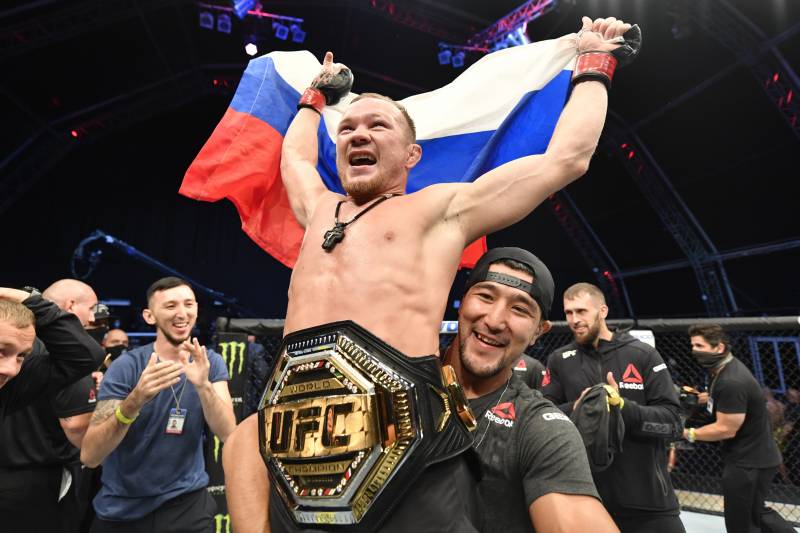 Petr Yan def. Jose Aldo via R5 TKO (3:24), becomes new bantamweight champion
Petr "No Mercy" Yan was crowned the UFC's new bantamweight king and did so with style with a big statement victory against a tricky opponent in the evergreen Jose Aldo.
They embraced to start R5 and it appeared a prophetic move by the Russian, who landed a stunning one-two punch before moving in for the kill.
He connected with merciless – no pun intended – ground and pound strikes, as well as heavy elbows, as Aldo's head was planted against the mat in a turtle position.
It didn't make for comfortable viewing and although referee Leon Roberts audibly urged Aldo to defend himself from those repeated blows to the head, he didn't do the Brazilian legend any favours by allowing the onslaught to continue deep into the final round.
Cejudo, who shocked many by announcing his retirememt and vacated his titles after beating Dominick Cruz at UFC 249, had plenty to say on Twitter afterwards.
Yan rocked Aldo with a stinging left jab early in R1, though Aldo – who promised he'd utilise his kicking – made sure to target the Russian's legs.
He buckled and was wobbled after a handful of bruising calf kicks, though Aldo's takedown attempt drastically backfired in the final 30 seconds as Yan landed strikes in top position and visibly hurt him with a body shot that saw him wincing with pain.
R2 was more encouraging from Aldo's perspective.
While referee Roberts continued warning Yan about his outstretched fingers, the 33-year-old was persistent in loading up on leg kicks, landed some good body shots and kept Yan on his toes – with a heavily reddened calf for good measure.
R3, Aldo went back to work with shots to the body but Yan responded as a champion does: outlanding the Brazilian, who appeared wobbly despite some encouraging spells.
It was a back-and-forth affair, evenly matched up until R4. The championship rounds was where Yan excelled.
Having absorbed yet more body shots, Yan's intensity was progressively increasing as the minutes wore on while Aldo was visibly fatiguing and tried his utmost to be evasive.
Problem is, in a 25-foot Octagon, there's limited space to manoevure when you're constantly under pressure and you have a hungry challenger wearing you down.
After landing a nasty uppercut and sweeping him onto the mat with some brutal strikes in top position, this sequence was ultimately the beginning of the end for Aldo.
Statistic: Yan connected with a career-high and division record 194 significant strikes over the five rounds against Aldo. He's now tied with Raphael Assuncao and Renan Barao for the longest winning streak in UFC bantamweight history. 
Namajunas absorbs damage but oustrikes Andrade, wins rematch
29-28, 28-29, 29-28: Rose Namajunas beats Jessica Andrade via split decision
In a hotly-anticipated rematch from UFC 237, #2 ranked strawweight Namajunas was victorious and avenged her defeat during a strike-heavy Fight of the Night clash.
#1 ranked Andrade, who was losing their five-round battle 13 months ago, connected with a devastating slam knockout to win UFC gold in style.
Despite losing the strap just three months later against current champion Zhang Weili, this was billed as a number one contender bout and certainly lived up to the billing.
R1, Namajunas started well and was quickly in the ascendancy – though Andrade landed a number of shots to keep the round fairly competitive throughout.
R2 was more of the same, they exchanged nasty one-two combinations as you could sense Jessica was trying to lull the Milwaukee-born favourite into a dogfight.
Rose was unbothered, using her reach and height advantages to good effect – creating distance and forcing Andrade to approach her, rather than the other way around.
That was rather emphatically reinforced by the volume of head strikes landed after R2, with a 58-17 advantage in the way of Namajunas.
As time wore on in R3, Rose's striking speed was evident but Andrade's punch power certainly gave her an unpredictable edge heading into the final minutes.
Namajunas' corner stressed the need to hold her ground.
Andrade was under pressure to change levels and questions over her ability to achieve a knockout finish – like during their initial fight – were soon answered.
She landed a big strike which rocked Namajunas, before a timely hip throw tossed the 28-year-old to the canvas. In fairness to Rose, she displayed good recovery defence while still clearly hurt before they eventually returned to their feet.
Both landed stinging shots as Andrade was visibly loading up on her punches. Who could blame her? She earned more success and could sense an opportunity, though Namajunas was wily enough to sense danger, absorbing plenty of punishment, without wilting.
Her defiance was on full display after Andrade landed a devastating jab and uppercut late on. She shrugged it off and continued moving forward before the final bell sounded.
This fight continued at a relentless pace – neither woman was prepared to be stopped.
Both landed a number of nasty haymakers over the 15 minutes, especially Namajunas in R2, which served as encouragement for Andrade to respond with one of her own.
Andrade-Namajunas – total strikes per round:
18-31
28-31
33-20
Afterwards, Namajunas said it was important she was "in the right state of mind," and admitted this fight was mostly fun from her perspective.
"I was great and then she turned on the desperation button, started unloading but I stayed strong."
On her next fight, the former champion said she was initially eyeing a return before the end of 2020 but after sustaining a nose injury here, must first assess the damage.
Statistic: With this win, Rose Namajunas overtakes Andrade (8) and is now second to only Joanna Jedrzejczyk (10) for the most strawweight victories in UFC history. 
Ribas cruises to effortless R1 submission against emotional VanZant
Amanda Ribas def. Paige VanZant with R1 armbar after 2:21
Ribas entered this encounter as an overwhelming favourite and made quick work of the night's first main card bout.
Quickly closing the distance, the Brazilian proved precisely why she's so highly-rated – now 4-0 in the UFC since her debut 13 months ago.
After some impressive grappling, she landed a hip throw and eased to victory. VanZant tried her best to exit but quickly found herself countered on the mat and as Ribas transitioned to armbar with her back, the tap was inevitable.
"Thank you to the UFC, giving me the opportunity to fight here, do my work and this fight – I can prove to myself and the world, it doesn't matter where or who you are, what matters is what you want to do in your life."
Ribas has ambitions to be a two-division champion and said she's eyeing a move back to her natural weight – the 115lb-category – after this impressive first-round victory.
Featured prelim: Prochazka marks UFC debut with knockout
In the night's featured prelim, Volkan Oezdemir made his long-awaited return to the Octagon after successive wins over Ilir Latifi and Aleksandar Rakić to end 2019.
Unfortunately for the Swiss international, he was stunned by a gamely and heavy-handed Jiri Procházka on a memorable UFC debut – who blasted him early in R2 after they exchanged strikes, though he wasn't happy with his performance post-fight.
Statistic: This was Oezdemir's first knockout defeat of his career, who is now 17-5.
---
Prelims and early prelims
In the welterweight division, Muslim Salikhov beat Elizeu Zaleski dos Santos via split decision (30-27, 28-29, 29-28).
Featherweight Makwan Amirkhani was victorious against Danny Henry with a first-round submission, through an anaconda choke. He improves to 17-2, extending his win streak to four victories.
As for lightweights, Leonardo Santos earned a comfortable UD victory (29-26, 29-26, 29-26) victory over Roman Bogatov.
There were comfortable UD wins for heavyweight Marcin Tybura (30-27, 30-27, 30-26 vs Maxim Grishin) and Karol Rosa (30-26, 30-26, 30-27 vs Vanessa Melo) in her catchweight bout, as they earned impressive victories in the night's early prelims.
In a catchweight bout at 129lbs, Raulian Paiva prevailed with a closely-contested unanimous decision win (29-28, 29-28, 29-28) against Zhalgas Zhumagulov.
England's Davey Grant won Performance of the Night honours and improved to 12-4 after scoring a third-round knockout victory over fellow bantamweight Martin Day to kick off the evening.
Pictures' source: MMAjunkie, Bleacher Report, Bloody Elbow, Yahoo Sports — stats via UFC