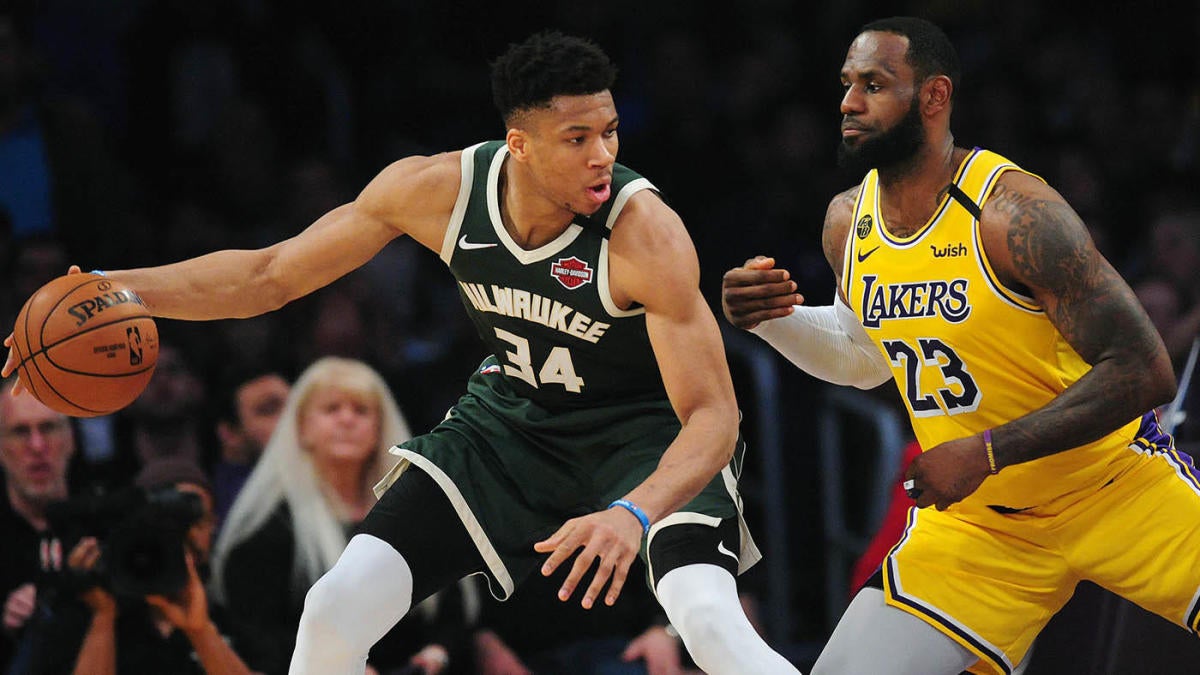 After news broke this weekend that the race for NBA's regular-season individual awards were officially over, the MVP conversation returned. Bucks head coach Mike Budenholzer said that Giannis Antetokounmpo has done "more than enough" to secure back-to-back accolades, while Lakers HC Frank Vogel disagrees.
Before the season was suspended indefinitely in March, the Bucks (53-12) and Lakers (49-14) were the league's two best teams in their respective conferences.
It's fair to say that some of their stars are in the running for the 2019-20 awards, as a result. Giannis, LeBron James and Anthony Davis have emerged during a fantastic season thus far – though there's still work to do, starting later this month in Orlando.
Vogel lavishes praise on LeBron and AD
Lakers' head coach Vogel today told reporters that LeBron should be voted the season's MVP, while Davis should also take home the Defensive Player of the Year accolade.
The 47-year-old was quoted as saying:
"Nobody impacts winning more than LeBron James, I do believe that he should be MVP this year and Anthony Davis the Defensive Player of the Year. I hope those awards go to our two players.

We're the third best defence in the NBA, best in the West and a lot of that comes from [James'] commitment this season, which has been greater than the last few years from what I'm told, has really set us apart." 
Giannis won the MVP award last summer, while James is a four-time winner of that accolade during his 15-year illustrious career to date.
Davis has never finished higher than third place as far as the defensive distinction is concerned. He'll be up against stiff competition in that regard too, with Giannis and Ben Simmons (Philadelphia 76ers) among those in serious contention to win this summer.
How do their individual statistics compare? 
James: 25.7 points per game, 10.6 assists, 7.9 rebounds, 1.2 steals, 0.5 blocks, 49.8 FG%
Giannis: 29.6 points, 5.8 assists, 13.7 rebounds, 1.0 steals and blocks, 54.7 FG%
What did Budenholzer say about Giannis?
When told about the league's decision to end the seasonal individual award races before the 22-team resumption later this month, Budenholzer was unaware but reaffirmed his belief that Giannis should be rewarded after an even better campaign in 2019-20.
"I had no idea that was the case, but it makes sense. I think it was 64, 65, 66 games for different teams, so that's certainly a significant body of work and more importantly, certainly, Giannis, in our minds, has done more than enough to deserve a back-to-back MVP. 

What he does for us on both ends of the court, what he does every night, the way he sets the bar for us, culture-wise, work ethic-wise, just as a teammate. He's an incredible teammate, plays unselfishly, does everything.

I think that's kind of what the MVP is, so we certainly feel like he's very deserving and we'll be excited to support him." 
Statistics: If Antetokounmpo does manage to win this season's award, he will join LeBron (25 in 2009-10) and Kareem Abdul-Jabbar (24 in 1971-72) as the only players to win multiple league MVPs at age 25 or younger. He would also join Tim Duncan and Steve Nash (both two) as the third player born outside the US to win multiple MVPs.
What's next?
Milwaukee return to action against Eastern Conference rivals Boston on Friday, July 31.
As for the Lakers, they face a similarly tricky test against their local rivals Clippers – who are also targeting serious title contention this summer – 24 hours earlier.
Information source: ESPN Stats & Information Research