Since his second retirement in 2017, MMA legend Georges St-Pierre has received multiple callouts. Kamaru Usman, who equalled GSP's streak for most wins in UFC welterweight history at UFC 251, called him out after his latest victory. Despite praising the Nigerian Nightmare, the 39-year-old Canadian is content staying retired.
Usman successfully defended his welterweight strap against Jorge Masvidal at UFC 251.
Although his training teammate Gilbert Burns is next in line for the 33-year-old, he's regularly shown desire to set up a special bout against a legendary figure in St-Pierre.
Unfortunately for him, that won't be happening after all.
Usman's eagerness to play matchmaker with big fight vs. GSP isn't new
Back in early January, he outlined his plans in an interview with MMAFighting.com:
"2020, the only thing that makes sense, I'm right there about to break the record for most consecutive wins [at welterweight] and I'm the champion.
The guy that holds the record, the guy that's just above me, is Georges St-Pierre. It's only right that I break that record on GSP."
READ: MMA legend Georges St-Pierre to be inducted into UFC Hall of Fame
Although an unprecented pandemic has impacted sports and life as a whole in the months since then, Usman didn't relent with his wishes during a TMZ interview.
"Right now we're tied for the record – most consecutive wins in the welterweight division – and Georges is a tough guy. Georges is a legend, a guy who has put his time in and is considered one of the best, where I aim to be.
Georges can still do it: he proved it, what, two years ago when he came back. He's still able to come in and be that opponent where people are unsure."
The comeback victory over Michael Bisping at UFC 217 in November 2017, four years after his split decision win against Johny Hendricks, is the win Usman refers to.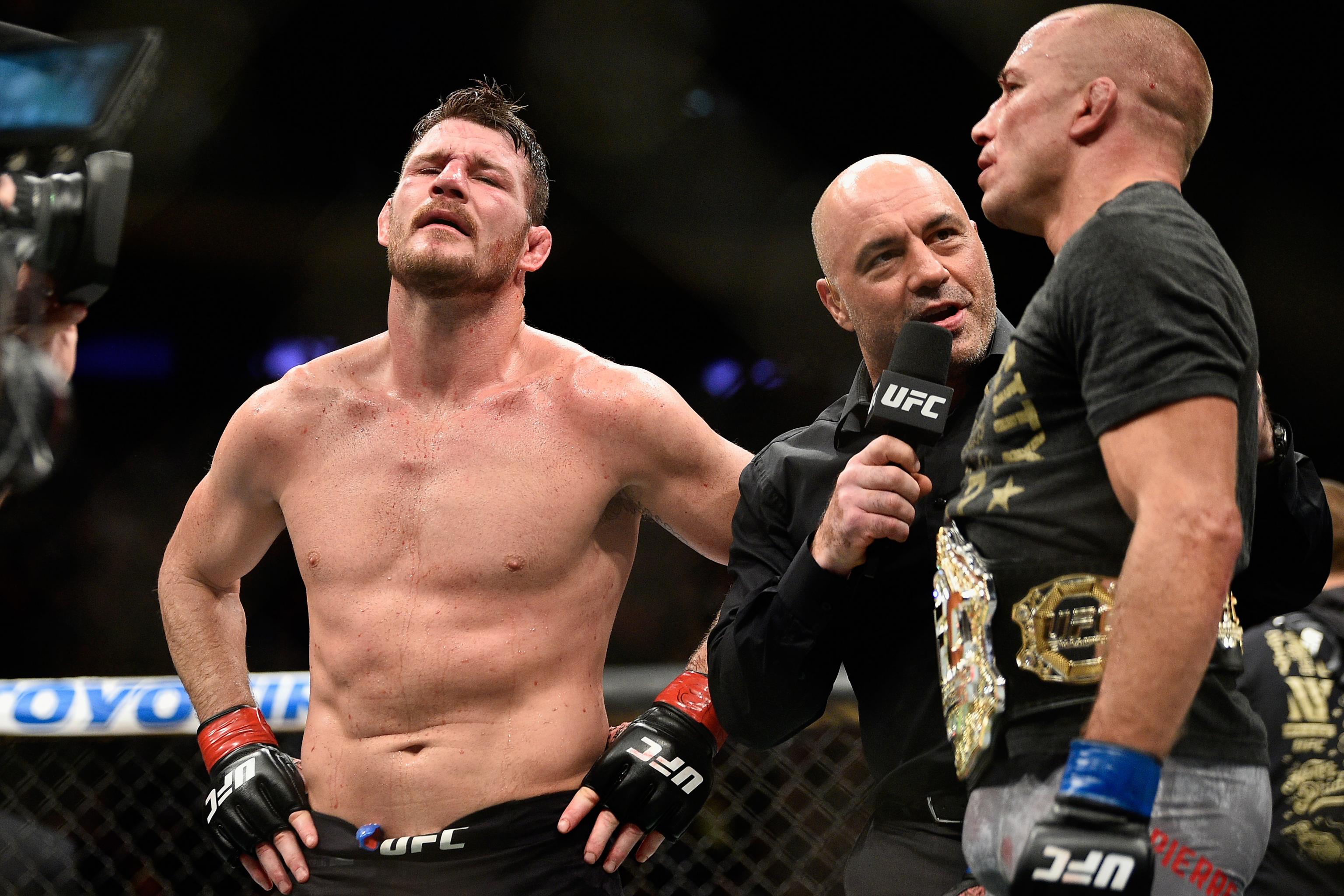 He won on his middleweight debut, snatching the title too with Performance of the Night honours in New York that night after a third-round submission (rear-naked choke).
"Georges knows what he's done with his legacy, he's cemented it. Put in the time, the work and that's why he sits at the top as one of the best ever.

So I'd love to test myself. I'm a martial artist like he was and if he still has some fire burning in that oven, let's test it out. Let's go out, see if he can still do it."
GSP at peace with how things are in retirement
During an interview with TMZ, St-Pierre said it's testament to his status that world-class fighters persist in their attempts to draw him back into the Octagon. It doesn't help when he watches fights and believes he can beat them too.
"For me, it's very complimentary because for a fighter the goal is to work – and not only for a fighter, but the goal is to do as less [little] work possible to gain the most money.

They know a fight with me will give them a lot of money, if they win they can have the legacy that comes with it.

Sometimes I'm watching the fight and I'm like 'man, I think I can beat these guys.' or when I'm done training, I'm very confident. After I go home and I'm thinking about all that crazy thoughts I'm like, I'm gonna be 40 soon."
He said he's unwilling to go into a hardcore training camp and put himself "in jail" to prepare for hell come fight night again, while also aware of the dangers that come with retiring too late – taking excess punishment and potentially tarnishing legacy by doing so.
"I think for me, it's better if I stay retired and I have other big projects right now. I still stay a big fan of the sport, I love to watch Kamaru, all the best guys in the sport."
Nonetheless, he also reserves praise for Usman
On his dominant UD victory against Masvidal earlier this month:
"He's amazing, what a great fight. He's very smart. Everybody talks about his physical abilities and his skills, but I think what his best attribute is, his brain.

He's very smart, very good at becoming the perfect nemesis for his opponent – almost fought the perfect fight. He's an amazing fight and gonna go far, he's gonna be one of the best if he keeps going like that."
In terms of a return later down the road, he said the UFC "knows where to find me" while suggesting there's always a chance if the opportunity makes sense.
The only opponent that appears likely somewhere down the line, is against the unbeaten lightweight champion Khabib Nurmagomedov (28-0).
But finally on Kamaru, he said:
"I need to stay objective, smart about my decisions and right now to come back to fight for the welterweight title against Usman and risk it all, there's more cons than pros. So it's not worth it for me."
Opening picture source: talkSPORT — quotes' source: MMAFighting.com, unless stated