The NBA's resumption continues on Monday as Miami and Oklahoma look to build after opening weekend victories in difficult encounters to kick off the new week. Read on for match previews ahead of Heat-Raptors and Thunder-Nuggets across the two conferences as teams get up to speed from the Orlando bubble.
Miami Heat vs Toronto Raptors: Eastern Conference rivals clash
Tip-off time: 6:30pm GMT
Miami stunned Denver with a 125-105 victory against one of the West's top sides, before Toronto showed they're primed to defend their championship crown by comfortably beating the Lakers. Who will prevail in this one?
The ball movement and defence on display was admirable to say the least from Miami, enroute to a well-earned victory against the Nuggets on Saturday.
They kept Denver's Nikola Jokic to 19 points on 7-of-16 shooting, while Jerami Grant (7-of-14, also 19 pts) was more efficient from the bench.
It rather told a story that Erik Spoelstra's men are prepared to grind their way to impressive victories and did so with multiple scoring options scattered across the floor.
Toronto were happy to capitalise against the slow-starting Lakers after their gruelling battle with crosstown rivals Clippers two days earlier, but Kyle Lowry led the game.
33 points, a career-high 14 rebounds and six assists with five threes to boot? He'll be key in this matchup too.
Key players to watch out for
Heat: Bam Adebayo
For their last game, I picked Jimmy Butler (6-of-11, 22 points, seven assists) and in fairness, the 30-year-old didn't disappoint.
Crucially though, neither did first-time All-Star forward Bam against Denver.
He had 22 points, nine rebounds and six assists in 28 minutes on 7-of-12 shooting from the floor. Continuing to show why he's so highly-regarded, the 23-year-old was a reliable scorer and stifled the Denver offense too.
After that encouraging display, he's got an even tougher test against Toronto next. In two meetings with Nick Nurse's men this term, Bam is recording close to his season average stats but needs another big performance to overwhelm the East's second-best team.
Raptors: Fred VanVleet
I highlighted Siakam last time out and in fairness, he struggled with his shot (5-of-17, 15 points) against the Lakers.
So, I've gone for a guard whose stock is continually rising in VanVleet.
Averaging career-highs in points (17.5), assists (6.7), rebounds (3.8), steals (1.9) and minutes (35.9) this term, the 26-year-old has grabbed his opportunity with both hands.
Across both teams, no-one played more minutes than his 40 against the Lakers and it was a commendable display. Heralded as a sharpshooter, he made three shots from deep but his playmaking really came to the fore.
With a game-high 11 assists to accompany 13 points, five rebounds, a steal and block, he'll be itching to showcase more against tough opposition here.
Who's more likely to win here? The breakdown
Toronto are slight favourites to win this encounter, with a 58% advantage in their favour according to ESPN's Basketball Power Index.
After blasting the Lakers off the court on Saturday night, it's easy to see why. Miami have already exceeded expectations this term and boast a deep roster, though Toronto possess big-game experience.
Will that prove the definitive factor here? Nick Nurse knows the Raptors can get better, while Miami's bench unit – aside from Kelly Olynyk (20 points, five rebounds, three assists) were largely underwhelming in their latest victory.
In H2H meetings, Miami hold a 20-game win advantage vs. Toronto. After being swept 4-0 in 2018/19, the Heat have won both encounters this season and should be bullish about their chances here.
Predicted line-ups
Heat: Kendrick Nunn, Duncan Robinson, Jimmy Butler, Jae Crowder, Bam Adebayo.
Raptors: Kyle Lowry, Fred VanVleet, OG Annuoby, Pascal Siakam, Marc Gasol.
Prediction: Raptors to win
---
Oklahoma City Thunder vs Denver Nuggets: OKC hope to extend streak
Tip-off time: 9:00pm GMT
After a morale-boosting win against the Jazz on Saturday, Billy Donovan's Thunder team will be determined to build from that. Up next, they face their Western Conference rivals in a depleted Denver Nuggets side on Monday.
After impressing in stages against Miami, can the Nuggets prevail even with injured men watching on helplessly? Or will OKC extend their win streak to five games here?
OKC (41-24) had multiple double-digit scorers against Utah, with Shai Gilgeous-Alexander (19) and Chris Paul (18) leading the way.
If you've watched them play at all this season, that's not at all surprising.
Although the regular-season awards are now being voted for, Dennis Schroder reminded everyone of his strong case for Sixth Man of the Year.
He had 13 points, two assists and rebounds with a steal in 22 minutes – while there were also encouraging bench displays from Hamidou Diallo and Darius Bazley.
I think the latter may earn a start over Luguentz Dort after the 21-year-old endured a rough shooting evening, but Denver have their work cut out.
Bol Bol impressed during a cameo from the bench against Miami, while a familiar face could come up with a big performance against OKC in this one…
Key players to watch out for
Thunder: Chris Paul
I went for SGA last time out and while both impressed, the onus could be on his backcourt partner to push the pace against a rigid Denver defence.
In two H2H meetings this term, he's been excellent against the Nuggets and will want to continue that momentum as the season intensifies.
Nuggets: Jerami Grant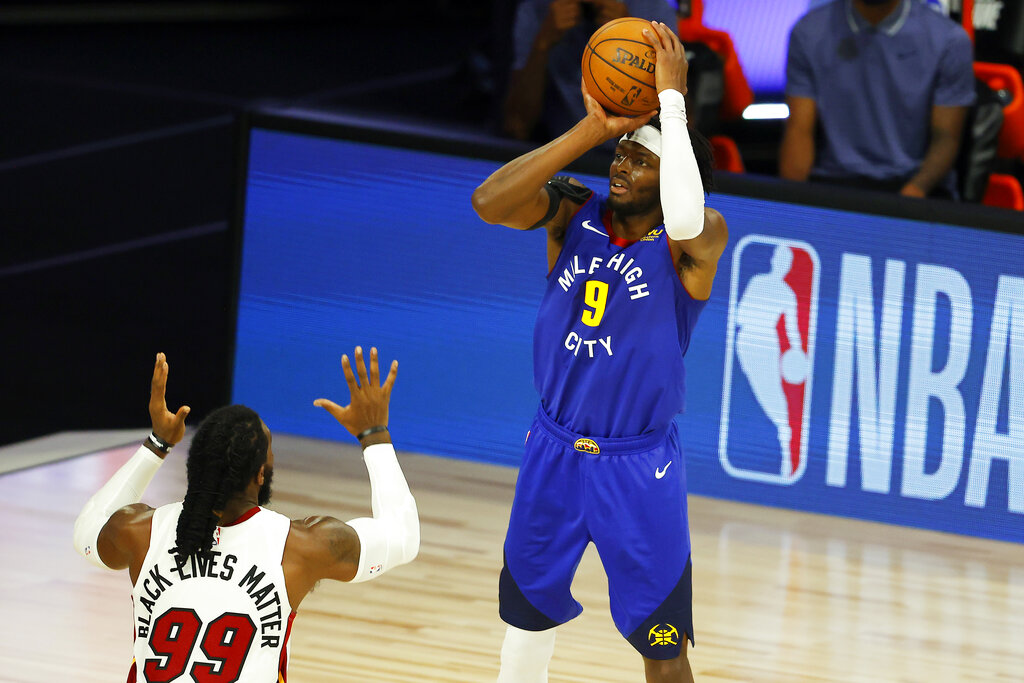 Following three years in Oklahoma, Jerami was traded to Denver last summer in the aftermath of the blockbuster Paul George trade.
His shooting statistics remain fairly steady, with incremental increases in three-point percentage (39.7%) and PER (14.2) from last year.
After exceeding his season averages for points with 19 on 7-of-14 shooting from the bench against Miami, he'll target similar success against his former teammates.
Who's more likely to win here? The breakdown
Denver are slight favourites to win this encounter, with a 53.4% advantage in their favour according to ESPN's Basketball Power Index.
Although they have some missing players, it's perhaps justified – they are third in the West and would be higher, if not for some strange results just before March's shutdown.
However, as Miami showed on Saturday, they clearly miss Jamal Murray's scoring production.
Gary Harris (hip) and Will Barton (knee) have both featured in training, yet were also sidelined so didn't take to the floor for their first competitive match in almost five months.
Precaution makes sense too, at such a delicate stage of the campaign. Mike Malone can ill-afford any more injury problems so his hesitancy to play those who aren't yet fully fit is understandable.
However, the Thunder will be quietly confident of achieving a result here.
They have no injuries to contend with, a motivated squad with surprise packages scattered across their roster and are ready to blossom towards the postseason.
Predicted line-ups
OKC: Chris Paul, Shai Gilgeous-Alexander, Darius Bazley, Danilo Gallinari, Steven Adams.
Nuggets: Monte Morris, Torrey Craig, Michael Porter Jr, Paul Millsap, Nikola Jokic.
Prediction: Thunder to win
Monday's full NBA schedule
6.30pm GMT: Raptors-Heat
9pm: Nuggets-Thunder, Indiana Pacers vs Washington Wizards
11.30pm: New Orleans Pelicans vs Memphis Grizzlies
Tuesday, 1am: San Antonio Spurs vs Philadelphia 76ers
2am: Utah Jazz vs Los Angeles Lakers