Stipe Miocic retained his heavyweight title after going the distance with Daniel Cormier in their highly-anticipated trilogy fight, cementing his standing as one of the UFC's all-time greats by retiring DC with a gritty unanimous decision win. There were also statement victories for Marlon Vera and Jairzinho Rozenstruik.
Miocic earns second win over retiring Cormier, retains HW strap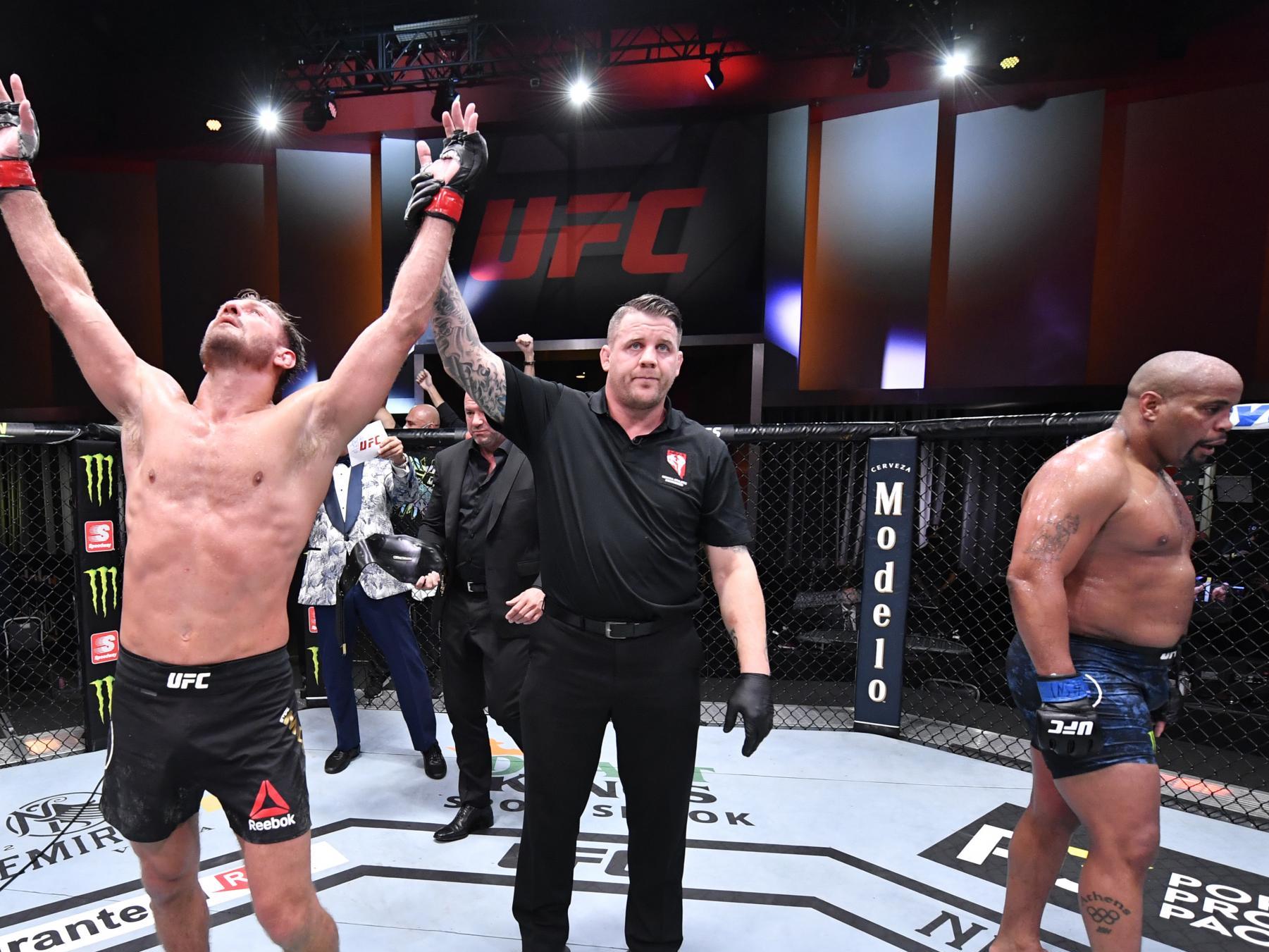 49-46, 49-46, 48-47: Stipe Miocic beats Daniel Cormier by unanimous decision 
During last week's UFC Vegas 6 interview with Paul Felder, Cormier said he felt good but really tired after a "long, gruelling" training camp – which was what it needed to be.
"This fight means everything, what I've done is secure but for me to go out the way I want to, two-time light heavyweight and heavyweight champion, puts me at the table with the greatest fighters of all-time.

This is my ultimate moment in the spotlight. I've spent 25 minutes in the Octagon with him, no part of me believes he's better – as long as I fight my fight, stay comfortable and stay the course, I will be champion again." 
Passionate, honest words from one of the all-time greats – who landed 181 significant strikes in last summer's rematch defeat, which was a heavyweight record.
When you consider all of those comments and more besides, it's difficult not to feel for Cormier that he didn't get the fairytale ending he had been working so hard to achieve.
But, this is MMA. We've seen unbeaten records ended ruthlessly, rising stars derailed and potentially perfect storylines end with little more than an afterthought: what if?  
There were moments over these 25 minutes where either man could have ended the evening with a devastating knockout, such was the high quality striking on display.
Miocic was closer to one, particularly at the end of R2 where DC attempted to dodge strikes in the corner near the cage but got caught clean and was in serious danger.
You could see Cormier certainly was still compromised in-between rounds, where he was persistently asking his corner if he was knocked down – then staggered to begin R3.
Before then, a compelling case could be made that he won the bulk of their first ten minutes. Ultimately though, his problems would only worsen as the fight wore on.
Stipe makes important adjustments with vocal cornermen
Miocic, who started by landing kicks and body punches, made the necessary adjustments after being taken down in R1. He was told to bring his wrestling shoes, after all.
Having slipped out of the clinch, you could audibly hear Stipe's corner constantly telling him to move his feet and stay out of range.
The back-and-forth counterpunching on display was impressive, though a temporary pause was called after Cormier landed an accidental eyepoke.
Miocic landed a flurry of punches, DC did the same as they both absorbed damage before Cormier landed the same right-hand punch that won him the title in their first bout.
His head movement, hand speed and power came to the fore in R2, but Miocic's improved cardio and stylistic approach here did gradually nullify those threats.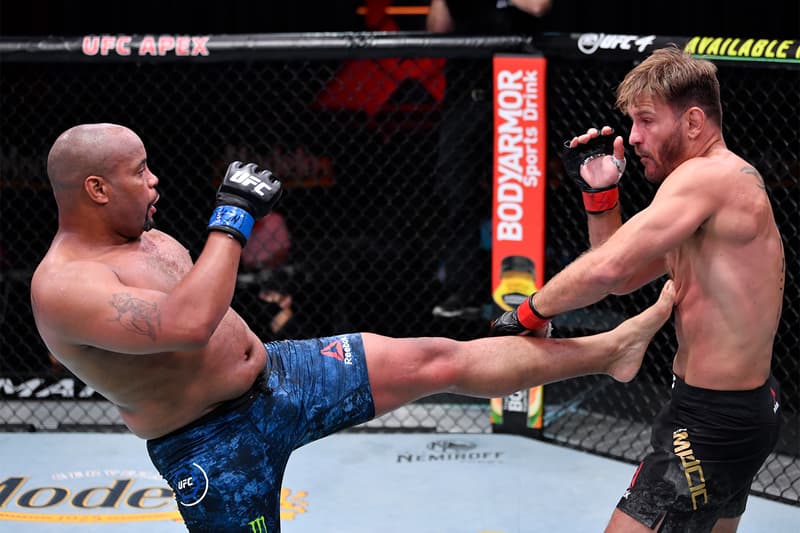 You could see in Cormier's eyes that he was looking dazed and Miocic could sense that – pushing the pace more forcefully and controlling the tempo against the fence.
As DC eluded to afterwards, this helped him edge some of the closely-contested rounds.
He engaged with strikes in the clinch and connected with a few shots once they broke free, but Stipe landed a nasty eyepoke of his own.
It was waved away by referee Marc Goddard despite Cormier's complaints, but the 41-year-old's left eye wasn't just seriously damaged – he was left blind from it.
He told his cornermen the same, but as R4 and R5 continued, it was increasingly likely that this tightly-contested affair would go the way of Miocic.
They continued exchanging strikes, though Cormier's decision not to wrestle was probably a physical limitation rather than anything else. Limited energy to expend.
Stipe landed more hooks, Cormier countered them with his own and the fight continued at a steady pace, although Miocic's sustained clinch control time was key at times too.
DC's takedown defence (6/6 stuffed) was impressive, especially considering the circumstances, but he was unable to land a decisive blow as time wore on.
Miocic by contrast, controlled his hands in the clinch and continued landing good combinations with increasing frequency as the rounds continued.
Post-fight comments, featuring some hungry contenders
Both spoke to Joe Rogan post-fight, with Cormier confirming that this was his final bout. On whether he was surprised by anything that Miocic did, he was honest:
"Wasn't much different, I can't see so… he did a good job, clinched against the Octagon for a long time which edged the closer rounds.

He did a good job not overextending himself or giving me positions to get the leg. I couldn't see anything out of my left eye, it's black."
It is what it is. It sucks, being on the losing end of two big fights, it's a very sad position to be in but I'll deal with it.

I'm not interested in fighting for anything other than titles and I don't see that happening again so that'll be it for me, it was a pretty good fight."
As for Miocic, he's happy that it's all over.
"I'm tired, want to go home! No [nothing was surprising], he's a hell of a fighter, he's an amazing champion and a tough guy.

I almost caught him in the second, but that's why he does what he does, that's why he's won so many titles and beat so many good guys. I'm just looking forward to some time off – it's my birthday on the 19th." 
Statistic: This latest victory means Miocic is tied for the most title fight victories in UFC heavyweight history all-time (6) with Randy Couture.
Miocic turns 38 next week and although he'll be enjoying some family time, it appears there's no rest for the champion as challengers emerged immediately after his victory.
The long-term picture, as far as the heavyweight division is concerned, just got even more interesting. Jones has hinted at a HW move in the past, as I covered last year.
Vera prevails, but O'Malley's foot injury dampens co-main event
R1, 4:40 – Marlon Vera defeats Sean O'Malley via TKO (elbows and punches)
Coming into this clash, #14 ranked bantamweight Sean O'Malley had an unbeaten 12-0 record and growing buzz worldwide as one of the UFC's rising stars.
Marlon Vera, who was still feeling aggrieved after a UD defeat by Song Yadong on the Overeem-Harris card, felt like this was his opportunity to derail the hype train.
Facing a man with a three-inch reach advantage, a ranked number (#14) next to his name and someone with one-punch knockout power, Vera was a slight underdog.
It seemed fitting that this would be the co-main event on a historic card with the Miocic-Cormier trilogy, but the ending? Underwhelming to say the least.
O'Malley landed the more impactful low leg kicks early and continued doing so, seeing as Vera was visibly shaken up by them.
Crucially though, the 27-year-old made subtle changes and grew in confidence as the round continued, but even he wouldn't have expected the fight to finish the way it did.
O'Malley appeared to – at the very least – roll his ankle hard on the canvas – and immediately afterwards, he was limping across the Octagon in excruciating pain.
Doing his best to try and mask the injury, Vera advanced forward and forced Sean into an uncomfortable position on the defensive.
Post-fight analysis has also suggested it was actually Chito's leg kicks that caused some instability before O'Malley's injury became pronounced. See for yourself here:
After landing a couple of right-hand punches, O'Malley fell and Chito instantly pounced, landing a few nasty elbows before referee Herb Dean quickly put a stop to the contest.
Considering the circumstances, it was perhaps an overzealous celebration by the Ecuadorian – but he didn't care.
He made sure to stress his desire for another bantamweight bout against someone in the top 10-15 after this victory, which should see him ranked in next week's updates.
"Everyone has an opinion but that doesn't matter. I've got the immigrant mentality, the sky's the limit, three kids to feed and a house to pay for. He's got a lot of hype and good for him, but he doesn't have the dog inside him like I do.

None of those things count if you don't put in hard work, determination and dedication. I'm happy: a person that came from a small town in Ecuador – Monday, I go back to the gym and I'm ready to kick ass again."
Afterwards, the UFC issued an update on O'Malley's condition as he's currently being assessed in hospital.
During a brief interview with Megan Olivi, he confirmed the injury he suffered was similar to his fight against Andre Soukhamthath at UFC 222 in March 2018.
Rest of the main card
Rozenstruik atones for Ngannou defeat with much-needed TKO
R2, 3:47 – Jairzinho Rozenstruik beats Junior dos Santos via TKO (punches) 
In the pre-fight video package, Rozenstruik simply said: "whoever gets caught first, is going to lose," and well, he wasn't wrong.
Having been blasted into oblivion after just 20 seconds by #2 ranked Francis Ngannou in May, the 32-year-old had a point to prove here against a former heavyweight champion.
You could tell both were fairly cautious in the early going, though with a 10-1 record and a notorious record of ending fights with fearsome punching power, Rozenstruik was the slight favourite against a more experienced veteran in #5 ranked dos Santos (21-7).
Despite the tentative start, Rozenstruik landed a handful of low kicks but dos Santos responded with a striking variety of his own.
Shots to the body and a nicely-worked head kick created some separation for the Brazilian, who was landing better strikes in the pocket and looked visibly quicker too.
Rozenstruik's kick-boxing background made it increasingly difficult for dos Santos to continue landing those shots without taking risks himself.
The weight differential – almost 20lbs – was also evident, as Jairzinho was visibly rocking dos Santos with his counterpunches. That proved to be a sign of things to come in R2.
dos Santos' boxing skills were again coming to the fore, as he landed good punches and jabs to keep Rozenstruik at a relatively safe distance.
You could hear Bigi Boy's cornermen audibly stressing for more activity, as the round was dangerously close to being another 10-9 round in favour of JdS.
As though a light bulb had been switched on, he flickered into action and connected with a blasting left hook which rocked dos Santos before landing a decisive punch flurry too.
Near the cage as the Brazilian desperately tried to recover, the fight was ended just like that and suddenly their tentative start made a lot more sense.
Knockout power – especially at heavyweight – means a closely-contested stand-up battle can be stopped within an instant with no warning.
Rozenstruik earned some valuable Octagon minutes against a former champion and returned to winning ways while doing so.
"It feels great, I wanted to fight as soon as possible [after Ngannou loss], I went back to the gym right away, we [him and his coaches] discussed things and got back to it. 

I needed this win to get back, set it straight. The mission is to grab the title, I hope Francis gets a chance after tonight's match [Miocic-Cormier 3], as soon as he gets that and if he wins the belt, I want a rematch." 
He'll leapfrog dos Santos into the top 5 rankings next week, where the top of the heaveyweight division is stacked with some big contending names:
#2 – Francis Ngannou (15-3)
#3 – Curtis Blaydes (14-2, 1 NC)
#4 – Derrick Lewis (24-7, 1 NC)
Herbert Burns missing weight proves pivotal against returning Pineda
R2, 4:37 – Daniel Pineda beats Herbert Burns via TKO (punches) 
In a catchweight (149.5lbs) bout, Herbert Burns was both financially punished (20% of his fight purse) after weighing 3.5lbs over the 146lb limit and dominated on the ground.
Daniel The Pit Pineda, here making his first UFC appearance since March 2014, earned a Performance of the Night bonus for his troubles.
He won the first round 10-8 on all three judges' scorecards against a pudgy looking Burns, who was kept grounded after his takedown attempt was countered.
Burns started R2 better, but that purposeful start ultimately proved futile as Pineda secured top position before landing a number of ground strikes.
Locked in the crucifix position with nowhere to go, Burns clearly gassed out and against a determined featherweight veteran on his UFC return? That was an unwelcome combo.
"People keep counting me out, everyone was doubting me – I cut 27lbs in two weeks. Whoever they put in front of me, as soon as this cut heals up, I'm going to try get a full camp and get better cardio – no freaking two weeks." 
On the fact that Burns missed weight, he said he was "super mad" and felt he should've been rewarded with more than 20% of the Brazilian's purse.
Determined Dvalishvili earns big bantamweight scalp against Dodson
30-27, 30-27, 30-27: Merab Dvalishvili beats John Dodson via unanimous decision
In the pre-fight promo package, both fighters were asked why they were a bad matchup for each other and their main strengths en route to a potential victory here.
Dvalishvili, nicknamed The Machine, said: "I'm hungry, I want to show everyone how good I am," and he did so over 15 minutes against an experienced competitor in Dodson.
Dodson's speed and power were both highlighted as weapons he'd look to fully utilise.
That proved easier said than done against a patient Dvalishvili, who made the most of his constant pressure to prevail convincingly on all three judges' scorecards.
Prelims and early prelims as Pichel and Jandiroba win big
During the evening's featured prelim, we were treated to an entertaining 15-minute clash between lightweight legend Jim Miller and Vinc Pichel.
Ultimately, Pichel earned a big win against an all-time great via unanimous decision (29-28, 29-28, 29-27), having made the necessary adjustments after a sluggish first-round.
In the post-fight interview, he revealed he was "super stoked" with the result – silencing critics who suggested he wasn't the best on the ground.
"I worked really hard for this! He [Miller] is a super tough dude, but people slept on me.

As you can see, I'm not an easy guy to take down – Miller is a good black belt, I'm no slouch on the ground and showed I can grapple with anybody."
Pichel, who last fought in the Octagon last June, is now 6-2 in the UFC.
In the woman's strawweight division, Virna Jandiroba scored a big win against #15 ranked Felice Herrig with a R1 submission (armbar) after just one minute, 44 seconds.
In a catchweight (146.5lbs) bout as TJ Brown missed weight, Daniel Chavez was ultimately victorious on all three judges' scorecards with a 29-28 UD win.
During the second of two strawweight clashes, Livia Renata Souza earned a UD victory against Ashley Yoder – 29-28, 29-28, 30-27.
To finish the early prelims, heavyweight Chris Daukaus didn't waste any time at all with a TKO finish against Parker Porter (punches and knee) after 4 minutes, 28 seconds.
Before that, Kai Kamaka III went the full 15 minutes but emerged with a victory against Tony Kelley in their featherweight clash – 29-28, 29-28, 29-28.
Pictures' source: MMAFighting.com and Zuffa via Getty Images