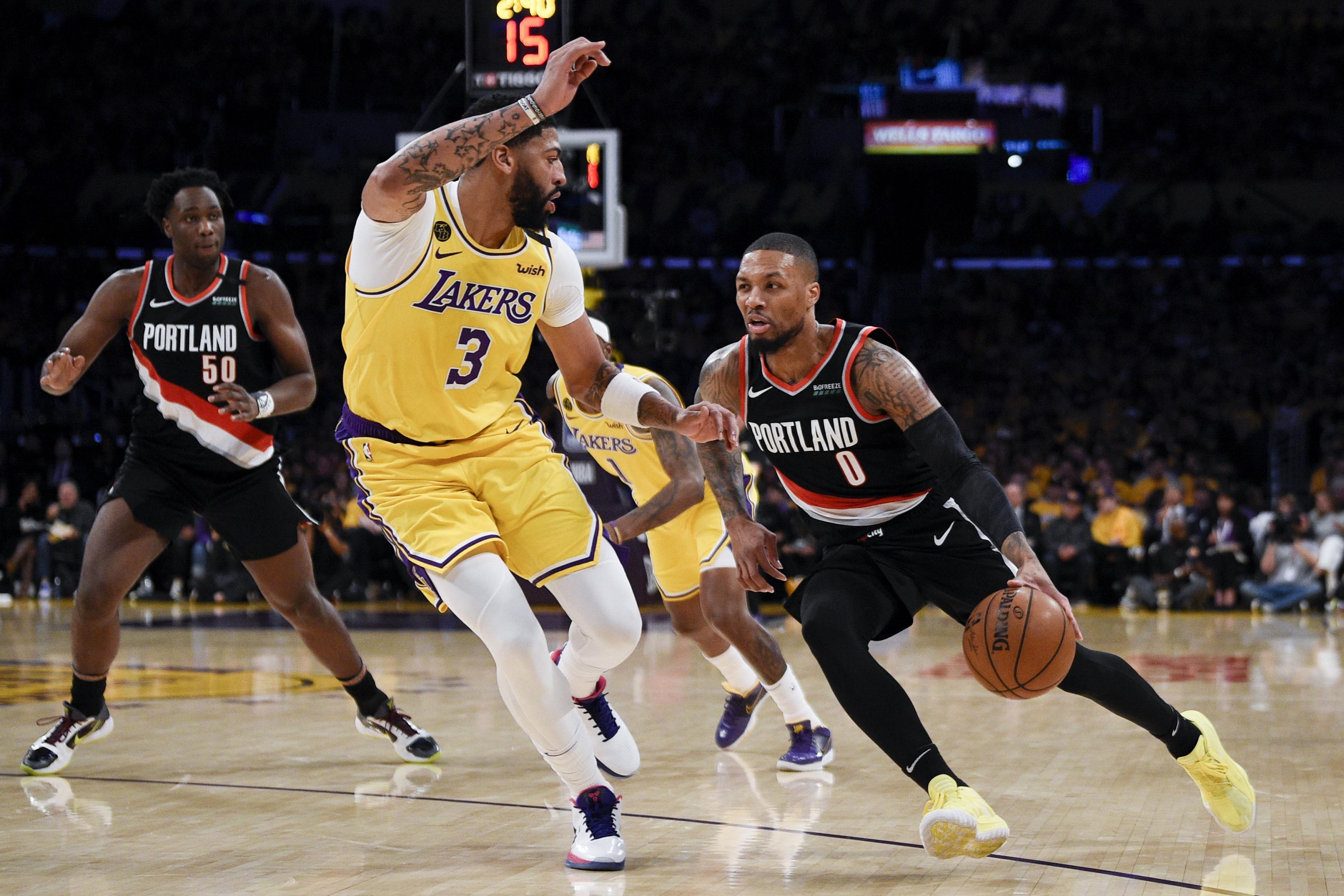 The 2019-20 NBA playoffs continues, as the Lakers face a tricky series opponent to begin their title assault here. Frank Vogel will urge consistency from his players against a determined Portland side – who had to beat Memphis in a play-in over the weekend to book their playoff berth. Will LA send them back down to earth? 
Lakers vs Trail Blazers: Lillard and co against the world continues
Tip-off time: 2am BST on Wednesday, 9pm [Tuesday evening] EST, 6pm PST
With Nassir Little (illness) and Zach Collins (ankle) both ruled out of Game One for Portland, they'll look to spring a surprise – starting well in what they hope to be a successful series against the West's top seed.
After their impressive efforts in the bubble so far, Portland will be quietly confident about silencing critics and progressing into the WCSF.
The five-point overtime victory against Memphis on July 31 set the tone for what has been a memorable experience in Orlando so far. They don't want it to end here.
Having won 7-of-9 matches to date, Terry Stotts had Damian Lillard's herculean scoring efforts to thank for propelling them into an extended stay. He's averaging an eyewatering 36.8 points per game in the bubble and showing no signs of stopping.
Judging by comments from Lakers players recently, they're keenly aware of his scoring threat too and need to hone in on shutting him down.
Key players to watch out for
Lakers: Anthony Davis
Among the shortlist for Defensive Player of the Year, Anthony Davis will hope to start this series with a bang – like he did against Portland in the first-round two years ago.
In that four-game series, he averaged 33 points, 11.8 rebounds and 2.8 blocks.
The LeBron-AD tandem will be at work here, but James' playmaking abilities allow him to feed the hot hand, meaning Davis doesn't need a second invitation to be aggressive from the off.
He's been inconsistent in the bubble though, so needs a fast start after struggling against Toronto, OKC and Indiana.
Blazers: Carmelo Anthony
It would be too easy for me to single out Lillard or even McCollum as a key man to watch here, so I'm going with their third star – Melo.
Carmelo, who was in limbo and without a team this time last year, scored 21 points on 5-of-15 shooting during their narrow play-in victory over Memphis.
READ: Carmelo Anthony: What does the future hold for the 10-time All-Star?
He's been quietly important for them and although his shooting isn't always efficient, provides much-needed experience and veteran quality that cannot be understated.
His best performance was perhaps a 26-point effort against the Dallas Mavericks. It's essential he channels that sort of energy from tip-off – taking good shots, rebounding the ball while continuing to prove the critics wrong.
Who's more likely to win here? The breakdown
Lakers are, unsurprisingly favourites to win this Game 1 matchup, with a 65% win probability chance according to FiveThirtyEight's statistics.
Although they haven't been at their best in the bubble yet, it's also true that players have suffered niggling injuries and they're not at full strength.
Now the playoffs have begun? It should be a different story, especially after seeing their crosstown rival Clippers – another genuine title contender – win against Dallas overnight.
The question is, do you bet against Lillard here? He's recording historic feats on a nightly basis but will teammates help him beat the West's top seed?
Predicted line-ups
Lakers: Kentavious Caldwell-Pope, Danny Green, LeBron James, Kyle Kuzma, Anthony Davis.
Blazers: Damian Lillard, CJ McCollum, Gary Trent Jr, Carmelo Anthony, Jusuf Nurkic.
Prediction: Lakers to win
Pictures' source: Getty Images, NBA