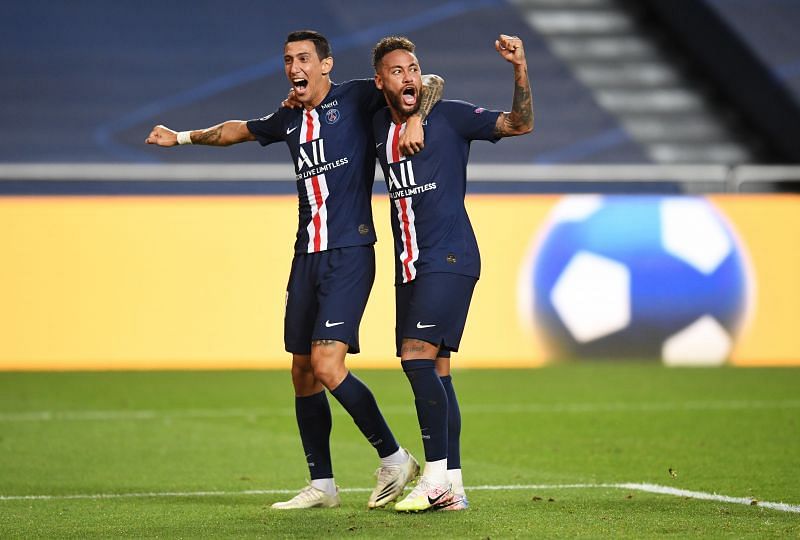 Goals from Marquinhos, Angel di Maria and Juan Bernat helped PSG reach their first Champions League Final with a comfortable 3-0 win against a frustrating RB Leipzig display. What were five talking points as Thomas Tuchel's men eased to a comprehensive semi-final victory here?
Marquinhos, who scored against Atalanta in last week's last-gasp quarter-final victory, broke the deadlock with a well-placed header into the bottom corner.
That was 12 minutes into an encounter Thomas Tuchel's men dominated for sustained periods, as Neymar hit the post and Kylian Mbappe had a goal disallowed shortly beforehand.
Peter Gulacsi was at fault for PSG's second, dithering in possession before fizzing the ball into Leandro Paredes' path.
He gleefully pounced, swinging a crossfield pass into the area – Neymar's backheel teed up di Maria, who marked his return from suspension with a cool finish and more besides.
It was the Argentine's brilliant pass which teed up Bernat for their third strike of the evening. The strike was reviewed by VAR but ultimately ruled a goal as Nordi Mukiele's costly slip in possession kept the fullback onside, allowing him to head past Gulacsi.
There were chances galore for Tuchel's men, who could have easily emulated Bayern's 8-2 win over Barcelona had they been more clinical, but they'll be hoping to save their world-class finishing for Sunday's showpiece event in Lisbon.
They will play either Bundesliga champions Bayern or domestic rivals Lyon this weekend, though this ended up being a welcome display for a side constantly criticised for stumbling under pressure in European competition.
With a hard-earned clean sheet and extra day's recovery, there's plenty to be pleased about from PSG's perspective – ending RB Leipzig's unlikely route to UCL glory in the process.
Without further ado, here's a look at five talking points as PSG cruised to victory against a disappointing RB Leipzig display in Lisbon:
---
#5 Against former club PSG, Christopher Nkunku struggles big time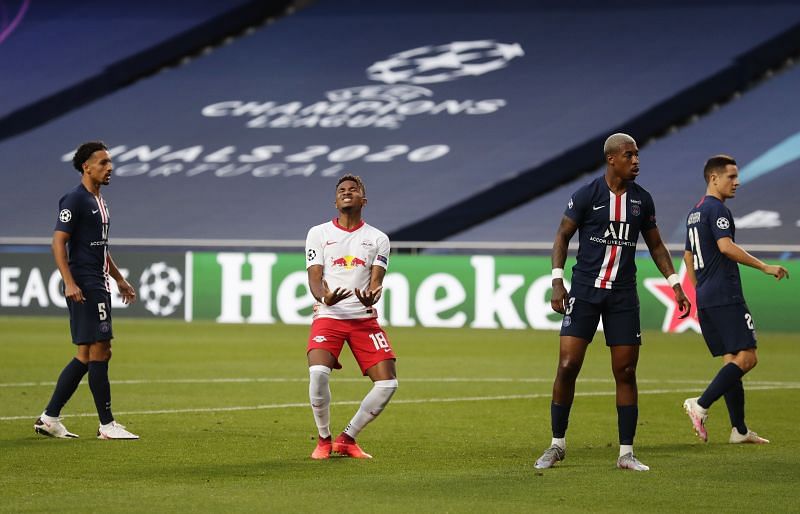 After spending nearly ten years in the PSG ranks, both as an academy player and then integrating into the first-team, Christopher Nkunku had a point to prove here.
He's flourished and been able to showcase his blossoming ability in the final third since departing last summer in a £11.7m move to Leipzig.
Besides Marcel Sabitzer and Timo Werner, who joined Chelsea last month, he was their best and most consistent performer in the Bundesliga this term.
He scored five goals and created 15 assists in 32 top-flight appearances, quickly establishing himself as a mainstay among Nagelsmann's creative plans.
So this was always going to be an intriguing matchup against many of his former colleagues and friends from home.
Eager to haunt his boyhood club here, he did precisely the opposite and rather typified a frustrating end to a promising campaign for Leipzig on the whole.
He was presented with a few half-chances early on but failed to get clean contact on the ball nor earn much success.
As PSG established their foothold in the game, his influence petered out rather unceremoniously down the flank and he was instead tasked with more defensive work off-the-ball rather than anything else.
With a two-goal deficit to overturn, Nagelsmann needed to make alterations at half-time and Nkunku was unsurprisingly one of two players replaced.
What makes this display even more frustrating? The fact that this was in complete contrast to his Atletico performance last week.
There, he played 83 minutes: four key passes, worked tirelessly out of possession and was a constant threat against Simeone's men. Yet in this, the biggest game in their history, he went out with a whimper.
#4 The Mbappe-Neymar combination wasn't perfect, but did enough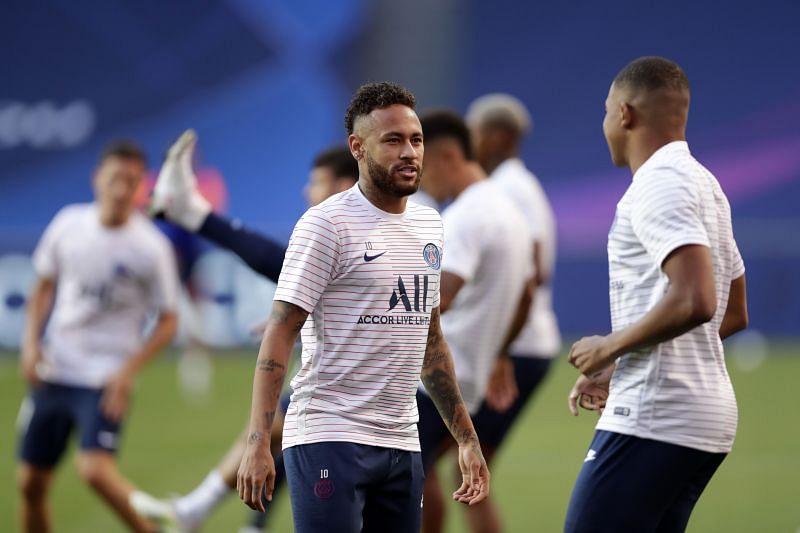 After an impactful contribution from the substitutes' bench in last week's Atalanta win, Mbappe started here and immediately showed why with dangerous probing combination play alongside Neymar in transition.
He should have had an assist after just six minutes, teeing up the Brazilian with a clever defence-splitting pass into the box.
Just like he did against the Italians, Neymar spurned promising opportunities and toe-poked his eventual effort here, watching helplessly as it crashed off the far post.
Simply put, he should have scored. Then minutes later, Mbappe had a goal correctly disallowed as Neymar handled Gulacsi's attempted kick forward – another warning sign Leipzig failed to heed before going a goal behind.
It seemed fitting that Neymar won the free-kick from which PSG broke the deadlock, skipping past Konrad Laimer before being bodychecked to the turf.
Gulacsi made a big save at point-blank range to deny Mbappe four minutes later after Ander Herrera's incisive pass and although replays showed he was marginally offside, you could conceivably predict a cricket score was on the cards.
Neymar was still eager to take players on at will, buying fouls and creating havoc that we've grown accustomed to seeing from him.
With Mbappe in tow though, he had someone he could rely on in the final third – you can see he doesn't trust Sarabia or Icardi nearly as much.
He hit the woodwork again before half-time with an audacious free-kick which caught Gulacsi out at his near post, but should have done better after good work by Mbappe as Leipzig continued to relinquish possession in dangerous positions.
Mukiele's last-ditch intervention was key as Neymar weaved his way into the box, but Mbappe's intelligent movement created a reliable out ball with Marquinhos, Thiago Silva and Bernat all feeding him passes in transition from wide areas.
It was his great turn of pace to skip past two, drag another defender out wide which should have rewarded him with his third assist of the evening.
He found Neymar again and, frustratingly, the PSG superstar was again off-target – flashing wide from close-range.
Mbappe wasn't faultless either: missing opportunities himself, after good work by di Maria and sloppy defending by a tiring Leipzig backline in the second-half.
However, their evening was perhaps typified by what happened with 15 minutes to play. PSG had a two-on-one break with a retreating Angelino the last man back.
Mbappe-Neymar exchanged passes at precisely the wrong time, with Kylian's reverse pass slightly behind the Brazilian.
The PSG man lost his footing and slipped just as they were edging towards the box, so the chance vanished just as quickly as it arrived.
Whether it's Bayern or Lyon in Sunday's final, the pair must be better with their finishing and link-up play if they're to win the ultimate club competition in Lisbon.
#3 An all-German affair: Tuchel outwits protege Nagelsmann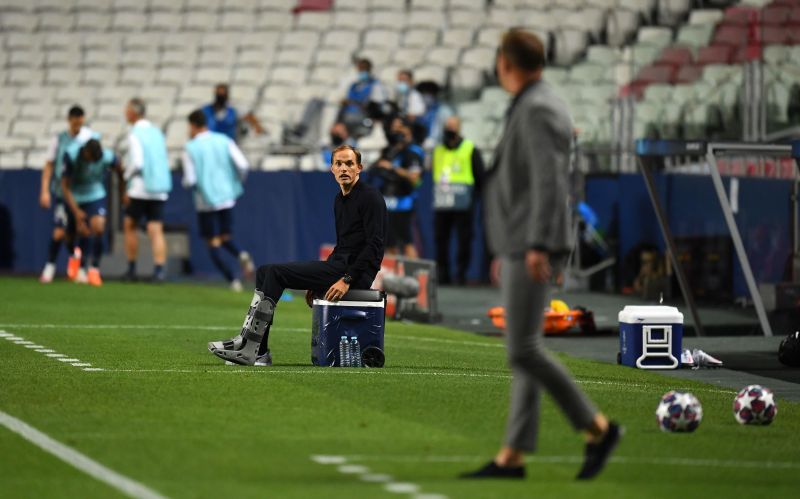 A lot was said pre-match about the relationship between the two Germans: PSG boss Thomas Tuchel gave Julian Nagelsmann his playing debut, before encouraging him to scout once he retired after sustaining persistent injuries.
Tuchel also inflicted Nagelsmann's first loss in senior management during his Hoffenheim days, back in February 2016, while managing Borussia Dortmund.
This was always going to be an intriguing subplot in an exciting semi-final clash, but one that quickly evaded Leipzig's grasp – not helped by Nagelsmann's tactical alterations.
Having stifled Atletico with their 3-4-3 formation, he changed formations to a 4-5-1 variant, looking to pack the midfield while creating counter-attacking opportunities after absorbing sustained pressure out of possession.
The issue though, was they lacked a consistent final ball.
Tyler Adams and an ultimately impactful Emil Forsberg were both substitutes, while Marcel Sabitzer started slowly.
Tuchel made changes of his own, rewarding Leandro Paredes' effective sub appearance with a start alongside Hererra in midfield, while a frustrating Icardi was unsurprisingly benched.
Idrissa Gueye, a more defensive-minded midfielder, wasn't needed against a Leipzig side content to concede possession and take their chances.
They didn't do that, which visibly frustrated Nagelsmann in a first-half where they conceded two preventable goals. Constantly relinquishing the ball in dangerous areas made it tough to watch at times.
However, there were noticeable improvements once Forsberg was introduced in the second-half and Yussuf Poulsen given a strike partner in Patrik Schick, which provided more problems for PSG's defence.
It seemed cruel then, that Bernat scored to extend their lead during that period – but in truth, the damage was already done.
#2 A returning Angel di Maria shows PSG what they were missing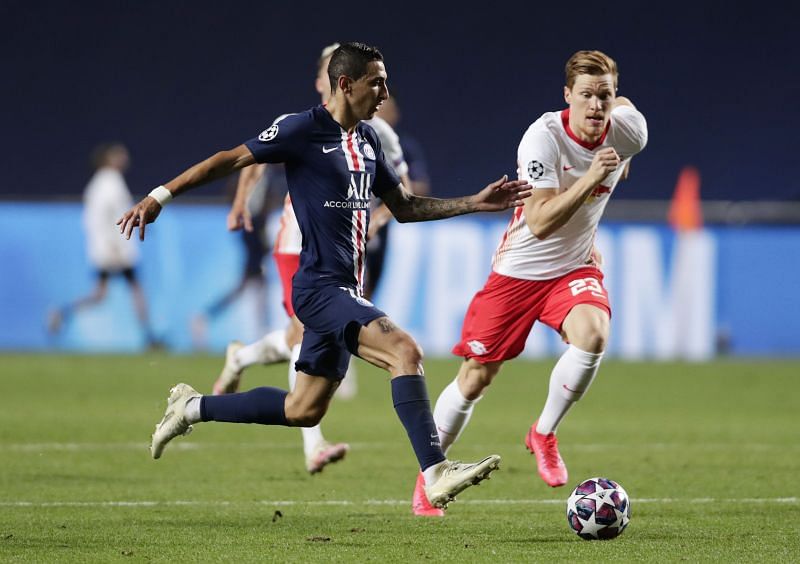 di Maria has been one of PSG's best and most consistent performers for a number of years now, so it was frustrating to see him watching on helplessly through suspension last week.
He returned with a memorable display on both sides of the ball here: creating two assists and scoring one for himself in a match defined by small margins.
PSG were ultimately comfortable winners, but wouldn't have been if not for the Argentine's efforts – which usually go under-the-radar as everyone is caught up by the aesthetics of a Neymar-Mbappe combination in games like these.
His brilliant passes for Bernat for example, came at the right time. PSG were under the kosh and needed a response to Leipzig's second-half improvements. They got that from an experienced player who is regularly dependable in a creative sense.
He uses his body well to draw fouls and relieve pressure in precarious situations, though his quick-thinking and ability to consistently find teammates in space came to the fore on this occasion.
With five key passes, four successful dribbles, three big chances created as well as four defensive clearances, this was a tireless display by the 32-year-old.
He was crucially not satisfied with his performance either, still continuing to look for more and visibly frustrated whenever passes didn't come off as the game opened up in the latter stages and PSG could have easily had six or seven goals.
It's that sort of perfectionist approach that Tuchel needs more of from his players, who have often been criticised for a lack of defensive effort in the past.
Those claims couldn't be levelled at di Maria, who came off with five minutes to play and was firmly their Man of the Match here.
#1 At long last, PSG book their first Champions League Final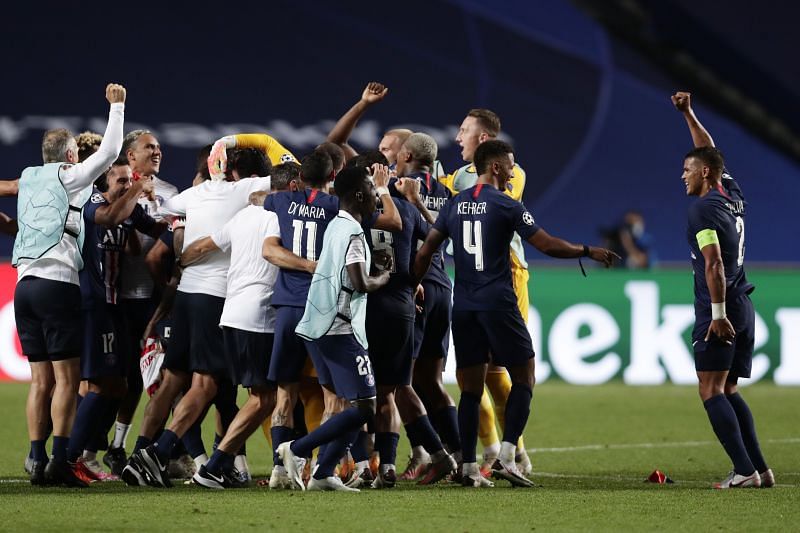 Last week saw PSG overcome the odds to recover late and break Atalanta hearts en route to their first Champions League semi-final for 25 years.
It seems typical then, after such a gritty, nail-biting 2-1 quarter-final victory, that they essentially cruised to victory without overexerting themselves in the semi-finals against a Leipzig side who were their own worst enemies here.
The perennial underachievers, a team notoriously criticised for their inability to compete against Europe's elite when the lights are brightest. They can now go right all of those wrongs, multiple years of heartbreak and media backlash this weekend.
So on Sunday, they'll play their first Champions League Final against either Bayern Munich or familiar opposition in domestic rivals Lyon – who both pose contrasting challenges.
Marco Verratti's return from a calf injury was refreshing, even if just for ten minutes.
The Italian is an integral midfield figure when fit and it'll be interesting to see if he does start this weekend's final.
You always want to see the world's best playing in the biggest sporting fixtures and this is no exception here.
George Weah was their hero in 1994, with winning goals during two group stage fixtures against Bayern the last time they got to a Champions League semi-final.
It's fair to describe the Bavarians as favourites to progress and should they do so, it'll be a mouthwatering clash.
Both sides dominate their respective leagues but have struggled for consistency in Europe's elite competition over the past seven or eight years.
Once and for all, can PSG do it? Provided they have their shooting boots on and defend properly, as they've shown in spurts this season, there's no reason why not – whether it is Bayern or Lyon. Only time will tell.
Stats' source: SofaScore and Transfermarkt — pictures via Getty