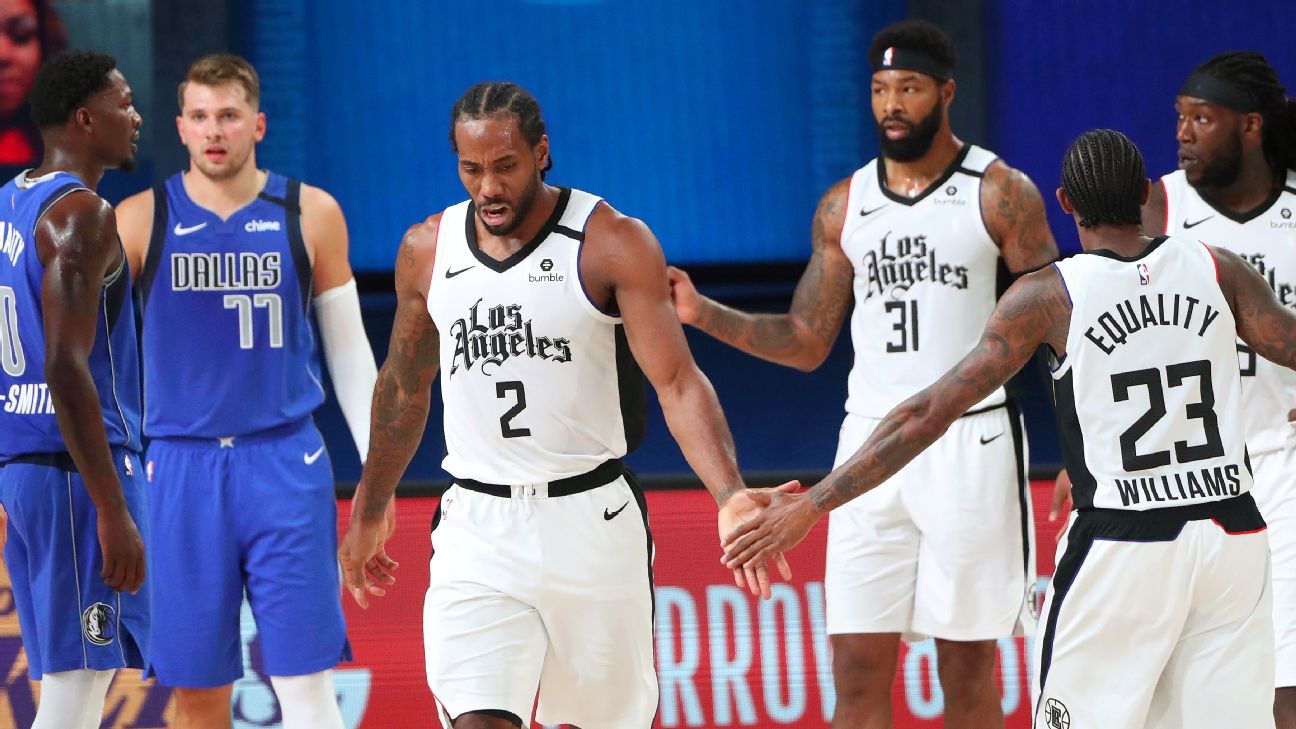 After a frustrating Game 2, Kawhi Leonard and the Clippers returned in style with a 130-122 victory on Friday night. They're now 2-1 up in the series and, just like earlier this week, it's likely Rick Carlisle's men will target a swift response to level the scores again. Can Dallas rally to win, potentially without Luka Doncic here? 
Dallas Mavericks vs LA Clippers: Mavs look to equal series once more
Tip-off time: 8.30pm BST on Sunday, 3.30pm EST, 1.30pm PST
Luka Doncic had a triple-double (13 pts, 10 assists, 10 rebs) before exiting the game with an ankle sprain – Dallas have listed him as a gametime decision tonight.
If he doesn't feature, or plays at less-than-100%, how will the Mavs respond in Game 4?
Kawhi had 36 points, nine rebounds and eight assists in an excellent display as the Clippers bounced back from a troubling defeat to restore their series advantage.
The next closest scorer? Landry Shamet, a surprise starter ahead of Reggie Jackson – who scored 18 points on 7-of-13 shooting, including 3 three-pointers.
Kristaps Porzingis still got his points, 34 on 18 shots with 13 rebounds, but Doncic had a poor shooting night (4-of-14, 1-for-6 from three-point range) and Doc Rivers' side survived a late surge to earn an important victory.
After seeing them lose while Doncic was on the bench for sustained periods in Game 2, this was a welcome sight for Rivers.
Shamet has found his shooting stroke, Leonard led by example while there were impressive efforts from Marcus Morris and Ivica Zubac.
It's shown that even though Paul George's slump continues, they can win without their second star's best efforts.
Key players to watch out for
Dallas – Seth Curry
After an excellent showing: 22 points on 9-of-11 shooting (4-of-4 from three-point range) as well as three assists, it's likely Seth will see even more minutes in Game 4.
Besides a busy Porzingis, he was Dallas' best performer on an evening where they were ultimately bested by 2019 Finals MVP Kawhi.
He was content taking over the game when he needed to, and proved pivotal against a Mavs defence that didn't have any answers for his offensive variety.
That sort of bench production is something that'll prove vital for the Mavs, if they want to extend this series further going forward.
You'd expect Trey Burke to start if Doncic is sidelined, but regardless of whether he's coming off the bench or starting, Curry must continue his scoring consistency here.
Clippers – Landry Shamet
Another sharpshooter that exploded in Game 3 was 23-year-old guard Shamet.
During their time in Orlando to date, he's only recorded more points once – a 19-point effort as they edged past Portland on August 8. That night, he shot 6-of-12 and found himself in foul trouble.
The same couldn't be said of him here: 7-of-13 with three rebounds, one block and steal, he was a reliable scorer that spaced the floor well, which couldn't be said for All-Star teammate George.
It'll be interesting to see if he sustains such production here, against a Dallas defence that will likely adapt to close him out on the perimeter.
Who's more likely to win here? The breakdown
According to ESPN's Basketball Power Index, the Clippers are narrow favourites (56.1%) to make it 3-1 against a potentially depleted Mavs side.
FiveThirtyEight's win probability statistics are more in LA's favour – 66% – which is understandable considering they have the series' best player with Kawhi in tow.
Carlisle revealed they won't know if All-Star guard Doncic will play until minutes before tip-off tonight, which just adds to the drama in an intriguing series so far.
Whether he can or not will significantly impact Dallas' win percentage, as they look to respond accordingly after a disappointing loss last time out.
Unfortunately for them though, I expect it to go the same way – a well-earned Clippers victory despite a spirited showing from Dallas.
Predicted line-ups
Mavericks: Luka Doncic, Tim Hardaway Jr, Dorian Finney-Smith, Maximilian Kleber, Kristaps Porzingis.
Clippers: Marcus Morris, Landry Shamet, Kawhi Leonard, Paul George, Ivica Zubac.
Prediction: LA Clippers to win
Pictures' source: Getty, LA Times