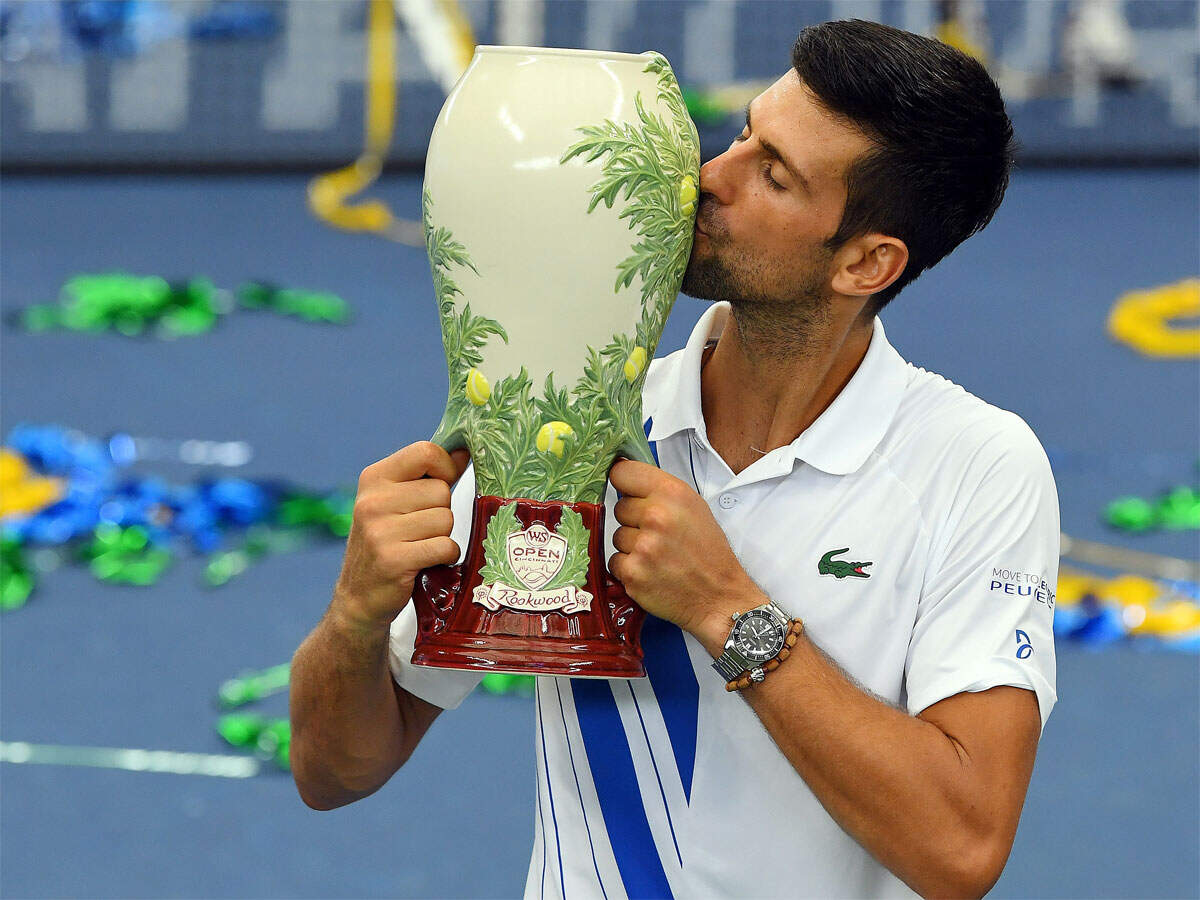 Novak Djokovic showed precisely why he's world number one – rallying from a set down to outlast Milos Raonic in their Western & Southern Open Final, clinching his 35th ATP Masters 1000 tournament title ahead of next week's unprecented US Open.
Raonic starts quickly, but crucially falters when it matters most
Raonic was looking to put an end to his dismal H2H record (10-0) against Djokovic.
After Novak's gruelling three-hour, three-set tiebreak finish against Roberto Bautista Agut on Friday, the Canadian certainly had a golden opportunity to prevail here.
Struggling with a few niggling issues (neck, stomach complaint), Djokovic was made to look rather ordinary at times in a blistering first-set performance from Raonic.
Crucially though, Milos' level dropped drastically as Novak's increased and the inevitable feeling was emphasised midway through the second set.
Djokovic, 3-2 up in the second set after losing 6-1 in the first, was down 40-30 but Raonic made two unforced errors to gift the world no.1 an opportunity to extend his advantage.
He didn't need a second invitation: winning a short rally at the net after forcing more shot hesitancy from the Canadian.
That seemed the beginning of the end for Raonic, trying desperately to earn a semblance of first-set momentum back. Instead, his forehand stroke was misfiring with frequency and Djokovic was enthused by an increasing unforced error count down the other end.
In fairness to him, he did well when serving to stay in the set – but critically stumbled during big moments and found himself stifled by some excellently-timed serving as the scores were suddenly level again.
Djokovic profits as Raonic's struggles continue, errors increase
The same could be said for the early exchanges in set three, where he raised his intensity again and found himself 2-0 up.
Djokovic's brilliant shot defence, both out in wide areas and under sustained pressure, managed to keep him in rallies.
Having been broken, he immediately got the break back before dictating the majority of their rallies and maintaining composure on serve to level it at 2-2.
A beautiful crosscourt winner was perhaps the pick of his shots, as he forced another Raonic unforced error and was 40-0 up on Milos' serve.
Despite doing well to save two break points, Raonic was unable to recover a third as Djokovic held his nerve.
The subsequent roar, 3-2 up in the deciding set, said all you needed to know inside a near-empty 14,000-seater stadium.
After an alarming start, this match was now Novak's to lose. He knew it too.
Another crosscourt passing winner, deft drop shot and – keeping with the theme – a Raonic mistake, gifted him a 4-2 lead.
Again, Raonic showed flashes of the purposeful serving that earned him an early commanding lead.
Unfortunately though, it was futile in the grand scheme of things, down 5-3. He missed an easy volley at the net which rather typified his drop-off.
Despite recovering with a trio of aces and a forehand winner to make it 5-4, he was again caught in two minds by Djokovic's slow second serve variations – try and be aggressive to counter, or conservative to dictate the rally?
He even had a break point opportunity, up 40-30, after producing a good backhand down-the-line winner.
Again though, he missed the chance to level at 5-5 and wasn't afforded a second go.
Djokovic was increasingly comfortable in rally exchanges by this stage and didn't freeze to clinch his second Cincinnati title with his first championship point on offer.
Now 11-0 in his H2H against Djokovic, the Canadian will undoubtedly be frustrated by how quickly the match got away from him.
Although he hit 26 winners, he recorded 25 unforced errors.
Against someone as resilient as Djokovic, it's imperative you swarm him when he's uncomfortable and perhaps not at his best – otherwise you'll live to regret it.
Statistic: With this victory, Djokovic becomes the first player to win all nine Masters 1000 titles on two separate occasions. He also moves alongside Rafael Nadal for total ATP Masters 1000 titles (35).  
Post-match comments
Djokovic discussed what turned out to be an entertaining final and the obvious unprecented circumstances, playing with no fans in attendance.
"After the first set, obviously he [Raonic] was playing great, I handed two breaks to him and it's always hard to play Milos – one of the best serves in the game – it was a very close encounter, up until the last point.

We miss you, I hope you're enjoying it on the screens. We're grateful to have the opportunity to compete, I'm thankful to be here, winning is a bonus and we have to accept the unusual, strange circumstances as everyone is trying to do their best."

You [fans] are one of the biggest reasons why we play, so hopefully we can see you very soon. Send a message of peace, unity, friendship, forgiveness: to get through this difficult time together so I hope we can all find a more peaceful way to live."
All-time ATP titles:
Jimmy Connors – 109
Roger Federer – 103
Ivan Lendl – 94
Rafael Nadal – 85
Novak Djokovic – 80
Raonic congratulated Djokovic before thanking his team and taking a moment to reflect on what's a challenging time in the US – not just the coronavirus pandemic.
"I want to congratulate Novak and his team on a great week but a great year too. 23-0, honestly if I start the year 3-0, I'm pretty happy.

It's great to have tennis back after being devastated by COVID-19, my thoughts and wishes to those most affected by it worldwide. I want to say it's been a tough few months and we're lucky in Canada that everyone can feel safe on the streets.

There needs to be serious change in the US: every black man, woman and child can feel safe in their own communities on the streets and that's more important than everything going on. Hopefully we can get the right people and make change."
Osaka withdraws (hamstring), Azarenka wins first title since 2016
Naomi Osaka was scheduled to play resurgent former world no.1 Victoria Azarenka before the Djokovic-Raonic final.
However, the 22-year-old withdrew from Saturday's championship match with a hamstring injury sustained during her semi-final against Elise Mertens.
Azarenka, a two-time Grand Slam winner, will now be credited for her first tournament victory in more than four years – her last came in March 2016.
In a statement, Osaka said: "I'm sorry to have to withdraw today with an injury.
I pulled my left hamstring yesterday in the second set tiebreak and it has not recovered overnight as I had hoped. This has been an emotional week and I want to thank everyone for the outpouring of support."
She had previously said she wouldn't play the semi-final, in a show of solidarity alongside the NBA players who refused to compete earlier this week.